WARNING: Just in case the title wasn't explicit enough, this post contains sexual content. ;)
Hello, and thank you so much for reading! This is the second chapter in a serialized novella I'm writing here on Steemit. If you'd like to catch up and read the first chapter, you can find it here: Alexis Daimon, A Slave in Space — Erotic BDSM Sci-Fi Novella — Chapter 1 (Serialized).
And so, without further ado, here's chapter 2!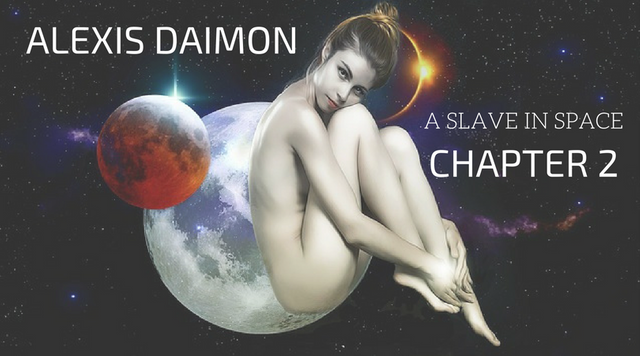 One year earlier…
I lay spread eagle on the bed, arms tied above my head and legs stretched wide, fastened tightly to the bed posts. A red bandana was loosely tied to cover my eyes, and I had a rubber ball gag in my mouth.
"You can't do anything to stop me, can you?" A deep voice spoke from somewhere beside me on the bed.
I made an unintelligible, gurgling noise in response.
He chuckled. "I can do anything I want to you, and you're just stuck there."
I squirmed, very aware of his hand on my thigh as it slid, slowly, lightly, upwards.
I groaned in response to his touch—a deep and throaty sound that I almost didn't recognize as my own voice.
There was a click and a buzzing noise.
Then, intense pleasure between my legs.
I squealed, startled by the suddenness of it.
He could have teased me a little longer, I thought, slightly frustrated.
My boyfriend, Tim, was a really great guy. Everyone said so. Hell, I even said so. He did everything in his power to please me, to give me what I wanted, to make me happy. There just wasn't any spark. That was why I was going to break up with him.
It wasn't that he was lacking in the sex appeal department. No, he was a damn fine man. Women would stare at him everywhere we went. And it wasn't that he lacked in faithfulness either. He adored me, that was certain. Never even noticed the other women in a room. The ones who eyed him hungrily. And when it came to sex, he had been receptive and even enthusiastic when I'd told him I was into bondage.
On the surface, he seemed to be my long-awaited dream come true.
So why did I feel so distant from him? Why did I feel a pang of regret any time he would look at me with those puppy eyes, so full of devotion and love.
I moaned as he pressed the vibrator more firmly between my legs. Now was not the time to be thinking about our relationship. Why not just enjoy this while I had the chance?
I wriggled a little more, helpless to the waves of pleasure that threatened to eclipse my rational mind. Even if I wanted to stop him, I couldn't. I could feel the heat building in my lower abdomen as my muscles tensed and relaxed in response to the vibrator.
I was getting closer and closer to orgasm, but I tried to delay it a little longer. The pleasure of the buildup before the release was one of my favorite parts. I always came too quickly. I wished there was some way to make it last.
Think of something else, thing of something else, think of something else.
Tim adjusted the vibrator again, using his free hand to gently pull the flesh between my legs apart, exposing my clit to more direct contact with the vibrator.
"I'm going to…" I spoke breathlessly, barely able to form words.
"What's that?"
"I'm going to come."
++++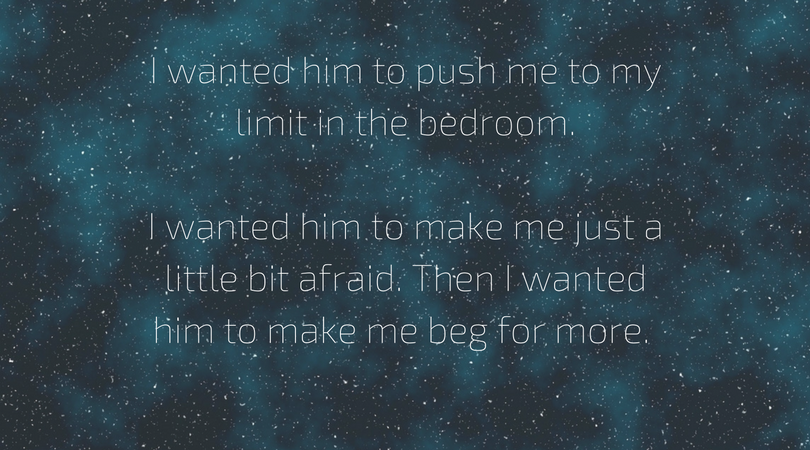 I sat on the edge of the bed after Tim had gone. I hadn't had the heart to break up with him yet. I knew I would have to, though. It wasn't working. I didn't love him.
I can do anything I want to you. That's what he had said earlier. And although I'd had trouble figuring out why we just never clicked over the course of our six month relationship, despite him being the "perfect" man, I now felt that this was what it came down to.
He had the power to do anything he wanted to me—I gave him that power in the bedroom—but what did he want to do to me? He wanted to be sweet to me, to make tender love to me, and to give me what he thought I wanted—a nice guy for a boyfriend. The problem was, that's not what I wanted.
I wanted him to push me to my limit in the bedroom. I wanted to experience new heights of pleasure every day. I wanted him to tease me, to frustrate me, to make me go temporarily out of my mind before blowing it.
I wanted him to make me just a little bit afraid. Then I wanted him to make me beg for more.
He did his best to play the part as I directed, but when you're a submissive, it's a bit of a mood killer when you have to instruct your dom.
But it wasn't just the sex. Tim just wasn't my cup of tea outside of the bedroom, either. Yes, he was a stable man with a stable job. Yes, he lavished me with gifts and compliments. But what about excitement? What about adventure? What about taking risks?
There were plenty of women out there, I told myself, who would give anything to be with a man like Tim. And that was the real reason I had to break up with him. It was unfair to string him along. He deserved someone who would return his devotion and love. He didn't deserve someone who wanted him to be someone he was not.
I sighed, brushing the hair out of my face. This was starting to become a problem.
I'd dated four men in the past year and a half, and none of them had been a good match for me sexually. Was I really just that weird? Were my kinks just too much for most people?
Now, even more than ever, I felt the need to go after my deepest desires. With the state of the world as it was—everything so volatile, so uncertain—I wanted to find my joy and my satisfaction, and I didn't want to settle for less.
Or perhaps I just wasn't looking in the right place.
++++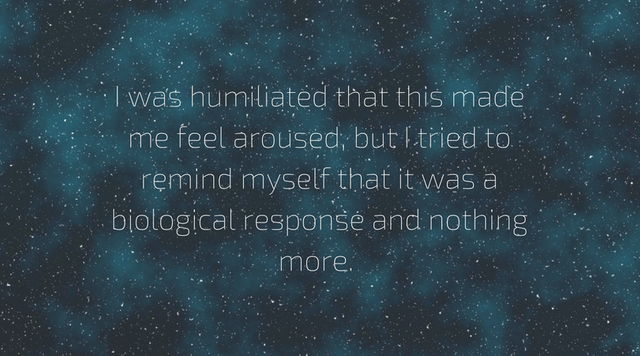 Present day...
Many men and women came and went, interacting with the tablet in front of me, presumably placing bids. I stopped bothering with trying to keep track of who was currently "winning," although the man with the wicked smile had lingered and visited the podium multiple times.
Please, not him, I pleaded with some unknown higher power.
The voice over the loudspeaker announced a five minute warning before the bidding was to end, and there was a slight increase in the murmurings and shufflings about the room.
"Yes, I'm sure," said a hushed female voice nearby. "He gave explicit instructions."
I glanced sideways to see four women speaking together in a group a few feet away. They were looking at me, and I quickly shifted my eyes downward.
The women walked over to the podium, and one of them, a tall and somewhat muscular woman with dark brown hair and severe eyes, entered something into the tablet.
Sure enough, the man with the wicked smile was still lingering nearby. He must really be determined to win the bid, I thought, feeling nauseous.
After the women stepped away, the man immediately returned to the podium and tapped the tablet.
I felt my pulse increase sharply, and a cold sweat broke out on my skin.
Surely there was only one or two minutes left before the bidding closed. Was this disgustingly creepy man going to become my new master?
I forced myself to look down at him—after all, avoiding looking at him wouldn't change anything—and saw that he had stopped. He was staring down at the screen with an open mouth. Then his face twisted into something terrible and began to redden. He looked up at me and sneered. I flinched and braced myself for something—pain, a slap to the face, a fist in the stomach. But instead the man whirled on his heel and stalked away.
I let out a small sigh and relaxed slightly.
"Bidding has now completed. Payments will now be processed and you may collect your merchandise."
Had the group of four women won the bid? What did these four women want with with me? It was less obvious than the man with the wicked smile. I knew he had wanted to hurt me.
But, this seemed different. I'd heard one of the women say, "he." He gave explicit instructions. They must be here on someone else's behalf.
A few minutes later, the squad—as I had begun calling them in my head—appeared in front of me again, and the large one grabbed me by the arm and guided me down from the platform. She seemed to be the squad member of choice for all the heavy lifting and shoving. They said nothing.
Now that I was able to look at them more closely, I noted that they carried what looked like small, conical guns strapped to the belts of their all-white uniforms, which consisted of tightly-fitted trousers, combat boots, and muscle tanks. They seemed to move with the grace and dexterity of those who have gone through rigorous physical training. Perhaps retired military? I thought, although they appeared to all be in their late twenties or earlier thirties. They seemed to carry themselves like body guards or hired muscle.
They didn't make eye contact with me, but I noticed that they didn't actively avoid it either, as they did what I assumed was an inspection of some sort. The largest one placed a hand on my shoulder as the other three poked, prodded, and squeezed. One even stuck a finger in my mouth, and rubbed it across my gums and over my tongue, causing me to gag slightly. Then she pulled back my lips to look at my teeth.
Another—a blonde with a slight build and milky white skin, whom I found to be actually quite attractive—spread my legs and used her hand to feel around my more private areas. I felt my face flushing and a surge of heat traveling somewhere lower. I was humiliated that this made me feel aroused, but I tried to remind myself that it was a biological response and nothing more.
After completing the inspection—apparently I had passed—the four female guards led me from the large room and down several long passageways for what seemed like an eternity. I was now very much aware of my exhaustion—and my nakedness. I knew that my face must be flaming red with with embarrassment. We passed several people along the way and many of them stopped to stare in obvious lewd appreciation.
Couldn't they have given me a simple robe to cover up with?
I wanted to protest, but I bit my tongue, and the sharp pain sent another jolt of adrenaline into my bloodstream. This was no time to be worried about being naked. I needed to figure out how to escape. But how? I'd felt the collar in action for only a brief few seconds, but that had been more than enough to make me certain I never wanted to feel it again.
I'd need to bide my time.
That didn't mean I was giving up. It just meant I was being smart. There was no need to rush blindly into an escape attempt now without any plan or hope of success. That would just cause me more trouble. It would be better if I let them think I had given up.
One of the guards glanced at me and I lowered my gaze to the ground in mock submission. Hopefully my plan would work and as soon as I found the right moment—
We had reached some sort of doorway and the biggest guard typed a code into a keypad, causing two metal doors to slide apart, making that same hissing noise like steam escaping under high pressure.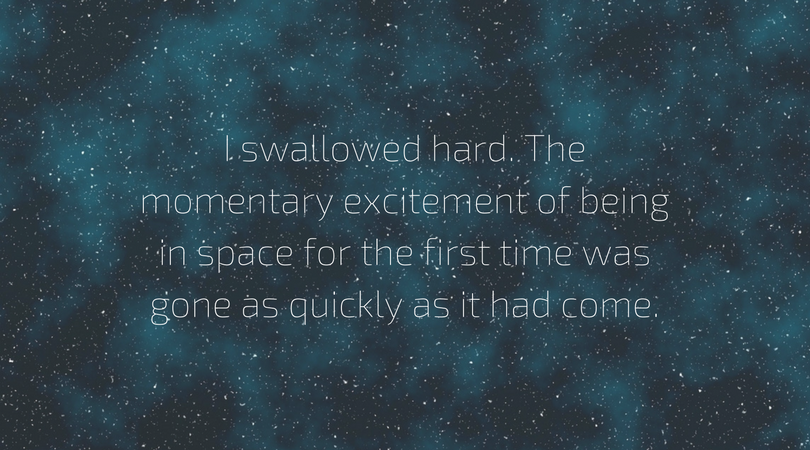 I felt myself being guided through the doors, and I looked around in astonishment. I was in a space ship. A real space ship.
"The Depot," as I'd heard this placed called earlier, must be some kind of space station and they must be docked to it.
As they walked me down a wide corridor into the vessel, I could see out one of the large windows and into space. It looked mostly black, but I could make out other spacecraft moving about out there, many probably taking their leave with their newly purchased property.
I swallowed hard. The momentary excitement of being in space for the first time was gone as quickly as it had come.
"Do you need to use the restroom?"
I looked up to see the pretty blonde again. There was a smattering of freckles across her nose.
I hesitated, then nodded. The woman led me to a large bathroom, complete with a jetted tub and shower, and I began to wonder just how large this ship actually was. This was no ordinary shuttle, if it even was one. Perhaps it was a yacht, or even a cruise liner.
The woman made no move to take off my handcuffs or turn away, so I simply sat on the toilet. I was too exhausted and too dazed to worry about modesty at this point anyway.
I hadn't realized that I'd needed to use the restroom that badly. Just how long had it been since I'd been taken? Then I remembered the strange dream. Had it just been a drug induced hallucination? I needed some time to clear my head.
I wasn't quite sure what to do when I'd finished, but the blonde woman grabbed my arm from behind and stood me up. To my surprise, she tore off some toilet paper and used it to clean me. I felt myself blushing furiously again, but the woman didn't seem to notice or care.
She took me by the arm again and led me down a hallway in the opposite direction from where we'd entered the ship. In a moment we reached a spacious and quite luxurious room. In it was a large, four-poster bed and a sofa. A huge viewing window was partially obscured by thick, velvet drapes tied back with ropes that had tassels on the ends. Everything was much different in here than it had been in The Depot. Instead of stark white, the colors were dark. Browns, blacks, burgundies. I could already feel the satin sheets on my tired, sore body as I imagined curling up on that gloriously opulent bed.
"Lie down."
The blonde guard was pointing to a small cot up against the wall next to the large bed.
Damnit.
I turned slightly, indicating that my handcuffs would make this difficult. I dared not speak.
"Lie on your stomach," came the matter-of-fact reply. The woman didn't sound angry or harsh, rather more tired. Perhaps how she would respond to a small child who had asked too many questions.
I tried to lay down without falling and ended up flopping awkwardly onto my stomach.
The woman pulled out a small device that looked like an inhaler and put it up to my mouth.
"Open your mouth and inhale."
I opened my mouth the ask what it was, but didn't have the chance as the woman deftly inserted the inhaler and pressed the button.
I felt a cold vapor fill my mouth and lungs. It was soothing.
"Again."
I felt myself taking a deep breath this time without protest. I smiled and allowed my eyes to gently close. I was calm now. Warmth spread from my chest and into my arms and legs. Little tingly sensations that tickled in a good way.
"Again."
Everything was dark now. I was wrapped in a soft cocoon of warmth. I drifted off into a peaceful, dreamless sleep.
To be continued...
---
Thank you so much for reading :) This is the second chapter in a serialized, erotic sci-fi novella. I'll be posting a new chapter once or twice a week until it's finished, and then I will compile it into an ebook and give it away for free download here on Steemit!
Please feel free to leave your thoughts, feedback, constructive criticism, etc., below in the comments.
Much love,
~xx~
Dina