Thoughts of WordPress theme development in 2018
WordPress has come a long way since I first used it in 2006. I definitely see how much modular the core is, and still able to retain its granularity; I can simply get a plugin or a theme, and then customize it as detailed as I want.
On my main personal website, WebGrrrl.net, I'll be honest and say that before recently, I've only gone as far as modifying existing ready-made themes. I built a child theme on top of the default Kubrik theme for WebGrrrl.net version 1, and did the same with Esplanade for WebGrrrl.net 2.0.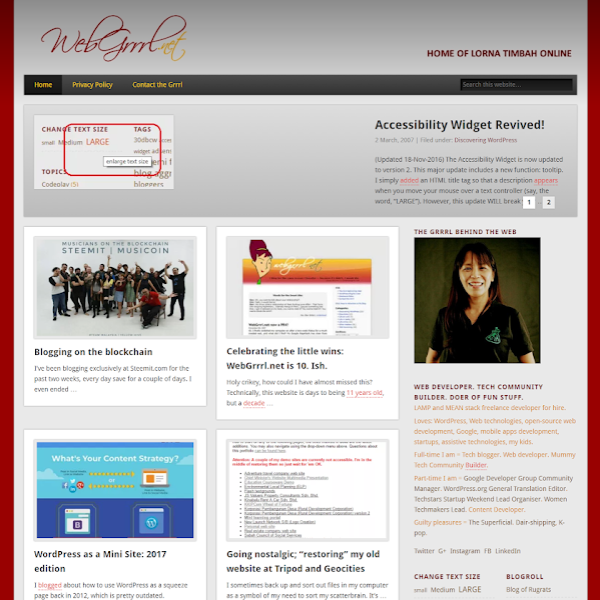 I've only now decided that I should custom build my own theme, after thinking that my website needs a better call-to-action and none of the current responsive templates offered through WordPress.org theme directory could cater to what I needed.
It's not that I've never built themes from the ground up, though. I chronicled halfway about creating my first custom WordPress theme from scratch for my now defunct kids blog.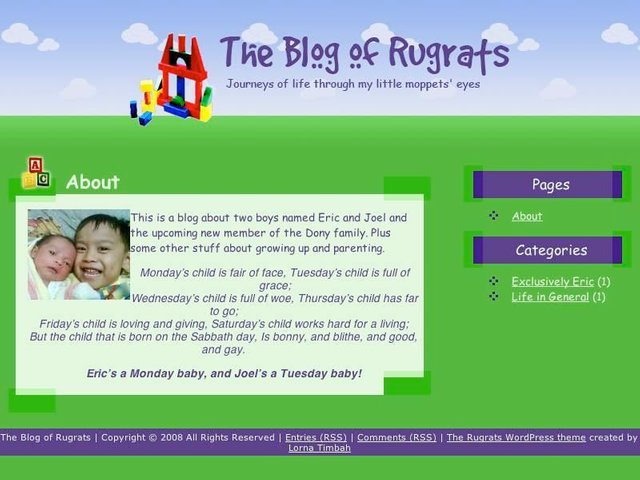 Knowing how the WordPress core worked, everything made sense and I had fun making it. Since then, I've built at least 3 more custom themes, all for my niche blogs -- one for a travel blog that I later flipped, and twice for my cross stitch patterns blog.
The state of WordPress theme development now, though, is insane. You would think that once you get the free or purchase the premium WordPress themes, that those stuff would work out of the box? The reality is that, even seasoned bloggers and developers like myself would not have enough patience to set them up to look exactly as they're advertised; more often than not, you'll end up disappointed and highly probably would hire someone like me to troubleshoot and fix the website issues.
Current WordPress theme developers need to remember that putting too many options would not only confuse the end users, it also renders your theme useless. It's why I prefer advising end-users to download the free WordPress themes instead of purchasing the premium ones. It's not worth the headache. It's more of an overkill if you ask me.
And the truth is, you don't need to have anything like the bulky 39 PHP files that make up Twenty Seventeen. You really only need FOUR files. Even for my redesigned website dubbed WebGrrrl.net 3.0, I went overboard and used nine "core" PHP files and four custom page PHP. I make do without the admin include files that provides the GUI for modifying the theme, because that's what the WordPress core's Customiser is suppose to do for you.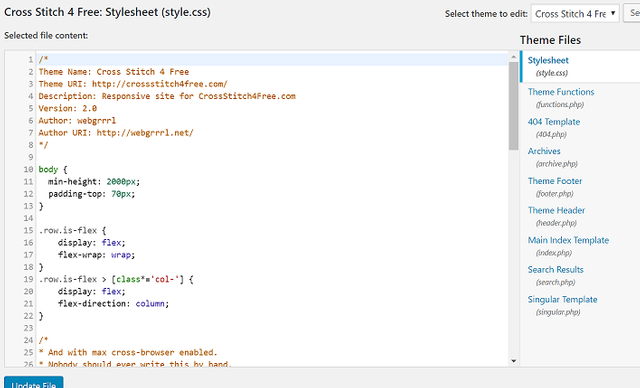 My CrossStitch4Free.com site uses nine files. That's my sweet spot.
We humans tend to overthink and complicate simple things. Sometimes it's better to solve that one problem that matters, instead of providing too many solutions that people wouldn't care to get. Web development definitely applies.