Davinci Translation Report #15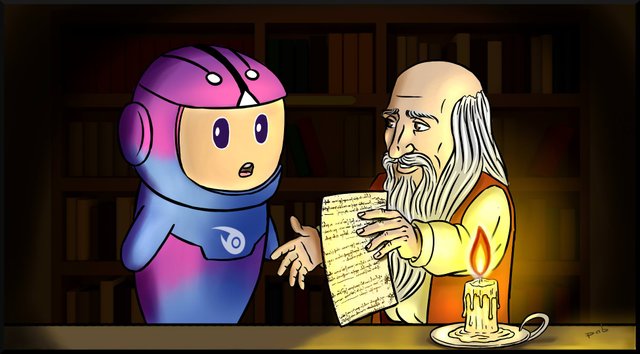 Thanks to @pab.ink for making this fantastic drawing!
A while ago the DaVinci Witness embarked a journey with @utopian-io, together we are using the steem blockchain to provide services to the open source community. In particular, the DaVinci Witness is managing the translation activity and with the support of @utopian-io we are distributing Steem rewards worth thousands of dollars every week to our collaborators. If you are not a translator or a collaborator why should you care? Well, among other projects we have also translated in several languages projects like "Steem White Paper", "Steem White Paper Genesis", "Steemconnect", "Steemit" and "Steemit Bluepaper" so we are helping our community grow in multiple ways. But let's get down to business:
This is report #15 of the translation activity conducted in collaboration with @utopian-io (you can find the previous report HERE).
The week represented in this report was severely impacted by hardfork 20 (HF20).
Unfortunately, several contributions went unvoted and many others were not even published, so overall there was an abrupt halt to the activity.
But, despite the disappointment caused by HF20 the translation activity is resuming and we are grateful to our collaborators that despite everything maintain high commitment and keep working regardless.
Now that we overcome HF20 and the voting issues we are ready to open the recruiting. However, this time we want to try to have a continous window, so we are not setting a deadline yet.
Instruction for a correct application:
The application post should be posted from your Steem profile. In the post you should tell us what are your qualifications and why you should be considered as a translator or Language Manager (LM). Moreover, it is mandatory to post a link to a voice recording of you speaking your native language and English. You can find more details on this post: https://steemit.com/witness-update/@davinci.witness/davinci-witness-update-6-utopian-io-translation-rewards-are-coming-back. Also, your post should contain the tag davinci-application. And after you drop a link to your application post in this room: #job-application-room on Davinci's discord server.
It's no secret that in the past there were several cases of abuses in the translation category and there were some teams in which this was more noticeable than in others. Most of these language teams are currently not active, for obvious reasons we have to careful about them but on the other hand some new users applied to part of these teams. These users have never done anything wrong and they have just inherited a bad reputation from their predecessors. We strive to be fair and we would like to give these teams a chance for redemption but we have to take some precautions:
We will only enable one of these teams at a time because they will be closely monitored.
These teams will be enabled with a reduced number of users
Any suspicious activity in these teams will result with the immediate suspension of the whole team.
Before opening the recruiting of new applications we would like to announce the team Yoruba these users followed the the application rules, they have been respectful and patient and despite the long wait they never complained, we feel they deserve a chance.
Team Yoruba New
So welcome to the new collaborators and we wish everyone good luck! More teams will be activated in the coming weeks.
Keep an eye on our blog to find out more!
Which language would you like to see activated?
Please leave a comment below!
As a witness, we are doing our best to foster the growth of smaller communities and we are delighted to help. Please consider voting our witness to support us
Help us by Voting DaVinci as a witness VOTE HERE
DAVINCI TRANSLATION REPORT 15 - September 23 2018 -:- September 29 2018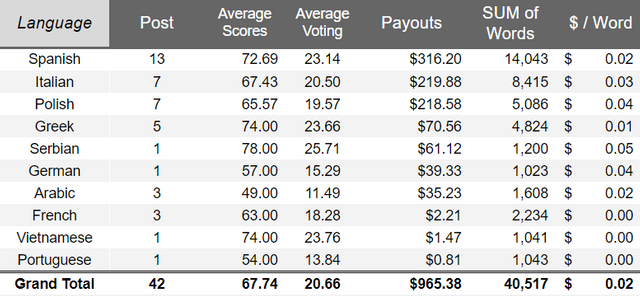 WEEK 15 SUMMARY:
42 translations
Translators have received rewards for $ 965.38
LMs have received rewards for $ 251.19
40,517 words have been translated, with an average of 1,044 words per post
Average score received to evaluate the translations is 67.74/100
Average translation payout is $ 22.99
Number of languages in which translations were made here are 10
Number of translators who worked are 30
40,517 words were translated this week with a unit cost of $ 0.02 per word

In this table (click to enlarge) you can find averages, medians, mode, minimum and maximum values related to this weeks.
GRAPHS
First chart show:

Number of post (translations)
Score
Upvote (SUM of all % distributed)
Payout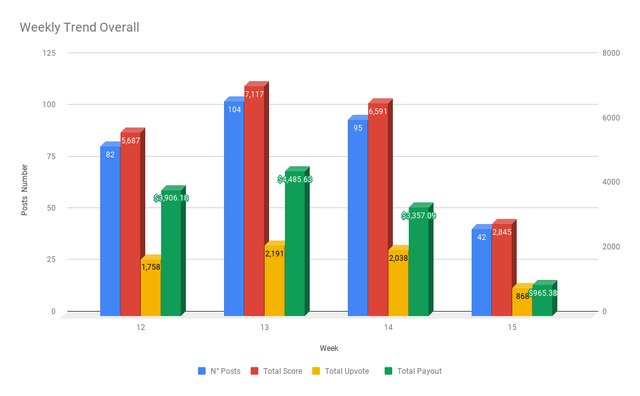 Compared to last week:
-55.79% Translation
-56.84% Total score
-57.42% Total upvote
-71.24% Total payout
-59.14% Words translated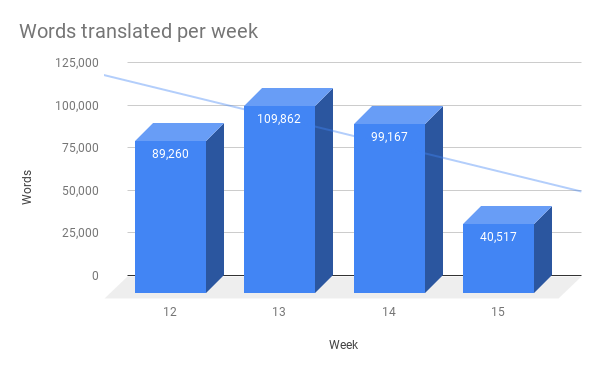 Scores assigned by our LMs
Averages of the scores assigned to the translations by our LMs, the points vary from a minimum of 1 to a maximum of 4 for the following categories:

formatting, language and overall presentation of the post
overall value of this contribution on the open source community
total volume of the translated text
overall difficulty rate of the translated text (this value depends on the type of text to be translated)
rate the semantic accuracy of the translated text
In the first chart, there is overall average score assigned per week.
In the second chart, there is average time taken to review a translation. Calculated between the date and time of publication of the post and the comment left by the LM. It is not intended as time spent in the review, but only after how long the post is reviewed.
---
Stay tuned for the next report!
The aim of this report was to provide complete transparency
about the development of this project.
---

CC0 Image - Creative Commons, thanks to @mrazura for ITASTEM logo.
CLICK HERE AND VOTE FOR DAVINCI.WITNESS
DAVINCI WITNESS TRAIL


If you are the owner of an Open Source project on Crowind platform and you want to translate it with our help and the support of @utopian-io please join our discord server and chat with us.


DAVINCI WITNESS DISCORD SERVER


If you would like to delegate to Davinci.Witness you can do so by clicking on the following links:
50 SP, 100SP, 250SP, 500SP, 1000SP, 5000SP.
Be sure to leave at least 50SP undelegated on your account.