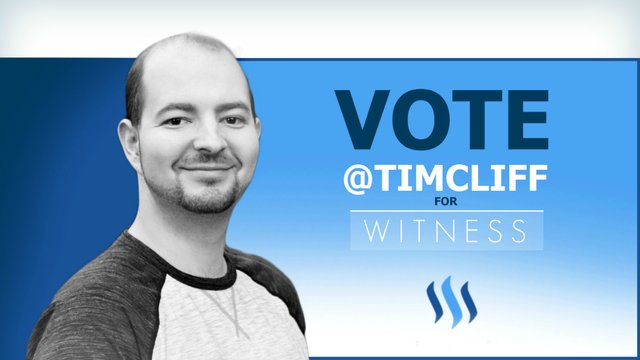 Witness Application
The top 19 witnesses are the most esteemed elected positions one can achieve in the Steem/Steemit community. To be voted in as one of the top 19 witnesses is both an honor and privilege, that requires significant trust from the members of the community. It also carries with it tremendous responsibility! I will only cast my vote for witnesses that I have carefully scrutinized and reviewed, and I expect you all to do the same for me.
About Me
I have a Bachelor's degree in computer science from the University of Minnesota. I have nine years of experience in professional software development, working for a "Software-as-a-Service" company that develops applications for the energy industry. I spent most of my career as a developer, although I have recently transitioned into more of a project management role. If you want to learn more about me, you should check out my recent "reintroduceyourself" post!
Witness Server
The community is placing their trust in the 19 witnesses to run the Steem blockchain reliably and efficiently so that everything built on top of it can function properly. It is vital that the witness node runs on a server that is powerful enough to run all the computations, and not miss blocks. I spent a lot of time shopping around to find the right balance between affordability and performance. Here are the specs for the server I chose:
Operating System: Ubuntu 16.04 LTS
Processor: AMD 3.1 GHz, 6 cores
RAM: 32 GB DDR3
Hard Drive: 3 TB
Security
Running the node securely is a curtail responsibility of each witness. I've implemented several "best practices" to ensure the security of the server and prevent my witness node from being comprised.
Remote Hosting
SSH keys to login
Password authentication disabled
Root login disabled
My Steemit Involvement
Since joining Steemit, I have been trying to find unique ways that I can add value to the community with the skills that I have. While I do have a technical background and could potentially work on some Steem/it based apps, I saw that there were already a ton of amazing people contributing in this space! I decided it would be best to contribute by bringing my project management skills to the table, and leave the techie stuff to the pros :)
The main project that I have been working on is called The Steemit Wish List. It is a collaborative effort to collect all the great 'Steemit Ideas' that the community has been thinking of, and organize them in such a way that the development team can quickly and easily review what new features the community is looking for. It has been extremely successful, and beneficial to start getting all the great ideas together in one place.
I am actively involved in the discussions that are taking place in GitHub regarding which changes to make to the site. I have opened up several issues on behalf of community members with suggestions on how to improve the site. I will continue to work through the GitHub issue interface to try and get more ideas from the "Wish List" implemented.
My most recent initiative is to try and bridge the gap between the Steemit development team and the non-technical community. A lot of what the dev team is working on is there in GitHub, but most users don't check there. In order to give everyone a view into what is going on with the site, I am creating periodic posts to summarize the activity that is going on in GitHub. (Example here)
A 'just for fun' project that I have been working on is to come up with "Daily Steem Poll" questions for the community, and incentivize people to participate. Questions vary from "What is your best tip for newcomers to be successful on Steemit?" to "Do you use recreational drugs?" or "What is your worst roommate experience?". Lots of members have fun sharing their thoughts, and finding out what their fellow Steemian's views are on different topics! There is even an incentive for users who think of new questions to use in future posts. A history of the conversations can be found here.
My Steem/Steemit Vision
There is some amazing potential that the decentralized Steem blockchain has too offer. I fully expect to see several world-changing ideas form and materialize over the coming years. To say that I am excited to see what happens is an understatement! It is going to be awesome!!
With that said, I am in the camp that believes Steemit.com is going to be what takes Steem to the moon. Steemit has what it takes to revolutionize the social media sphere, and there are billions of potential users out there ready to start using the site!
In order to be successful, Steemit is going to have to work well for the "average user". This is why my primary focus is on the Steemit.com UI, as well as the overall user experience. The conversations I've seen between the Steemit leadership, dev team, and community though all have me convinced - It is not a matter of if we get to this point. It is a matter of when!
I don't expect the price of Steem to go up much until we can make Steemit.com more attractive for "average users", and Steem Power to be more attractive to potential investors. I strongly believe though that both of these will come with time.
If you are interested in reading more about my views on various Steem/it based topics, you can check out some of my other posts:
Short Term Witness Goals
Now that I have my witness node up and running, there are a few projects that I feel are essential in order for me to be an effective witness. I will be working on these in the coming days/weeks.
Submitting my answers to @thecryptofiend's Witness Questionnaire
Creating an alarm system on my server to immediately notify me via text message if any blocks are missed
Setup a reliable seed node
Publishing my views on the witness price feed, and how I will be calculating the price
Long Term Witness Goals
If elected into the top 19 witnesses, these are the main areas that I will be focusing on:
1. Enhanced Server Architecture:
I see it as a requirement of a top 19 witness to have two fully functional redundant sites. Each site will be hosted by separate companies, since outages often affect all servers that are run by the same hosting company. Both sites would have the ability to quickly detect failures, and switch over to the alternate site whenever there is a problem.
2. Steemit Development Bounties:
I plan to use a lot of my witness funds to pay for bounties that will facilitate more development to add additional features and functionality to Steemit. Encouraging more developers to work on changes to the Steemit.com website, that add value and enhance the user experience is my #1 goal.
3. Recruitment/Marketing:
Once I feel that the site has the right features to keep millions of users happily engaged and coming back, I will shift my focus into more recruitment and marketing. When there is a great product to sell, marketing will be easy! I will expand on this more when the time comes.
How to vote for me as a witness
If I have earned your vote for witness, you can vote for me here:
https://steemit.com/~witnesses
If I am not in top 50 yet, you can vote for me at the bottom of the page.
Type "timcliff" into the box (without the quotes), and then click the vote button.

If I made it into the top 50, you can vote for me by clicking the upvote button next to my name in the witness list:

I will truly consider every upvote I receive an honor!
Still Undecided?
If you are unsure about whether or not I would make a great witness, I encourage you to message me in Steemit chat! I will be happy to answer any questions you have (as long as they don't jeopardize the security of my witness server) :)
That's it!
Thank you for taking the time to read my witness application post!
For those of you who are not familiar with US political adds, most politicians usually end their campaign commercials with something like this:
I'm @timcliff, and I approve this message.
=)