Before I left the Steemian Ocean, I threw bottles in the Atlantic Ocean with a message in it. @sunnylife is crazy yeah#@. This is normal for me LOL. I used to write messages on the sand even before Steemit. 
"Everybody has something to offer"@surpassinggoogle. "Everybody has a mirror", The Sky is the limit with Captain @schamangerbert. "Gratitude and Attitude" #grafulvibes by Papa Bear @paradise-found. 
I have the Atlantic Ocean:) What would you do if you see the endless Ocean everyday? Enjoy it right? But one day, while my husband and I were walking. I said to him "I really want to send message to the Whales. But how? [email protected]#$!  lights came on. Yeah, why not  send them message in a bottle?? My husband didn't say much. He looked at me and said "Oh ok". He knows me well.:):)
These were the  bottles that I threw in the Ocean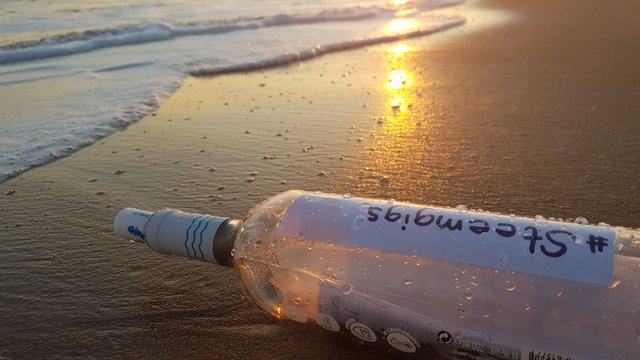 Why people sent messages in a bottle? Some says, they have been doing this for over 2,000 years. Oceanologist released messages in a bottle to study the ocean currents. Other did it as a joke, curiosity, love and others confessional farewells, apologies or SOS. Source
Did you know that the oldest message in a bottle found was 108 years, 4 months and 18 days. amazing isn't it? Source
In 2005,  86 shipwrecked migrants mostly teenagers were rescued by the fishermen. The vessel was abandoned by the smugglers after they discovered that the ship got into trouble. The migrants, didn't have any means of communication. They were saved by the sending message in a bottle. Source
Did I really threw the bottles in the Ocean? Yes, I did. I made 3 bottles. I threw 2 of the bottles with messages in it. The waves brought them back many times at the seashore. We went at the beach late in the afternoon when the sun went down. The waves were strong that time. I kept throwing until the bottles didn't come back anymore. I waited 1/2 hour and it was successful. Thanks to my very supportive husband and son. They enjoyed my craziness too! hahaha We had fun!!! 
Running away from the big waves nyahahahahaha

Throw it far...far....far...awayyyyyyy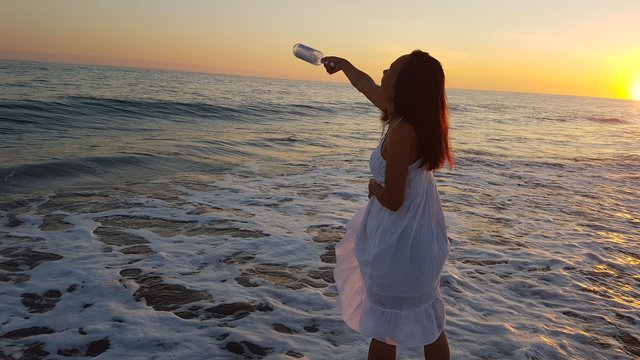 Here's how to make the message in a bottle
1. Empty wine bottle
2. Clean it.
3. write message on a piece of paper
4. Put the message in a sealed plastic (ziplock is the best)
5. Put it inside the bottle
6. Close it tight. That's it then you need the ocean:):)
Actual bottles that I threw in the Ocean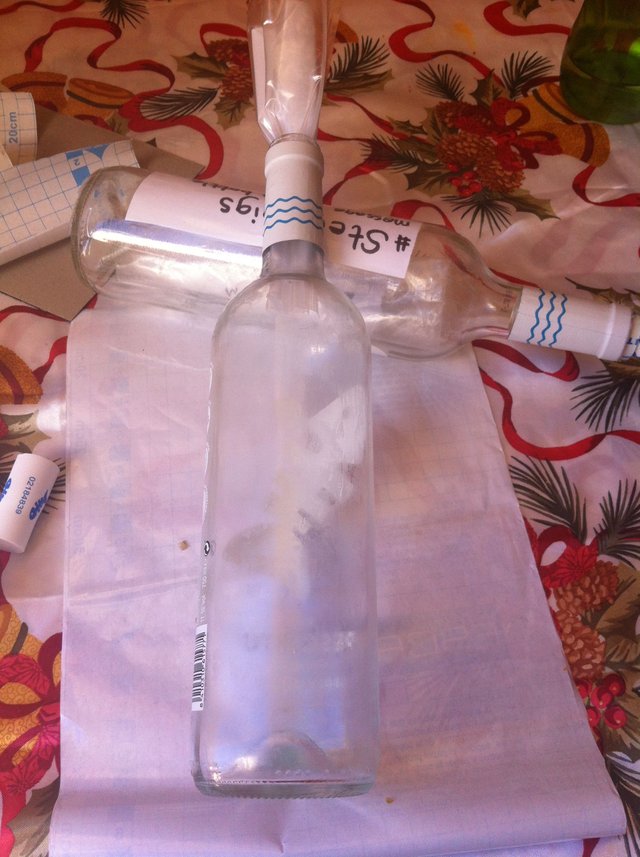 I'm not here to impress nobody. I just want to share my thoughts and use all my imagination by sharing it with you. @suprassinggoogle taught me to get out of the cage and be free. I didn't know him before. But when my witty, funny, smart and beautiful friend @purepinay introduced him to us, I got a chance  to know him more. He's amazing guy with a big heart. It's the heart and soul that counts, no more no less. I believe in him and I want to support him.  I don't know how long is he going to be here on Steemit. Nobody knows....
But what was my message in a bottle??? 
Dear Whales in the Ocean,
My name is @sunnylife. I live in Spain. I'm writing you a letter to vote for @surpassinggoogle for a witness on www.steemit.com. @surpassinggoogle, contributes a lot in the Steemit community. He's a good listener, motivator, a humble and a very passionate person. He cares for his fellow Steemians but also for the platform. He treats it like his own family. 
VOTE for him: @steemgigs https://steemit.com/~witnesses
 or visit: www.steemit.com/@surpassinggoogle
Don't forget to message me back if you find this bottle.
Write me back: www.steemit.com/sunnylife FB: steemitsunnylife
WATCH THE VIDEO
WATCH THE VIDEO HERE:  
PG18 nahubaran na sensyahan nyo na walang basagan ng trip hahahaha 
Do you think the Whales and other sea creatures can read and see this message? I also don't know, how many days, weeks of years the bottles will  float in the Ocean. It can go anywhere. In Africa, America and Asia may be?.  But my message is, don't wait too long. Let's reach the stranded fish and Whales on the islands. Whether you're a galunggong fish, tuna fish, dolphins, nemo fish, shark, sea horses, or any kind of a sea creature you are. Tell them to vote for #steemgigs. Let us not wait for 100 years before that happen. Let's unite now, hand in hand, bayanihan. We can all do this. RESTEEM NOW. I'm calling all my family, friends, brothers and sisters from all over the world. Don't make me vex man LOL:):) Show me some love by spreading this message.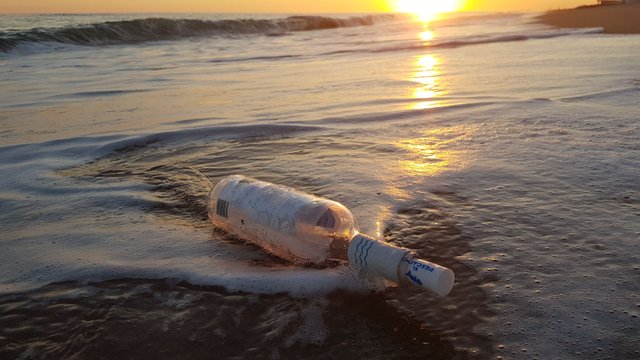 Wish you all well. Thank you all for your support. 
P.S. I'll do #Steemgigs Message In A Bottle SOON.
If you haven't vote your witness yet, please vote Terry now. He needs our support NOW! 
Write @steemgigs >>>https://steemit.com/~witnesses
Other witnesses @rcarter.witness @cloh76.witness @precise @blocktrades
Yours truly,
The village girl @sunnylife by the Steemian Ocean