Success on the Steem blockchain is not only about producing valuable content, it's also about connecting with all the amazing people from around the world! Making comments are almost as important or even more important than creating posts. It allows you to connect with various authors on the platform and make new friends who will learn about you and support your activities on the platform.
Aside from commenting on other's posts or comments, another way of connecting with other Steemians is joining an existing community. Some communities have a presence on Facebook or Telegram but the big majority of them are on Discord and that is currently my favourite platform.
Some of the communities I'm a member of
In today's update I'd like to share with you some of the amazing Discord communities related to Steem.
Advantages of joining a community
it's more fun when you find a community with people who think link you
join effort to start a project
receive support from the members
opportunity to help others and make a name for yourself
some communities have an bot that auto-upvote members' posts
discuss about common passion
meet real persons during Steemit Meetups events
promote your content and projects
and many more...
Peace Abundance Liberty (PAL)
The home of @minnowsupport and many other projects is the little baby of witness @aggroed. PAL is hosting many projects that include the community bot @minnowsupport, @msp-curation or the MSP Waves radio shows such as the Alternative Lifestyle hosted by @pennsif who also runs #adollaraday charity project that I support.
Discord server: https://discord.gg/HYj4yvw
Dynamic Steemians
This community is leaded by @dynamicgreentk. I discovered this community thanks to @symonp a member of the Team Vietnam community. I'm pleased with what I've found there: a bunch of very dynamic Steemians and @dynamicgreentk is my own personal notification system for events happening on other Discord servers 🤣
Discord server: https://discord.gg/8EqZaQY
Steemgigs
https://steemgigs.org/ is a freelancing social network on the decentralized Steem blockchain created by @surpassinggoogle. The Discord channel is more than just an advertising platform for the website, it's also a huge community of over 5000 members! And Terry (@surpassinggoogle) seems to be full on and dedicated to the success of his fans. Thanks to @dynamicgreentk, I discovered the server last Sunday. I then realised that there was a talk show by Terry which has ended 7 hours ago and they were still talking, Terry staying overnight! In the end it turned into a Karaoke on Discord after party where I did a little Ukulele performance with Redemption Song by Bob Marley and Over the rainbow in the style of Israel Kamakawiwo'ole: checkout this post from @snook for a recording of the performance.
Discord server: https://discord.gg/VfyUzSW
@linnyplant introduced me to this group she cannot stop saying good things about so they must be very special. It's a group of fun people. Everyone needs a bit of humour and if you're good at it you can participate to their regular contest. If you are after some fun, heads to their server.
Discord server: https://discord.gg/rddw2Ny
Homesteaders Online
Are you into homesteading, gardening, sustainable living etc...? If so then you cannot miss this community! They have a channel for everything from the apiary to the orchard, the kitchen, the medicine cabinet or the poultry pen and many more.
Discord server: https://discord.gg/VKCrWsS
SteemSchool
My fella witness @valorforfreedom has created this amazing http://steemschool.net/ where you can learn how to be a better author on Steem and a better person too. He is very active and post every day. With a group of other influential Steemians he has also started the Minnow Support Saturday weekly contest where you can win hundreds of SP.
Discord server: https://discord.gg/d45uuUy
Country/Language based communities:
What's new since last update
@teamvn the Team Vietnam community bot is still running strong and has now received 1060 SP from its own members and 500 SP from @qurator. Thank you @scrooger and his team for supporting our community, the members were very touched and grateful this generous delegation that now allows us to support even more Vietnamese content creators.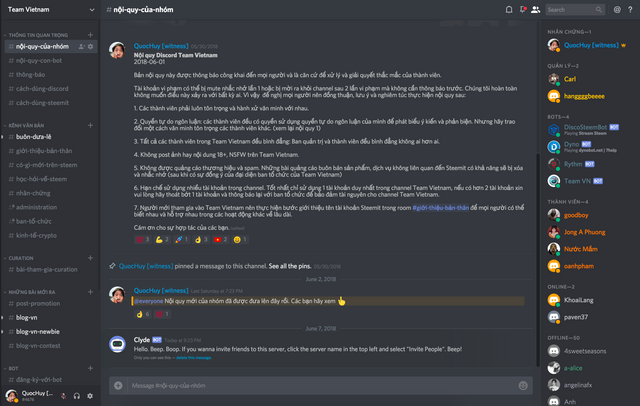 The Team Vietnam community is still growing. Our Discord server now has channels for:
important team information but also guides and tutorial on how to use Discord and Steemit
an everyday chat channel and specialised channels
a post promotion channel to keep our active members busy
#vn #vn-newbies and #vn-contest Steemit tags are feeding into their own channels
we have a voice chat room and a Music & Karaoke room too
@teamvn is now able to register Discord users linking their Steem account. The registration process does not require a transfer of SBD or STEEM but rather a comment on the member's own blog post.

I'm now listed on http://ivoted-steem.info/quochuy-steem-phish-creator-and-witness the website for @ivoted created by @sebbbl who wants to motivate Steemians to casts their witness votes by rewarding them with upvotes on their blog posts.
I've started to support #adollaraday charity project run by @pennsif by sending 1 SBD per day which will be used to support multiple causes.
I've also done a little talk on @pennsif's Alternative Lifestyle show on Peace Abundance Liberty's @msp-waves Radio.
EOS Witnesses
Last week, I stumbled upon this post by @donkeypong who has remove his witness votes from several witnesses including high ranked ones. The key reason for this drastic change is the fact that some Steem witnesses have decided to also become EOS witnesses.
Steem Witnesses should be 100% committed to the Steem ecosystem, not divided in their loyalty, commitment, or fiduciary status
Source: Clarifying my decision not to support EOS-related posts and witnesses
I personally believe a Steem witness should focus on Steem. If you still believe in Steem, this is the time where you have to stand your grounds and focus your activities to make Steem better. If you doubt Steem or stopped believing, then stop witnessing for it. But this my personal view. I also understand the top20 witnesses who are now also EOS witnesses have done a lot for the Steem blockchain for the last couple of years, no one should forget this. But should they or should they not share their attention onto two separate blockchains? What if something critical is to happen that can be fatal to one or the other blockchain? Which blockchain will they choose to support now?
What do you guys think?
Is it OK for a Steem Witness to also be an EOS Block Producer?
Summary of some of my other contributions
| Project | Description | Link |
| --- | --- | --- |
| Steemed Phish | Chrome browser extension to make external links more visible and alert you on Phishing/Scamming links | Steemed Phish |
| Dtube Community Support | This project by @evildido allows users to run their own IPFS node and pin videos in order to cache them for longer. Dtube has the tendency of deleting non-popular video after few days only. I helped Dockerizing the project for an easier deployment on almost any platform. I've also contributed by running two nodes, one in Australia and one in Canada to cache #teamaustralia and #teamnz videos. | Dockerizing Dtube Community Support |
| DiscoSteem Bot | This is a Discord/Steem bot project by @planetenamek. When I started Steemulant Bot for the Vietnamese community, I didn't know the existence of DiscoSteem Bot and wanted something written in NodeJS. I've ended up continuing my own project as it contains code and logic for personal use and for the Vietnamese community. But I've decided to share some useful features that can benefit the users of DiscoSteem Bot and will continue to add more functionalities as I go. | Dockerizing DiscoSteem Bot |
| A Dollar A Day | This is a project run by @pennsif and will donate 15 SBD every day to a charity | "A dollar a day" fundraiser - Karaoke Singing: Le chanteur malheureux |
---

Vote for your 30 witnesses
Support me by voting for my witness via SteemConnect
---
Credits
The image at the top has been generated with the Canva app using my own photo.
Related content
---

I don't follow for follow, I don't upvote for upvote. If you make quality posts that I like/enjoy then I will upvote and/or follow you