Hey guys! Sorry for the delay in this post, I was meant to have posted this over a week ago but I was having a rough patch in my own personal life so I have been putting off Steemit for a while, but I'm back and I'll be somewhat active again!
Introduction
Before this you read this article, you should check this out! It goes through a lot of what our mission at @crypto.charity is, but since it's quite long I will give a short summary below.
Basically, we aim to help Venezuelans who are suffering as a result of hyperinflation. The inflation rate in Venezuela this year alone is close to 14000%, imagine if your money is suddenly worth over 99% less through no fault of your own, that's like BTC dropping from $20,000 to $143, but you're all in on BTC. This is the reality Venezuelans are facing, which is why cryptocurrency is so powerful as (despite we're in a bearish market), it's still much better than holding their own currency or working to earn their own currency, and with a small amount of Steem we can help many Venezuelans afford food and live on to fight another day. This is why I feel like it's the most economically efficient form of charity, as 1 Steem goes a long long way in Venezuela.
Distributors: trusted Steemians who will receive a portion of the funds to help distribute food and medicine to local Venezuelans in their area who can't even afford to be on Steemit.
Source for inflation statistic
Table of Contents
Who are the distributors and what will they do with the money?
Who are our sponsors at the moment and how do they contribute?
How will the funds be distributed?
How to participate in the raffle and list of prizes
Our future plans for the charity
My discord is cryptoeater#5209
Introduction to Distributors
The funds received by @reinaldoverdu will be for personal use and distribution to other Venezuelans in need
This is a friend of mine and the first person to really shed light on the situation over in Venezuela. I have been helping him to afford food for a couple months now, sending him 1-2 Steem every now and then when he needs it. He has helped me greatly in understanding the situation in Venezuela and he has done a lot in establishing @crypto.charity. Below is a video he recorded for me .
@drmaizo: a doctor with the tools to help
The funds received by @drmaizo will mostly (likely all) be used for distribution among Venezuelans in poverty
@drmaizo is someone I met on Steemit after I launched @crypto.charity, and after looking at his blog I couldn't help but contact him. Before @crypto.charity, he has already helped many Venezuelans in need with free medical surgeries and distributing food to people in need. Below is a photo of food bought with money raised by @drmaizo and @lrd to feed poverty stricken children, taken from this article, and used with permission.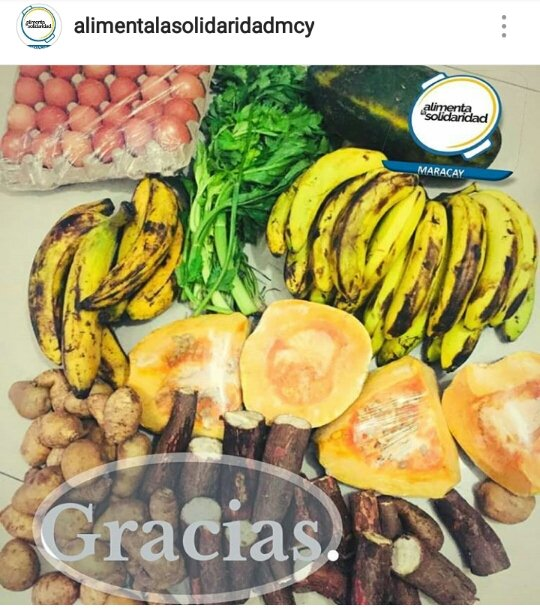 @bigdude: a Steemian helping Venezuelans afford shoes (is no longer a distributor)
@bigdude will not be receiving any funds
@bigdude is the founder of Project Dudeland, an initiative aimed at helping children afford shoes. Venezuelans have to walk a lot as it's the most economic form of transportation, so having comfortable shoes may be a lot more substantial than one might think, but of course feeding them is still more important. Below is a photo taken from this post, with permission showcasing his latest donation of 20 pairs of shoes!
HOWEVER, for our first round of distributions we are looking towards funding more essentials, such as food and medicine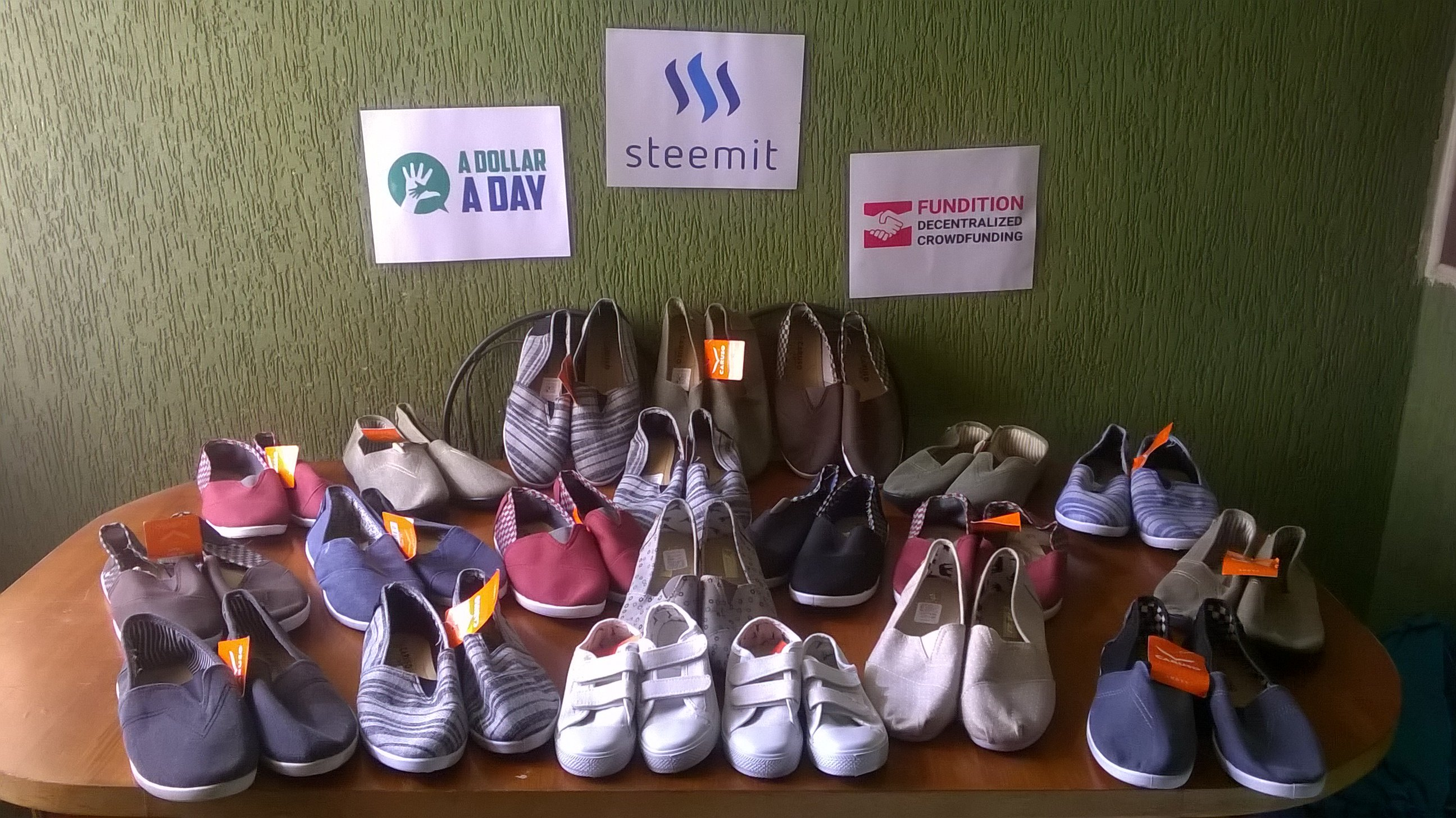 @carlagonz: a Steemian helping the children of Venezuela
Funds will be used to fund Project One Opportunity
Project One Opportunity is an ambitious project headed by @carlagonz. The main aims are listed below, and explained more in-depth in this article
Help afford food for children
Give children basic education such as reading, writing and maths so they can have greater future opportunities
Once they have learnt basics, start workshops for children that they enjoy that they can develop into a future profession
Below are the links to four updates she has posted, these are truly outstanding articles with many pictures to truly capture the state of the children's lives. They are worth a read, and if not a read a quick glance through the titles and pictures will give you guys an idea.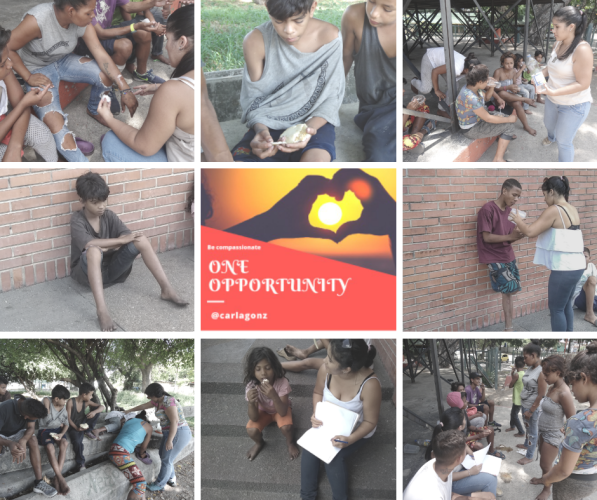 Back Up Distributors
I have gotten a lot of interest from people who are willing to help! If we get a lot of funding, I may use some of my back up distributors as I feel we have enough with the list provided above. I currently have a list of 3 more distributors who are interested in helping but don't have any running projects or a history of helping, so for now I will entrust our distribution to known Steemians who have a history of helping!
Sponsors
Helping us with funding through his own means and personal donations
@cryptoeater (me!) is the founder of @crypto.charity. I will keep trying to bring more awareness to this charity so it can grow and help more and more people! Soon we will be looking for delegations which I'll explain more below.
Helping us with funding through his own means and personal donations
@crypto.piotr has been a follower and supporter of my blog for a long time, and since the launch of @crypto.charity, he was the first to offer help funding, even before we started asking for the help! His first contribution will be worth up to 20 SBD, to find out more about this, check out his article here! You can also win a share of the 130 SBD he's giving away :)
How will the funds be distributed?
For now, all I know is that the people listed above will receive some funds, the portion/percentage each person will receive is not yet decided. I plan to have some sort of community vote on this matter later, prior to our first distribution!
25 Steem Monsters Packs (or choose your own cards) Raffle
How to enter
Send 0.1 Steem or 0.14 SBD PER TICKET to @crypto.charity (all funds sent to this account will be used for charity)
Include in the memo how many tickets you wish to buy (optional, I can just divide haha)
You may purchase tickets more than once, and you may purchase more than one at a time!
For example, you could send 1 Steem and say "10 tickets", or just 1 Steem and I'll know it's 10 tickets
EACH PERSON MAY WIN MORE THAN ONCE
New choices for rewards due to a mistake I made
I recently purchased 5 packs for fun, but accidentally opened all 55 of them by clicking on the open all button!! Now I have 0 packs. However, I would like to honor my original agreement, so if you wish to redeem packs, you may redeem packs and I'll buy brand new packs for you :)
However, I would like to honor my original agreement, so if you wish to redeem packs, you may redeem packs and I'll buy brand new packs for you :)
However, to make it easier for me, I'd also like to add in the option to have "store credit", so you can buy cards you want from my store, or redeem the Steem at 80%!
For example, if you won 1 pack and packs are 1 Steem each, you may redeem 0.8 Steem (I send you 0.8 Steem to your Steemit account) or receive 1 Steem store credit to use to redeem cards from me! I'll list the prizes and rates I'm selling at below.
The Prizes
First: 12 packs
Second: 6 packs
Third: 4 packs
Fourth: 2 packs
Fifth: 1 pack
Note: each person may win more than one prize, but each ticket can only win once
Commons
0.049 Steem per level 1
2.500 Steem per gold foil common
Rares (non summoners)
0.195 Steem per level 1
0.185 Steem per level 1 for 100+
0.180 Steem per level 1 for combined cards
0.170 Steem per level 1 for all my high level rares
7.000 Steem per gold foil rare
Summoner Rares
0.350 Steem per level 1
0.335 Steem per level 1 for 100+ summoners
0.315 Steem per level 1 for combined cards
25 Steem for a near max level summoner (1 card away from max)
12.500 Steem per gold foil rare (summoner)
Epics
Normal epics are sold out
22.500 Steem per gold epic
Legends
Elementals 9.5 Steem
Dragon 12 Steem
Selenias 18 Steem
On a side note, if you'd like to purchase any Steem Monsters cards from me, message me on Discord (cryptoeater#5209)
Summary of Tickets purchased so far
1: @tsnaks
2: @foodishcorner
3: @amico
4: @benzene
5: @k0wsk1
16-25: @uwelang
26: @thaishps
27-46: @rondras
47: @safedeposit
48-57: @grampa-coin
58-67: @peter2017
68-117: @erodedthoughts
118-120: @heyimsnuffles
121-126: @hendersonp
Future plans
I plan on doing many more fundraisers in the future to help give liquid Steem to distributors so they can help others around them who are in need who can't afford the technology to be on Steemit. Furthermore, my next big step will be to acquire some delegations so I can start giving out daily upvotes to people from Venezuela so they can earn a guaranteed and reliable income from posting here on Steemit. My first step is looking for delegations.
Delegations
If you believe in the project and you're keen to help, feel free to delegate to @crypto.charity with the links provided below!
However, we will not be starting our daily upvotes yet, as we will first be looking for valid participants, then we'll start the daily upvotes (with the 3SP @crypto.charity has), THEN we will be ACTIVELY looking for delegations.
Future Fundraisers
I'm not very creative so I don't have many future fundraiser ideas yet, but they might just be more raffles with Steem Monsters as I have a lot of cards left in my collection that I wouldn't mind getting rid off some!
New Discord!
This server is brand new and in development! In the future, we will use this server along with posts as the primary means of communication!
All images used in this article from other people's blogs were used with typed permission.