Raspberry muffins
Hey guys,
So the muffins theme continue =) Today I made some raspberry muffins.
I'm soon on my way to meet an instagram friend for the first time irl so i'm super excited about that.
Have you met any of your online friends irl?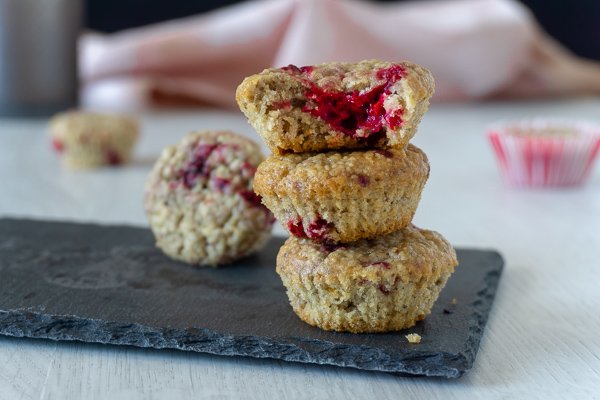 I'm not going to let you wait so much further for the recipe so here you go, guys :)
Recipe for raspberry muffins**
Portions: 22-25 mini muffins
Ingredients
3/4 (1,7 dl) cups of wheat flour
3/4 (1,7dl) cups of oat flour
1/4 (0,5dl) cups of brown sugar
1/2 (1,15 dl) cups of white sugar
2 tsp of baking powder
1 tsp vanilla powder
1/2 tsp of salt
1/3 (0,7 dl) cup rapeseed oil
2 chia eggs (mix 2 tablespoons of chia seeds with 6 tablespoons of water and let sit for 15 min)
1/2 cup (1,15 dl) plant milk
0,8 cups (2 dl) of raspberries
Method
Pre-heat the oven to 200 degrees Celcius
Mix your chia egg and let sit for 15 minutes
Mix all the dry ingredients
Add the wet ingredients, including your chia egg
Mix until you have a smooth batter
Add your raspberries and stir around a few times
Pour into small cupcakes forms, filling them up to 3/4 of the form
Bake for 15-17 minutes, check with a potato stick if the batter sticks let sit in the oven for a few more minutes
That's it, my friends, now go make some muffins and enjoy!
❤️Thank you for taking your time and read my post. It means a lot to me.❤️
---
Can't get enough? Join me here👇
Facebook - Instagram - Website
---
If you liked this post and want to read more then feel free to visit some of my other posts
Recipes
Pasta
Pasta with bean dip and good company
Vegan carbonara to die for
Snacks, Cookies & Desserts
5-minute coconut bars
10-minute bliss ball snack
20 minutes 7 ingredients peanut butter cookies
---
If you liked my post and want to support me, please upvote, comment and resteem.
Lots of love to you all / Nicole <3