[Tutorial] Building a Web Crawler With Python 2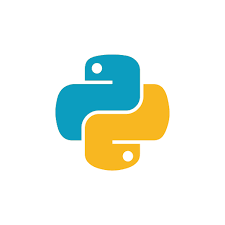 Repository: Python Repository Github
Software Requirements:
Visual Studio Code(Or any preferred code editor)
What you will learn:
In this tutorial you would learn to build a web crawler with these functionalities
Understand What Crawling is
Learn how to observe url pattern changes and use them to create better crawlers.
Use the Beautiful Soup package in the bs4 module.
Difficulty: Beginner
Tutorial
What is crawling
In this tutorial we would be further developing the bot we started creating in the last of this series. We would add more advanced functionality so that it would be able to search through more pages by observing url patterns for the site we would want to crawl.
Before we do this, due to a comment by @portugalcoin, i would try to explain what a webcrawler is a bit better.
Lets start with the wikipedia definition.
A Web crawler, sometimes called a spider or spiderbot and often shortened to crawler, is an Internet bot that systematically browses the World Wide Web, typically for the purpose of Web indexing (web spidering).
Web search engines and some other sites use Web crawling or spidering software to update their web content or indices of others sites' web content. Web crawlers copy pages for processing by a search engine which indexes the >downloaded pages so users can search more efficiently.
So that quite simplifies the definition to a well understandable form. Lets move on to improving our code.
When writing a webcrawler using beautiful soup, you would need to understand how the web url are directed and rerouted. Most times, whenever you navigate to a new page, the name is just added to the preset url like '/newpage'.
Some websites are structured differently, so you would still need to move around and understand the structure for that site before you write your crawler.
So on to the coding
From our last tutorial, this is where we are
from bs4 import BeautifulSoup
import requests
import re


def thecrawler(maxpages,movie):
    page = 1
    searchnetnaija(movie)
    while page < maxpages:
    
        searchtoxicwap()


def searchtoxicwap():
    url="www.toxicwap.com"


def searchnetnaija(movie):
    search = True
    while(search):
        print('This works')
        url1="http://www.netnaija.com/videos/movies"
        sourcecode = requests.get(url1)
        plain_text = sourcecode.text
        soup = BeautifulSoup(plain_text,'lxml')
        list = []
        for link in soup.find_all('a'):
            lin = link.get('href')
            
            list.append(lin)
        search = False;
        
        for dat in list:
            x = re.search(r'movies',dat)
            if x:
                s = r'%s' % movie
                y = re.search(s,dat)
                if y:
                    print(dat)



Understanding Url patterns
We can see that the problem with this is that it only searches one page in the website. To make it search other pages, we would need to see how our url changes for other websites. First head to the website here and navigate through the movie pages while noticing how it changes.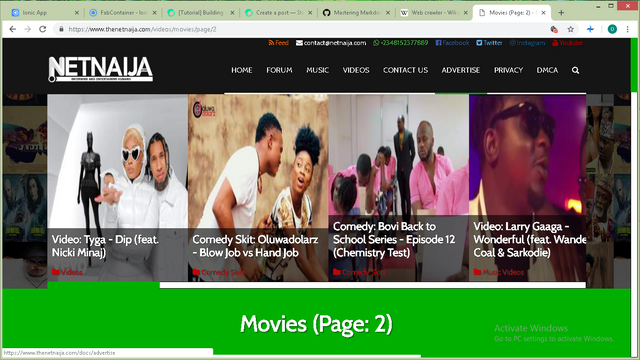 From this page all we want is the url


So if you payed attention you would see that as stated earlier the number at the end of the url for each page changes to the corresponding page number and this is the feature that we can exploit.
To loop through a certain number of pages we would use a while loop like this
def searchnetnaija(movie,max_pages):#Add a new max_pages arguement to the function
    page = 2#Start off from page 2
    while(page < max_pages):
        url1="http://www.netnaija.com/videos/movies"+ str(page)#Interpolate into the url 
        page += 1#navigate to the next page

Since we would want to use a single function to search through multiple sites, we would need to send the same max_pages parameter through all the pages. Hence, you could use this parameter to call all the functions within your main function.
def thecrawler(maxpages,movie):
    searchnetnaija(movie,max_pages)

So after this is done we would like the crawler to navigate to the link we've found and find the download link within it. Most sites wouldnt want bots going through their websites and downloading files, so they make on-screen buttons that must be used to download these files. You could choose to just navigate to the link your bot has provided or you could choose to use a module called pyautogui to actually click on the button and download your file within your browser(This would be quite more complex, but would be happy to do a tutorial on it if interest is indicated).
So we would need to navigate to our new page and look for the link for the download.From the url method we learnt above, we would see that the links for movie downloads have '/download' beside them which leads to a new site for download. So we just add this to our code and we should be good to go.
                for link in newSoup.find_all('a'):
                        a = link.get('href')
                        lis.append(a)
                        for dat in lis:
                            x = re.search(r'movies',y)
                         if x:
                             s = r'%s' % movie
                             y = re.search(s,y)
                             if y:
                                 new_link = url1 + '/download'#this line adds the download to the url and gets us the link
                                 requests.get(new_link)

Thanks for reading
You could head to my Github to see the code for this tutorial.