Project details
While searching
Steemit
few days ago, I found
Busy
- an open source project on Steem blokchain. I opened an account there and saw in settings that Busy offers a lot of languages, but didn't find my native language. Few hours later, while searching official
@busy.org
profile I found a
call for translators
. I've already translated some websites in past like a voulonteer, so I decided to do that again and help Steem community from my country. I contacted
@fabien
on Discord and he wrote me step by step tutorial how to open an account on
Crowdin
and start translating.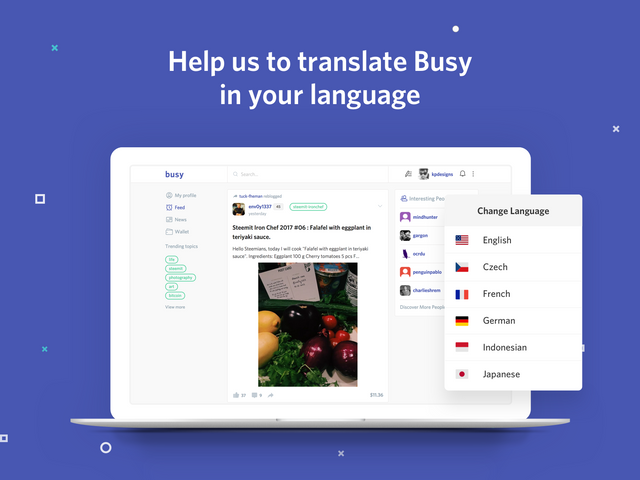 Let's start translating!
I found my language on the list. In Serbia we have two official alphabets - Latin and Cyrillic. The second one is used very rearly. Everyone learn it in school, but 95% people use Latin. On the list was available only Cyrillic. I was little confused, but I decided to check it. I was surprised that there was only few translations and all of them were wrong so I voted negative for those. I started translating sentence by sentence and thought that I'll translate maybe 30%. Actually it was very fun, I didn't track % during translating and I was very surprised when I realised that I actually translated everything! 100%! 998 words!

Contacting @fabien on Discord.
Right after that I contacted him on Discord and let him know that I translated everything. As you can see on the screenshot below, we was surprised because I did it very quickly. I told him that there should also be Serbian (Latin) because 95% people in our country use it. Few hours later he added it and I was very happy because I will enjoy translating once again.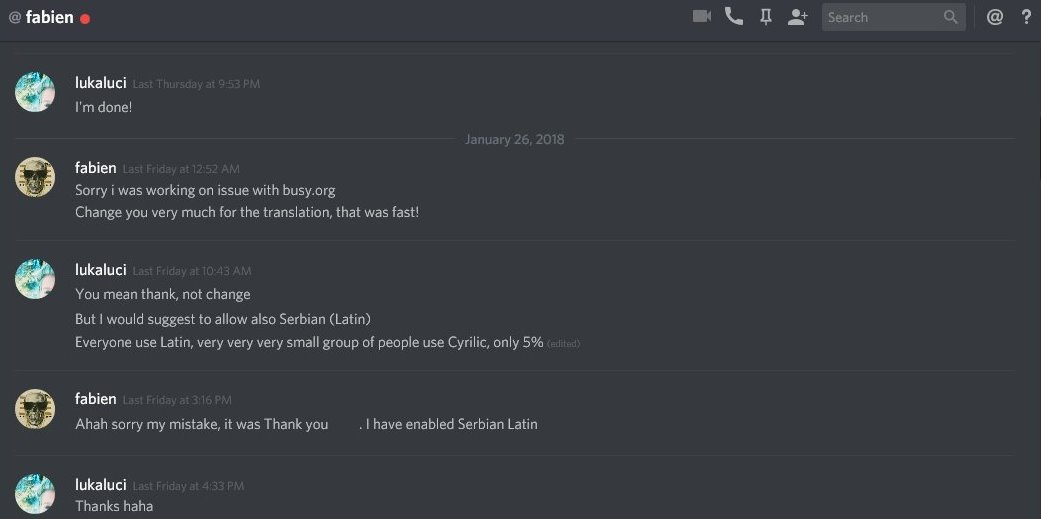 Let's start (once again)
I again took my time and translated Busy.org from 0% to 100%. It was so fun! It was much easier than the first time because I already learned how does Crowdin platform work. Once again, I contacted
@fabian
to let him know that I'm done. On the screenshot below is the proof that I translated everything, once again. Then, he suggested me to make a contribution on Utopian, so I contacted some mods to help me about it. Special thanks to
@ewq
moderator. Also, I voted for some translations for Croatian language because I can also undertsand it.

Stats
Source language: English (998 words)
Translated languages: Serbian (Cyrillic and Latin), 100% translated for both
Number of words translated on this contribution: 998 words + 998 words = 1996 words
Proofread Words: @fabien said that all words will be approved asap, probably in few days.
Number of words translated on the project before this report: 0 correct
Proofs
On the screenshots below you can see my
profile
and busy.org
project
on Crowdin. There's also proof for my 100% contribution for translating. (2247 words because I deleted some I firstly translated wrong). You can find all other proofs by searching for my profile on Crowdin.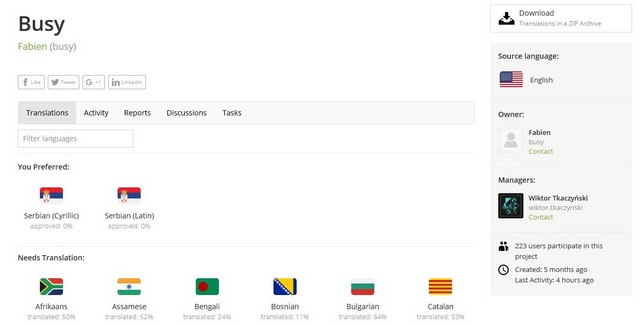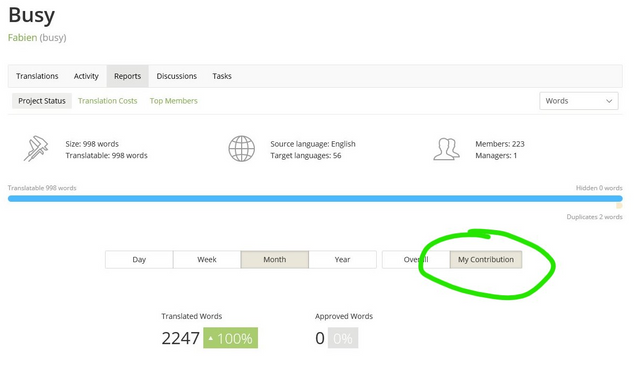 This surprised me!
I found that I'm in TOP 5 contributors for Busy.org and I'm proud. I would also invite all of you to come and vote for my translations as well as start translating Busy in your native language and posting about it on Utopian-io.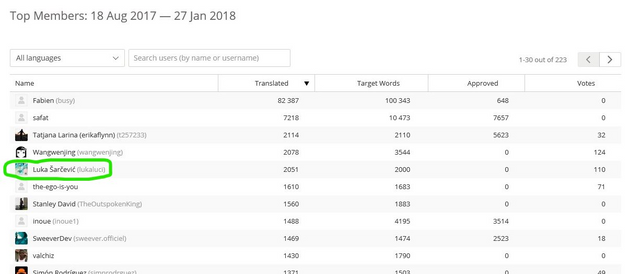 ----------------------------------------------------------------
This post is original content. The first picture is from busy.org post. All other pictures are screenshots.


I'm newbie, so don't forget to check my introduction post and leave a comment :)
My recent posts
Upvote? Follow?

I won't force you. Upvote this if you like it. If not - leave a comment why. Interested in more content from me? Follow! Not interested? Check @gina2017 and @deadgrlsuppastar

---
Posted on Utopian.io - Rewarding Open Source Contributors
---