Repository
https://gitlab.gnome.org/GNOME/gimp
Introduction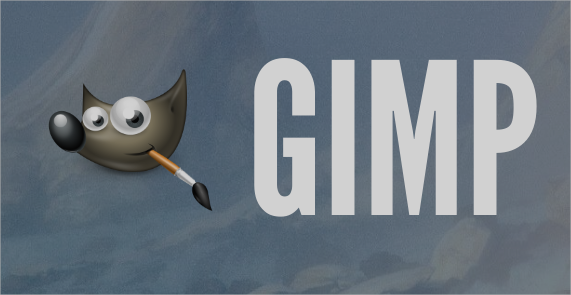 I used to be a Windows user because that is what everyone used around me since when I was a kid, my friends, family, but now I have switched and Linux is my main operating system, when I was using Microsoft's system, MS Paint used to be my main image editor because of its speed and simplicity. Whenever I had to add some text on an image or highlight something, or whatever quick and simple edit, for 90% of my editing needs I could just double click MS Paint shortcut and within 10 seconds whatever I had to do was finished. Of course, MS Paint is very limited, so I also used other proprietary software, Photoshop for example, but that one was, of course, for more advanced needs, like creating thumbnails for Youtube videos when I was a youtuber.
What is GIMP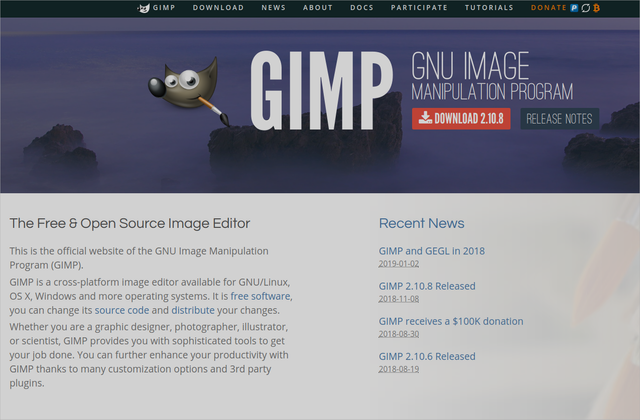 GIMP is a powerful, yet versatile, image editing tool on the likes of Photoshop and similar software, can be used for both professional and complex image editing and for simple day to day small image editing tasks. It is compatible with all 3 biggest operating systems (Windows, Mac, and Linux).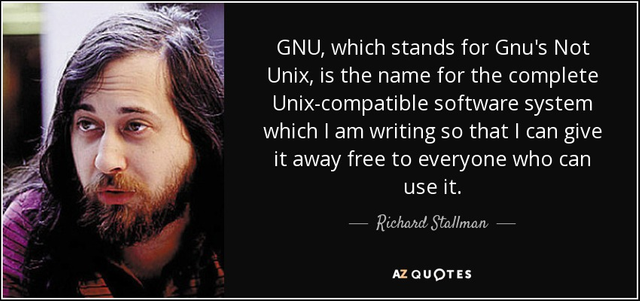 Gnu Image Manipulating Program, GNU on its name stands for software that is free and open source and compatible with UNIX systems.
Why did I choose it
Since when I started investing and working with cryptocurrencies I have developed a passion for open source software, and I felt like I should dive more in depth, so I completely formatted my computer and installed Linux (do not recommend to nosedive as I did) to force me to use open source software. I knew it would be hard so I treated it like a challenge, to not go back to Windows for 30 days. Now, a couple of months later, I am still on Linux and all of my needs are filled, with time and a little bit of effort I could learn again how to use the basics of a computer in another system.
Right off the bat, after switching from Windows to Linux, I faced an issue. I wanted to edit an image, not something advanced, but just a simple edit, just highlight something and write a text above an image, something that, on Windows you can easily and natively do with MS Paint, and on your mobile phone or tablet, your native gallery very likely also has some kind of "edit" feature. We take for granted such toolset because it is something we might do daily, highlight something on a picture to show to a family member, or write something funny on an image to send to a friend.
Linux (at least the distribution I use) does not come with a native image editor, this led me to start searching for a software to fill that need. After some research I chose GIMP because I had used it before, though I have never really paid too much attention to it when I was a Windows user because MS Paint was more simple, for simple tasks, and Photoshop was more advanced, for advanced tasks, so why use something that stacks right on the middle?
Staying in the fence

MS Paint is more simple and is faster than GIMP, the interface is so straight forward that anyone can grab and use it right away, though, the price for that are the limitations, Photoshop, on the other hand, has more features and is more advanced than GIMP, the price for that is that, not just it is paid and very expensive, but it can be slow depending on your work, and differently from GIMP and MS Paint, even on new and fast SSDs Photoshop takes a couple of minutes to load But being in the middle is exactly what makes this software so powerful. If you are a Windows user and you are also, like I was, guilty of using MS Paint, imagine if that software had the option to manage multiple layers, to change the transparency of layers and objects, if it had advanced selection tools and more options, but was still lightweight, that is exactly what GIMP is. At first I did not know how to do simple things, like writing some text over images, but with 15 minutes of tutorials online I could learn the basics, now, to me, it looks like a Paint on steroids, if I want to do something, I just double click the shortcut and within 10 seconds it is done.
But GIMP is not Paint, and comparing them to each other would not be fair. In the matter of speed and performance, yes, it is comparable to Paint as it takes less than 1 second to open from my around 4 years old SSD, which is considered old. SSDs nowadays are not expensive and for less than 80, 90 USD dollars you can buy a brand new, good quality 512GB SSD, so I won't compare their speeds on HDD. Photoshop even on super fast NVMe SSDs do still take a few dozens of seconds to open. In terms of functionality, however, it would be fairer to compare GIMP to Photoshop as it has advanced selection tools, transparency, and layers control.
Granted, it is not a perfect and fair comparison either, to compare an open source project to a huge program from a multi-billion dollar company. Adobe has a huge user base and thousands of paid employees to research and develop new features for them. But exactly for being a huge company, I believe they do not have the urge to take a run for their money. If you want their software, you must have a computer that fits their requirements, an operating system that fits their requirements and also pays them for that.
In the case of a GIMP and Photoshop comparison, ignoring the performance, the latter one wins by a comfortable margin, it is better documented, has more tools and has a more intuitive interface. But one thing that GIMP has that makes it stand out is the possibility to upgrade it. You can download scripts and plugins to totally change your workflow or add just one or a couple of features that you miss from the Adobe software and GIMP can look like a totally different software.
Learn once, work anywhere


GIMP works on any operating system.
A huge advantage, in my opinion, is that GIMP is software you only have to learn once in your life. After you learn how to use it you are free to have whatever computer or whatever operating system you need. If you, as a graphics professional, start working on a new company and, for whatever reason, you have to use their computers, you do not have to worry a single bit if your main software is GIMP as it is compatible with every desktop operating system. In the other hand, if you are a Photoshop artist, you would be in a bit of trouble and would either have to learn to use an open source alternative or ask the company to change the operating system.
Another point for the multi-system software is that if some problem happens to your main computer, you would not have to worry too much because basically, any replacement you have would do your job, just ask any friends or work colleague and whatever computer they can lend to you will work just fine. If you use a Windows or Mac exclusive software you would be in a bit of trouble.
But GIMP is not just for the already employed professionals, it is also, in my opinion, a good choice for students and for whoever wants to give it a try to start creating graphic content. If you would like to change your career or just start working with graphics, making logos or editing photos, if you choose a paid software you would have to invest money upfront to buy the software and also to buy a computer that fits the software requirements.
Why not?
By choosing a free and open source alternative, whether you want to start learning graphics arts (image creation or photo editing) as a skill to work or as a hobby, you have to worry less about money. GIMP runs with a good performance on any computer, and by cutting down the starting costs, if you are starting this as a main or second job, you will be able to charge less, thus get more work and more clients, or as a hobby, you don't have to worry about it being an expensive hobby that is limited or you have to make your money worth, in the end by using free software that runs on any platform, even though you have no experience, you will have more freedom to try and fail and try again without financial compromises,
Resources
GIMP logo and screenshots from
https://www.gimp.org/
More tutorials on GIMP
https://www.gimp.org/tutorials/
Series Backlinks
Beneficiaries
This post has as beneficiaries
@utopian.pay with 5%
using the SteemPeak beneficiary tool