Repository
https://gitlab.gnome.org/GNOME/gimp
Introduction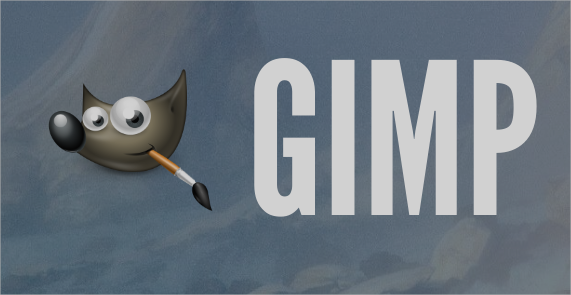 Previously on this series I have talked about usage, from daily non professional activities up to how could the software be used on a professional environment, as a standalone tool or paired with other open source programs, such as Inkscape, and how new freelances that want to give a shot at the graphics career could use it as the perfect kickstart tool, as it is free and runs on any system.
But image editing is not just about having a ton of features. Either you are using it personally, to make memes, to work for a company or to do occasional freelances, performance is as important as functionality. You could have the best car in the world, a Lamborghini, as people on crypto space like to refer to, but if it can never go above 40km/h (25mph) it is not a good car.
In this regard, GIMP does not lag behind. To be honest, it feels faster than when I used Photoshop. I am using a 3, almost 4, years old 256GB SSD, and there is where my Linux is installed with all the software I need. I do have a secondary disk, it is a 500GB HDD, but it is empty, it is too slow and I don't feel like I use too much data.
I haven't tested GIMP on an SSD, but I can assume that most people nowadays have an SSD, or at least can afford to upgrade as those drives are not as expensive as they once were. You can find a 500GB SSD, totally new, and probably much faster than mine, for much less than 100 USD dollars.
1 second to open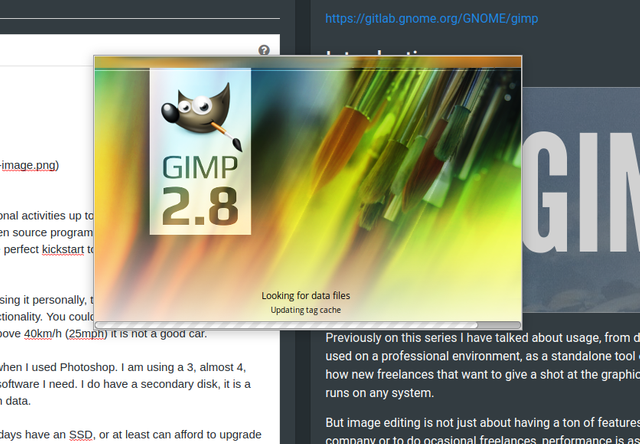 (Trust me, it was difficult to take this screenshot, the app opens almost instantly)
So, based on my experience using GIMP on an SSD, there is absolutely nothing to worry about in the regard of performance. For the time I click on its logo until the interface is loaded it takes me around 1 second, which, as I have said on other posts, makes GIMP not just suitable for professionals, but can be your main editor for simple daily tasks.
This gets us back to the point of users that are not professionals but dream of giving a shot at trying to get into the graphics career. In case this niche of people, the ones that are just getting started, do not have a portfolio or customers if they would get Photoshop or more advanced tools they would not just have to pay for the software itself, but for a machine that is powerful enough to handle the tool. GIMP is lightweight on computer resources and can run on basically any machine. It opens up almost instantly even on old computers and does not show signs of lag even when working on almost a dozen layers.
Best of two worlds

Previously I gave the example of using MS Paint on my day to day image editing tasks, such as highlighting important texts, drawing an arrow to point to a user where is he doing something wrong and such very simple activities. For such tasks, you need an editor that you can reliably use without thinking. And that implicates on the software of your choice being lightweight, which puts our beloved Photoshop totally out of question.
On my cellphone, WhatsApp has those features, to draw lines and add texts to images. The gallery app on my phone also has such functionalities. You have a phone you might have already used those features, in my case, I have grown so used to it that I think every device should come with an editor for simple tasks, and they work fine, I do not have to wait for them to open, they do not have to load, just open, do whatever I have to do, export and send the images. On Windows you also have this feature through MS Paint, the Windows Paint tool opens instantly and with it, you can draw simple lines, add simple text and finish whatever simple daily tasks you need that do not require advanced editing, again, you just export the image and send it. I am talking about regular people that are just pointing something on an image to family or friends or adding texts to an image or this they want something that opens instantly, edit instantly and export instantly.
All of the examples above have one thing in common, they require speed because those tasks are so simple you don't want to have to wait 30 seconds for the image editor to open. You could, of course, use Photoshop just to highlight some text, and you might a much better-highligthed text than if you used MS Paint to do the same tasks. You could also use Photoshop to write something on a screenshot to show to a customer, and you might write with a better font and more style than on MS Paint or on your phone. But the extra time to open and render on both examples above are not worth it for the task is so small. So I think the point is clear, we are used to having quick and simple image editing apps, their main feature is just to open instantly, do a simple edit instantly, and export instantly.
When I have started using Linux, however, I found out that the simple and quick image editing features from other Operating systems, such as Windows and Android, were not native. I am sorry, Elementary OS (my Linux distribution) developers, but if you have a native image editing software, it is well hidden, and if Elementary OS does not have one, that is a shame, because I believe most people, like me, take this feature for granted nowadays.
Simplicity for daily tasks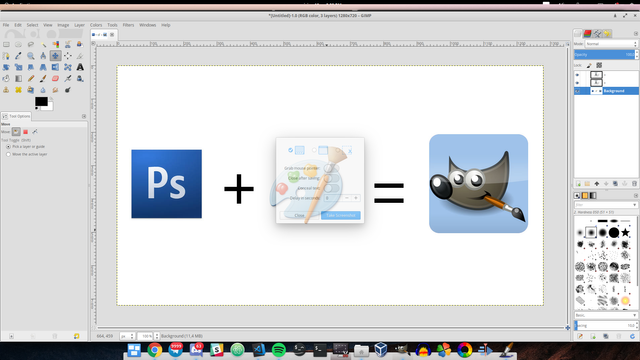 The image used in the last second was made in GIMP in less than 30 seconds, check the layers on the right, it makes GIMP almost as fast and simple as MS Paint, but also almost as powerful and feature-rich as Photoshop.
Luckily, GIMP could easily fill this gap. I was, at first, worried. As described above, on Windows you do not use Photoshop to do daily editing tasks because it is not worth the time waiting 30 seconds for the program to open to do a simple 10 seconds edit. GIMP is compared too much to Photoshop, and I am also guilty of that, on this series I have compared both two too much, but it is clear that Photoshop is focused on the professionals. When you think Photoshop you think of opening it and spend at least a couple of minutes working on something, you would never think about opening that software to highlight something and send it to someone over on Facebook.
And there comes GIMP flexibility. It takes 1 second to open, and this simple fact makes it a versatile software. I think I have demonstrated on the other posts enough of the professional side of GIMP and how can you improve the interface, add features and all those bells and whistles that can, and probably will, make your work more efficient and more comfortable. But the sole fact that it is so lightweight on your computer resources makes it completely replace MS Paint on my daily usage.
After talking so much about using GIMP to replace Photoshop and to work it may sound funny to compare it to Microsoft Paint native to Windows, but think about it, if you could have a lightweight Photoshop, with all the layer functionalities and advanced selection tools, in a package as light as Paint, wouldn't you? If you could take MS Paint and add the capacity of it to manage multiple layers and transparency, all of that keeping it lightweight on resources, wouldn't you?
And that is the whole point of GIMP, in the end, it is not Photoshop, it sure lacks some functions and neat tricks that the multi-billion dollar team of developers from Adobe took a few years to develop and improve. Also, it is not as fast and simple as Paint. But the selling point is that it is in the middle of both.
GIMP has much more functionality than MS Paint, by far. Also, it is much more lightweight than Photoshop. It is the best of both worlds. You open it (almost) instantly, do an edit instantly with many more functionalities than your phone or MS Paint (the one I was used to using for such tasks) and export instantly. A perfect fit for the daily editor of regular users.
Resources
GIMP logo and screenshots from
https://www.gimp.org/
More tutorials on GIMP
https://www.gimp.org/tutorials/
Series Backlinks
Beneficiaries
This post has as beneficiaries
@utopian.pay with 5%
using the SteemPeak beneficiary tool