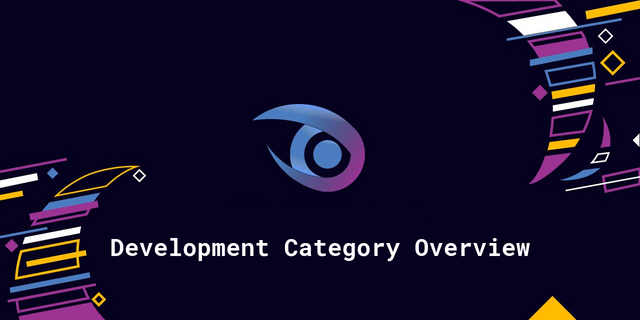 https://github.com/utopian-io/v2.utopian.io
2019-01-04 15:06:26 UTC to 2019-01-11 15:06:26 UTC
This is a weekly, semi-automated post where I will show some statistics and graphs of the development category. It will also serve as a showcase for the staff picks and task requests that were made in the current week. If you have any suggestions or things you'd like to see in this post, then please let me know!
Previous posts
Top contribution(s)
Both of the top contributions this week come from the same person: Raycoms! He always delivers high quality contributions and this week it's not different.
After Minecolonies' Patreon competition they noticed that one of the biggest bottlenecks was the speed of the builder. In this contribution Raycoms described a bunch of things that he changed to improve this, and thus reduce the effect of the bottleneck!
This contribution is obviously just as great as the aforementioned one! In this contribution he describes how he abstracted the existing code and used this for the new GUI. It's definitely an interesting read, so go check it out if you have time!
Category summary
There were 31 contributions of which 28 have a chance of being rewarded, or already were rewarded.
The average score was 70.7 with an average reward of 42.2 STU from Utopian.
The total reward from Utopian for development contributions this week (so far) is 675.1 STU.
There were a total of 20 unique contributors in the category. Of those 1 were new contributors in the development category (@gridcat).
Score distribution in the development category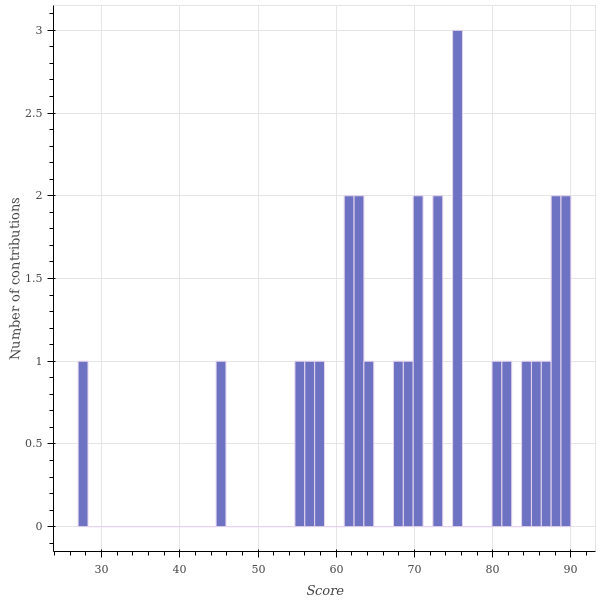 It doesn't include contributions that weren't reviewed (irrelevant or a contribution accidentally messed something up for example), or contributions with a score under the minimum score. Because of this it only shows the score distribution of the contributions that have a chance of being upvoted.
Number of contributions per weekday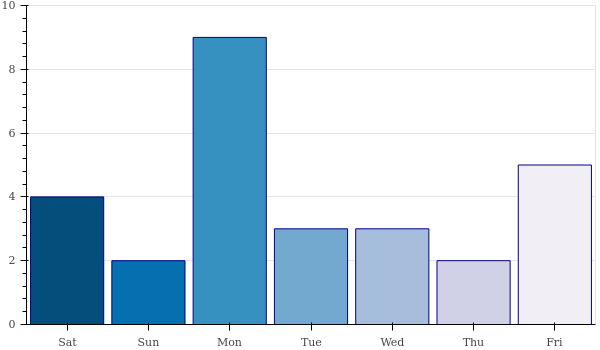 As you can see, Monday was the day with the most activity in the development category. Sunday and Thursday had the least activity in the entire week. It's not surprising to me that there's less activity in a part of the weekend, as most people will probably be busy with other things instead.
Average score, reward (STU) and time before review (hours) per week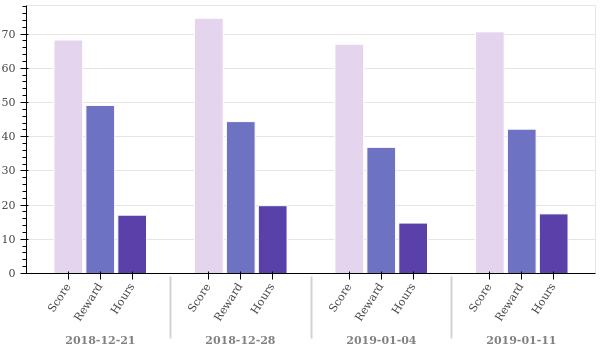 Time before review is the number of hours between the creation of the post and the time it is reviewed by a moderator.
The average score of contributions has gone up from 67.0 to 70.7 this week, which is a good indication that the quality of contributions has also gone up! The average reward, just like the average score, has also gone up (from 36.9 STU to 42.2 STU), which is of course great for our contributors. Lastly, the number of hours it takes for us to get to a contribution and review it (on average) has gone up a bit from 14.7 hours to 17.0 hours.
Number of contributions reviewed per week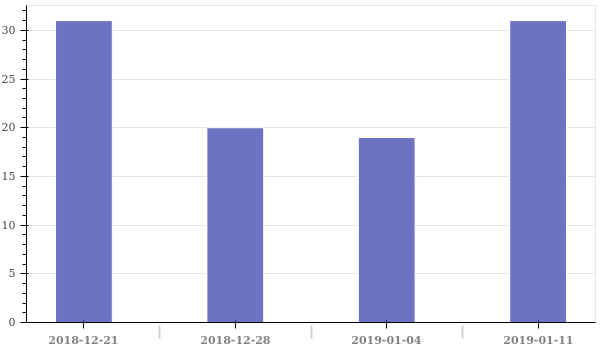 As you can see, the weekly number of reviews is up from 19 to 31! Unfortunately despite the number of reviews being up compared to last week, the number of reviews in the last two weeks (50) is down from the two weeks prior (51). Of course the festive period is over, so it shouldn't be that much of a surprise to see the number of contributions slowly going back up again. Hopefully it continues this way!
Contributors
Number of unique contributors per week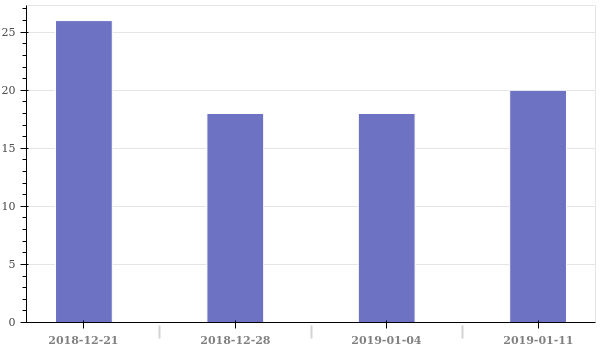 With the number of reviews going up this week it's obviously not that surprising that the number of unique contributors has also gone up slightly from 18 to 20 this week, but of course this is still very cool nonetheless! We had a lot of contributions for the Minecolonies project, which explains the low number of unique contributions compared to the total number of contributions this week.
Most active contributor(s)
Not only does he have two of the highest scored contributions, but he was also the most active contributor! What a week for him!
Moderators
Once again @helo has reviewed the most contributions by far; he's a reviewing machine! I'm finally back from England (so will start reviewing again), and I decided to implement the following rules:
Reviewers should try and review the contribution within 1 hour of putting their name down
Reviewers can't put their name down for multiple contributions, unless they are relevant to each other
so maybe we will see the number of contributions reviewed per moderator shift a little bit.
Number of reviews per weekday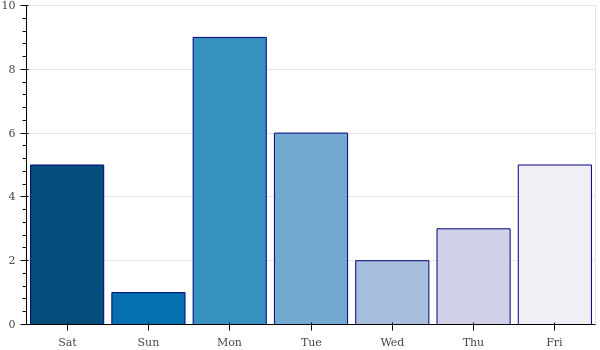 As you can see, Monday was the day where we reviewed the most contributions in the development category. Sunday was the day where we reviewed the least. I'm sorry if you submitted your contribution on that day and had to wait a while for your review, but at least now you know when we are the most active. Despite being programmers we surprisingly still have lives, so this happening in the weekend shouldn't be that surprising (hopefully).
Number of contributions reviewed per moderator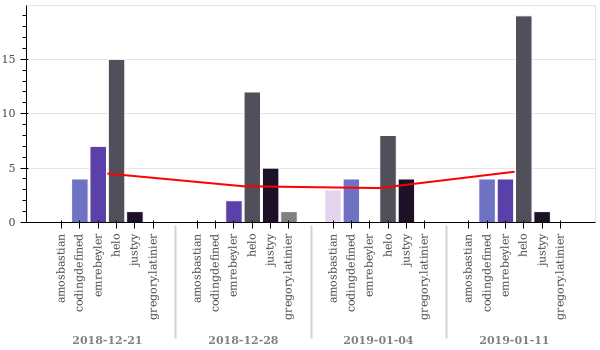 Average score given per moderator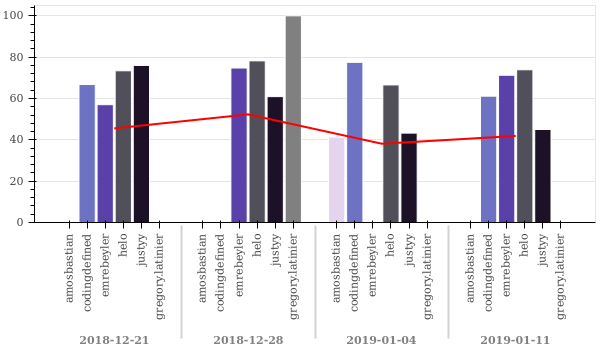 Task request(s)
Another task request for Steemgigs, which includes multiple tasks. The most important one is the task to add the 'refine search' capability; this includes price, seller location and more! There are also a couple of other, less complicated tasks here worth checking out. The deadline is pretty short though (5 days), so keep this in mind!
React, HTML, CSS
Another task request for Ulogs, but with a whopping 500 STEEM (or 550 STEEM) bounty this time! The task itself consists of two separate tasks, but one has already been worked on by someone else; adjust the general UI structure of Ulogs and restructure the UI for existing Ulog communities!
React, HTML, CSS
---
Also, if you think there is anything that can be worded more clearly, then please let me know!