Discover @MichelleCarter in Upvotable #39!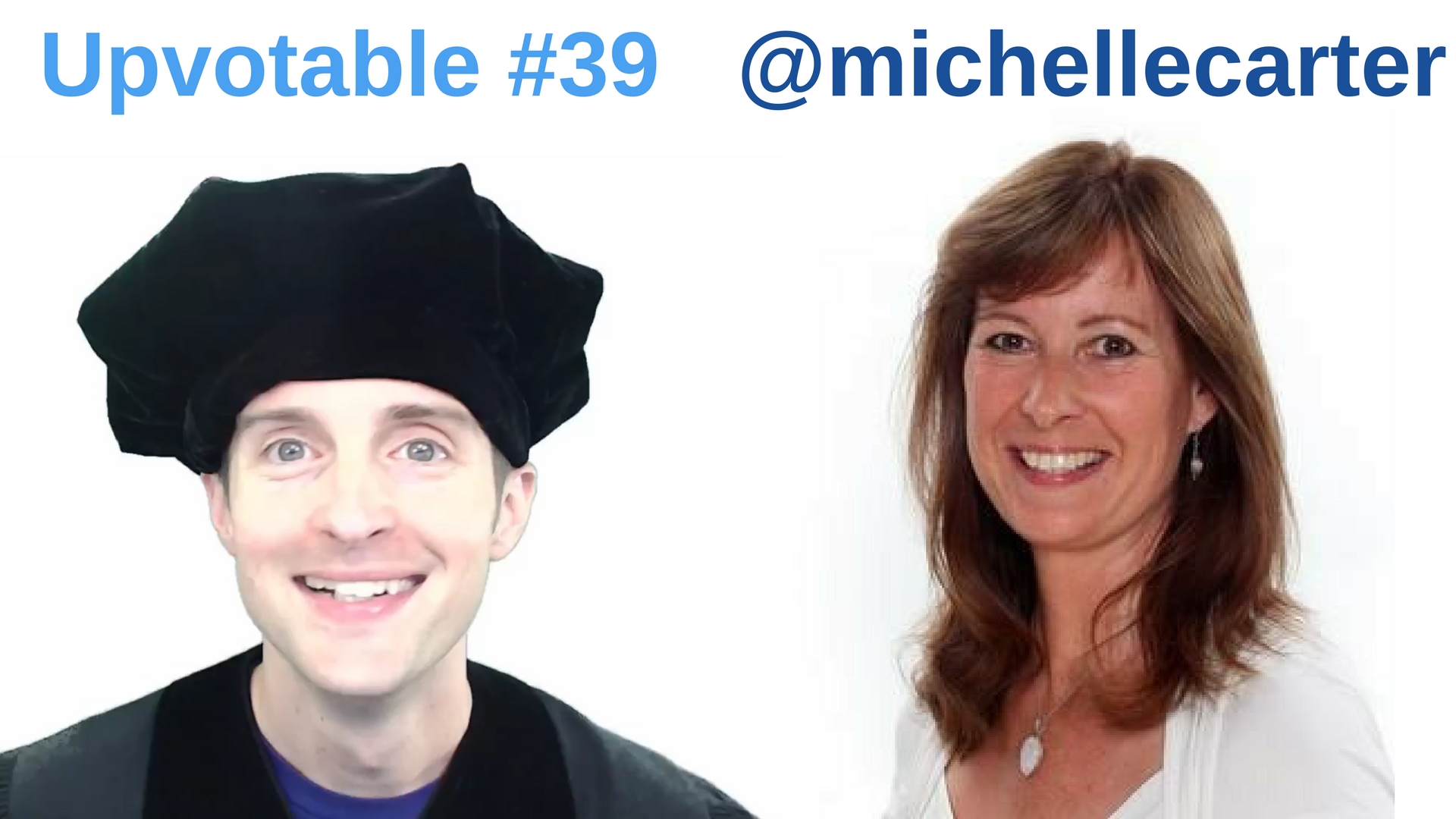 Will you let us help you feel peace and stillness as we unlock the Divine Energy Channel with Michelle Carter today because these simple words hold open the way out of here we search for? Within a few seconds of watching Michelle's video from her intro post here, I could feel the calm!
Intro Post
---
Michelle joined us on Steem in August 2017 and did an intro post I loved at https://steemit.com/introduceyourself/@michellecarter/how-can-we-make-a-difference.
"To Create Heaven on Earth Now - A world where people feel 'Happy for no Reason' & 'Random Acts of Kindness' happen all the time."
RE: Same here! Beautifully phrased!
Appreciating the good that people do is a great way to 'Make A Difference'
RE: I hope this post helps to appreciate the good you have done here in your first two months on Steem!
It is through the little actions that we do each day that bigger change happens.
RE: Absolutely!
It feels great to be in a place where good people are supporting like minded good hearted people, I sincerely hope that Steemit grows and expands and reaches more people and spreads lots of good, truth, honesty into our world. I believe these are the foundation for humanity and a good world cannot be created when truth, honesty and integrity are missing.
RE: This is what I felt before I even joined and still feel every day here! I think one challenge for our growth is that those of us at lower energy frequencies tend to run away from Steem right away when we feel this. I am impressed a few that seem to operate in the lower frequencies are able to stand it and actively participate frequently!
I've not done a verification photo, but here is a photo of me with my two books and you can also check I'm real on Facebook, links below!
RE: Thank you for sharing your Steemit posts on Facebook with your followers!
Latest Post
---
Michelle's newest post leaves me feeling like I am in the middle of an Eckhart Tolle retreat at https://steemit.com/tutorial/@michellecarter/tuning-into-feeling-10-tips-on-tuning-into-your-soul
A soul barrier is any energy that is blocking you feeling your soul, so this could be false beliefs or other invisible energies that are creating a block in some way. This can be from this lifetime, but is often from past lifetimes.
RE: Never heard of a soul barrier before and I love the term because it so clearly reflects all the things which get in the way of feeling our soul!
I ask Pure Source Energy / Universal Power to release all energies causing and creating soul barriers now.
RE: I did this right after reading just in case!
What can we do to help?
---
A question I ask every day that Michelle has made a powerful answer to at https://steemit.com/philosophy/@michellecarter/what-one-thing-do-you-think-individual-people-can-do-to-make-a-positive-impact-on-humanity-ecotrain-question-of-the-week
Truth is 'Universal', so for example, the Law of Gravity is Truth. Everything on earth will fall to the ground if not supported. It doesn't matter what we believe, where we live, what our parents or teachers said, what the government is or isn't doing; if we let go of an object it will fall to the ground - Universal Law. (unless it's a helium balloon!)
RE: When we look at truth, it helps us see there is no need to believe but only to be open to experiencing the truth!
Discerning is asking a question and feeling the answer.
RE: Like a divine polygraph!
Keep experimenting with lots of simple questions that you know the answer to until you are confident with the feelings that you are getting and can really tell the difference between a yes and no feeling.
RE: Love this and I am going to try this more consistently soon. I did a precise experiment with this on https://steemit.com/witness-update/@jerrybanfield/going-to-steemfest-witness-update-5 and got a very clear yes answer there!
To get clear answers, especially when you don't know the answer to your question, you need to work with questions that are about Truth and Integrity. As you tune in more then you can expand on this and you will feel answers on other subjects.
RE: Helpful for getting started!
I truly believe that discerning has the power to change how humanity acts and to shift the power from those who are out of integrity to those who have integrity.
RE: Happy I am learning to tap into this power consciously now!
What do you love most about life?
---
Another post I love from Michelle at https://steemit.com/writing/@michellecarter/feelings
For me this would be 'moments of sharing with others'.
RE: Had not thought of it this way before and totally agree!
In the short time that I've been on Steemit I've had quite a few of these special 'soul connection' moments with different people, including some witnesses and I have to say it really touches my heart and soul to feel the good being shared here.
RE: Thank you for so clearly expressing this because I have felt the same and had a hard time clearly defining it as you have here!
When we go back to basics and think about what we most desire, going deeper than money and materialistic things, then what we all most desire is to feel loved, valued, appreciated and feel like we count.
RE: Yes and it is amazing how little money or power helps, if at all, with filling these basic feelings!
How Can We Create a Better World? Through sharing and creating loving communities. These don't have to be physical connected, although that would be great. They can start as on-line communities and spread from there.
RE: You are making my neck work will all the nodding as I read your posts!
Thank You Michelle!
---
We are very grateful for your service here on Steem and will continue reading your posts along with consistent upvotes! Would you please keep writing for us because we value your contribution to our community?
Who Is Next?
---
Thank you very much for discovering @MichelleCarter here with us! Would you help me find the next author to feature in upvotable 40 because working together feels great in discovering authors we love following and inspiring the writers we want most to keep writing for us? I prefer authors matching most of these criteria below!
Authentic introduction and ongoing sharing including real first and last name along with ongoing pictures of self, family, friends, and life.
Post earnings which appear to be lower than the expected output given the effort, consistency, and quality.
New posts daily or a few times a week for at least a month.
See upvotable 36, upvotable 37, and upvotable 38 for examples.
Here are a few authors I am considering in future upvotables based on previous recommendations!
Would you please comment below with the author you think I should feature next because I go forward by reading the highest voted comments first and then scrolling below? If you pick the winner, I will give you a $20 SBD tip along with $10 for the top upvoter (assuming it is a person) on the comment!
Love,
Jerry Banfield
Shared on
PS: This post today is a part of my service as a full time witness for Steem! Witness votes are the most important votes we make on Steem because one vote for a witness lasts indefinitely! Would you please make a vote for jerrybanfield as a witness or set jerrybanfield as a proxy to handle all witness votes at https://steemit.com/~witnesses because when we make our votes, we feel in control of our future together? Thank you to the 1200+ accounts voting for me as a witness, the 660 VESTS assigned from users trusting me to make all witness votes by setting me as proxy, and @followbtcnews for making these .gif images!

OR