The term unschooling is an interesting word. We are truly "schooling" from the time we take our first breath until we die, slowing down only in moments of conscious choice to refuse knowledge/application ~ which still adds to our learning through the results of such choices. In the United States, the public school framework defines what is "schooling", but I find it extremely lacking for the home educator.
Until @aurynthenorse and @cassidydawn reached 6th grade, they were "unschooled". By definition, this just means we didn't subscribe to a particular curriculum during the early education years. What we discovered together was that their education was opened to be much broader in every spectrum. This style lent itself to easier self-motivation, independent learning, and more focused attention in both quality and quantity.
I have had lots of parents approach me over the years to question me about my methods, because when they get to know my children they discover humans who are smaller in stature but extremely advanced in communications and in behaviors as well as knowledge and application. Of course they are still kids, but in general they find themselves comfortable with their peers as well as their elders. They are polite, helpful, and understand the concept of applying their voice (and extensive vocabularies) instead of violence to solve conflicts. Their tastes are varied and complex ~ from foods to music, reading interests to hobbies. They are honest, they are kind, they carry an ingrained respect for all life.
Unschooling pays attention to much more than just the 3 "r"s (reading, writing, & arithmetic for those who haven't heard the expression). It's an exploration of the world around you, our first science experiments. From the time my oldest daughter was born I discovered that telling her no without an explanation was useless, so by the time I got to Auryn and Cassidy (with another child between) I was well-versed in talking to my tiny humans like humans rather than idiots. "Don't touch the stove" was altered to "The stove will burn you, it's hot!".
Baby talk is cute, but as adults we are doing a disservice by assuming the lack of coherent verbal communications equates with lack of verbal comprehension! I certainly don't always use my best vocabulary with the tiny people, but I don't dumb down my communications, either.
In addition, I learned early on that negative concepts compute poorly. "Don't play in the street" is translated into thinking about playing in the street. "Stay in the yard where it's safe" leads the recipient to think about the yard. It is a nice little trick that works on adults too ~ we've all said "Don't look now!" to discover the very first response of the person we are talking to is doing exactly the opposite!
Let's talk about "formal" education when it comes to unschooling.
There are basics that must be learned before the higher education begins, and until these are completed unschooling makes the most sense to me. Learning to read and comprehend the material is a huge aspect of this. I have seen children read as early as 3, as late as nearly 7. In my own household it ranged between 4 and 6 years old for the 6 children of my own I have helped along the path of reading. Each child is different, and it simply takes a couple of things that any interested teacher can facilitate.

READ TO CHILDREN!!!
While they may have years of not being able to read what you are reading to them, make sure you are reading them books that are beginner through long stories. For example, Peter Pan was read to my children chapter by chapter at bedtime over several weeks, long before they could read. We also read lots of books that were simple and participative ~ pretty much anything by Dr. Seuss is amazing for encouraging interaction! Teaching each of the letters in the alphabet and what sounds they can make, and then moving forward to simple word sounds, is a pretty easy process with attention over time. Songs like "r-e-d red" that involve repetition can be useful tools. Young children shows that focus on reading are great for "tv time" ~ here in the US I relied heavily on Public Broadcasting Shows for this supplement. No matter how frustrating a particular child can be in the process of learning to read, they all get it, and once they do you have developed a passion for reading in many of them that sends them off like a rocket. You have also prepared them to be independent learners! Reading to children all that time sets the working example that it's important. I also begin to refuse to read things to the kids if it's something they can read themselves, to encourage them to stop depending on me to do it for them. "What is that?" is answered with "What does it say on the package?", for example. Here we go teaching the child to be an independent thinker by relying on their own skills and cognizance!
Writing begins developing long before reading. The motor skills of holding a crayon, then a pencil/pen or marker is a lot of fun. Drawing lines, then shapes, then symbols (including the letters of the alphabet or numbers) is something that should happen daily. One area that I have found to be a bit challenging is the digital era. I required Auryn and Cassidy to learn to type somewhat proficiently during 3-5 grades, but they were also still required to do some things on paper. Of course during the early education years it was all writing, and mouse use on the computer on sites for their ages. I also required them to at least learn cursive during those years. While I see cursive as a dying form of writing, I also recognize that a very large percentage of the historical documents written over the last several hundred years were written in cursive, and I want them to be able to have access to much more than you can find on the internet. (Look for my future post on our extensive home library)
Mathematics are the true language of the universe in my opinion, and I believe that if we have the opportunity to communicate with extra-terrestrials the successful language will indeed be math. Early education is pretty simple in this category. Learning numbers, simple addition, simple subtraction all gives way to learning to multiply and divide along with decimals and fractions. Once these foundations are built, the learner is armed and ready to tackle more complex math concepts both through direction and independently. I don't really see why you need a curriculum for these base concepts! Khan Academy is one of the best online tools I have found to help with this process, in case you are looking for some help/structure.
That covers the "3 r's" of early education. That means we can move on to the concept of science, which is truly woven throughout the fabric of our existence. Cause and effect happen constantly, and we psychologically evaluate the data we are collecting every second of the day. A nature walk where we look at snails and leaves and rocks is a whole science class. We explore what observations we can make with anything in front of us. Science is the idea that I have taught my kids ~ to question everything. I want these kids to grow up and learn to think for themselves in order to make comprehensive decisions for themselves, and science is truly the subject where you can instill thinking skills that will help your tiny human to excel in the world long after you are gone. During the Kindergarten/1st grade time period, I developed everything based on those explorations along with a solid foundation in the broad spectrum teachings of Neil DeGrasse Tyson. When I was growing up, we learned lots of bits and pieces and then later got a big picture. I decided to flip that for my children and teach them the broad concepts and then start with details. We learned how we are stardust and what the basic building blocks of the entire universe are. While they didn't go in depth with the periodic table during this time, we learned the concept of it along with looking at some of the basics that we encounter everywhere ~ what makes up water, or salt, for example? We have learned lots of plants and trees and animals and birds and insects. We have watched clouds and created scavenger hunts. We have spent time looking at 1 square foot of earth, and gone to the tops of mountains to look out upon a much larger world. We have planted seeds and made clay sculptures, and the kids have helped me raise orphaned wildlife. We learned the basics of geology such as the three types of rocks and examples of each. Since we are so nature-based in our home in general, we get an advantage on the environmental concepts, but it's still all in how you communicate with your tiny humans. Posing questions and leading them to the pieces that make the answer, so that they can draw their own conclusions, is an extremely successful method for science as well as intellect!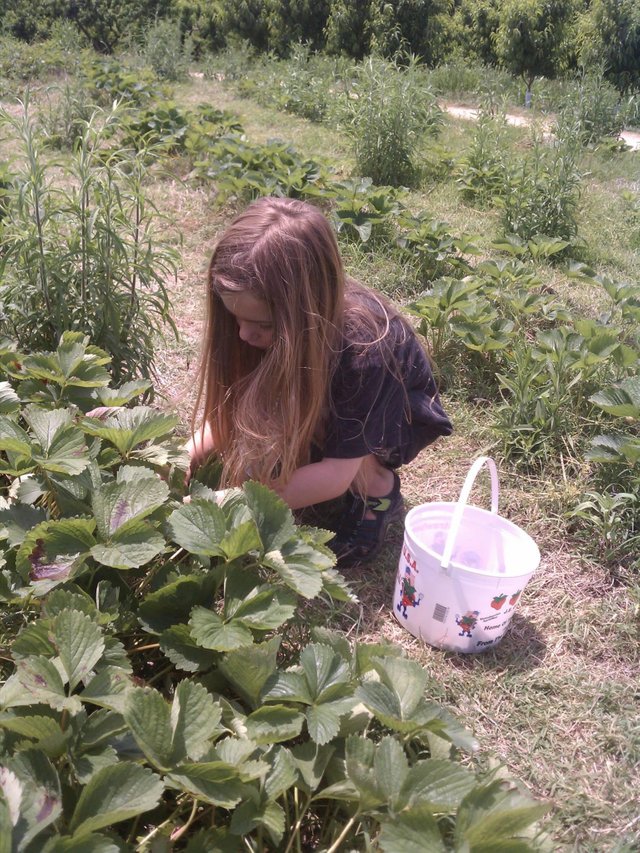 Auryn picking strawberries on a field trip, Spring 2013
6 years old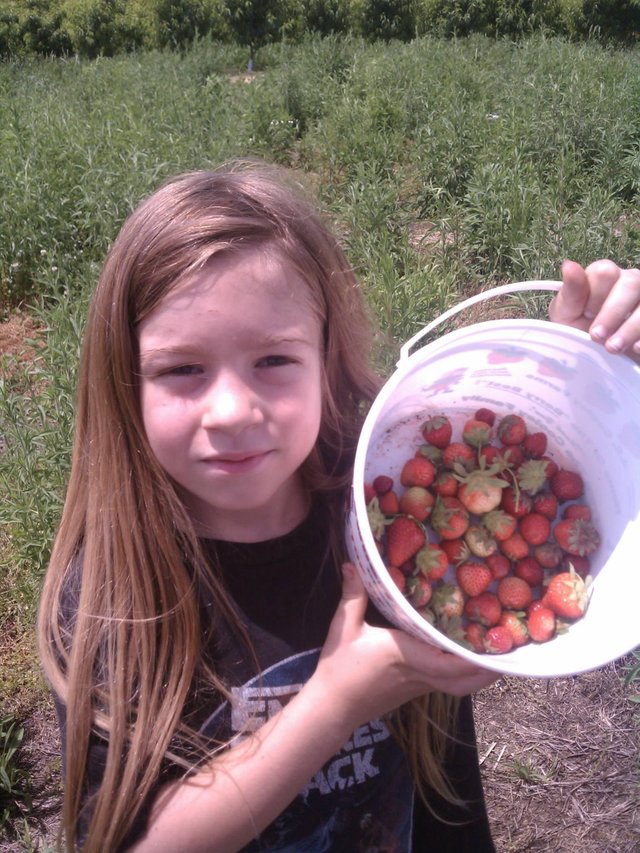 Socialization is a dynamic that home educators must pay careful attention to, for it is something automatically built in to public schooling. Children need time with their peers and also with adults, and also time with peers and adults without your presence. While Auryn and Cassidy have sometimes complained they don't get enough social interaction, I have paid heed to what happens if you raise children completely sheltered from the world and been attentive to ensure success with socialization. Play dates, an active community, time at festivals throughout the year, are all ways that my kids got what they needed when they were tiny. Socialization is interaction with other humans outside the family unit, but the conscious home educator has the added bonus of being able to tailor those experiences within your preferred type of people. We are studious about holding our own social circles to like-minded people that are honest, kind, and have respect for life. While the kids are sometimes frustrated with this answer, they are also thriving with a full social calendar without just being "lumped in" with the kids/adults who are simply in their geographical location. They will have plenty of time in their lives to discover folks who have different values and the repercussions of spending time with those kinds of people. As long as I instill those values, they will have a base line to at least have the opportunity to choose better for themselves once I am not the guiding force.
There is a tactic that I made sure to weave through all of their classes, and that is taking advantage of what each child is interested in! Cassidy is an artist, through and through. I could write volumes already on her art adventures between 3 and 12 years old (I have actually already started on this project in order to preserve her history!). Beginning as early as preschool, she was much more interested if she viewed the activity as an art project. I embraced this love and used it to encourage her. I remember multiple times where math or writing were intertwined with art. "This painting must include numbers" or "How many pictures of words that begin with A can you put in your collage?" are a couple of super simple examples. In today's technology boom, you may find your child is extremely interested in computers, so you can tailor many of their assignments to involve the computer. You get the idea ~ pay attention to your children's interests and make learning fun and enjoyable!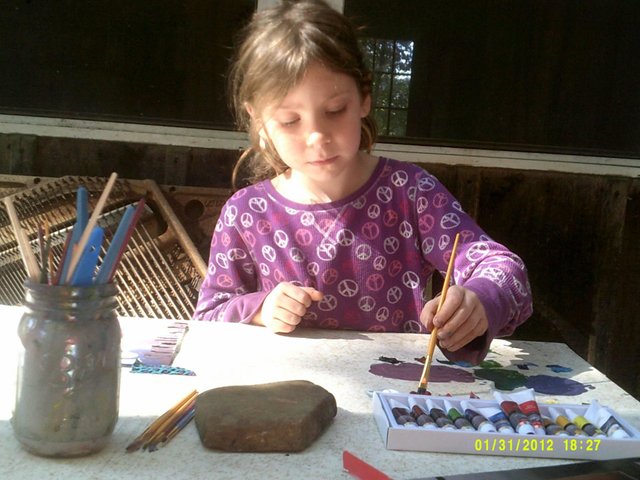 Cassidy working with acrylics, fall 2013
barely 6 years old
Deciding early what your "bottom line" is for the education process is vital to a successful home education. For myself, the end result of education is that my children will be free thinkers who have the ability to observe life around them and make educated decisions for themselves. They will be motivated to be productive and choose to spend their time with other humans who are also working to co-create a beautiful world around them. I also desired to have children who have an interactive, complex relationship with the natural world. I want my children to be educated to a level that should they one day choose the "scholarly" route of university and higher education, they are able to do so with ease. I also want them to be able to walk into the world as adults with an equal focus on freedoms and responsibilities. Now that they are middle school kids, these concepts are all much more complex than they once were, but I can still clearly see these threads through their education tapestry.
BE HONEST WITH YOUR CHILDREN!
Sometimes I give my kids "age appropriate" truths, but I am honest in my communications with them. I give them reasons for my decisions, and I give them opportunities to speak their own truths. I also DO the things I ask of my kids, because honesty isn't just found in words ~ it's truly found in actions. If I am always telling them they should read, but they never see me read, they don't develop a desire for reading because of me. If I tell my children to be kind to animals, I must embody that example in order to truly teach it. The teacher cannot teach something they are not doing.
One final note for the potential home educator. There is a word that I believe every human should know and live by. That word is INTEGRITY. Doing the right thing when no one is looking is perhaps the single most important concept you can teach your children. The child who learns integrity as a part of how to act from an early age is much more likely to be a leader from the time they are young, and much less likely to follow the "wrong" crowd into destruction, harm or death. While each of us may differ in what a " moral" compass should point to, instilling integrity into a human means that they will allow that inner navigational system to guide them. Every human goes through life encountering situations where you must choose for yourself with intense consequences no matter what you choose. Give your young students the tools they need to navigate the waters of life, and it won't matter which road they choose ~ they will truly be able to stay the course and achieve their desired goals. Those very goals will be decorated with all of the time you put into your children.
You don't have to be a rocket scientist to educate your children at home, but you do need to be willing and able to be an attentive participant who is patient and dedicated. Some days are smoother than others, but remembering that arguing with a young child is a lack of communication on your part rather than theirs is paramount. Rather than arguing with them, give them logic, and when you do give them choices make them within the parameters you desire. Rather than asking them if they want to do math, ask them which assignment they would prefer to work on in math. Rather than asking them if they are ready for bed, ask them which blanket or stuffed animal they want for bed that night.
A child's job is to push every single boundary around them. A child's caregiver has the job to make sure that the child is unable to make it through the boundaries that are in place to keep them safe! Don't take it personally when everyone tells you how wonderful your child is, and then at home they push you at every turn! They are doing their job so that you can do yours. The better you are at your job, the more boundaries they discover to tug and push. But one day you will see that they have set their own boundaries based on the ones you held for them.
One post could never contain everything needed for unschooling in the early years. However, the home educator that is simply motivated to see their children succeed in education and in life may possibly glean the information needed to work towards this goal long before the addition of more "traditional" methods of curriculums and detailed goals in each subject. While this is just a single post on my steem account, I would hope that it can be saved for a knowledge base to answer the questions we home educators get asked again, and again.
@homeedders @naturalmedicine @minnowsupport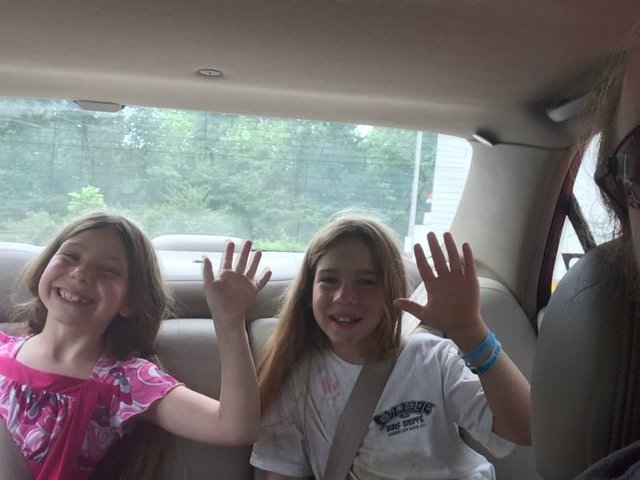 June 2015, leaving a music festival
Thanks for reading! Knowledge is power, and I am grateful to be able to share with others interested in learning!