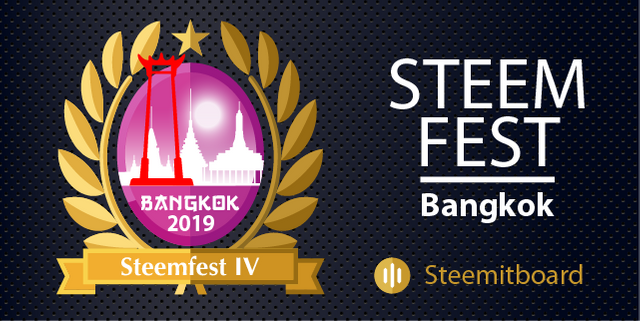 A few days ago, SteemitBoard's team disclosed the badge created to reward SteemFest⁴ attendees. This has led to heated discussions about the presence of a Buddha representation on this badge, both on-chain and off-chain.
We invite you to read the comments published on the announcement post to get an idea of the content of those discussions.
Long story made short, it appears that the use of Buddha's image is not in line with the cultural and religious habits of Thailand, hosting SteemFest⁴ this year.
Our main goal has always been to provide fun and amusement to all participants, and not to put people at risk and potentially in jail because proudly using an image that could irritate the native sensibility.
Therefore we have decided to refactor our commemorative badges and communication related to SteemFest⁴.
Here are the new badges for SteemFest⁴




There is a badge with one star for each SteemFest attended (read the the announcement post for more information).
How to get it?
That's really easy! Book a flight to Bangkok (@gtg worked hard for you to get an exclusive discounted price for your flight, book a room in Bangkok and book your ticket for SteemFest⁴ in Bangkok (more info on the official SteemFest website).
With these 3 sesames, you just have to register at SteemFest (in Bangkok). Et voilà... you will automatically receive your badge a few minutes later.
The badge will be displayed in your personal tab on your board.
Do not forget the Travel Reimbursement Fund
The Travel Reimbursement Fund (@t-r-f) will be open for funding until the end of SteemFest! Feel free to contribute and help your fellow Steem users to make it to Bangkok and to lower their travel expenses.
@steemitboard support this initiative and released a dedicated badge for any Travel Reimbursement Fund contributor. Read the announcement post .

The @t-r-f already collected 954 STEEM and 46 SBD thanks to generous contributors who already got their deserved badge.
You may also support the SPS t-r-f funding proposal
See you soon in Bangkok


On behalf of all SteemFest attendees, thank you for your support!
---
Useful links:
SteemFest4 - announcement
SteemFest 2019 Travel Reimbursement Fund SPS proposal
Road to SteemFest: Exclusive discounts for flight tickets!
SteemFest⁴ - last update
---
Support the SteemitBoard project and vote for its witness!

---

Steemitboard is a project created by @arcange