Ulog 57: New expectations
Tomorrow will be a new day for our family. My wife has resigned her position at the hospital and tomorrow will be her last official day. She has to cover calls for Saturday and Sunday and then it would be it. It has been a long journal and we are glad it has ended.
Initially, she was excited about working in that particular hospital and for that practice. Over time, the burden of family and childcare, particularly after the second baby arrived, placed a taxing stress level on her well-being as well as mine. I have encouraged her to look at other opportunities to see if they would fit more into our current family situation. She finally did. But in the end, she has declined those offers and has decided to take time off to be with the children. Good for her! Financially, my income is okay so that we can live on one income. I am sure that my wife isn't the type of person who can sit home indefinitely so she will be bored and will work again soon. Right now I want her to take her own time at her own pace. Work can always wait. Family and children, not always.
Yesterday was Halloween. My older daughter, Vy, dressed up as Disney's Rapunzel and the baby went as a strawberry I think. My older daughter was adamant about going trick-or-treat yesterday. She likes chocolate. At the same time, her school has been encouraging the kids to donate their candies to the treat-for-troops. Vyvian wanted to go trick-or-treat so so she could donate the candies to the troop. She said that "they serve our country and keep us safe and we should do something for them." That was very sweet of her. We will deliver the candies tomorrow.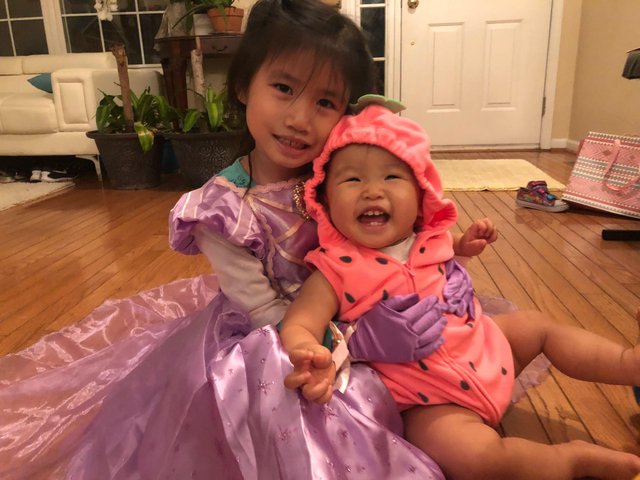 As for now, stay warm as the weather gets colder is all that I can say. The kids coughed up a storm after midnight. Grandma and wife will probably blame me for taking the kids out last night for too long. They think that I have as much as the kids, if not more, on Halloween. I'll never tell them the truth. :)