Ulog 14: Serious Bagging - Sgor na h-Ulaidh, a wild and remote Munro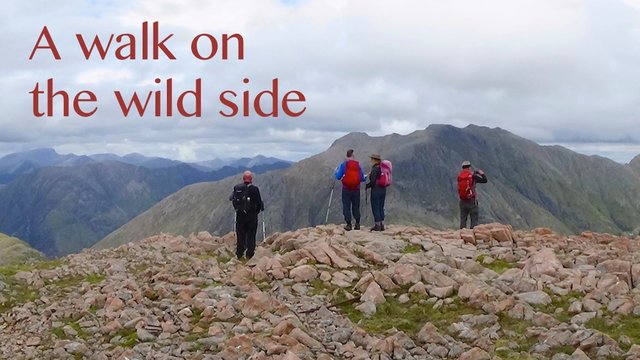 A spectacular view of Bidean nam Bian and Ben Nevis (at the far left).
Last weekend I brought my Munro bagging total up to 86, on a hillwalk with a different Meetup group, and organised by someone else.
To recap, I'm on a mission to climb all of Scotland's "Munros", or hills with an altitude of at least 3,000 feet (914.4m) or more. There are 282 of them.
For now, my goal is to reach 100 Munros, and I'd like my 100th Munro to be Ben Nevis.
The back of beyond
This walk took in just one single hill, Sgor na h-Ulaidh (pronounced Scurr na hoolie). It's in a remote location, between two great glens in the west of Scotland: Glencoe and Glen Etive.
We had quite a lengthy walk just to get to the foot of the mountain, so the trip took us seven and a half hours.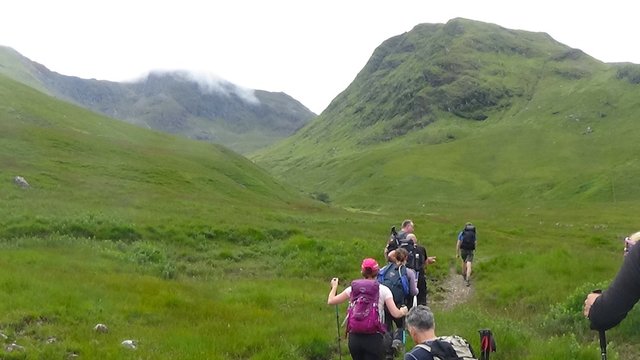 Walking to the foot of Sgor na h-Ulaidh.
Sgor na h-Ulaidh is in the west of Scotland, between Glencoe and Glen Etive.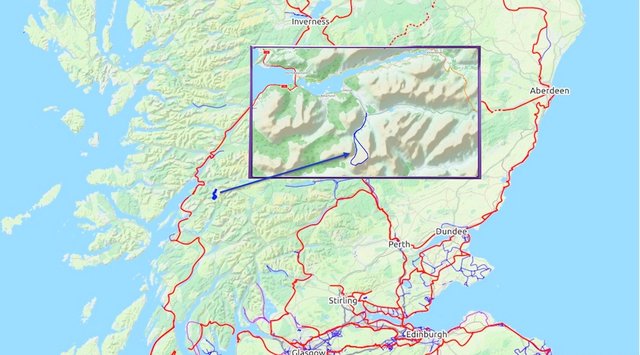 There are few paths on this route, and the ones that are there are rocky and boggy, so you're constantly jumping over rocks and bogs, or walking up a wild hillside.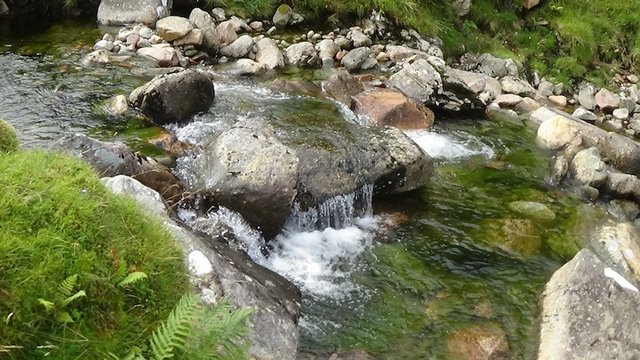 Sgor na h-Ulaidh is also notoriously steep, which I actually quite like. My legs have become strong due to regular hillwalking and indoor climbing, and I love rocky scrambles.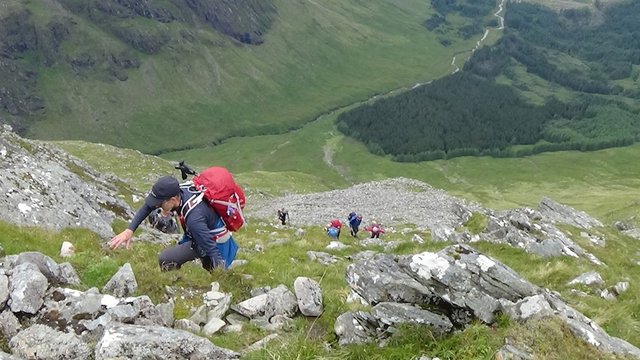 Sgor na h-Ulaidh is notoriously steep.
When you're climbing up a steep hill, you can cover a lot of altitude pretty quickly. So this was a hillwalk I really enjoyed, especially as the views from the top were spectacular!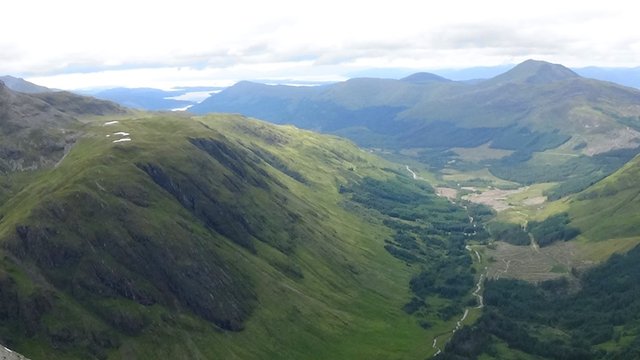 Beinn Fhionnlaidh, Fraochaidh to the right, and views out to the Isle of Mull.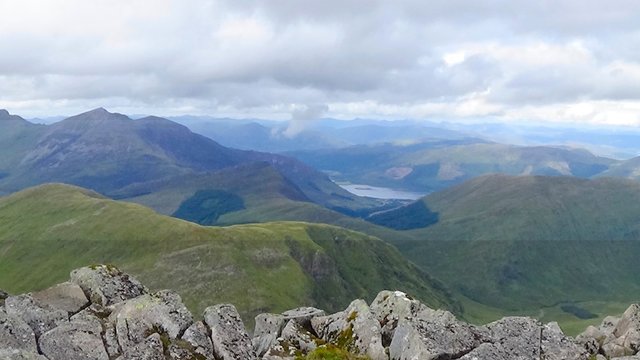 Views over Loch Leven.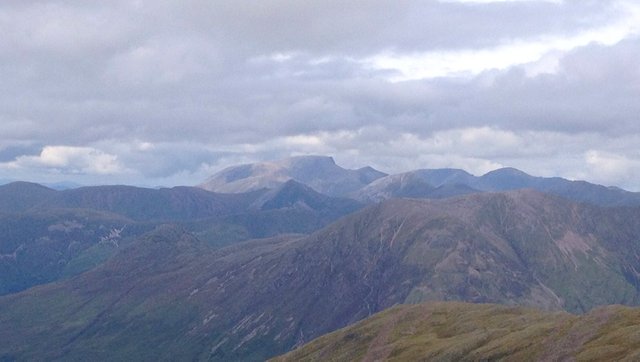 Ben Nevis.
And it was my 86th Munro, meaning I have just 12 more Munros to do if I want Carn Mor Dearg and Ben Nevis to be my 99th and 100th Munros.
So I did a silly pose.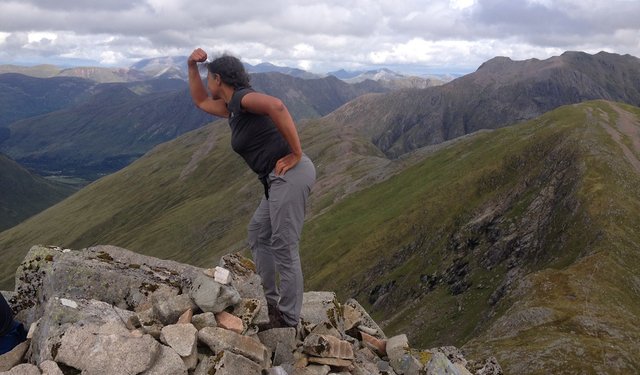 As a group walk, it was very sociable. I think you bond with people when you're sharing an activity in the great outdoors, and there were some great conversations – although maybe not quite so many as during the Beinn a'Ghlo walk the week before, because we spent a lot of time short of breath as we panted our way up the steep hillside, or watching our feet as we stepped over rocks and bog on the less steep paths.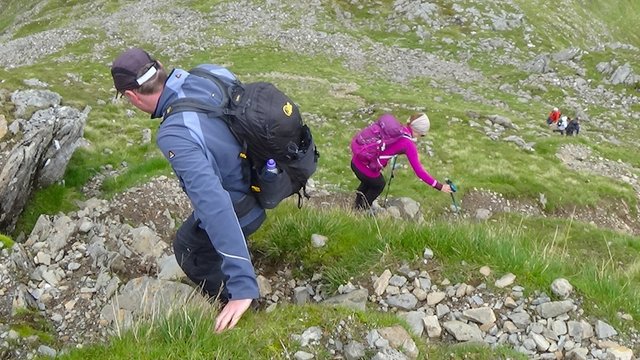 Even heading down the hill was a tricky business.
After we'd puffed our way to the summit and then carefully picked our way back down the other side, we realised that we had to go over another hilltop, Stob an Fhuarain. It doesn't have Munro status, but it did give us some more beautiful views.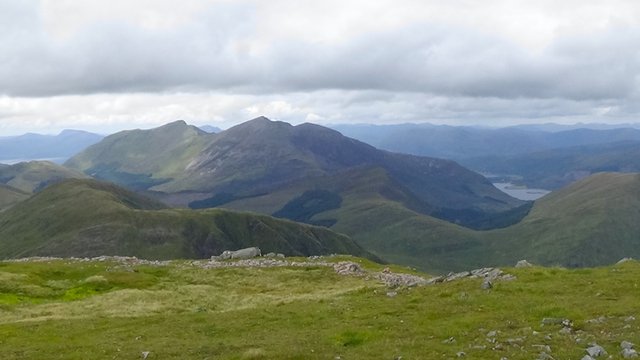 Beinn a'Bheithir and Loch Leven from Stob an Fhuarain.
After the walk, we went to the well-known Clachaig Inn for drinks in the afternoon sunshine. I didn't spend too long there, as I was going out with friends that evening, to a pizza restaurant, meeting a friend who had emigrated to Canada and was coming back for a visit.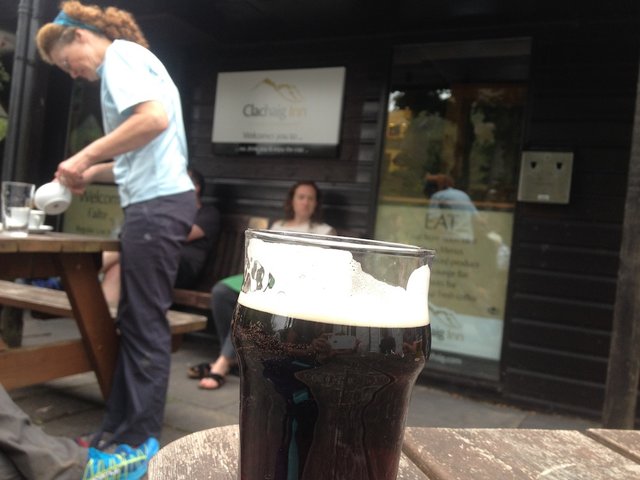 A half pint of Kelpie Ale at the Clachaig Inn...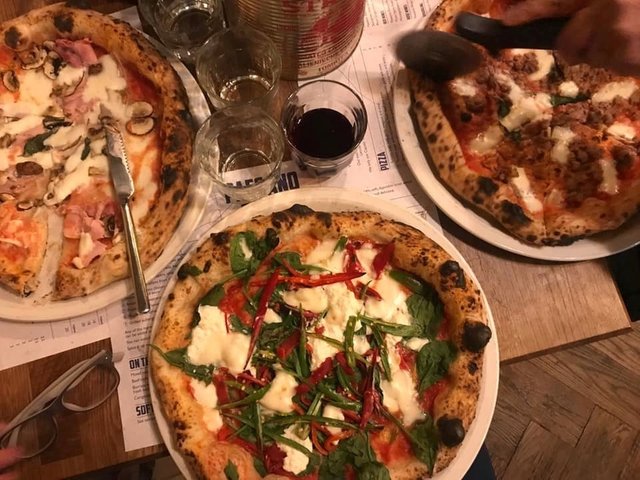 ...then pizza followed by cheesecake and ice cream at Paesano's in Glasgow. You have to replace the calories after a big hillwalk!
This was a very busy weekend for me. The following day I was organising another hillwalk for my own Meetup group – one I'd done before, so it wasn't a Bagging trip for me. Unfortunately the weather broke down and it became quite a challenging day!
I'll write about it in my next post.

Previous Serious Bagging posts:
Ulog #8: Serious Bagging, my mountain mission!
Ulog #9: Serious Bagging, Day One – Creag Meagaidh in threatening weather
Ulog #10: Serious Bagging, Day Two – climbing Bidean nam Bian, a big beast of a mountain!
Ulog #11: Serious Bagging, Day Three/Four – Two beautiful mountains near Loch Treig
Ulog 13: Serious Bagging – The three Munros of Beinn a'Ghlo