Ulog #8: Serious Bagging, my mountain mission!
I'm not just mad about mountains – I'm a "Munro Bagger". That means I'm on a mission to climb all of Scotland's "Munros", or hills with an altitude of at least 3,000 feet (914.4m) or more. There are 282 of them.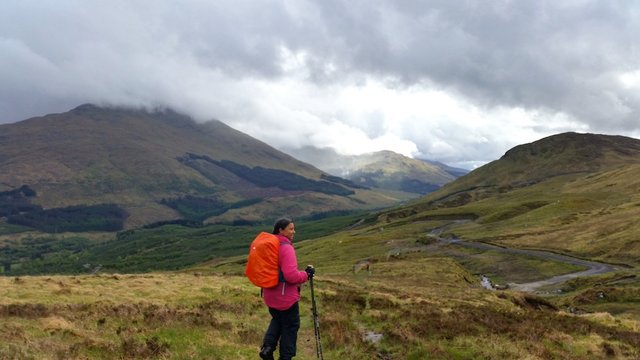 While I'm at it, I'd also like to bag all the "Corbetts" – hills with an altitude of at least 2,500 feet (762m) or more. There are 222 of them.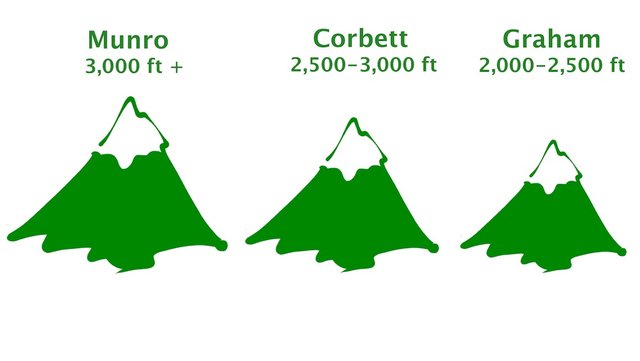 Why do I have this strange pastime? Several reasons.
• It keeps me fit
• It gives me a challenge, and I love challenges
• It takes me to beautiful parts of the country that I'd never even have known about if I hadn't gone there to climb a mountain.
I've always enjoyed climbing mountains, but I only started to "bag" them a couple of years ago. I suppose it was because I'd become a walk organiser with a Meetup group, and I felt it would be a good idea to get familiar with as many mountains within reach of where I lived as I could, so that I'd feel confident organising group walks.
People kept talking about other mountains they'd climbed, and I suddenly found myself wanting to do them all.
The Big One
Yet I still haven't climbed the Big One – Ben Nevis, the UK's highest mountain. I don't want to do it via the busy "mountain path" – I want to do the Carn Mor Dearg Arete route. This takes in two Munros and is a more technical approach – not excessively difficult, but not suitable for inexperienced hillwalkers.
A few weeks ago, seeing my Munro numbers go into the 70s, I had an idea.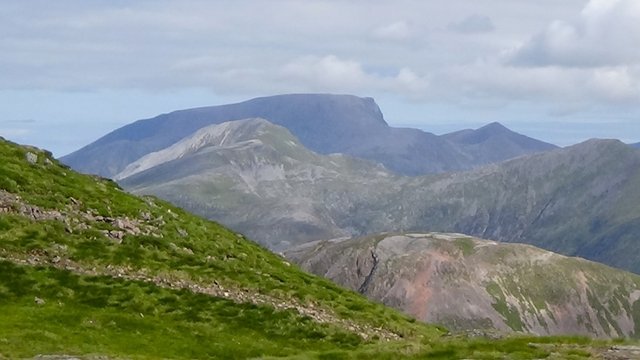 Ben Nevis, the UK's highest mountain.
I want Ben Nevis to be my 100th Munro. And that's why I have some Serious Bagging to do.
24 Munros in 24 hours!
Some people think this is a daft idea, but I don't care. It's great fun. There are lots of Munros in the Glen Nevis and Lochaber area around the town of Fort William, which is probably why several records have been broken there – for example, "Ramsay's Round" of 24 Munros in 24 hours!. Actually the record for ascending the highest number of Munros within the shortest time went to a fell runner last year, who visited 30 Munros in just over 22 hours!. His round was completed in the Cairngorms.
I thought to myself, if someone can do 24 Munros in 24 hours, surely I can do 23 Munros in a month or so!
When I excitedly confessed my goal of reaching 100 Munros before the summer was out to my friend Kathleen, she was up for helping me with the challenge. She's climbed a lot more Munros than me – 147 at the last count, so she's passed the halfway mark.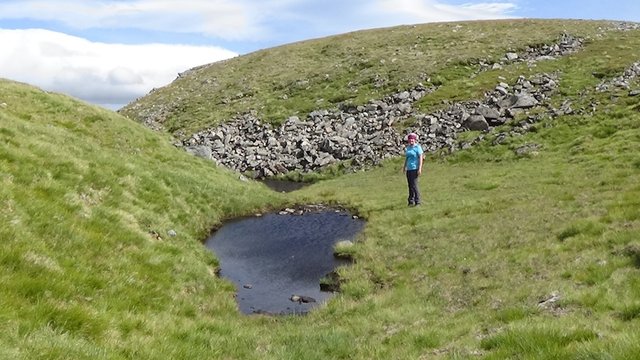 I wrote out a list of 25 Munros in the area that I'd like to do. Many of them are grouped closely together, so you can do 3 or 4 of them in one walk (or 23 if you're a crazed record-breaking nutcase!).
I'm quite a fast walker these days, because climbing mountains and doing indoor climbing and bouldering has developed my leg and core muscles and has improved my fitness a lot. This was NOT the case a few years ago!
But despite my increased fitness, one thing I don't want to do is rush these mountain walks, ticking off the summits and then quickly moving on. I always try to remember the name of each mountain I climb (not an easy task with some of the complicated Gaelic pronunciations and spellings!), and I try to make each one special by taking photos and sitting down to enjoy the views.
If the weather clouds over and I don't get the views, I make a mental note to come back and climb the mountain again, on a sunny day.
We decided to camp at the Bunroy campsite in the tiny hamlet of Roybridge – funnily enough, it's very popular with hillwalkers! The Bunroy is a fantastic campsite with scrupulously clean toilet and shower facilities.
The beautiful Grey Corries would be on our doorstep, or rather, right at the edge of our pitch! We thought we could get about 12 Munros in the bag over a four or five-day camping break.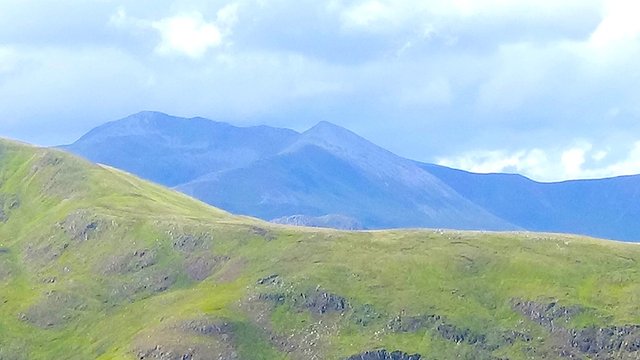 The Grey Corries.
The weather presented a challenge. It's been an unusually hot summer, but this being Scotland, we knew that the payback would come at some point. And this week seems to have seen the start of the payback.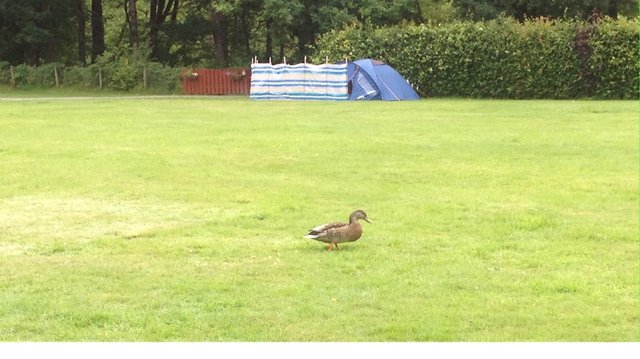 The Bunroy campsite. Nice weather for ducks!
We arrived at the campsite on Thursday night. The Grey Corries looked magnificent from the A86, and we couldn't wait to climb them the following day. We pitched our tents and sat down in the fresh air to a meal of leftover vegetables with rice and tinned fish, cooked on my camping stove. It tasted delicious!
I slept well, until 4.30am, when the sunlight woke me up. I have a dark eye mask, but pure excitement kept me from falling back to sleep, because I'd been looking forward to this trip for ages! Eventually I decided to just get up, at 5.30am. I cooked myself a breakfast of fried eggs with bread and black coffee.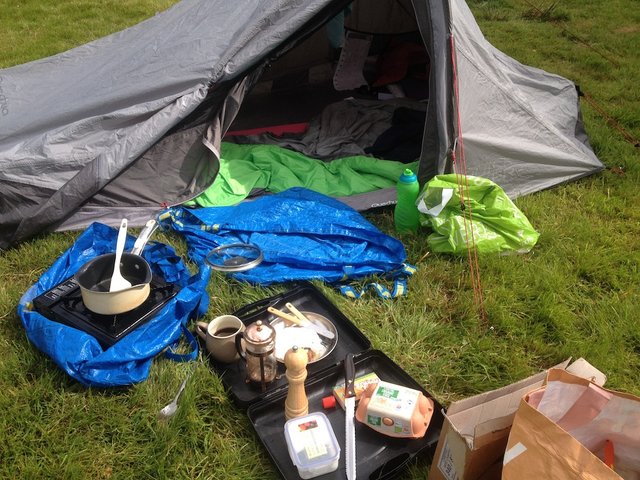 A fried egg brekkie provides essential fuel for a big hillwalk.
Unfortunately the weather forecast for that day was not looking good. Thunderstorms were forecast for the Grey Corries, but surprisingly the weather forecast for Creag Meagaidh, another range of three Munros, about 20 miles away, was looking pretty good.
So we decided to do the Creag Meagaidh circuit instead. Thunderstorms are not fun when you're on the top of a mountain (though I'm sure there are some who would disagree!).
Did we achieve our goal? More tomorrow!