TECH101- My Journey to Technopreneurship (Blog #5)

Technopreneur Blog
By: Dinmark Taguic
"Technology has become an integral part of mankind. Technopreneurs and Technopreneurship is a course that aims to motivate more people to consider their entrepreneurial potential using technology. "
---
"The Proposal"
Week 5 - Introducing "Catering Service"
After I get into a group and giving some ideal project, we decide a final proposal to our instructor and that was "Catering Service". (December 13, 2019) We with my groupmates/colleagues give our big shoot to explain our proposal.
Before we start, Our instructor give us some advice how our proposal to be approve. He said, we need to remember the 3 important things, these are;
What is the Problem? (Well-defined)

Specific customers.

What is the solution?
That three important things they give us are needed for our proposal. So, he ask us what was "Innovation" base on our understanding, and we came up to "Innovation - A change that adds VALUE".
After we give our plan to our instructor, how our Catering service work. He give us some hint and advice that our proposal is lack of surveys and interviews of people/user/customer and he said that we need to ask more people if why they need to find catering services to their events like parties, weddings, etc.
Lastly our instructor said that we need to conduct more again a surveys to customer and we need to ask also the Establishment if they need this services we make or if they need more customer and use our app/website.
My Test surveys using Social Media (Facebook)
This is my survey using facebook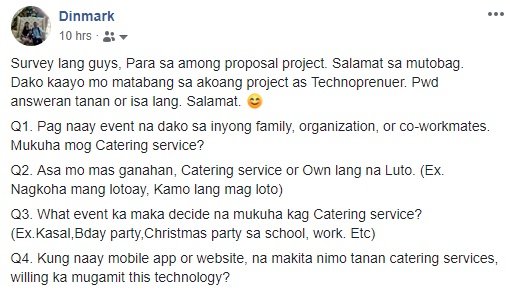 Q1. Pag naay event na dako sa inyong family, organization, or co-workmates. Mukuha mog Catering service?
Q2. Asa mo mas ganahan, Catering service or Own lang na Luto. (Ex. Nagkoha mang lotoay, Kamo lang mag loto)
Q3. What event ka maka decide na mukuha kag Catering service? (Ex.Kasal,Bday party,Christmas party sa school, work. Etc)
Q4. Kung naay mobile app or website, na makita nimo tanan catering services, willing ka mugamit this technology?
---
Comment 1
This is answer I got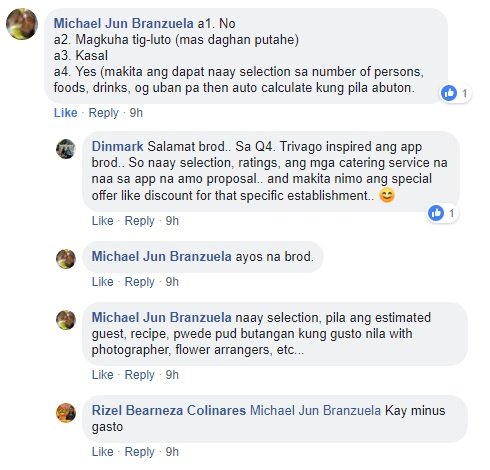 ---
Comment 2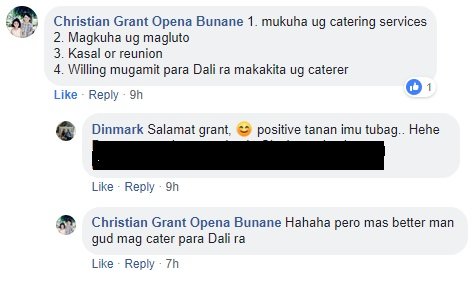 ---
Comment 3

---
Comment 4

---
Comment 5

---
After Reading their comments base in my post, They are willing to use our proposal project because it is hassle free. by the way thank you for reading my blog. please don't forget to support me and follow @dinmark09.
Read my past blog?
Click here >> Blog 1,Blog 2,Blog 3,Blog 4<<
---
>> I am a Member <<