Trial by Comics Contest entry my drawing EMRAKUL for "Magic: The Gathering II"
EMRAKUL
Magic: The Gathering II
When the contest was announced by Lars Kommienezuspadt, I resteemed it and said right away that this is just up my alley: I am a huge fan of Lovecraft, and had drawn my version of Cthulhu way back in 1980 - posted on Steemit a year ago:

🐙 CTHULHU MONUMENTS
---
without further ado, here is my entry for the contest "Magic: The Gathering II"
EMRAKUL
to see these images larger and be able to zoom in, check this post out on Busy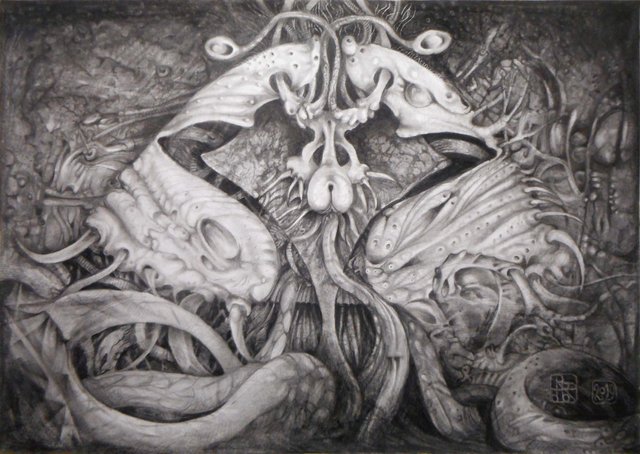 graphite and charcoal on paper - 2019 - 42 x 29.5 cm - 16.5 x 11.75 inches
ZOOM

Details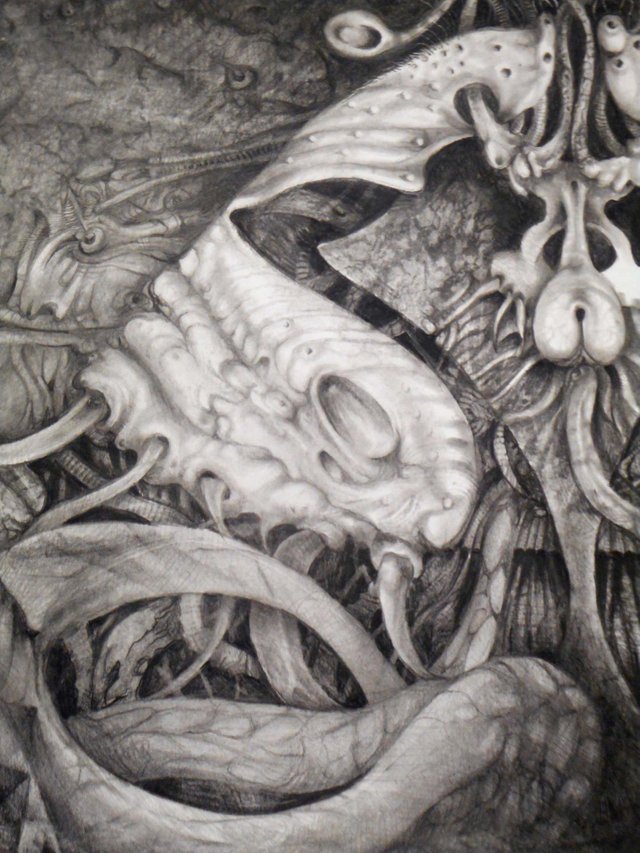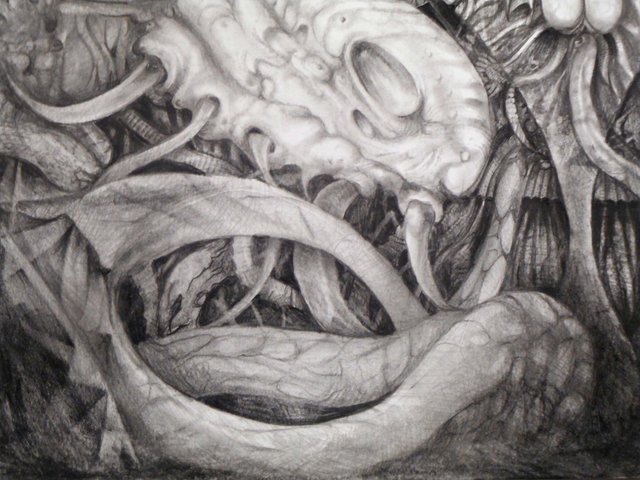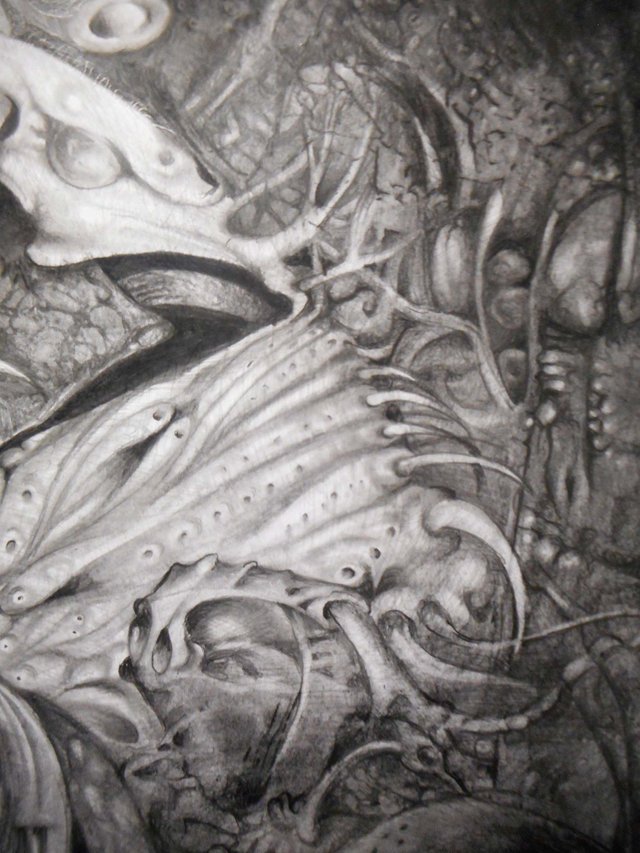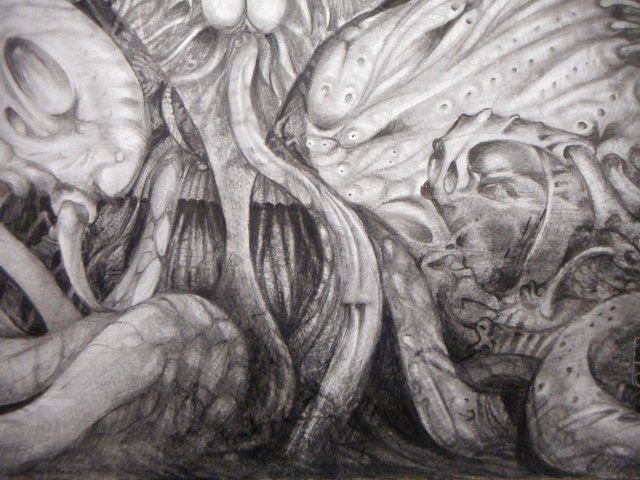 ---
About Emrakul
Magic - The Gathering Emrakul, the "Aeons Torn," is one of the three Eldrazi titans and the inspiration for the Zendikari merfolk god Emeria. Emrakul is the Titan of Corruption, the largest and most fearsome of the Eldrazi. She does not affect inorganic matter - rocks, water, etc. - but twists all things living, be they plants, animals or other sentient beings. She causes silent terror wherever she soars, embodying desolation, emotional and physical distance, the chill of the void, and the terror of being alone. The Emrakul lineage is characterized by flesh-like lattice structures, uneasy bilateral symmetry, and tentacles that end in knobby, vestigial digits. Looking like spongy, alien baleen, the lattice respires independent of the Eldrazi herself, supporting a host of unseen mite—creatures within. Some within this lineage, including Emrakul herself, float above the ground, using unknown powers to alter the surrounding gravity. ~ https://mtg.gamepedia.com/Emrakul
---
Process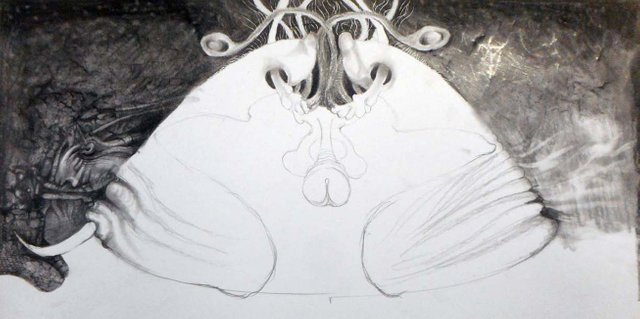 Process - Detail, top center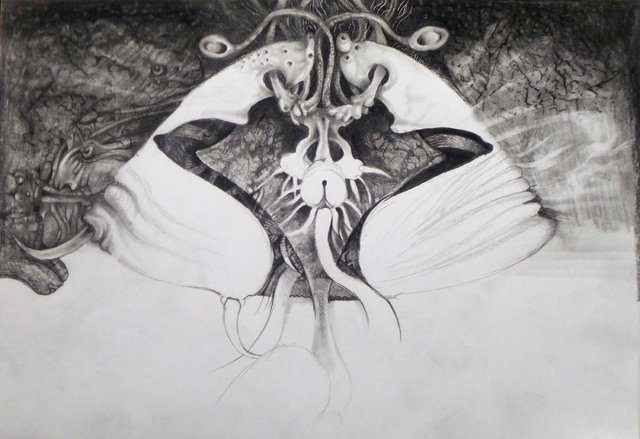 Process - Detail, working on the center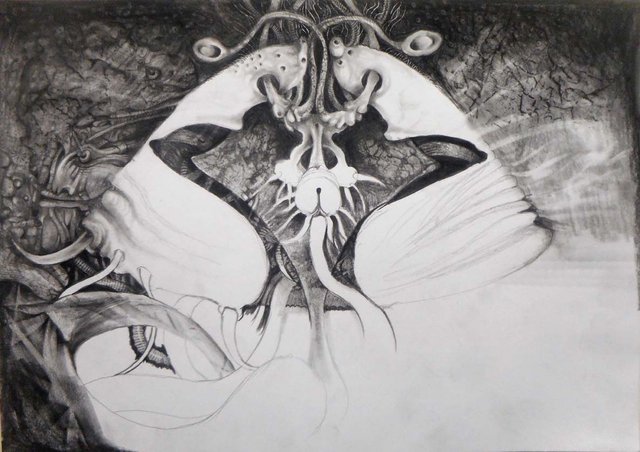 Process - the whole piece, coming right along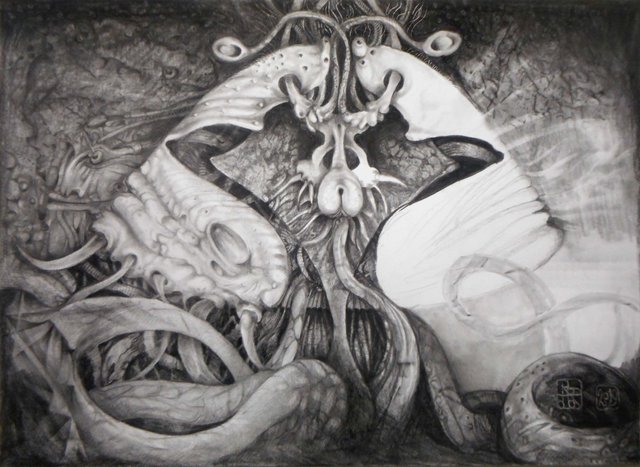 Process - starting to see light at the end of the tunnel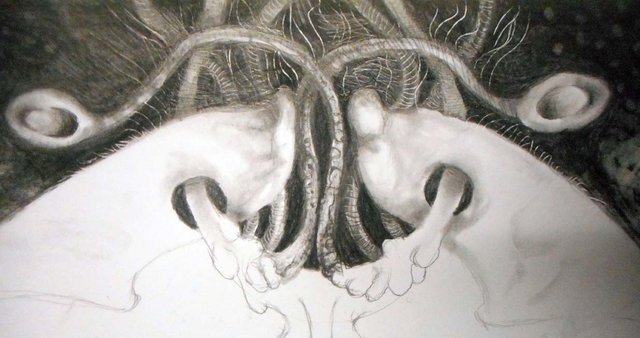 Process - Detail, top center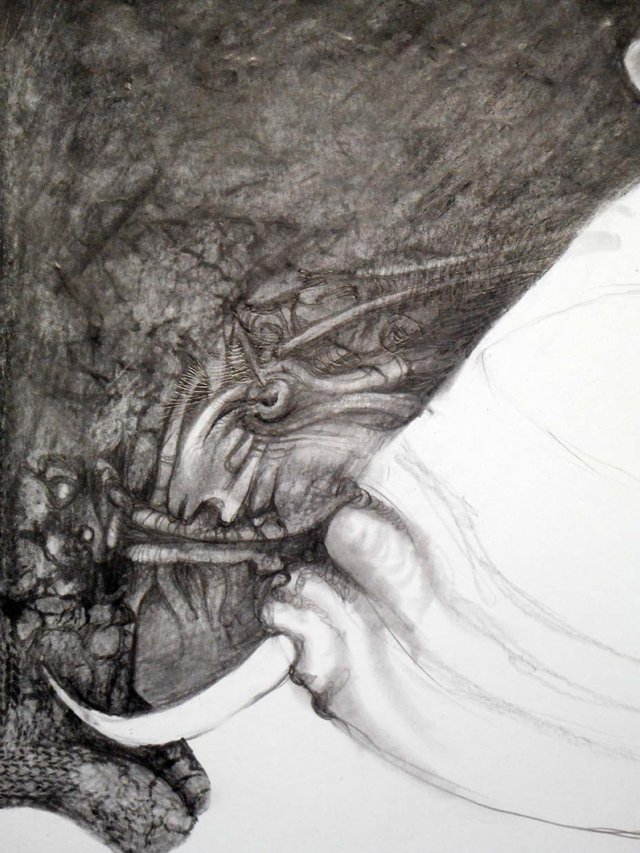 Process - Detail, left side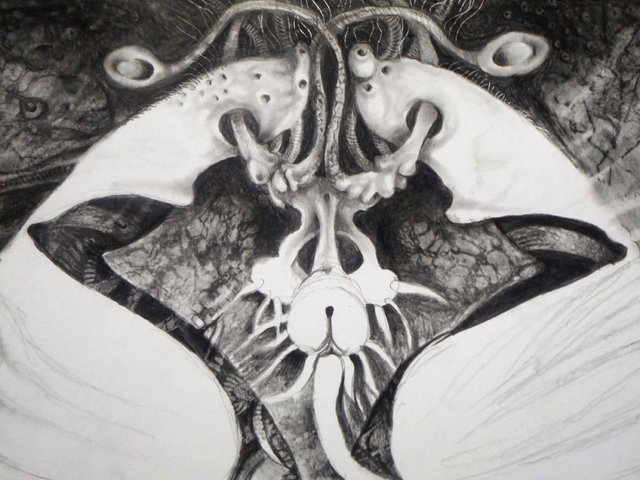 Process - Detail, from the center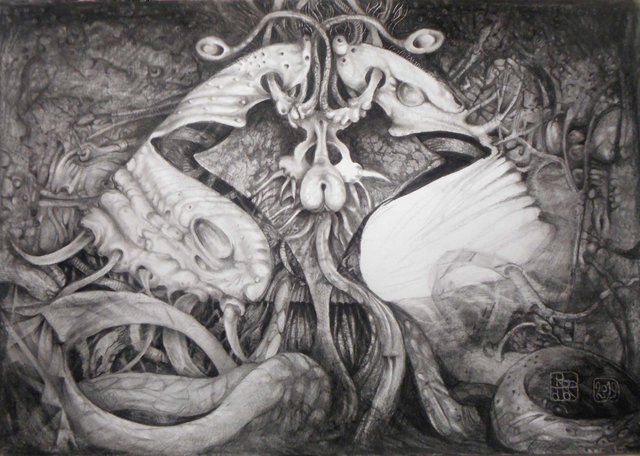 Process - almost finished
---
... and now, the sad part ...
😥
I screwed up after I took the last picture of the finished work: I was going to spray it with fixative when I accidentally grabbed a bottle of matt varnish. It clouded it. I have to figure out a way to rework it.
Maybe I should leave well enough alone when I am already tired.
Now I am debating if I should paint it. I would not slavishly do the same, just the basic idea. I can't do the same, it is boring. If I am bored, I don't do good work.
My friend Peter Gric suggested I should post the screwed up piece.
Right now I don't have a photo of it,
but I go to the studio later today and take a photo.
Stay tuned until then, I will post it here in edit.
Peter says: "yes, show that shit happens some times."
UPDATE:
I went to the studio yesterday (January 31st) to survey the damage and found it was bad, but not so bad that it cannot be salvaged.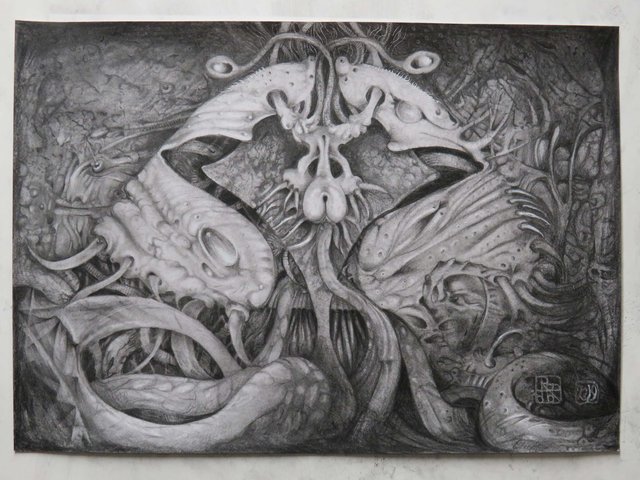 I also used a better camera, my trusted Canon SX540HS for a better image.
This is straight out of the camera, just the file-size has been reduced.
I will be restoring some lost details and highlights, using charcoal stick and a white acrylic pen (trying to wipe off the matte varnish caused a grey film, as well as loss of fine detail).
Lesson learned: Don't rush things, stay focused, if tired, quit.
Shit happens, but it shouldn't!

---
Visit my website
▼