Quercus suber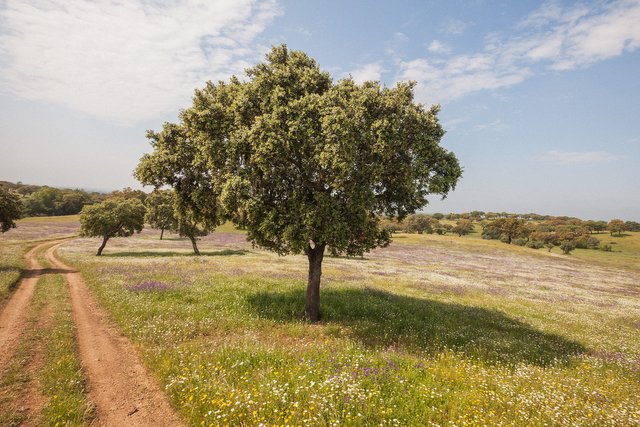 This is a young cork tree. Can you see how fluffy? It's flowering season. The video below shows how pollen clouds form as you shake it a little.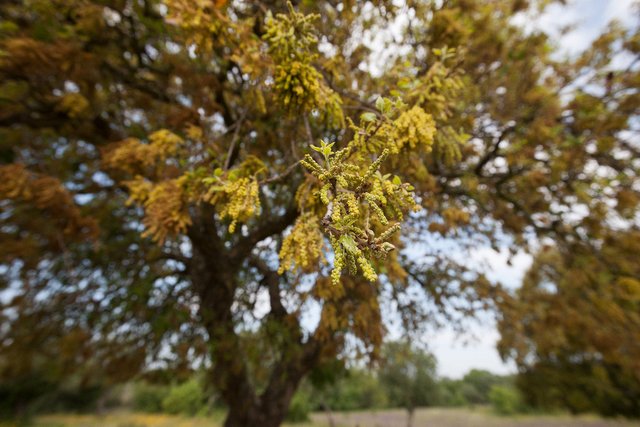 ---
Quercus suber, commonly called the cork oak, is a medium-sized, evergreen oak tree in the section Quercus sect. Cerris. It is one of our bees source of nectar and pollen. It is the primary source of cork for wine bottle stoppers and other uses, such as cork flooring and as the cores of cricket balls. It is native to southwest Europe and northwest Africa. In the Mediterranean basin the tree is an ancient species with fossil remnants dating back to the Tertiary period.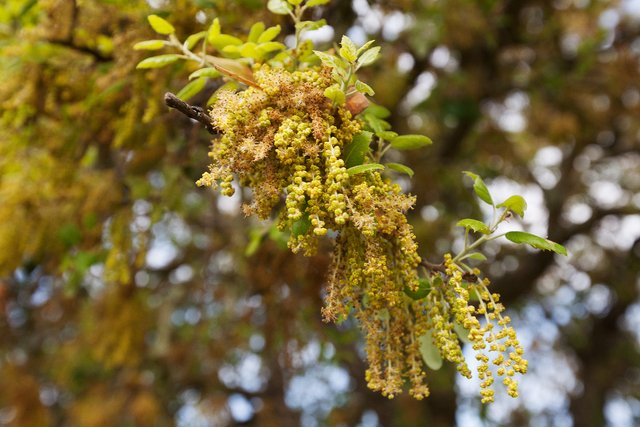 It grows to up to 20 m (66 ft), although it is typically more stunted in its native environment. The leaves are 4 to 7 cm (1.6 to 2.8 in) long, weakly lobed or coarsely toothed, dark green above, paler beneath, with the leaf margins often downcurved. The acorns are 2 to 3 cm (0.79 to 1.18 in) long, in a deep cup fringed with elongated scales.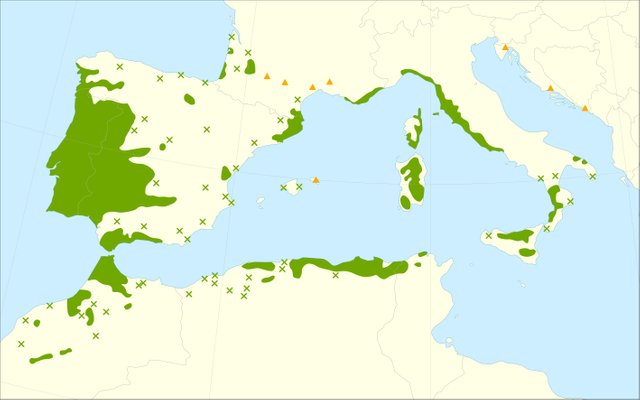 The cork oak forest is one of the major plant communities of the Mediterranean woodlands and forests ecoregion.
Natural stands of cork oak can support diverse ecosystems. For example, in parts of northwestern North Africa, some cork oak forests are habitat to the endangered Barbary macaque, Macaca sylvanus, a species whose habitat is fragmented and whose range was prehistorically much wider. In Western Europe, particularly in Portugal and Spain, the cork oak forests are home to endangered species such as the Iberian lynx, the most critically threatened feline in the world.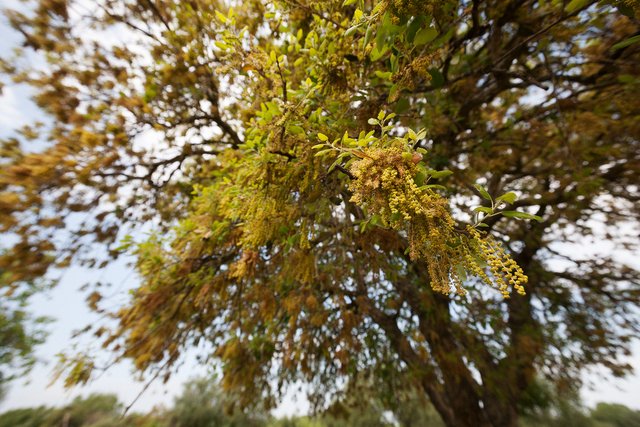 As a pyrophyte, this tree has a thick, insulating bark that makes it well adapted to forest fires. After a fire, many tree species regenerate from seeds (as, for example, the maritime pine) or resprout from the base of the tree (as, for example, the holm oak). The bark of the cork oak allows it to survive fires and then simply regrow branches to fill out the canopy. The quick regeneration of this oak makes it successful in the fire-adapted ecosystems of the Mediterranean biome.
---
Get a glimpse of Dr. Apis bee's entourage in the following videos:
A quick overview of the
local wildflowers. The nectar, pollen and resin sources.


The amazing wildflower blooming fields harvested by our bees. Where all the nectar of our honey is harvested.



Take a closer look to our bees and beehives.

All pictures and videos produced by @drapis, in Alentejo, Portugal, during May 2018.
---

Some of our bee's sources of
nectar, pollen and resin in Alentejo, Portugal include:
Cirsium vulgare
Cistus ladanifer
Lavandula stoechas
Trifolium nigrescens
Quercus suber

---
#tree
#nectar
#pollen
#honey
#beekeeping
#alentejo
#portugal
---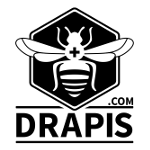 www.drapis.com
@drapis
---
Twitter @drapiscom // Facebook @drapiscom // Instagram @dr.apis