'The Solarium.'
This is my 5th segment about my cruise on The Radiance of the Seas. If you haven't seen my previous blogs feel free to browse these to get a better picture of this wonderful ship and all they have to offer.
Part 1:
Part 2:
Part 3:
Part 4:
The Solarium! Just entering this amazing oasis amid ships, evokes feelings of serenity and calmness, reduces hypertension, and causes one to breathe deep, in anticipation of the ultimate relaxation and pleasure ahead.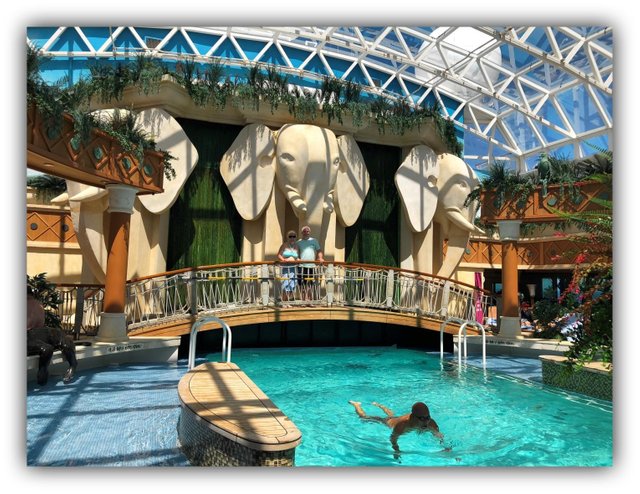 Visiting the Solarium is a great way to burn off all those extra calories from overindulging in the sumptuous meals onboard by swimming a few laps of the pool. (Quite a few actually, as it is not a large pool.) It is an adults only area so of course, this is very appealing to many passengers as kids can get rather boisterous at times, as we all know.
You may get the impression after viewing the images below, that I'm rather keen on this part of the ship. You'd be correct.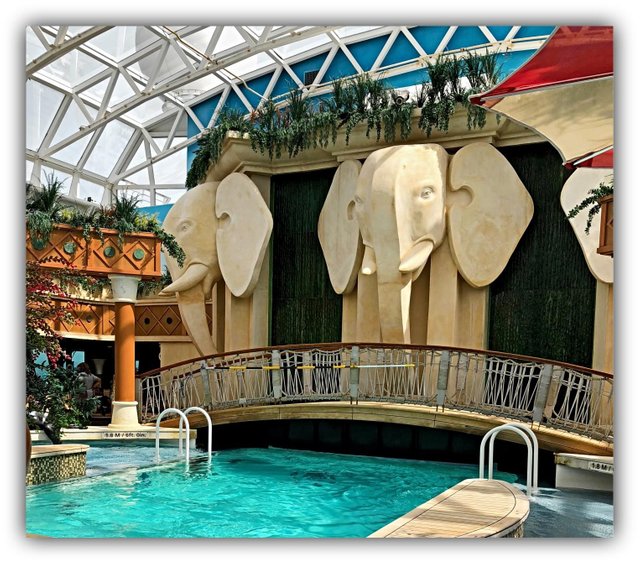 I visited the solarium a lot and found it a hard place to leave. Naturally, it is very popular on sea days so it is important to find your ideal spot early, with your book and towel in hand. Everything else is provided.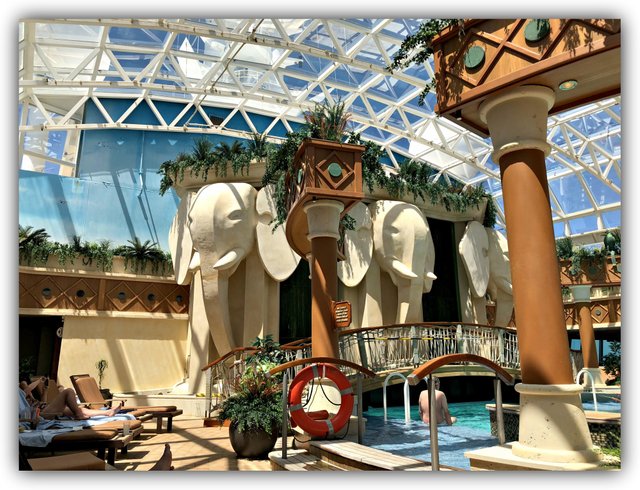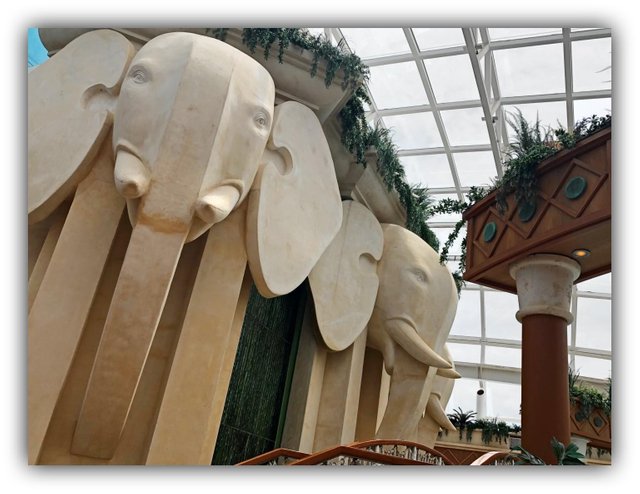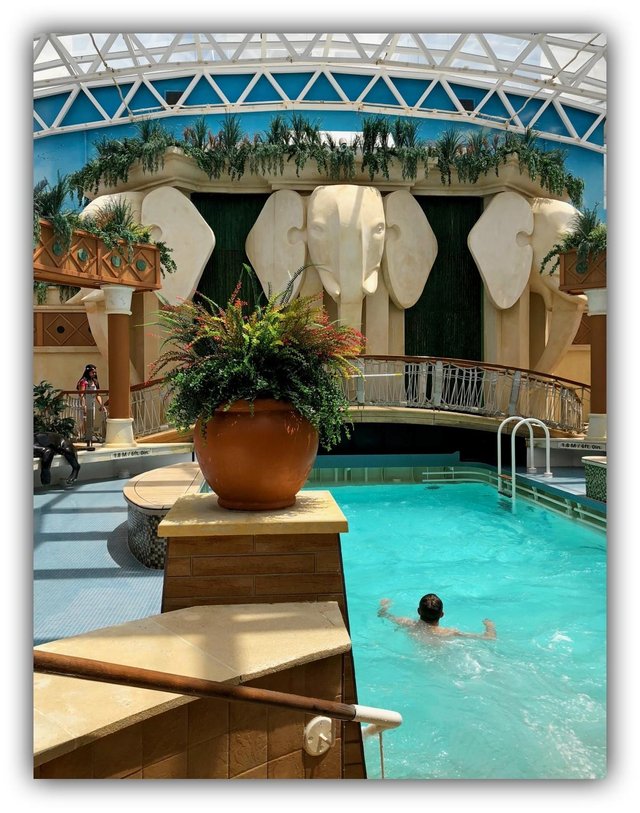 Surfs Up! This is not what you'd see most days in the Solarium but occasionally the ship rocks a little when there is a large swell in the ocean. And the motion causes mini waves to churn up the waters in the pool.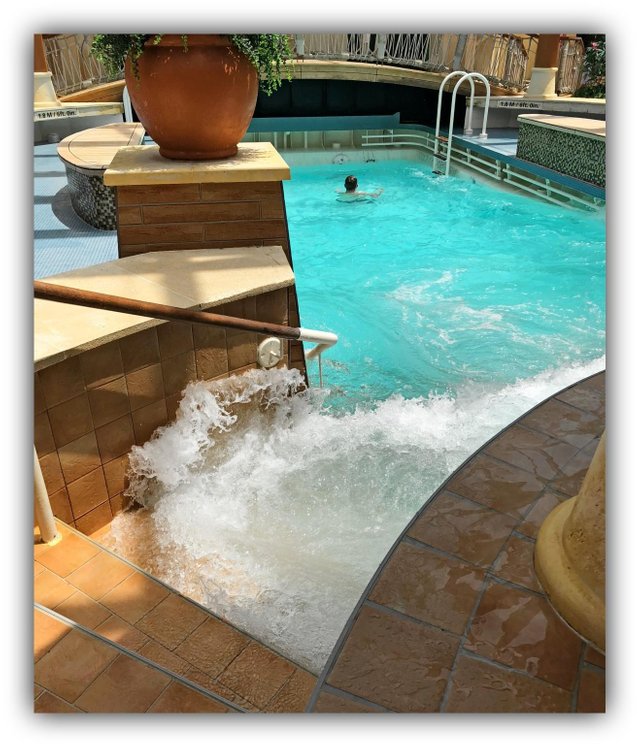 When using the spa pools, the saunas or indeed the heated larger pool in the Solarium, it is possible to become dehydrated. And Radiance of the Seas has perfected the art of providing every, indulgent requirement for their passengers. Hence; The Solarium Bar equipped with thirst quenching refreshments, wine, beer and cocktails served by friendly bartenders.
Because the Solarium is enclosed, sun umbrellas are not necessary to protect one from harmful UV rays but you will find umbrellas in the Solarium. Oh yes! After all, you cannot enjoy a chilled cocktail quite as much if it isn't adorned with a cute little pop up umbrella.
The cocktail umbrella was exchanged for a wedge of lime on this occasion.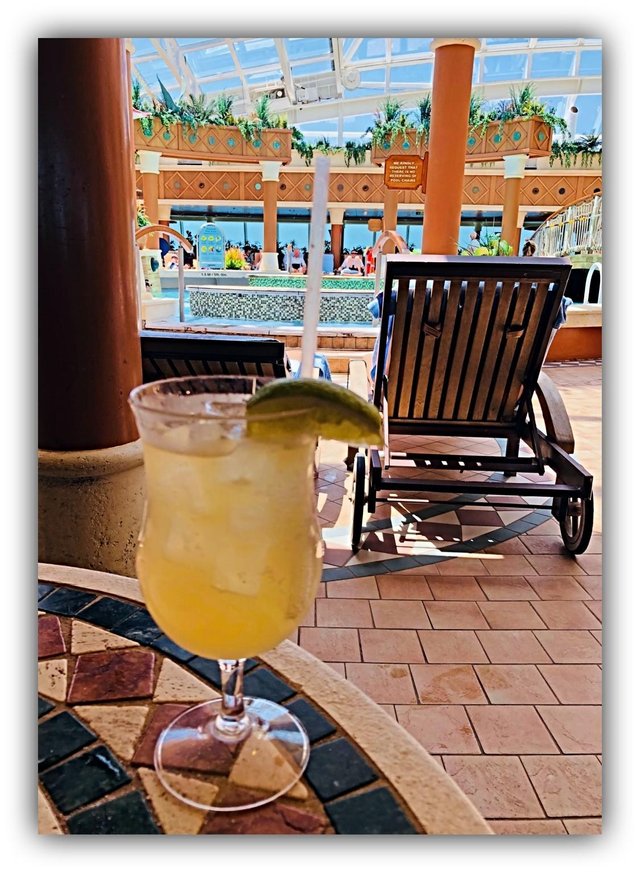 Some days I didn't go to the dining areas for breakfast or lunch. I dined by the pool. John would bring me something delicious from Windjammers such as banana pancakes........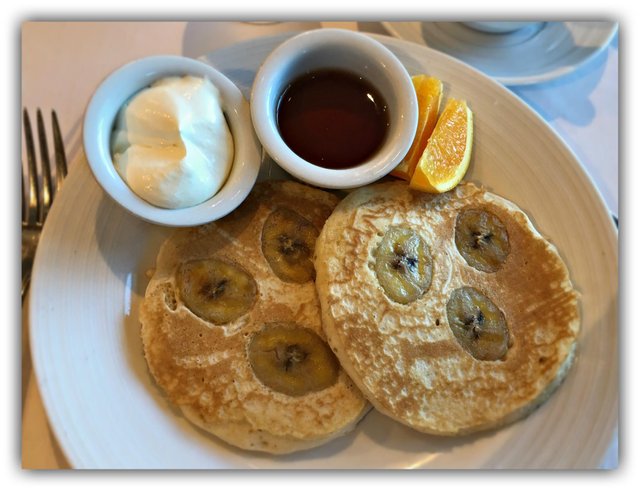 .....Or one of my favourite breakfasts; 'Eggs Benedict,' From about 11 am on, a snack bar opens which includes pizzas, hamburgers, salads, wraps, fruit salad and other tasty treats. So, why would I want to leave this heavenly haven unless of course there is a show on that I don't want to miss, or a game of trivia or a demonstration on how to make sushi.......and the list goes on.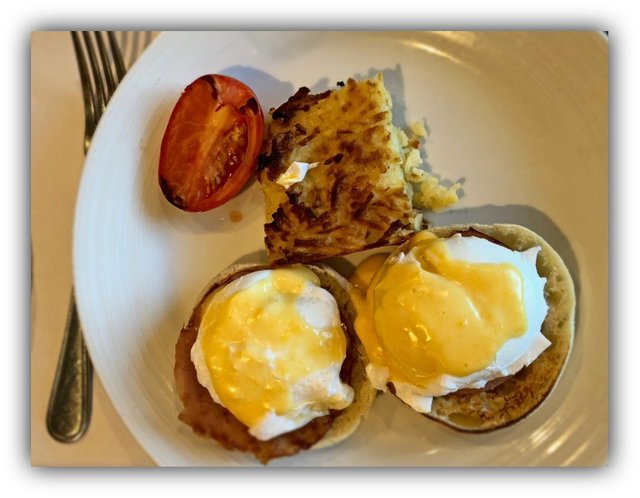 The hardest part of cruising, is sorting out one's priorities as there are too many interesting events to choose from.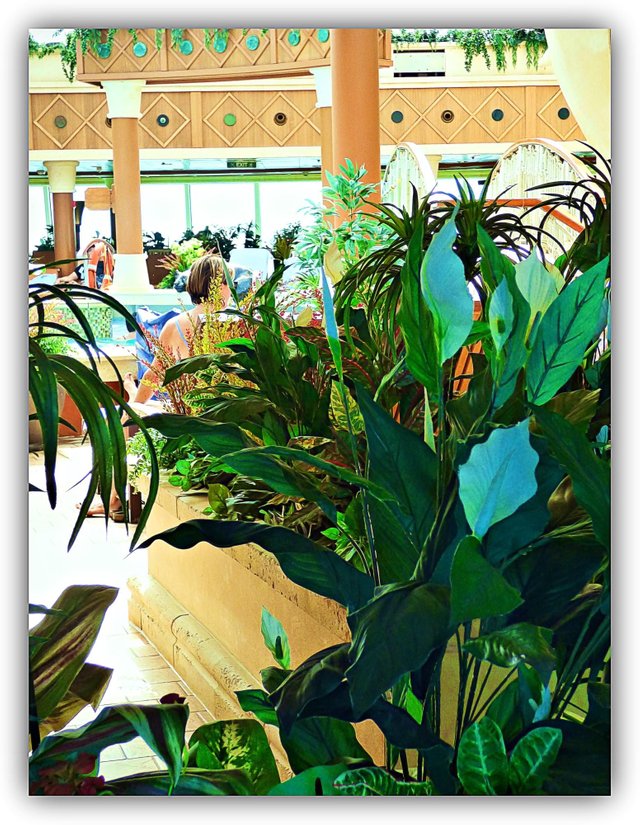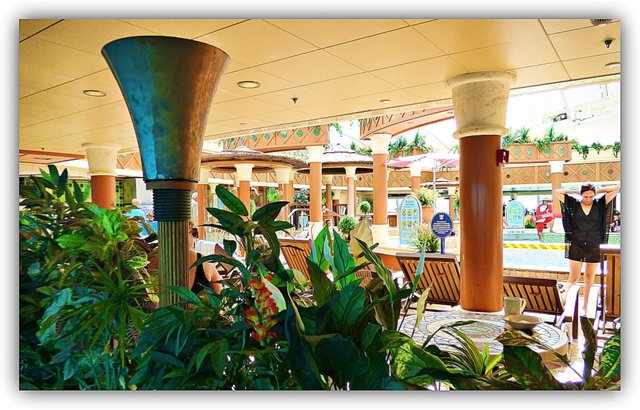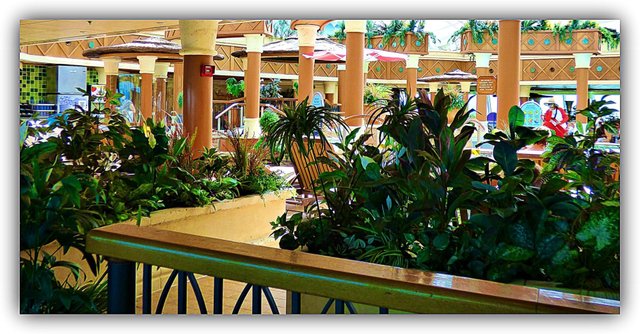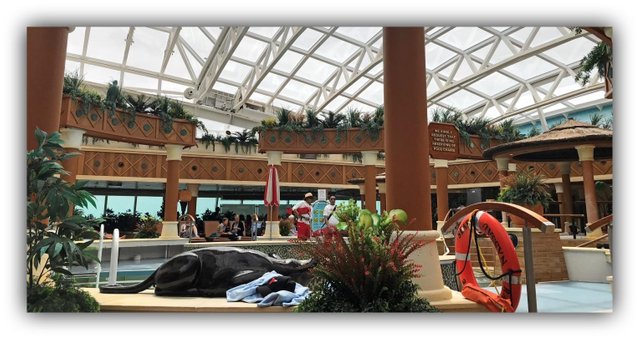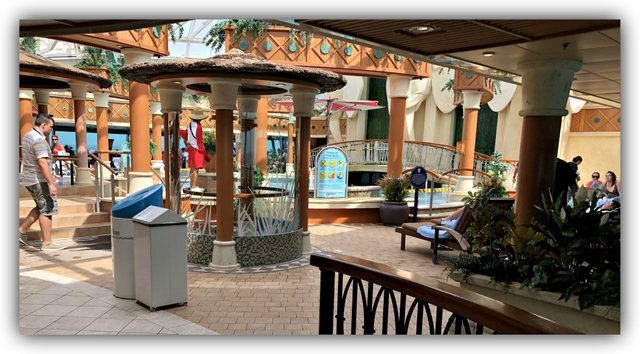 Stay tuned for Part #6 of 'Cruising With Radiance.'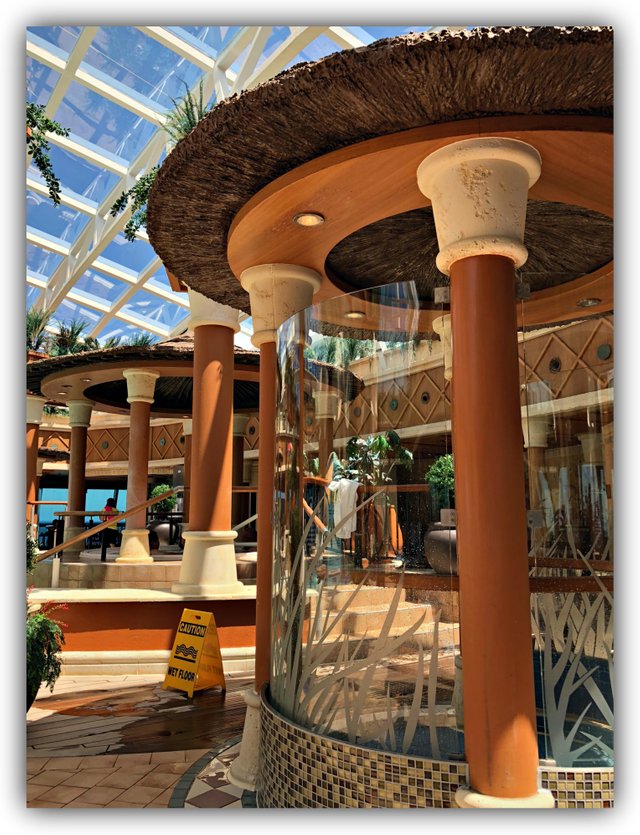 THANK YOU FOR VIEWING. HAVE A GREAT DAY!