Beautiful Ha Long Bay. Hiking Cat Ba (3 of 3)
Welcome fellow Steemians. This is the last day of our 3-days tour in Ha Long Bay. On the first day, we spend most of the day on a boat, cruising through the bay. At the end of the afternoon, we arrived on Cat Ong, a small island south of Cat Ba (the largest island in the bay) where we also spent the night. On the second day, we did some hikes on the island and some kayaking. Now it's time to talk about day 3!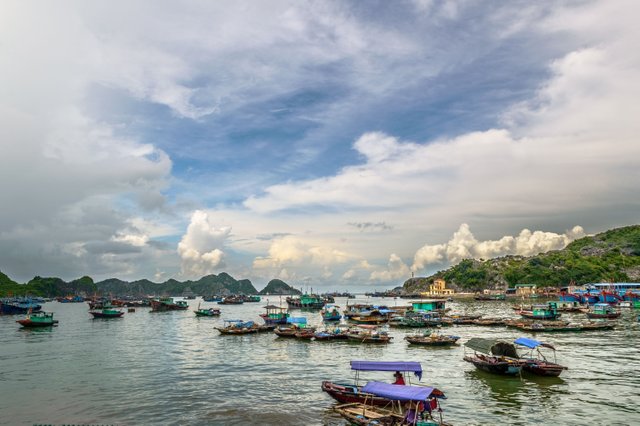 Harbor in Cat Ba Town
After a good night sleep, we gathered in the main building again for our last breakfast. The group that arrived last night was preparing for the hike, just like we did the day before. We, on the other hand, collected our belongings and boarded some weird boat that brought us to Cat Ba island. A distance of around 3 kilometers northeast of our current position at that time. At Cat Ba, you will find the only city in the whole bay (called Cat Ba Town) and they actually have some sort of skyscrapers as well. We had to wait for a minivan to pick us up so we dropped all our stuff at a bakery. Some people grabbed a coffee, others were delighted that they could connect to a wifi network again since there was none on the island we stayed. Cat Ong was pretty basic, the place was run by a single generator which did fail a couple of times during our stay there. But hey, electricity is overrated anyway right ;D. Finally, a minivan showed up which brought us with massive speed to Trung Trang where the entrance is to Cat Ba National Park. Everyone was relieved we made it in one piece, no jokes.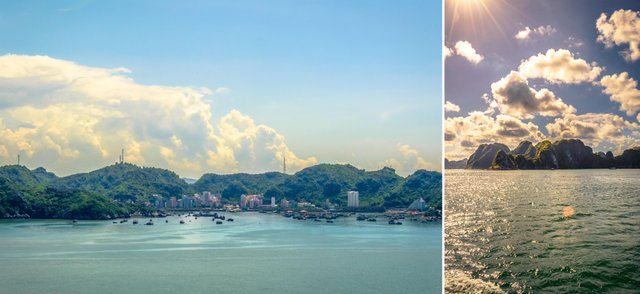 Cat Ba Town seen from Cat Ong and one last shot of Ha Long Bay
Half of Cat Ba island is proclaimed as National Park and is part of UNESCO. We've heard it's a beautiful park with lots of mountains and green so we were pretty stoked to hike there. Our guide told us that we would be hiking uphill for the next one and a half to two hours to some viewpoints. About our guide by the way. Although he did speak spontaneously about the area, he would if we'd ask him. His English was not bad at all so for the record: he was a pretty cool kid. Indeed, a kid since he was probably younger than most in our group lol.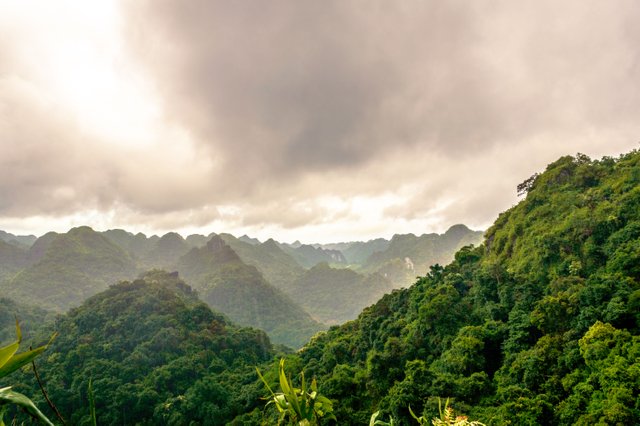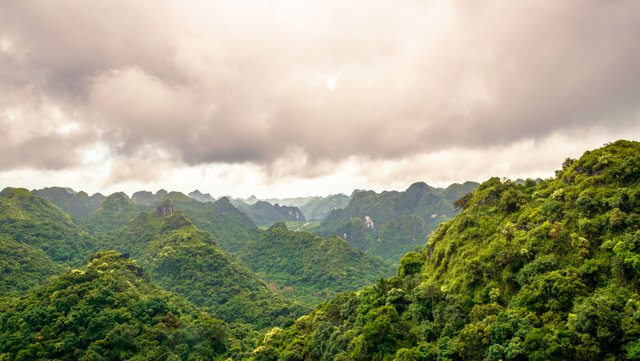 Views from the first viewpoint
It started raining a bit from the moment we started walking. It did not really matter because everyone was wet from sweating in no time since we were walking in the jungle. Cat Ba NP has lots of jungle, so the place is really green and humid. There is also a lot of wildlife we were told, but most hikers won't see anything, as did we. After an hour or so we arrived at the first viewpoint. Luckily, it was some kind of wooden 'tower' so we could shelter (it was still raining). The views were good but the guide told us the second viewpoint was way better, so we went on our way again. The path was getting narrower and near the end, we had to climb sometimes because it was quite steep and rocky.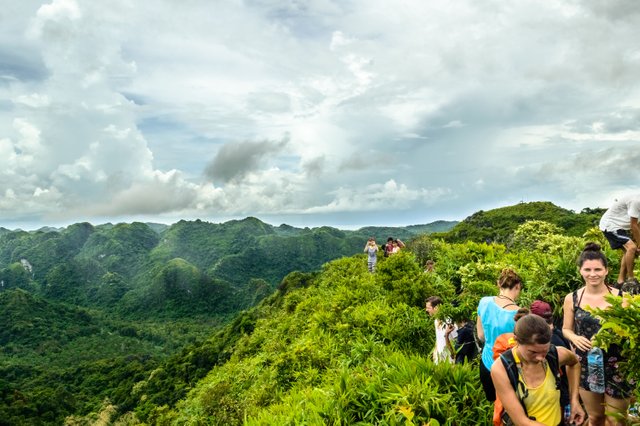 Second view point on top of the mountain
But boy, was that final viewpoint rewarding. We founded ourselves literally on a top of a mountain with views in all directions. As far as the eye could stretch we saw green mountains and valleys. The fact that we were soaked because of the rain and the sweating could not disturb the beautiful views.
We sat down and enjoyed it for a while, taking photos. Inevitable as always if you walk up a mountain, we had to go back down. The rain made the path quite slippery so we had to be careful.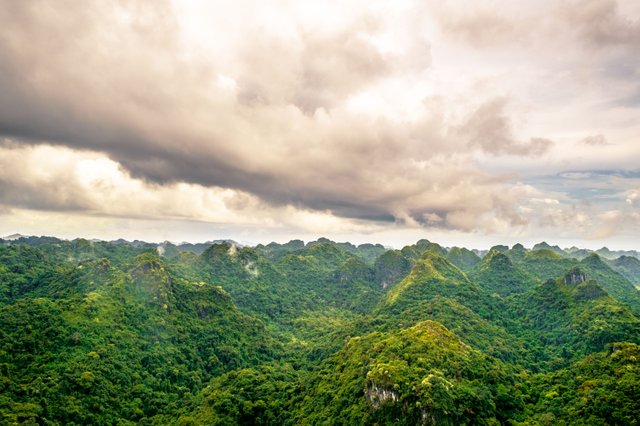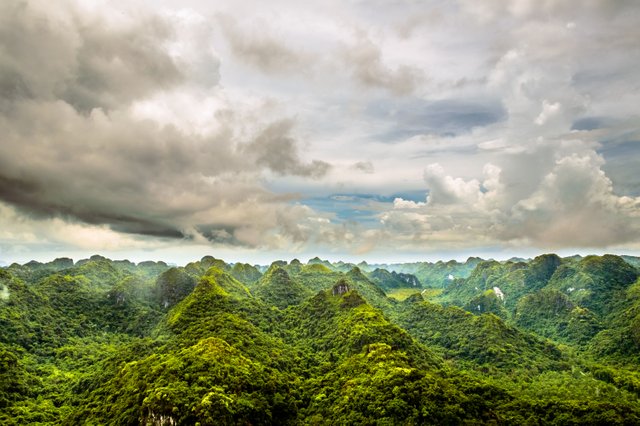 Views of Cat Ba NP from the second viewpoint
Back at the parking lot, we installed ourselves in Michael Schumacher's minivan again for a high-speed drive. Our trip to Ha Long Bay was coming to an end. We stopped one last time on our way to the Hydrofoil ferry for lunch together. Then by ferry and minivan, we were brought back to Hanoi!
I hope you enjoyed reading about this trip. We surely had a wonderful time over in Ha Long Bay. One of the most beautiful places I've seen. So if you would ever found yourself in Vietnam and it's a busy season, think about taking the alternative route through Lan Ha Bay. Definitely worth it.
---
If you enjoy my work, please consider upvoting/ resteeming it and follow me for more travel blogs around the world. Also, check out my Steepshot account for regular photo updates!

---
Similar posts that you may like:

!steemitworldmap 20.797029 lat 106.999722 long Ha Long Bay, Cat Ba d3scr