Vietnam backpackers route for 4 weeks (part 1 of 2)
Good evening everyone!
One of my last blog for this year! I've been blogging about my travels now for a few months and really appreciate the feedback and positive comments I (already) get from fellow Steemians. As I'm still new here I always keep in mind that most people have been building up a trusty group of followers for a period way longer than the length of my membership. And that is definitely ok. You can't expect people to find you from day 1. I must say that most of the time I'm quite amazed how many people already appreciate the work I put in my posts. Of course some post stay too much on the background (in my opinion ;)), but that's all part of the challenge!
Alright back to the topic of this post. As said, probably the last one for this year since I will be going snowboarding this Saturday.
With this blog I would like to help people that are considering to visit Vietnam. Or maybe already booked a trip to this beautiful country, but do not yet know what Vietnam has to offer. Not that I'm a Vietnam expert or anything like it, but I did visit it in the past for a month straight. That has to count for something right. I want to take you with me on the route my girlfriend and I traveled back then and show you some of the highlights you, in our opinion, shouldn't skip.
---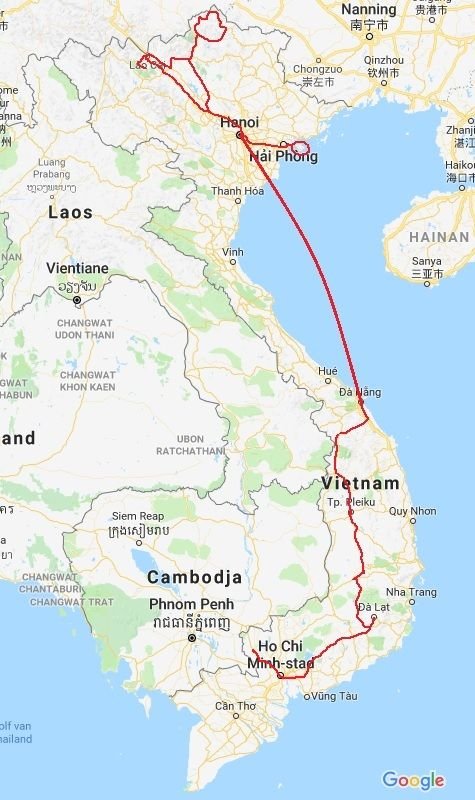 Map with a rough version of our route. We flew from the Netherlands to Ho Chi Minh City (HCMH) via Qatar. From HCMH we traveled north via Da Lat and the old highway (also known as the Ho Chi Minh Trail) to the coastal town Hoi An, in the middle of Vietnam. From Da Nang (above Hoi An) we took a plane to Hanoi. There we visited Ha Long Bay for a few days and from Ha Long Bay we went back to Hanoi and took the night train to Lao Cai which is north-west of Hanoi. After spending some days in the Sa Pa area we traveled more north to the Ha Giang area. There we did a roundtrip and visited the northernmost point of Vietnam. The roundtrip also provided us with one of the prettiest roads in the world, the Ma Pi Leng pass. After returning in Ha Giang we took a bus back to Hanoi to fly back home a day later.
---
As mentioned above, we started in HCMH, formerly known as Saigon. HCMH is the biggest city in Vietnam, but not the capital. We booked a nice hostel in District 1, also known as the backpackers district. District 1 is centrally located in the city and a lot of sights are at walking distance. We like to just walk around in the city. Most of the time we walk a tour that is featured in our Lonely Planet. The one we did took us past all the great sights: the financial district, Ho Chi Minh statue/city hall, Notre-Dame Cathedral, Independence Palace and of course the War Remnants Museum. Skipping this museum is definitely a no go. Although, sometimes the objectivity in this museum is questionable, it has so much to offer in terms of the history of the country.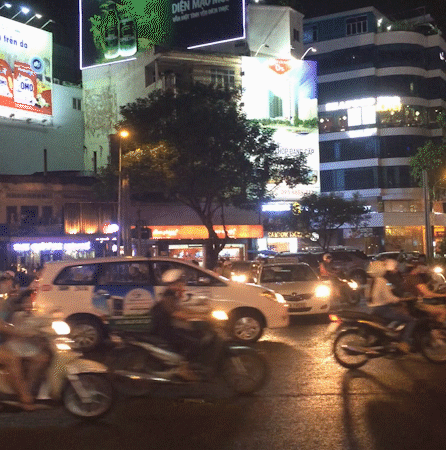 Just another day of HCMH traffic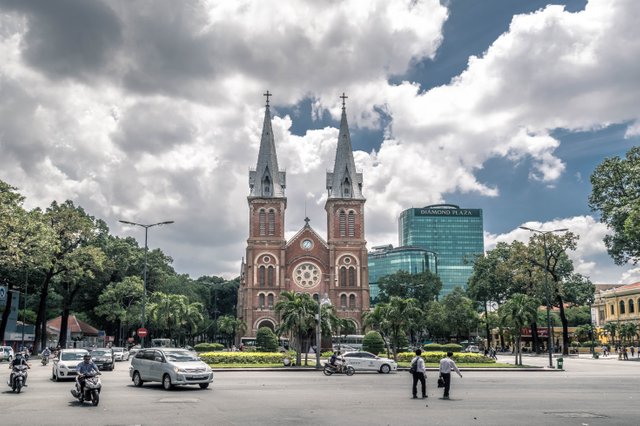 Notre-Dame Cathedral
The museum is kind of an expose of war crimes, first those of the French and then those of the Americans. Outside you will find a lot of military equipment (tanks and planes) and reproductions of jails, tiger cages etc. Inside the museum Vietnams history is told via themed rooms. They even have a whole floor with photos and information about Agent Orange and other chemical defoliant sprays.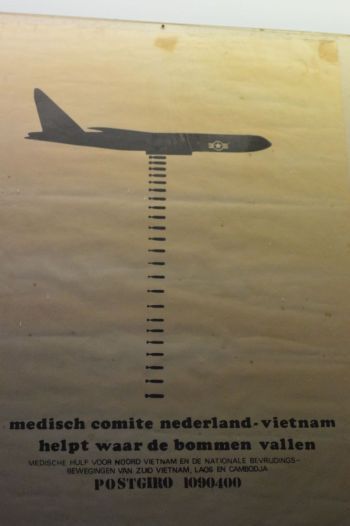 A Dutch poster in the museum
We also visited the Bến Thành market in HCMH, but not for too long. That place was unbelievably hot. Maybe because we walked quite a bit to get there and the crowded and tight market with its corrugated iron roof surely wasn't helping cooling the place down.
Later that week we booked a daytour in HCMH to the Cao Dai Temple in Tay Ninh and to the Củ Chi tunnels. The Cao Dai Temple is a beautiful building 90 km away from HCMH, where you will find followers of the Caodaism religion. I'm not going in to much detail about this religion here, but you can read all about it here if you're interested. You can walk around the temple a bit and be amazed by the details. The temple, like the religion, is a fusion of world influences and other religions. At midday they have a ceremony inside the temple. There are 4 daily ceremonies, but the one at midday was around the time we were there. Visitors are allowed to watch the ceremony from the second floor. It's nice to watch the ceremony for a bit, seeing all the different ranks in hierarchy and listening to the music. During the ceremony be aware that you can't walk past the front of the building. They will block off the path, but still people are unaware. You will be corrected by "security" officers because walking passed the front the building during a ceremony puts you in sight of the Divine Eye.

Cao Dai Temple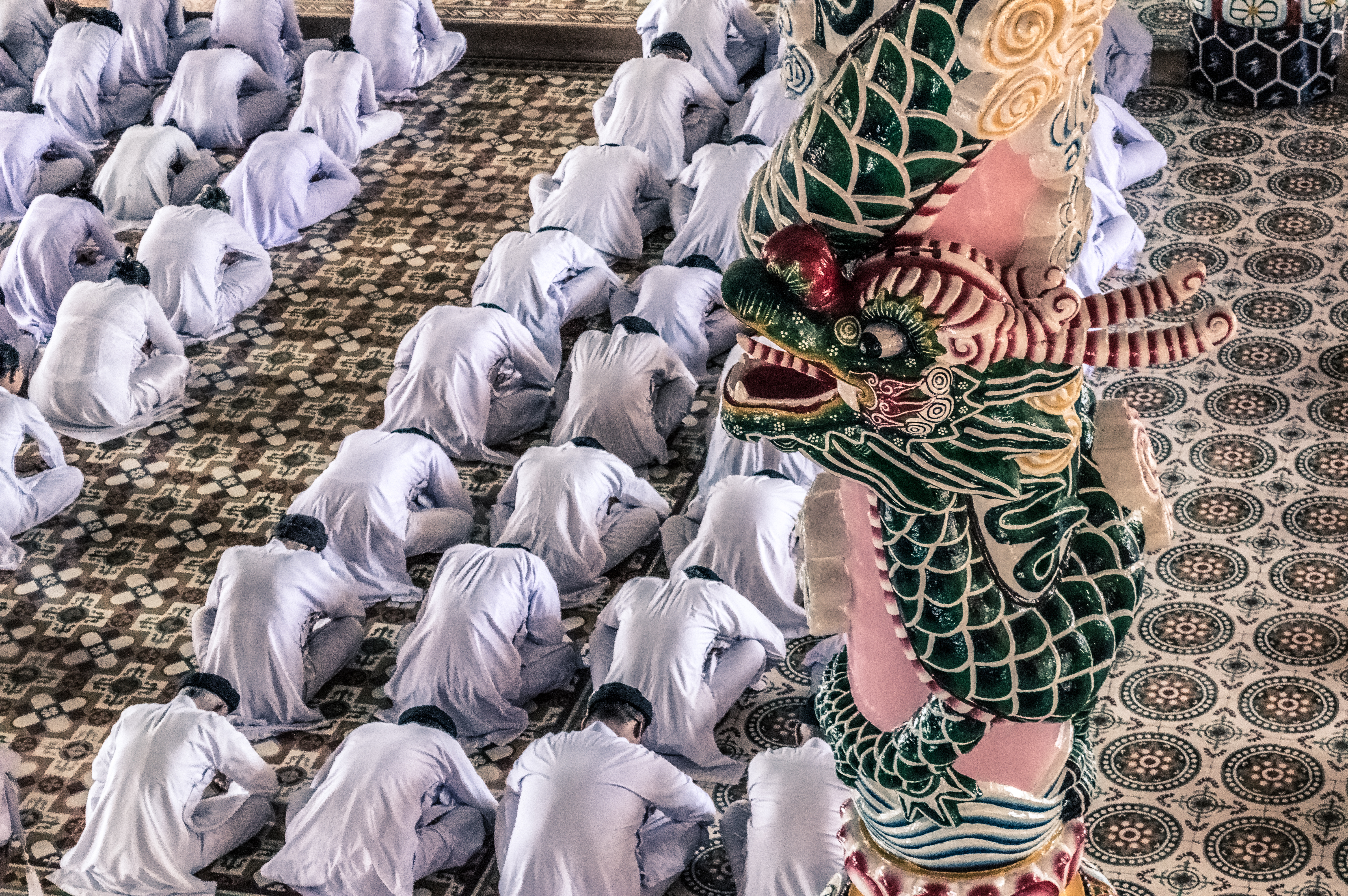 Cao Dai ceremony
After the temple we visited the Củ Chi tunnels. These tunnels are part of a larger network of tunnels that you can find all throughout Vietnam. These tunnels were used by Viet Cong soldiers as hiding spots, communication and supply routes, hospitals, food and weapon caches and living quarters. You will get a tour with a guide. It's fun and you can also crouch through some tunnels yourself. Although they are already a bit widened for the tourist, they're still really small. It's a really interesting tour and you will be amazed many times about the innovative solutions the Viet Cong soldiers came up with to deal with different sort of problems they faced during their time underground. Think about covering up entrances, ventilation of the tunnels and room, measures against gas attacks and bombings etc. During the tour you will also see a lot of innovative booby-traps, some pretty brutal.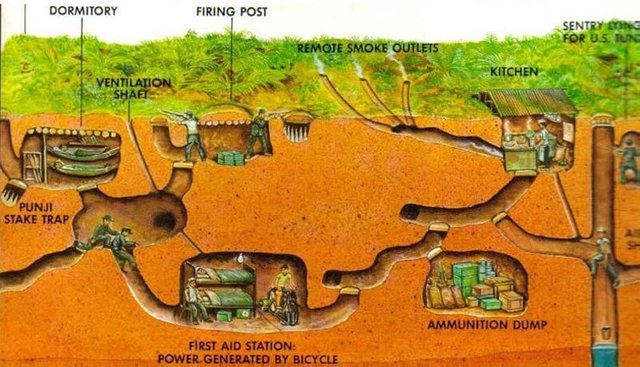 Impression of the tunnels. Source: http://www.eyeopening.info
At the end of the first week we booked a sleeper bus to Da Lat. Although sleeping was hardly an option because we couldn't fit in the "beds" and the driver was using is car horn almost every second, it was still a prey comfortable ride. Da Lat is a city in the Central Highlands of Vietnam, 308 km north-west of HCMH. The city used to be a hill station during the French occupation and is located 1.500 meters above sea level. Like most place in Vietnam, there are a lot of French influences to be found in this city. The city can be a bit busy because a lot of Vietnamese people from the cities visit Da Lat because of its climate, especially during holidays. Once arrived we went to our hostel and enjoyed a nice dinner with some beers. Later that night we walked around a bit on the night market and it turned out to be actually some kind of holiday, it was swarming with people!
Our hostel served breakfast on the rooftop of the building which offered a nice view of the city. We explored the city a bit and looked for a so called Easy Rider. They are guides on motorbikes that will drive you from A to B and will show and tell you a lot of/about the country on the way. We went on a bike tour for a week all the way to Hoi An. A coastal town in the middle of Vietnam. You can read all about it in the trip in a previous post of mine.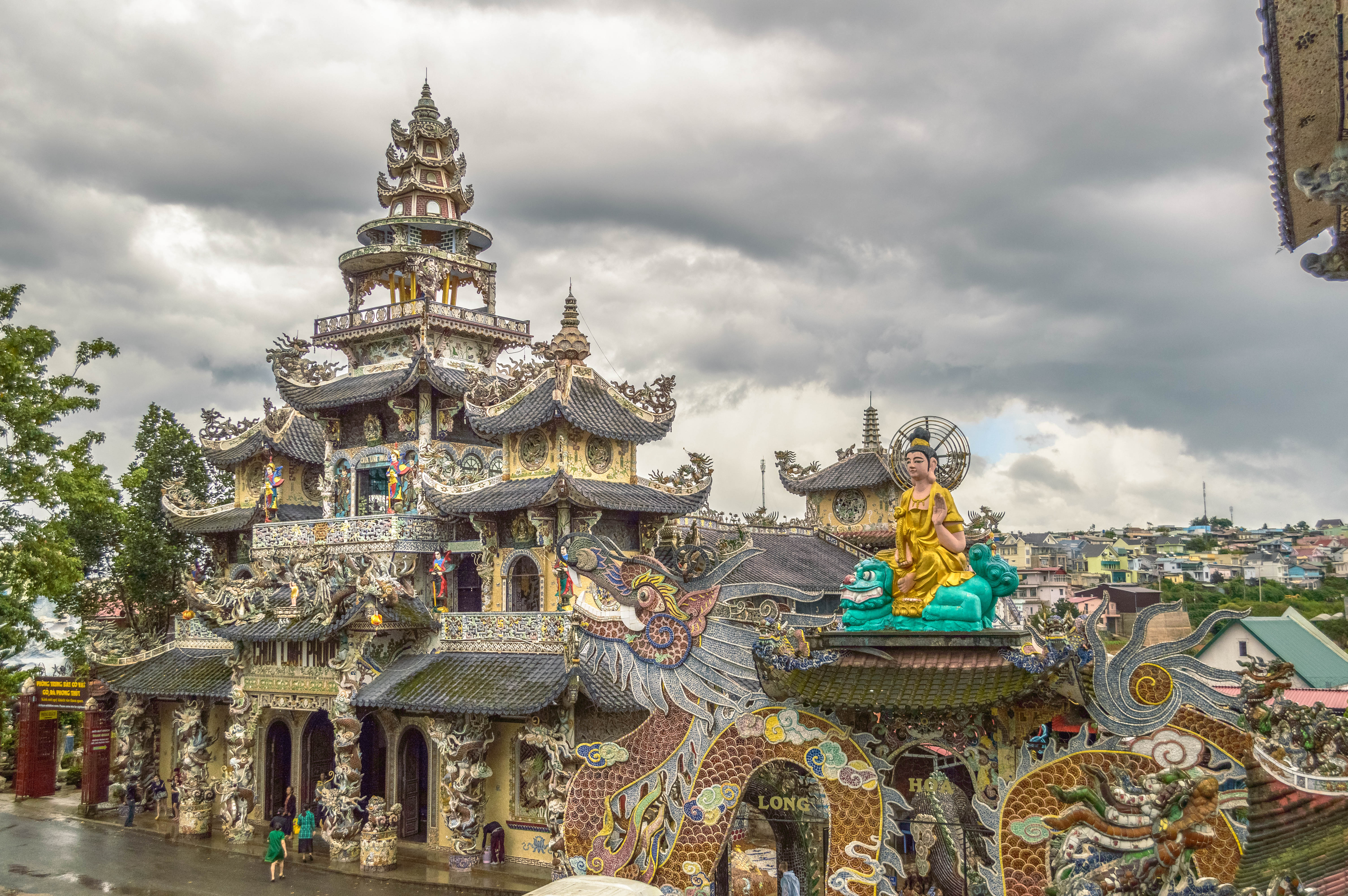 Linh Phuoc Pagode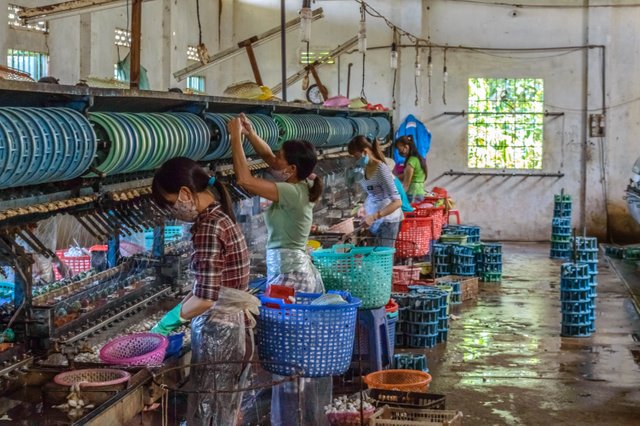 Cotton factory
The trip with the easy riders was the best part of our holiday for sure. Although it costs more than our normal daily budget, it's worth every Dong. The guides will show you so much more of Vietnam than you could possibly see on your own. They also booked all the accommodation and although not extremely luxurious it was way better than we normally booked. So we had been sleeping like a king for the last week ;D. The guides also enjoy the trip and love to talk about all sorts of things. It's good do to a quick tour around the city of Da Lat first, to see if there is a connection. In the end you have to spend some days or weeks with each other from dusk till dawn and it's way more fun if everyone is enjoying each other's company.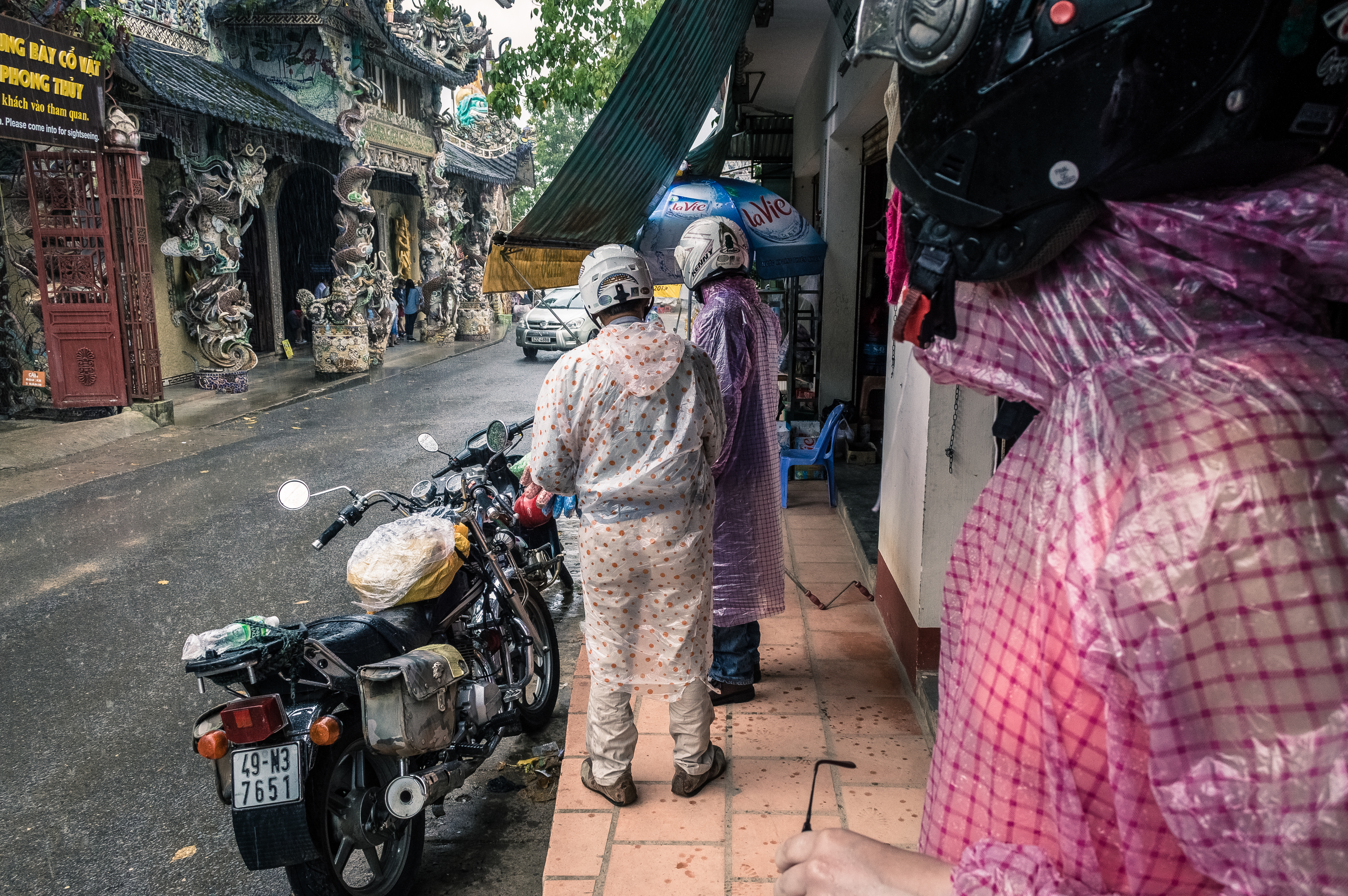 Do we look pretty or what?

Dinner with the guides
After traveling with our 2 guides for a week we arrived in Hoi An and took some days to enjoy this lovely coastal town and to relax at the beach. Hoi An has a lot to offer if you like shopping. It has a car-free zone where you will find a lot of tailors that love to sell you a new tailor-made suit or a pair of shoes. We stayed at a proper guesthouse that provided us with some bikes. That way we could bike to the beach which is 2 or 3 km's away from Hoi An. The entire old centre of Hoi An is an Unesco World Heritage site. You will need to buy a ticket to walk or bike around and to visit some buildings.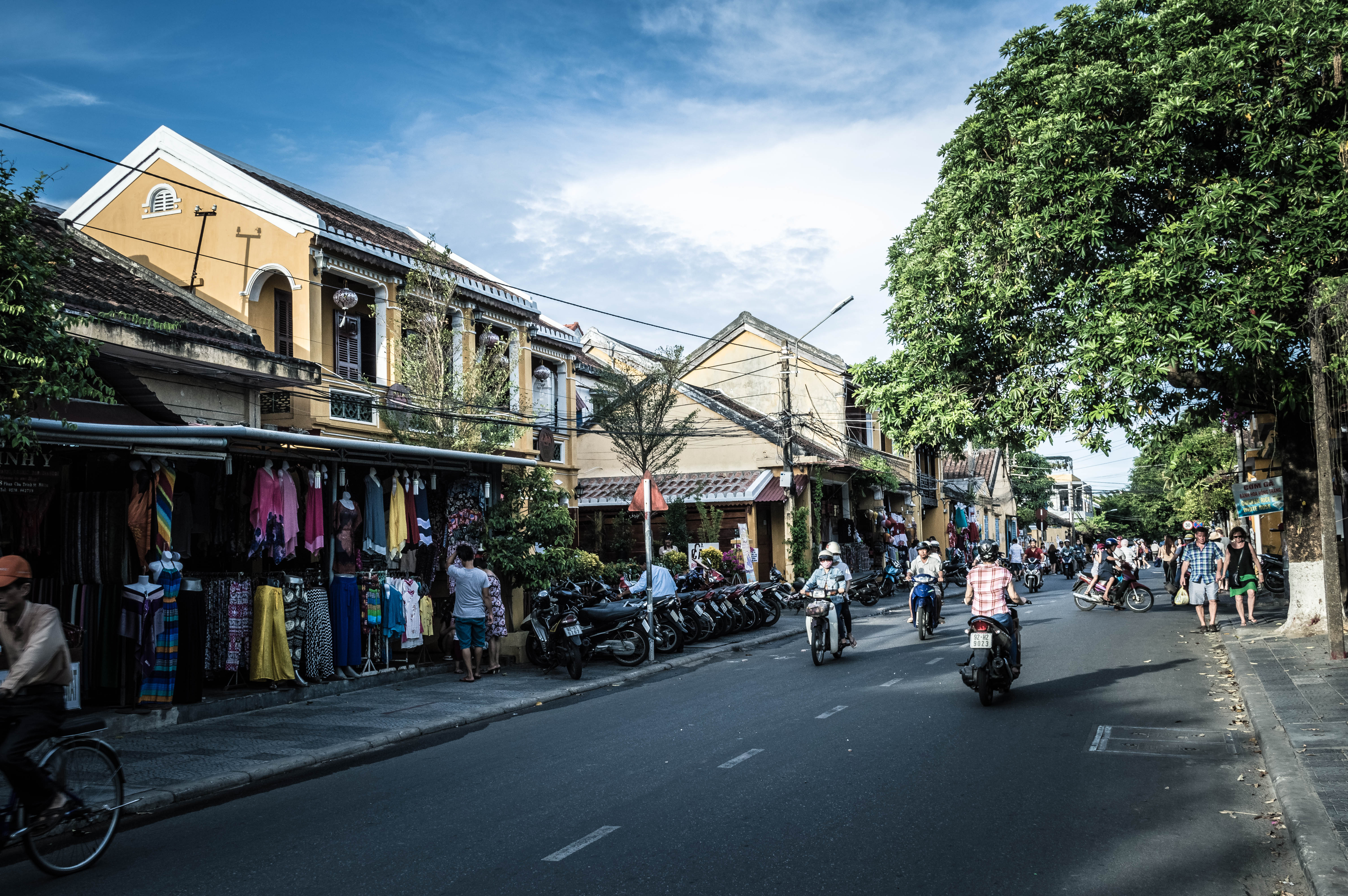 Hoi An street view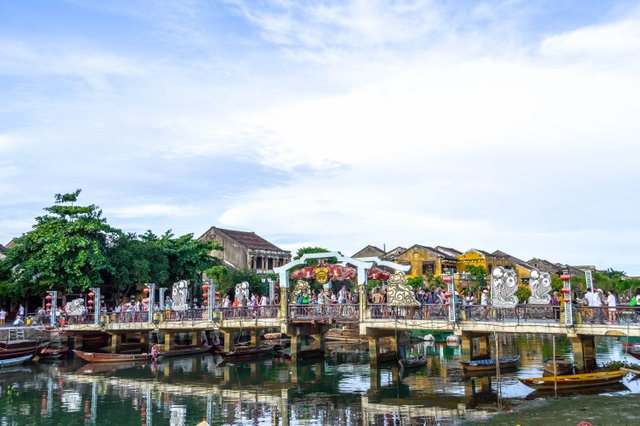 Hoi An bridge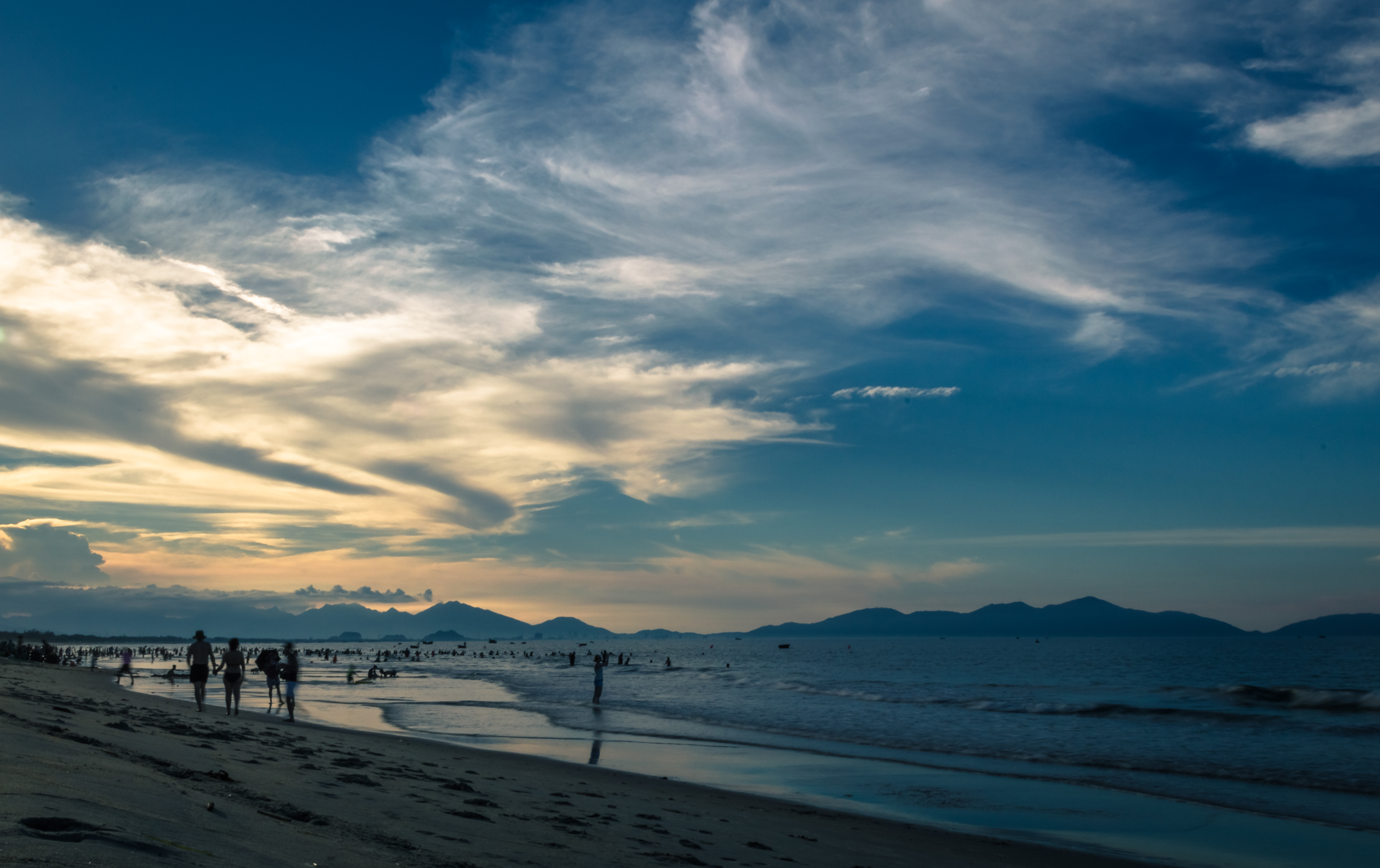 Hoi An beach
After a few days of relaxing we took a taxi to Da Nang airport and took a flight to Hanoi. A friend of us was visiting for the last 2 weeks of our trip so we had to be in Hanoi on time.
This was part 1 of 2 from my post about our travels in Vietnam. Hopefully the information I provided will help you to decide where to go and/or where not to go. Maybe I even convinced you to visit Vietnam in the first place! Next time I will show you what we did the other 2 weeks and I will provide some practical information about Vietnam. Also I will tell a bit about the parts we skipped and the reason why we chose to skip them.
Hope you enjoyed this one. Feel free to follow me and/or upvote my work. If you want to know anything about places we stayed, trips we did or any other practical information. Just put a comment down below and I will gladly get back to you.
Cheers Stephan
If you're interested in any of my previous work, feel free to check it out:
!steemitworldmap 10.758714 lat 106.670421 long Ho Chi Minh City d3scr