Vietnam backpackers route for 4 weeks (part 2 of 2)
Hello and welcome to part 2 of my blog about our travel itinerary in Vietnam.
If you want to read about our first 2 weeks of the trip, you can find it Here. This blog is about the last 2 weeks which we spend in Hanoi, Ha Long Bay, Sa Pa and Ha Giang.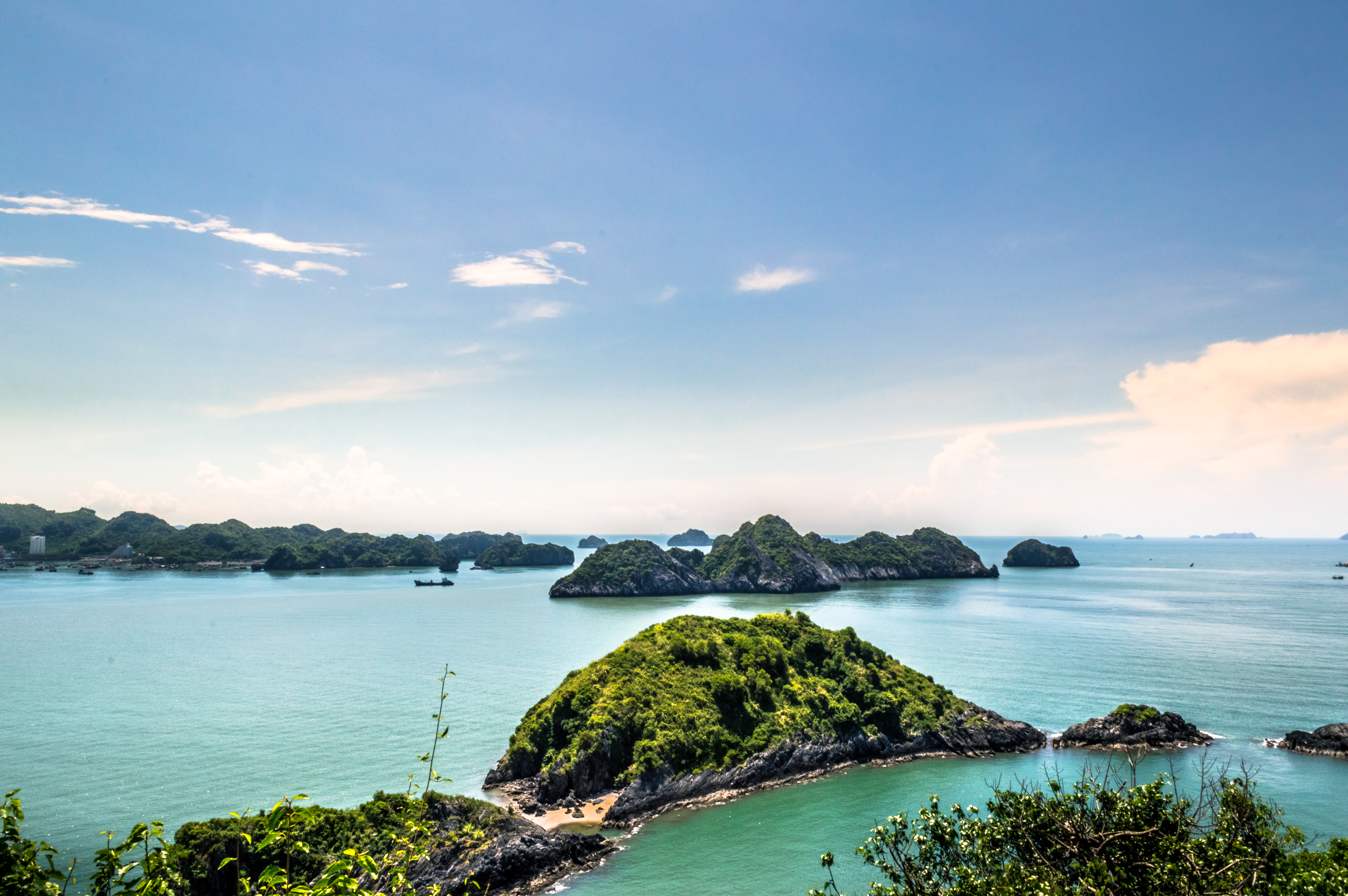 Ha Long Bay seen from Cat Ong island
---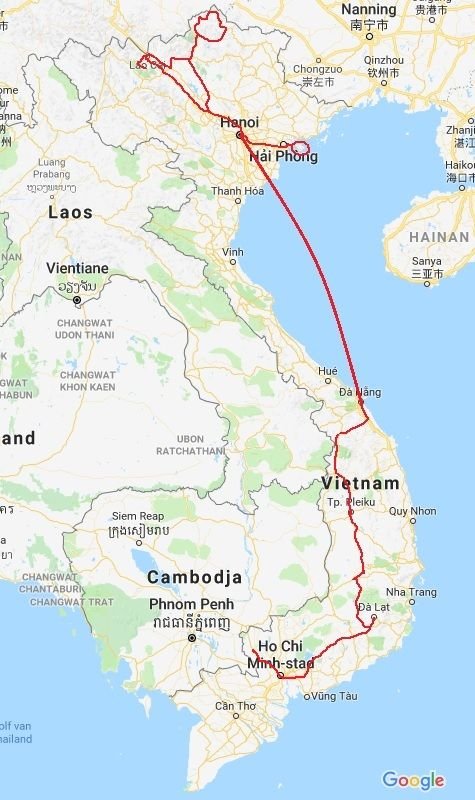 Our route throught the country
---
Week 3
In Hanoi we would meet up with a friend. We arrived a day before so we explored the city a bit in advance. Since Da Lat the weather was cooler and in Hoi An there was some breeze from the sea. But back in the big city, it was back to hot weather again. We walked a bit through the old quarter of Hanoi and around the Hoan Kiem Lake to get used to it again. Hanoi Old Quarter has a lot to offer if you're looking for souvenirs or cheap/fake stuff. The whole quarter literally exists out of shops. They cover the whole sidewalks. In the afternoon we took a local bus to the airport. It drove through all the small (suburban) villages around Hanoi on its way to the airport. Quite funny to see but the ride was also very bumpy. After we picked up our friend from the airport we took the express version of the bus directly back to town. Way faster and smoother.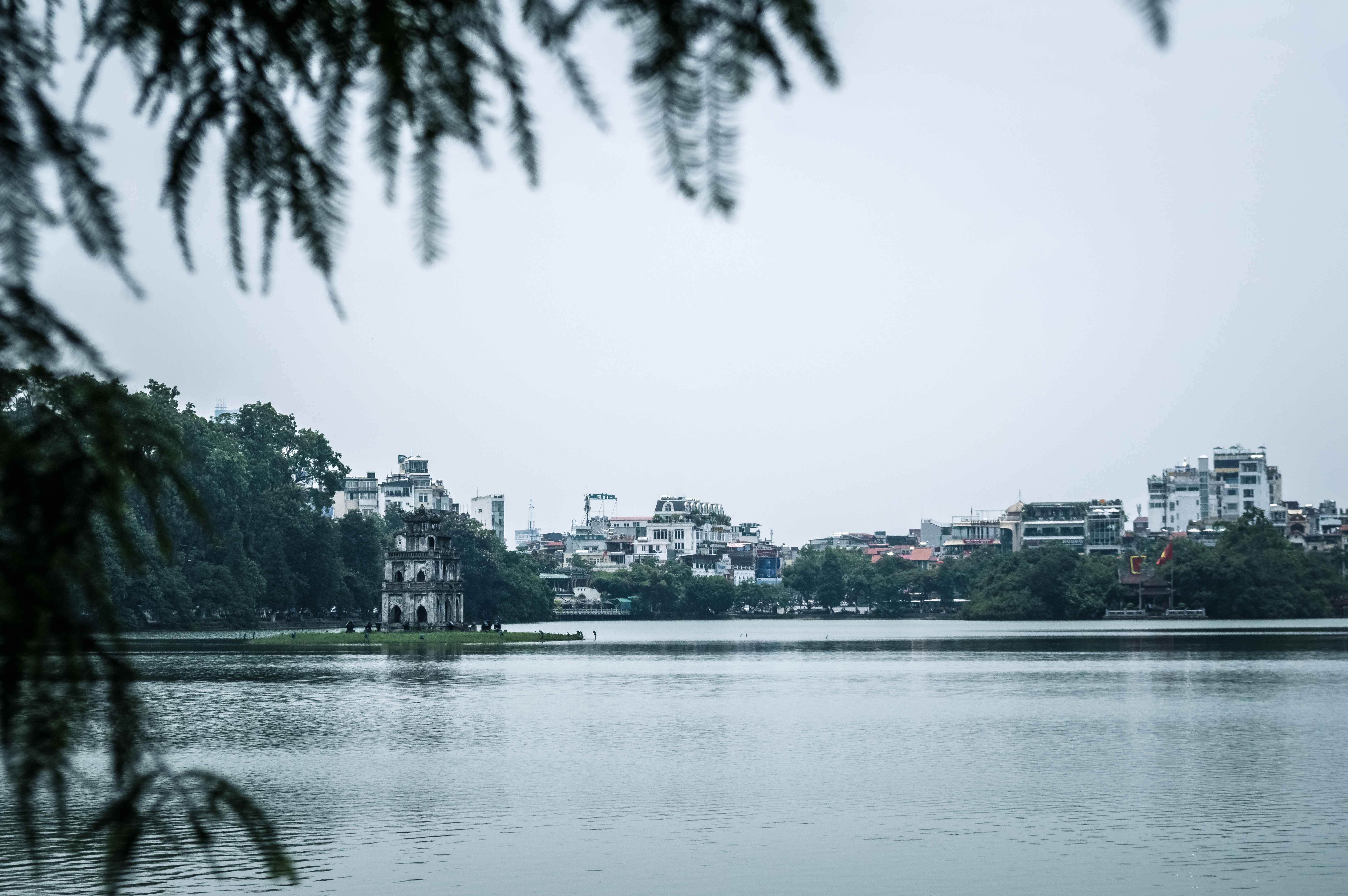 Hoan Kiem Lake
Back in the old quarter we started looking for a bar. Some places brew their own beer and Hanoi is pretty known for it because the home-brewed stuff is usually extremely cheap. The next day we did another walking tour through the city. This time we also visited the Hoa Lò Prison, also known as Hanoi Hilton. First used by the French for political prisoners, later by North Vietnam for captured US prisoners of war. The prison was demolished during the 1990s, but you can still visit the gatehouse that is now being used as a museum. Just like the War Remnants Museum in HCMH it's a very interesting museum, but the fact again remains that it is hard to determine how objective all the information is.
Later that day we booked a we booked a trip to Ha Long Bay. Actually the trip we booked was more through Lan Ha Bay, almost all the way around Cat Ba Island. This area is way more quiet than Ha Long Bay, where the tour operators may only operate on a small piece of the bay. We booked a 3 day 2 night cocktail cruise. In the morning a bus brought us to the ferry at Hai Phong, which brought us to the boat. The trip contained a nice cruise through the bay, some kayaking and 2 nights on a 'private' island called Cat Ba. On the island we did 2 trekking's and on the last day we also did a trekking on Cat Ba island. Both trekking's offer amazing views. It's a good tour that has a good value for money. A lot of people did the 2 days 1 night version, but in my opinion that would be a bit of waste of your money. The accommodation is basic but the food and the guide were really good. Drinks are not included.

Shot from the cruise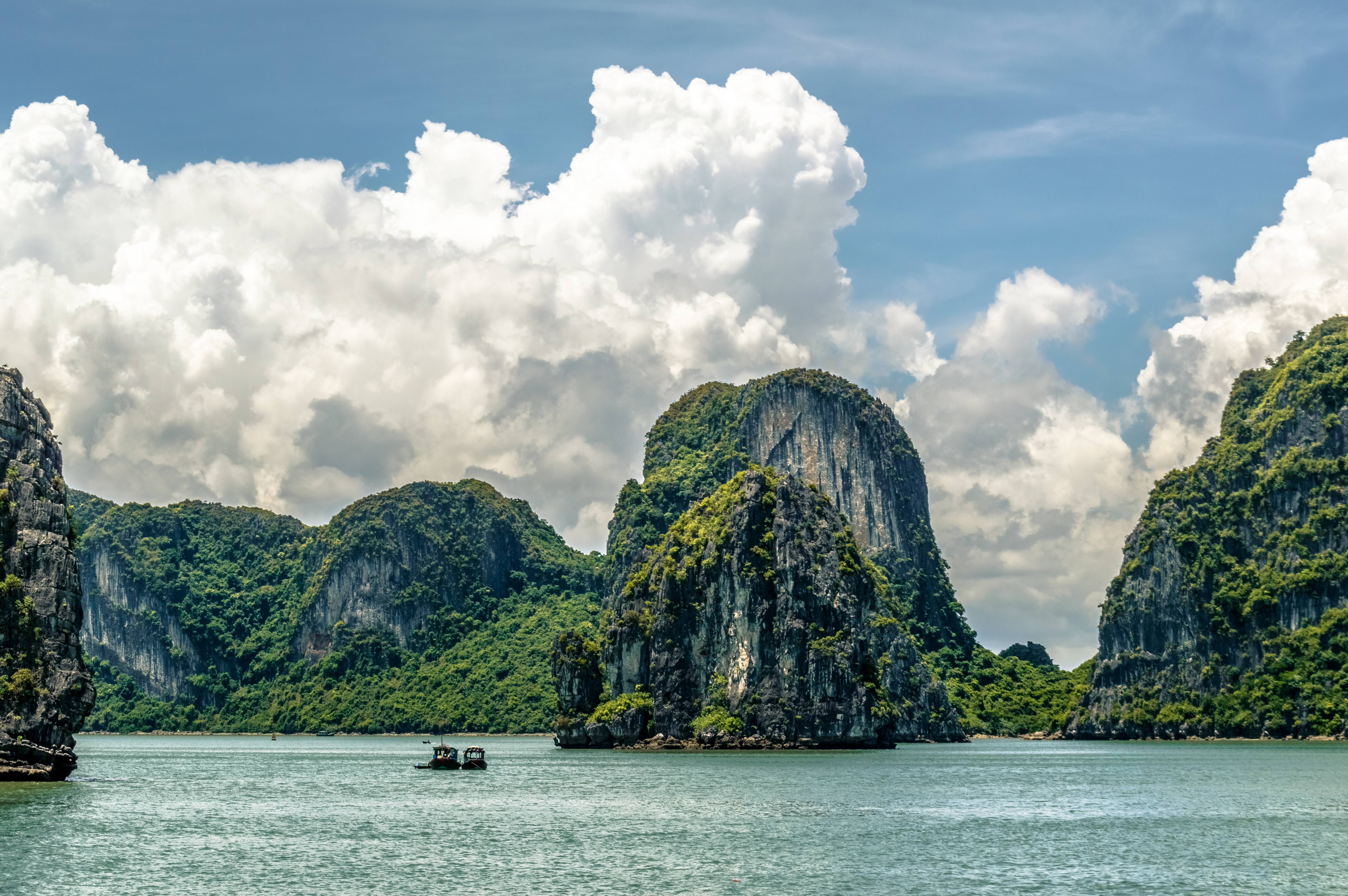 Shot from the cruise

View from Cat Ba island
After the Ha Long Bay trip we were brought back to Hanoi where we took a night train to Lao Cai to visit the Sa Pa province. We stayed in a small town called Ta Van where we did a trekking and attended a cooking class.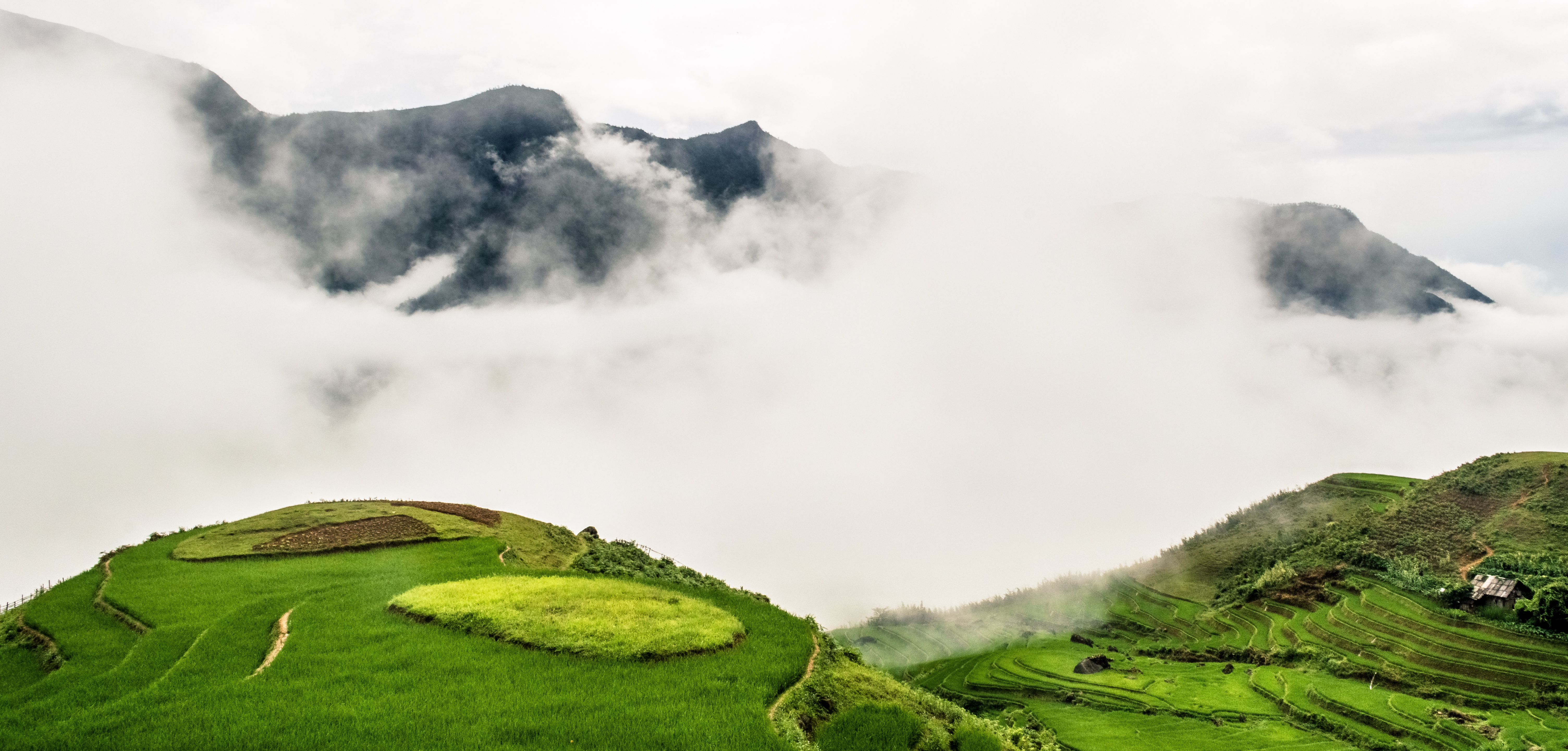 Area around Ta Van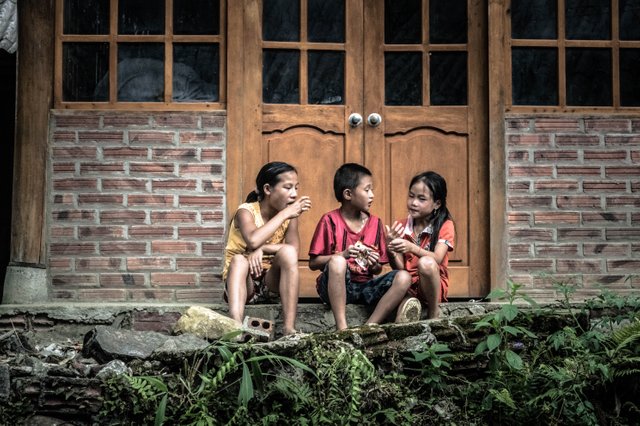 Children of Ta Van
Week 4
The last week we went all the way up north. I made a blog about this part of Vietnam (and Sa Pa) earlier. You can find it here. This part of Vietnam was really beautiful. Very remote and almost not tourists yet. The Dong Van Karst Plateau Geopark in the Ha Giang province is an amazing piece of nature. In this province we did a round tour for a few days. After this tour we went back to Hanoi again by bus.
Back in Hanoi we did some shopping for souvenirs and ate at some places the tour operator from the Ha Long Bay trip recommended to us. They turned out to be some pretty good recommendations. On the last day we also visited the Ho Chi Minh Mausoleum and the Temple of Literature in Hanoi. The temple hosts Vietnam's first national university. It's built in 1070 and is one of several temples in Vietnam which is dedicated to Confucius, sages and scholars. It has multiple courtyards and an altar. The Mausoleum is the last resting place of Ho Chi Minh. You can only visit it on specific days and only in the morning. For 2 months in a year the body is send to Russia for maintenance, so before you go you should check if it's possible. Prepare to queue for some time in the heat and don't forget to dress properly (at least something that covers your shoulders and arms). Entering the building is in a structured queue 2 people wide. You might be lucky to see a ceremonial change of guards. When you are in the building you will walk around the glass coffin (still in the 2 people wide queue) and then straight to the exit. I think it's like 5 minutes or so that you're actually inside. You cannot bring a bag inside and you cannot take pictures. You can leave your stuff at the reception. A visit to the mausoleum is definitely one you will remember.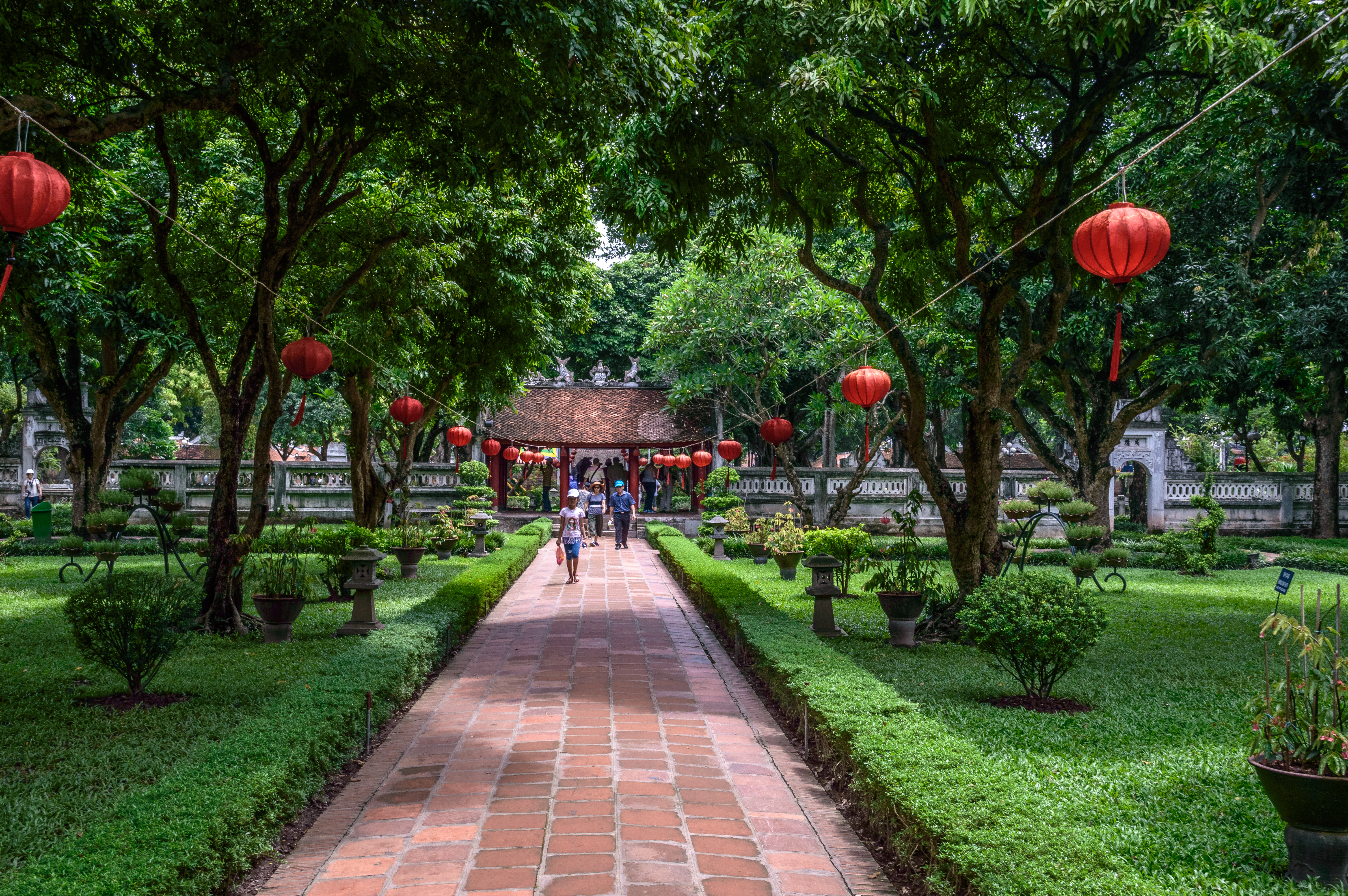 Temple of Literature

Ho Chi Minh Mausoleum
Practical information
Climate and rain
The type of weather depends a bit of where you are in the country. You can find a lot about it on the internet. We visited Vietnam in June and July. From June till August is usually rainy season. When we arrived in HCMH in the south, it rained in the beginning of the afternoon but not very long. The more we went north, the later it started raining. When we were driving with the easy riders in Central Vietnam it started raining around 2:30 in the afternoon. When we were in Hanoi and Ha Long Bay we never had any rain during the day. In the Sa Pa province it usually rained during the morning. Even further north it could rain at any time of the day, but it never rained a whole day. A fringe benefit from the rain is that you will find green rice fields in the northern part of Vietnam. If you visit that area later in the year when it gets dryer, they will turn more yellow/gold.

Cash withdrawal
As in most countries we visit, money withdrawal is always limited till 150/200 Euro's or something like that. Of course it's a lot of money but if you're traveling together you need to withdraw quite sometimes if that's the limit. This also applies to Vietnam, but our easy riders guides told us about a ATM that gives you more, like 300/350 Euro's max. I think it was the Sacombank, so you should give that one a try. Although it's not always recommended to walk around with a lot of cash, aside from the money you already lose from converting your currency to Dongs, you also pay a small amount (like 2 or 2 Euro 50) for every transaction. So you should check with yourself what you prefer.

Clothing
As in most Asian countries, when visiting more spiritual/religious sites you should wear some semi-covering clothes like long pants or a vest/jacket. Also in the higher parts of Central Vietnam it gets pretty cold when the sun is gone, even in the summer. So you should bring at least 1 pair of long pants and a vest or sweater.
Parts of Vietnam we skipped
Mekong Delta
Beneath HCMH you will find the Mekong Delta. A part of Vietnam where the Mekong river flows through a network of distributaries and eventually empties in the South China Sea. It's a beautiful area but also pretty remote. Because we had to be in Hanoi after 2 weeks we decided to skip this part. Mainly because we did not want to visit it just for 1 or 2 days. In our opinion you should do at least multiple days till 1 week with a boat to see and feel the entire area. If we didn't had to meet up with our friend we definitely would have visited this area. But then again we might have skipped the Ha Giang area which we now visited in our last week. Because we haven't been to both area's it's hard to tell which one we liked more, but we certainly liked the Ha Giang area.

Upper middle part of Vietnam
We took a plane from Da Nang (in the middle of Vietnam) to Hanoi. Because of time issues we also chose to skip this part. We saw a lot of Central Vietnam during our easy riders trip and we had the feeling the part above the middle will be quite alike. Although the imperial city of Hué is visited by a lot of tourist, I don't know a lot of people who visit the upper middle part of Vietnam. We spoke to some people who had been to Ninh Binh and really liked it, but I'm not sure if Ninh Binh qualifies as being part of the upper middle part. It's just 100 km away from Hanoi.

Islands
When we were looking for places to visit, we'd thought about going to one of the islands. Either Con Son in the south or Lao Cham near Hoi An. But after looking a bit further we'd decided it takes too much time to get there with the ferry and all. And it would be a bit of a waste just to stay there for 1 or 2 days. Also a reason for us to go to an islands was to be able to dive a bit. But I read a lot about poor sea life due to overfishing and bad visibility underwater. So in the end we decided not to visit any of the islands.
Hope you enjoyed this second part of our Vietnam route. Feel free to follow me and/or upvote my work. If you want to know anything about places we stayed, trips we did or any other practical information. Just put a comment down below and I will gladly get back to you.
Cheers Stephan
If you're interested in any of my previous work, feel free to check it out:
!steemitworldmap 21.026852 lat 105.836727 long Hanoi d3scr