Travel Diary #11: Summer at Koh Samui, Thailand Part 2
On our last day in Koh Samui, we planned for a half day city tour. Katrina found out about this tour while searching online and booked with the company through a phone call. The half day tour was about THB 400 per person or roughly USD 12 that also includes a pick up from your hotel. The driver promptly arrived at 9am as scheduled. We feel so lucky since the van was supposed to be filled with 8-10 people but on our tour, we were only 4. We were so happy to have so much space in the van.
(Reminder: Click on each images to view full screen)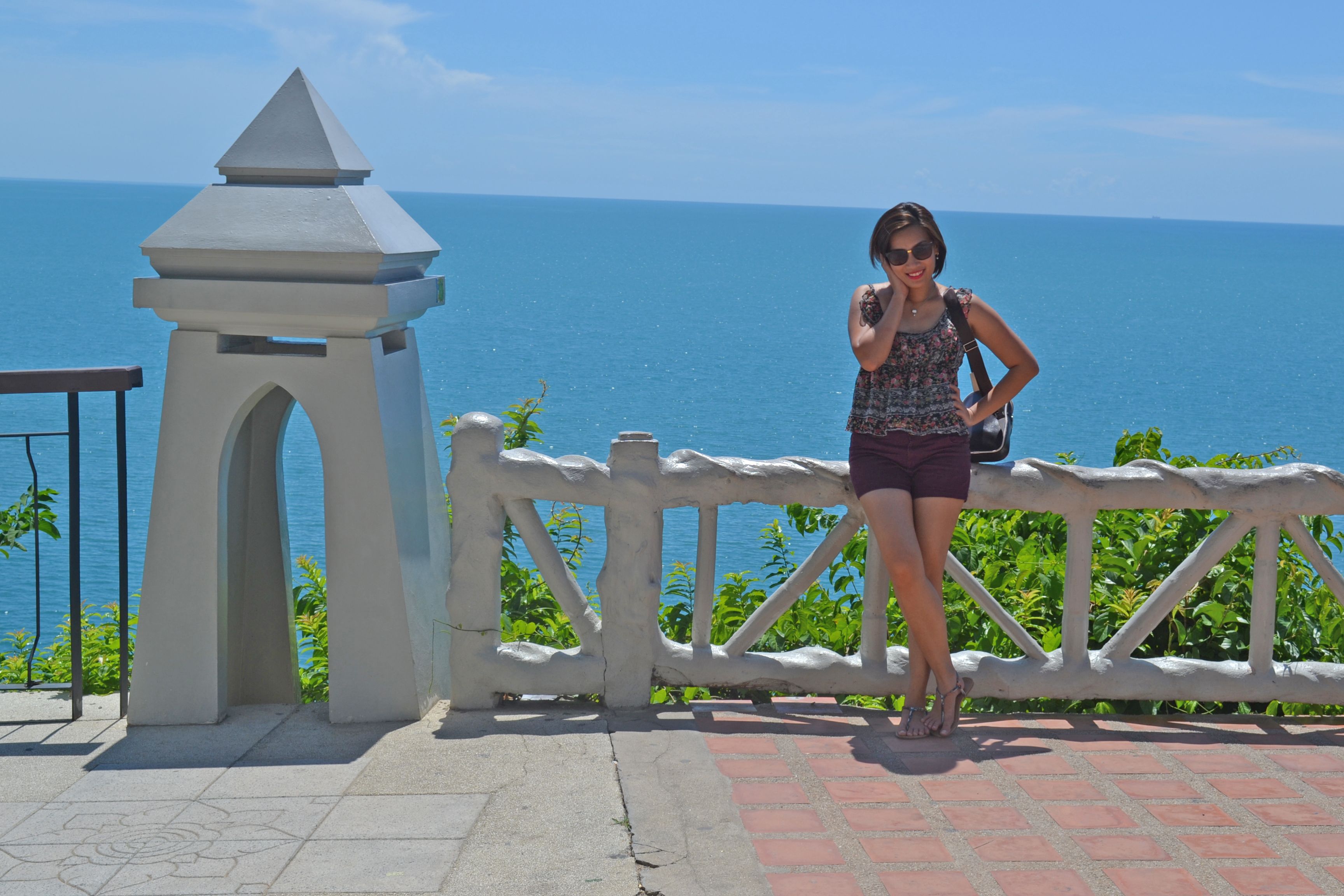 The first one we visited was called Wat Plai Laem Temple. It is a buddhist temple featuring a white 18-arm image of Guanyin, the Goddess of Mercy and Compassion (Source). The temple offers visitors a view into Chinese-Thai beliefs as well as elaborate Buddhist-themed art and architecture. It is surrounded by a lake, which is swarming with fish and long white bridge leads you into the temple and closer to the image since it is located in the center of a pond.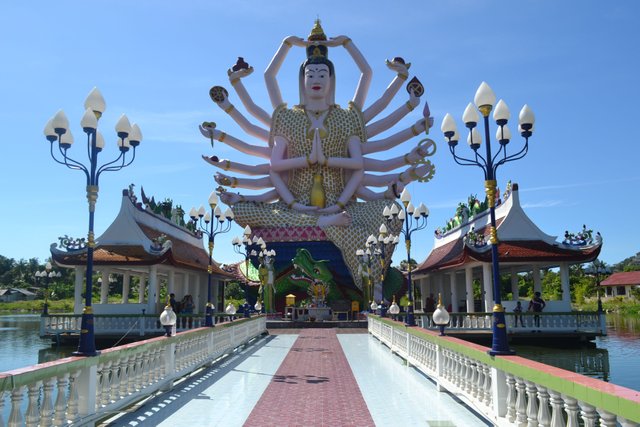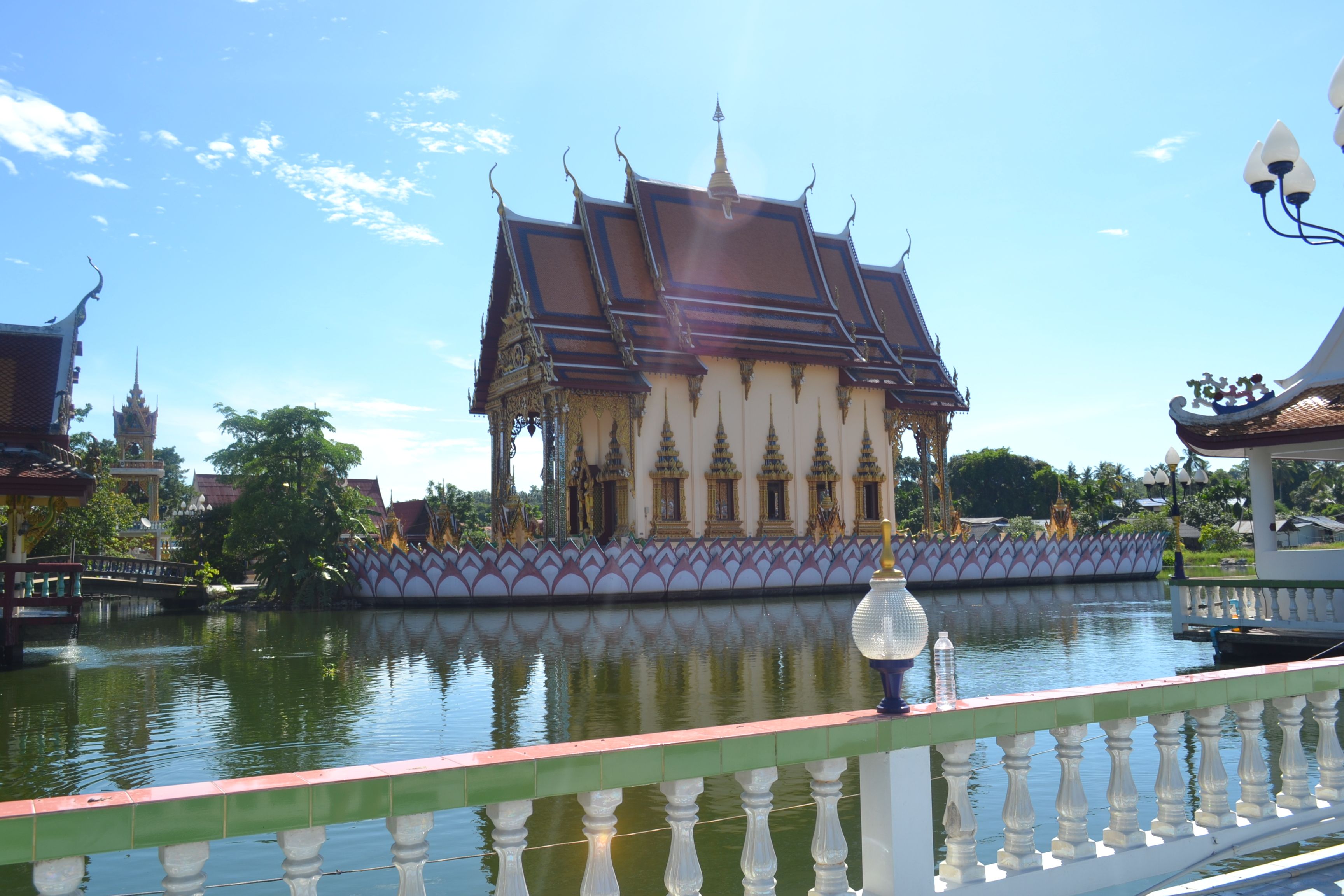 Next to the Wat Plai Laem Temple was the Big Buddha which is locally known as Wat Phrai Yai. It is home to a giant, 12-metre high golden Buddha statue. It was built in 1972 and has become one of Koh Samui's most impressive landmarks and one that is hard to miss. A stairway flanked by the mythological serpent called Naga leads up to the viewing platform, where you can see the buddha up close. Our footwear was required to be taken off when alighting the stairs. Because it was blazing hot that day, we were expecting the tiled stairs to be scorching too. Thankfully, there was a big sign that says the coloured tiles are not that hot. Even though the pathway is not as hot, we still did not go way to the top. We just can't manage to walk barefoot for that long.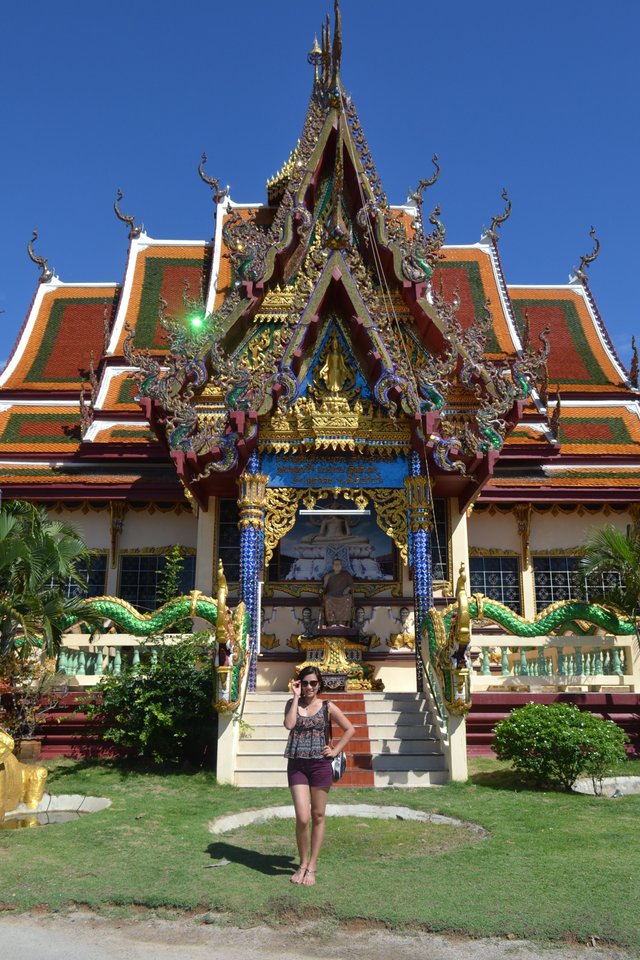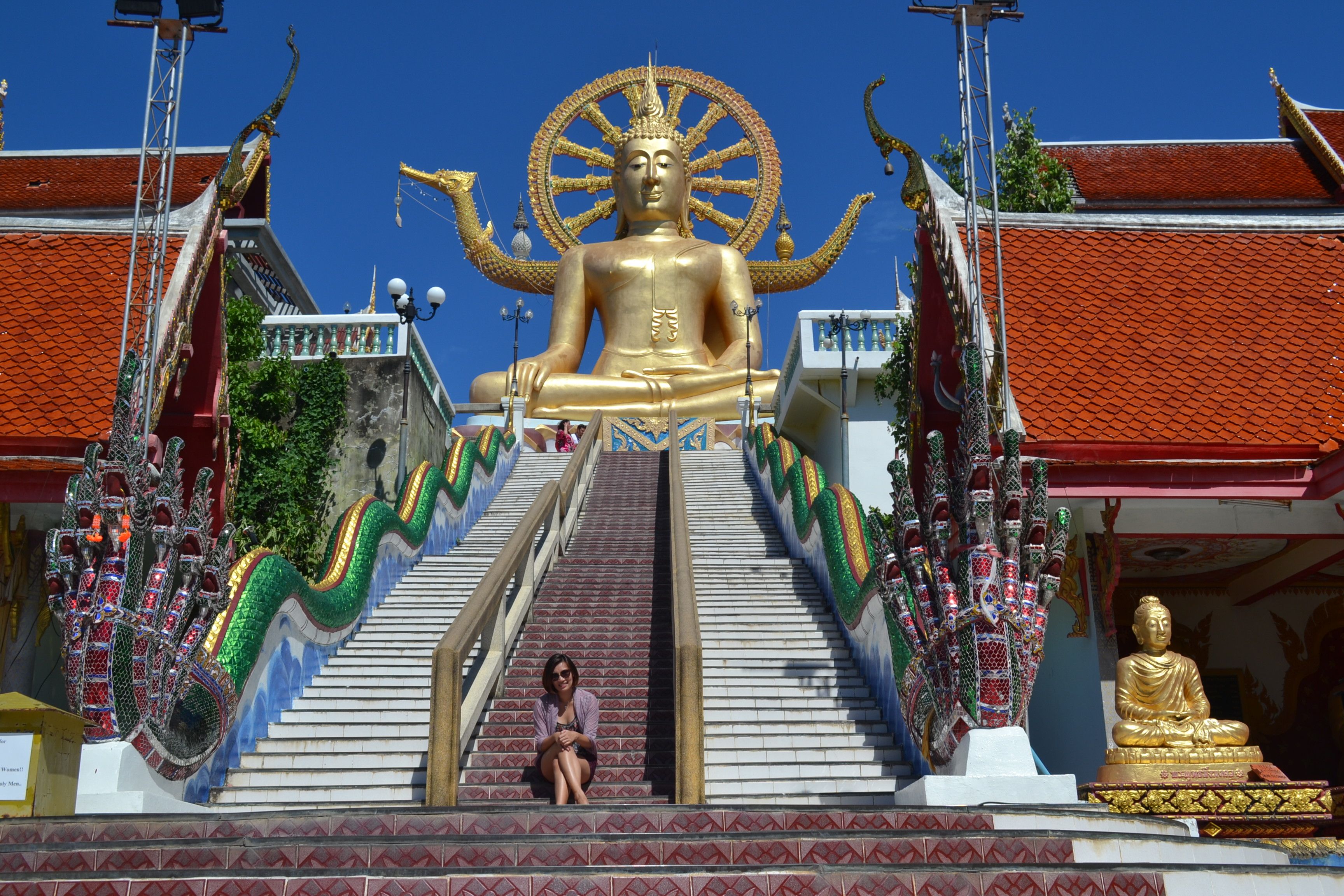 Another part of the tour is a quick stop at the view point. It gives the best panoramic view of the sea. There is also a path leading to the sea shore.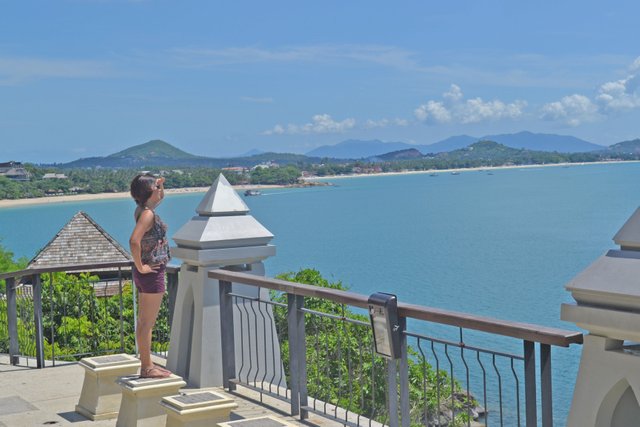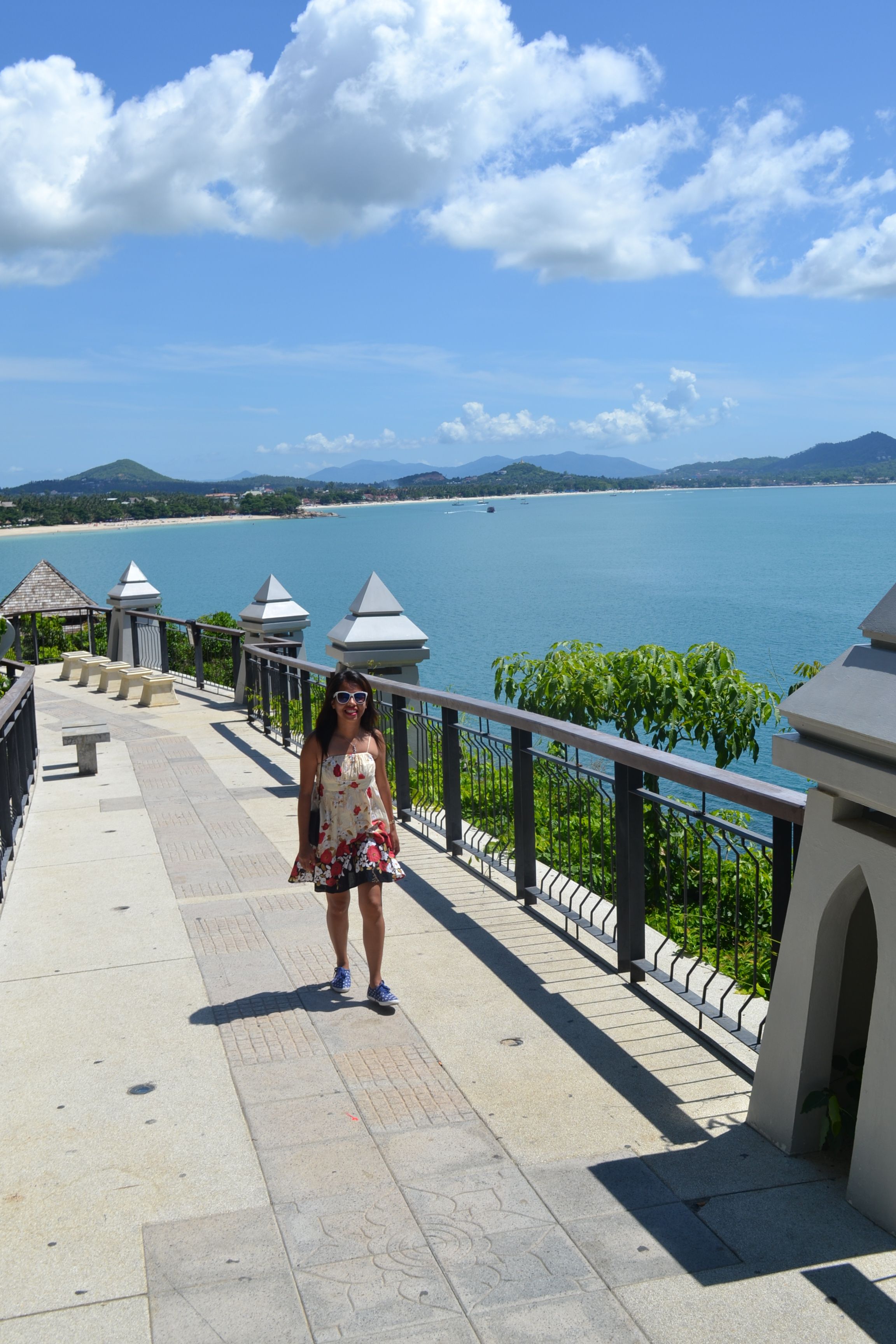 Next on the tour was the Namaung Falls. We were offered 2 choices to get to the falls. First was through elephant trekking which will take about 30 minutes and walking will take only about 5 minutes. We chose to walk to the falls since we both tried elephant trekking in Phuket before and walking did not cost us additional fee.
We were definitely not dressed for trekking since we were not aware where the tour will take us. The paths leading to the falls are really steep and slippery, good thing we reached the falls safe and sound. The falls has a pool at the bottom and some rock formations. The place is a cool and peaceful alternative to the beach. We also saw some tourist taking a dip at the pool of water down at the bottom.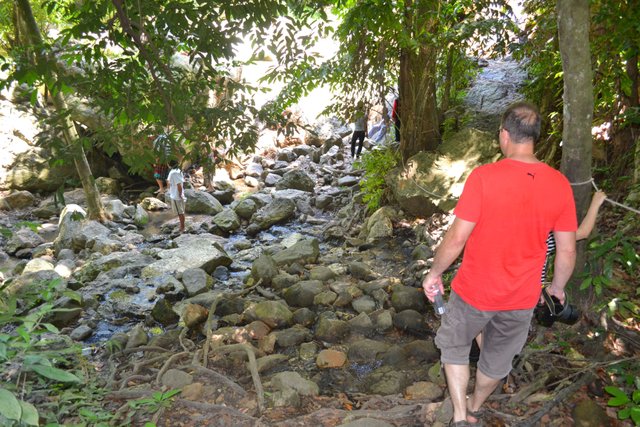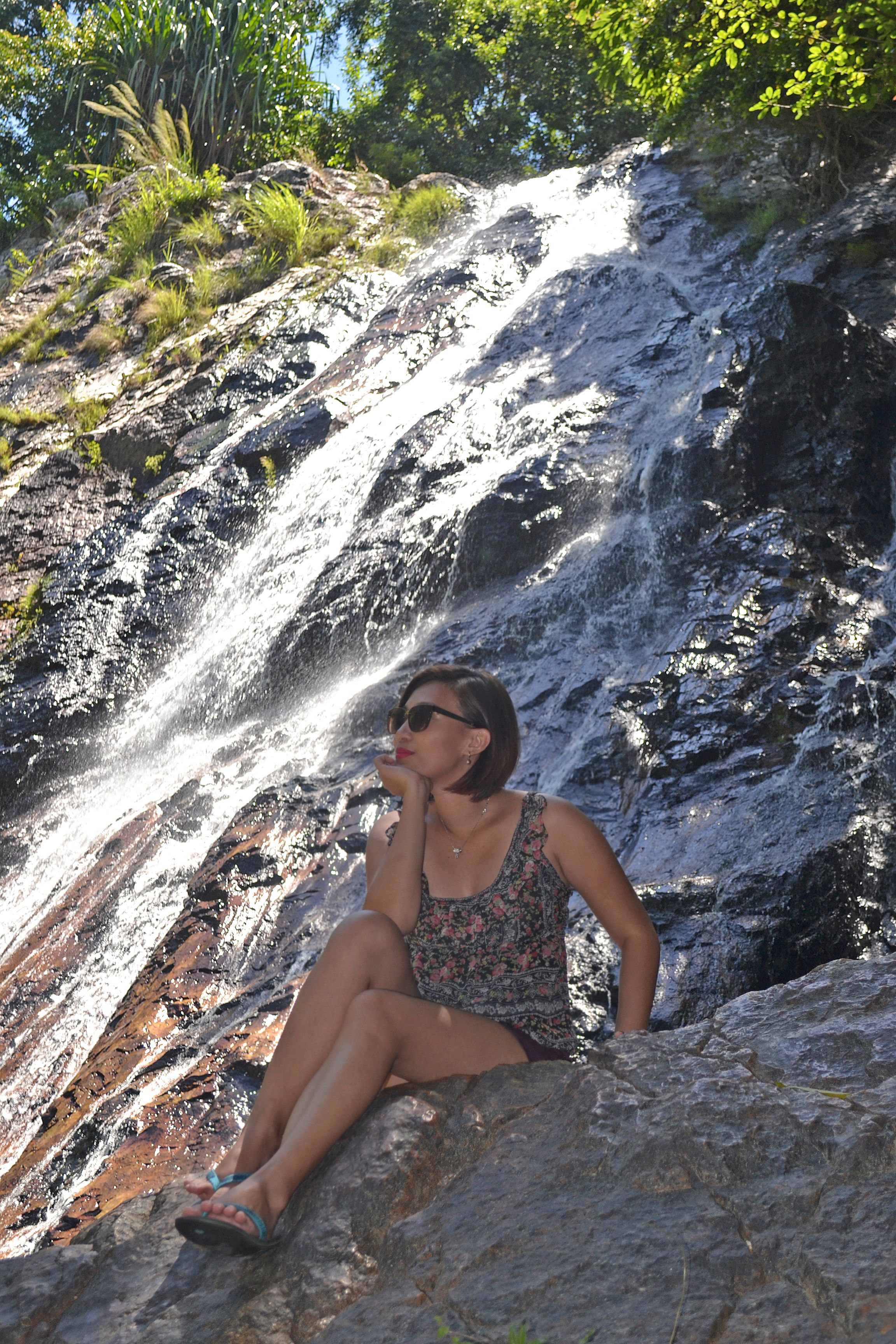 The tour also included a visit to Koh Samui's most remarkable temple, the Wat Khunaram, also known as the Mummified Monk Temple. As the name suggests, it features a mummified monk of Koh Samui's most famous monk, Loung Pordaeng. On display in an upright glass casket and surrounded by flowers, candles, incense sticks and fruit offerings. The mummified monk can also be seen wearing a pair of sunglasses. It is put in place because the sight of the dried eyeballs may be disturbing to some.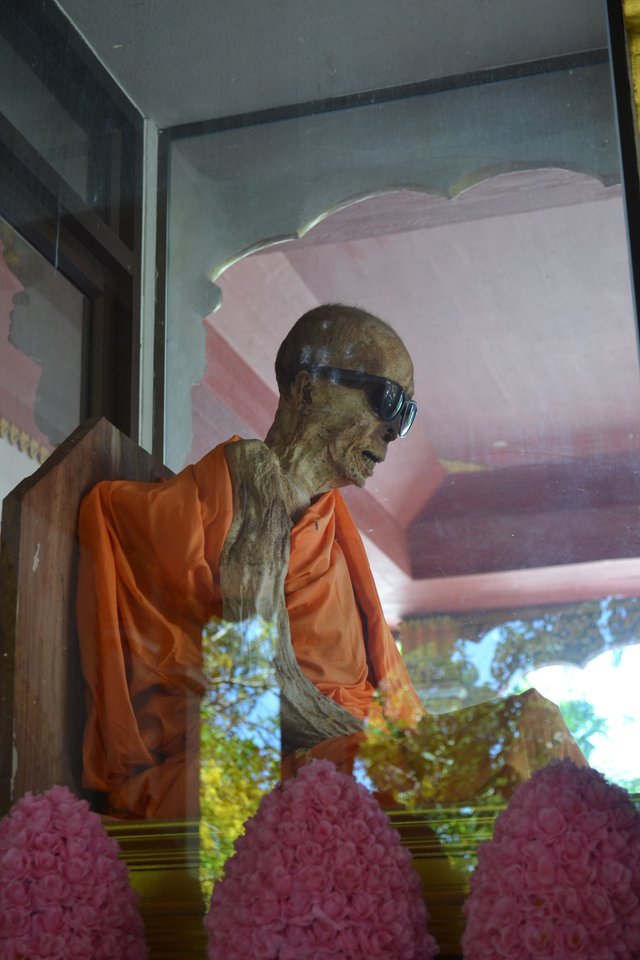 The monk Luong Pordaeng died in 1973 in a seated meditative position, and ever since his body has been on display in an upright glass case at the temple. Remarkably, even more than 30 years on the monk's body shows little sign of decay. Loung Pordang is said to have told his followers shortly before his death that if his body were to decompose he should be cremated, but if not then he wanted to be put on display as a visual reminder of the Buddha's teachings. For Thais, both the life and death of Loung Pordang serves as an inspiration to follow the Buddhist precepts and walk the middle path. - Source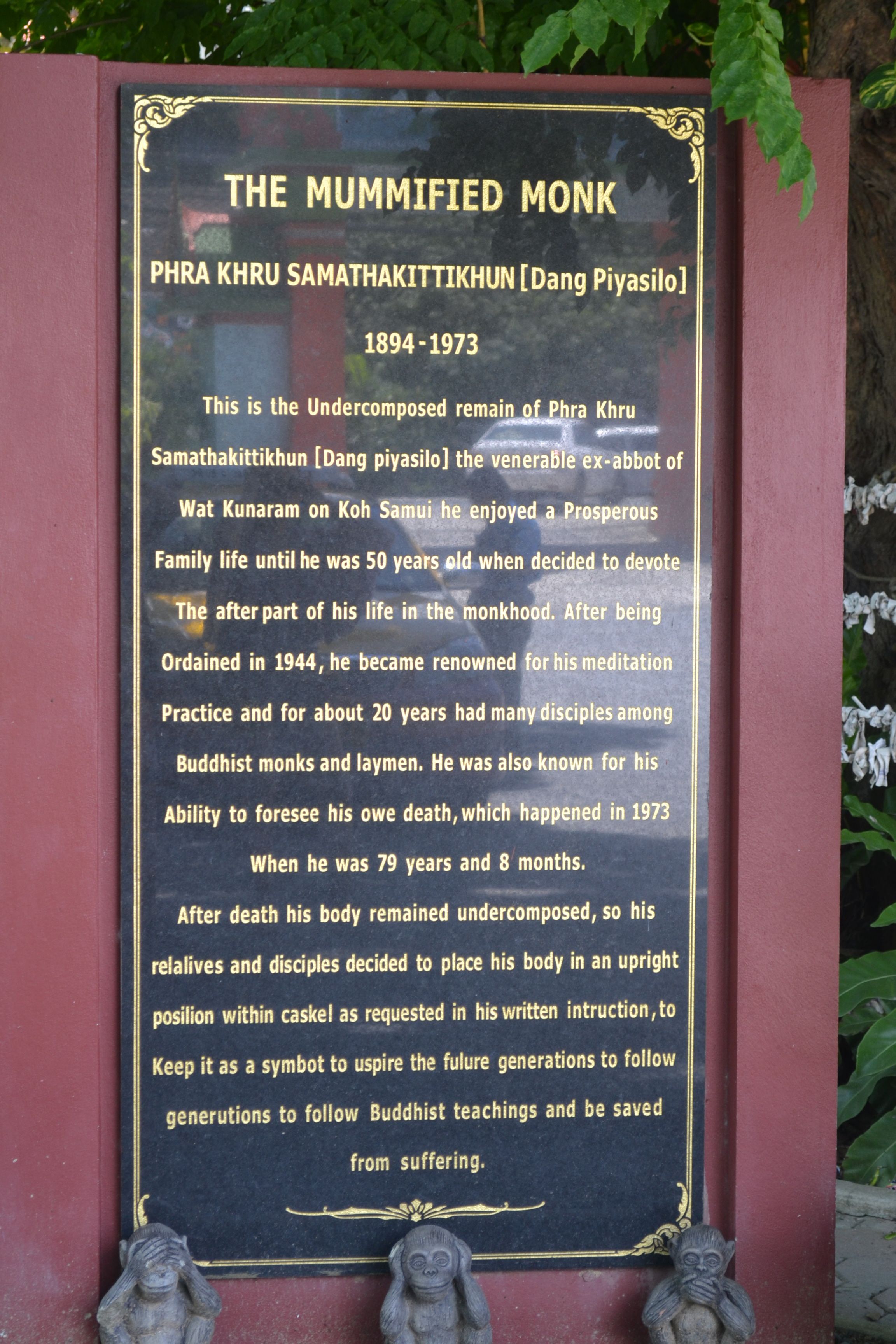 An unusual and uncomfortable sight indeed but for Thai the body of the monk is there to be worshiped and death is seen as an opportunity to be reborn in a next and better life.
To entertain tourist, we were lead to watch a monkey show. Before coming to the island, we already know that in Samui, monkeys are very useful for climbing trees and picking ripe coconuts. They showed us one monkey climbing up and send some coconuts to the ground. After the show, they allowed tourist to take a photo with the star picker and I also joined in.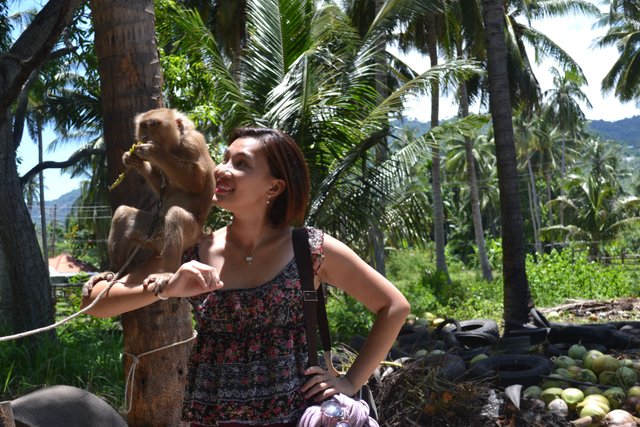 The last stop of our tour was a very interesting one. We visited the Hin Ta and Hin Yai, famously known as Grandfather and Grandmother Rock which I talked quickly on my previous blog. You can read it here. It is some fascinating rock formations on Koh Samui's south coast. It has been a source of laughter and wonder on the island since they were discovered by the locals many years ago. Why so? Art often imitates Nature but it is less common that Nature is imitating Art, especially the Art of the Ribald. These are rocks that respectively look like the male and female genitalia.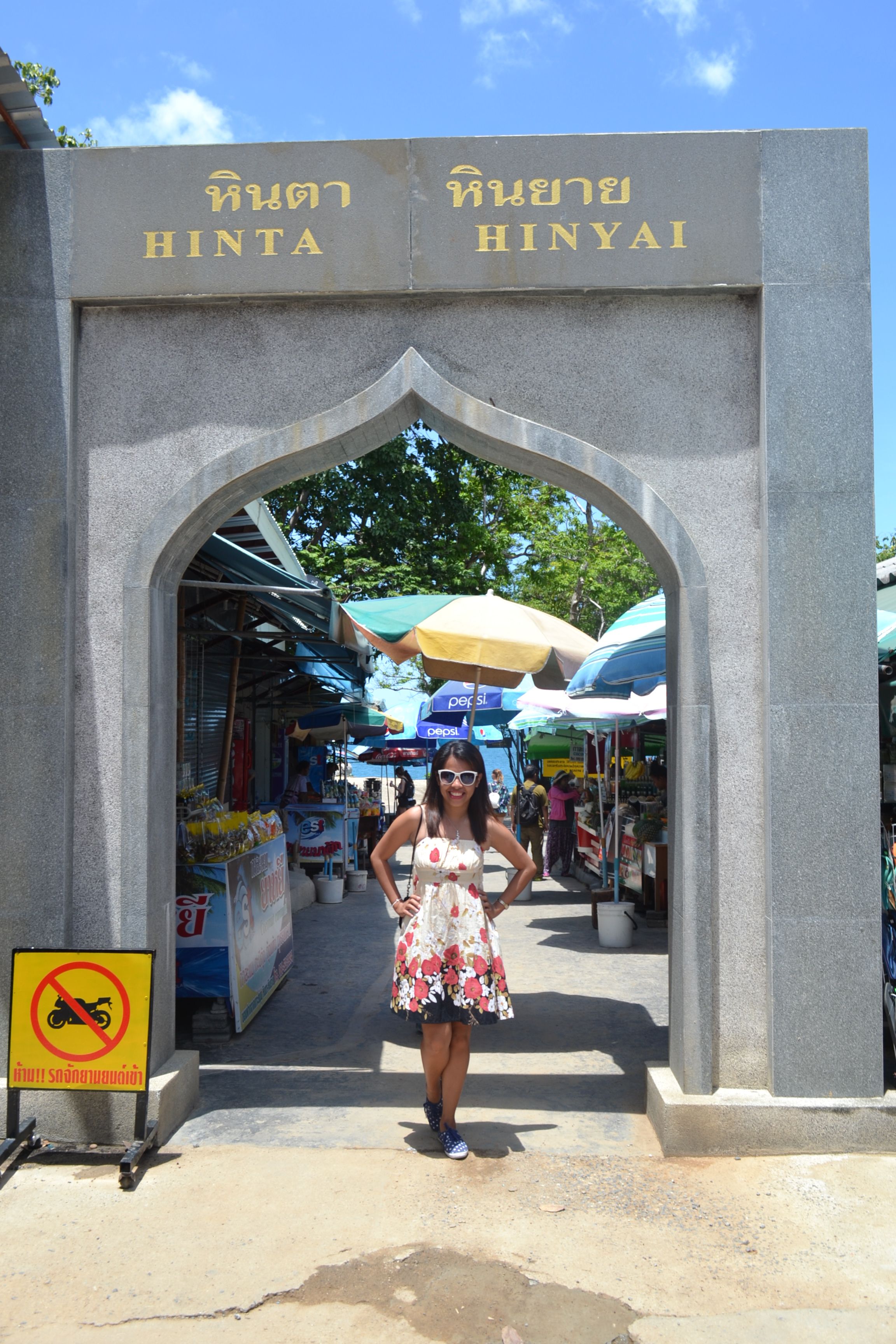 There are also other spectacular views around this rock formation as well as the coast line of Samui. There are no entrance fee to these rock formation but a lot of stalls are built to provide tourist some souvenirs, food, and etc.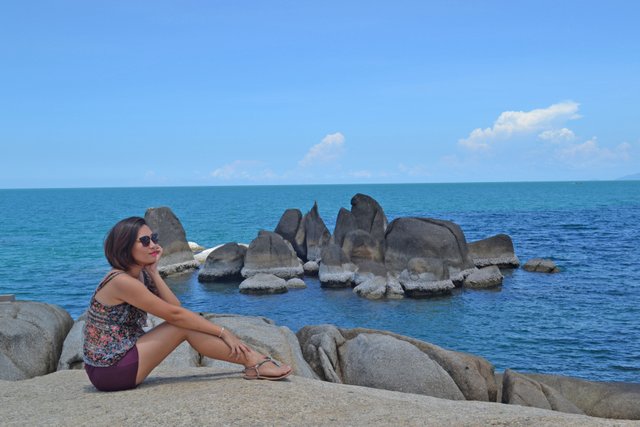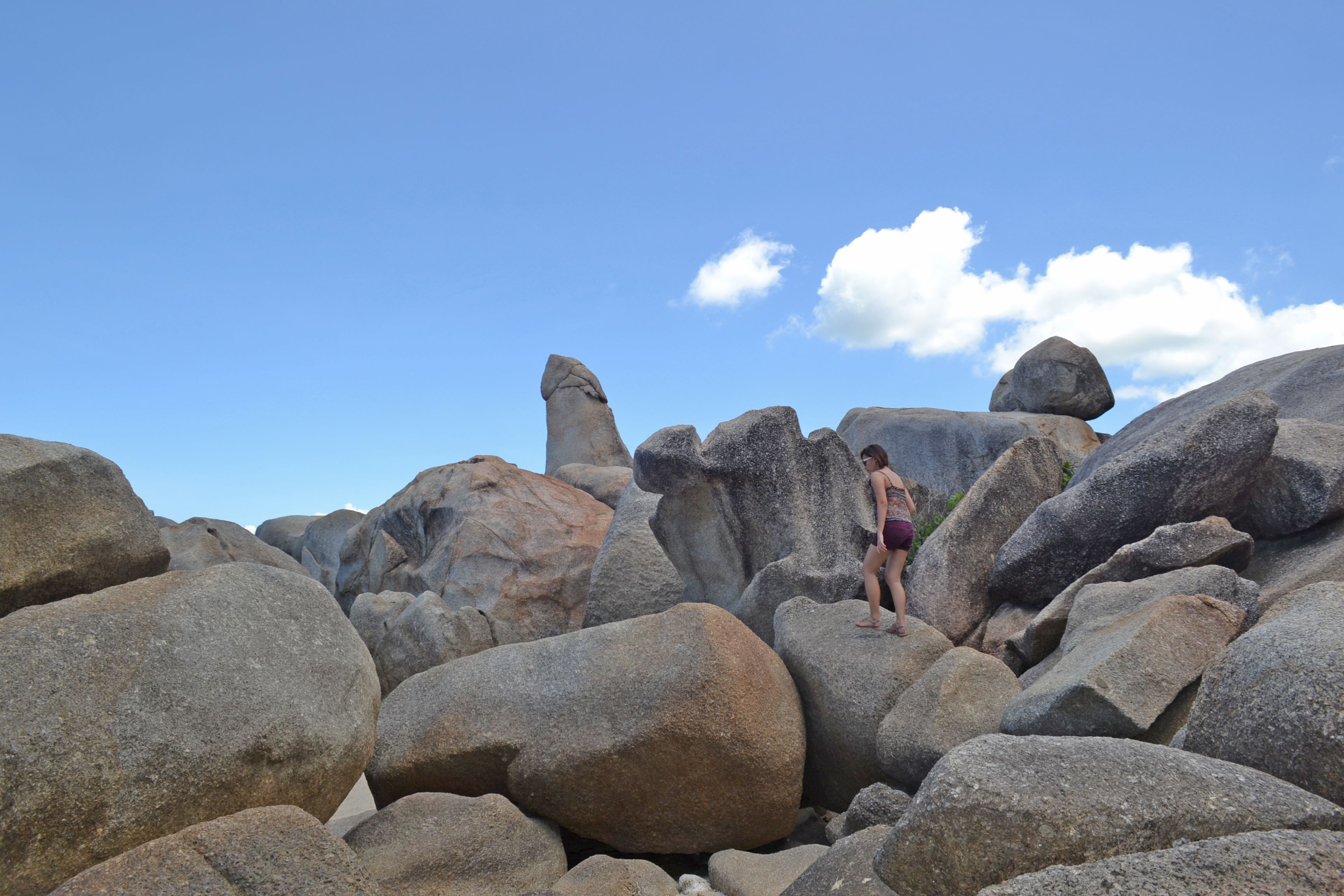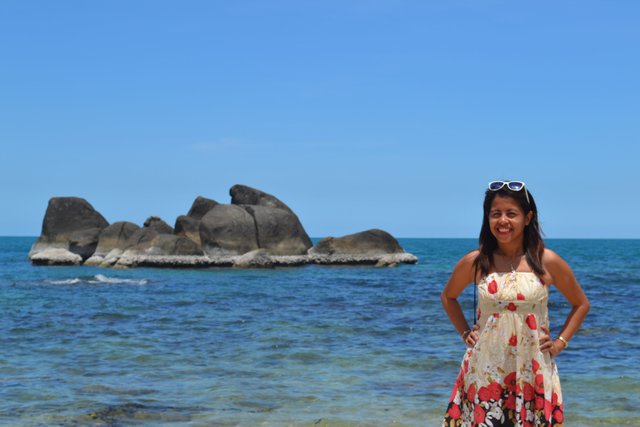 After our last stop, we asked our driver to drop us off at the airport just in time to catch our flight back to Phuket. It was a fast and brisk half day tour. I would say that the tour offered a lot of attractions and well worth the price.
See you on the next one,
@wincee
My previous Travel Diary
Travel Diary #10: Summer at Koh Samui, Thailand Part 1