Dartmoor National Park - Devon
This is about a 2 hour drive from where we were staying (Lizard in Cornwall) but it was well worth the visit, seeing as we all like valleys, walking and national parks. There are a few long walks to choose from the Dartmoor National Park website, all of which are around 6 miles (10km) long but the one we went for was Postbridge.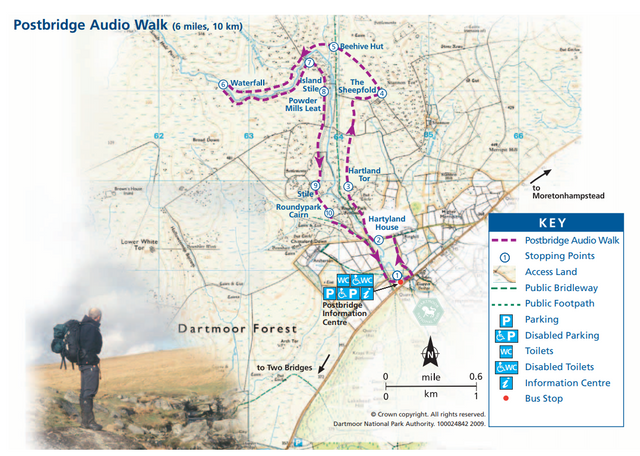 Map of Postbridge
Postbridge
Postbridge is a very small hamlet consisting of a handful of houses, a shop and a pub (of course there's a pub) and is located centrally in the park, along the East Dart River.
What wooed us over was the promise of seeing "far reaching views" and a "stunning waterfall" but they didn't include sunny weather in that description, which, fortunately for us, is what we also got! (Source: Dartmoor National Park website)
On the drive through the National Park, we saw some incredible views and took our time to enjoy those, with one particular view point catching our eye, which we shall visit later on in this blog.
The Adventure Begins
After getting some tips from the rather helpful people at the Visitor Centre, we picked up our map and set off on our adventurous hike.
Things began relatively comfortably along the track adjacent to the Visitor Centre with views of where we were heading coming in to sight.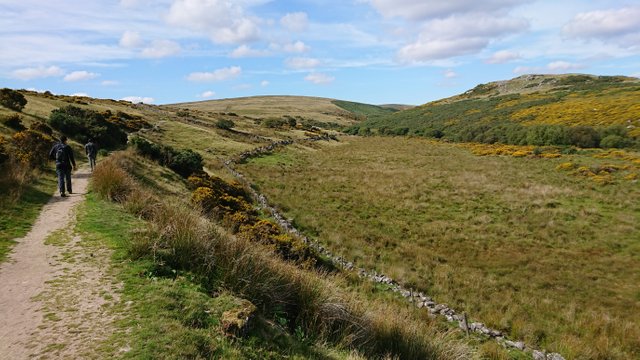 Views of where we were heading coming in to sight
Wet Feet?
However, things started to get a little bit "wetter" underfoot for Wheeler as some of the ground was boggy (it is a moorland after all) and Postbridge claimed its first wet foot victim.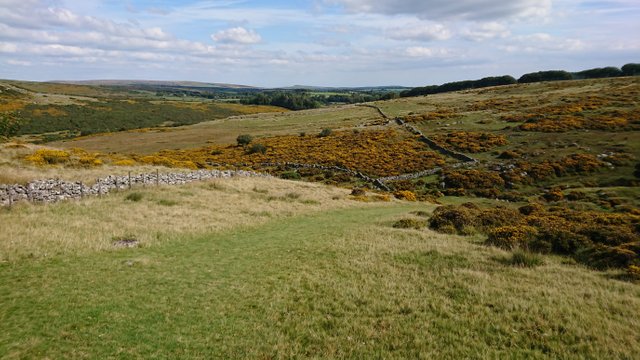 The bog that claimed its first wet foot victim!
Ascent to the Waterfall
Nonetheless, we needed to plough onwards and upwards… a lot of upwards. A gentle slope turned in to a steeper slope to test our stamina but if you follow the grass path, you'll be fine (but always have an OS map with you) and the views at the top of this section are worth it!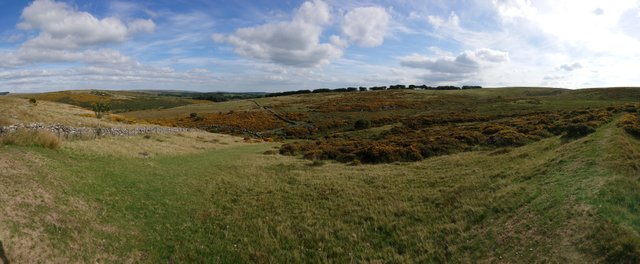 View of the Moorland from the top of the ascent
This hill did plateau and after about half a mile (800 metres) along the path, we made it to the waterfalls. Although not as big as some waterfalls I've been to, there was still plenty of noise as the water rushed through the rocks and a decent place to stop for a bite to eat.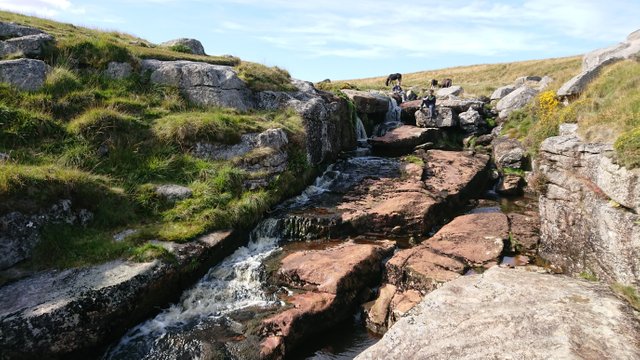 Enjoying lunch at the Waterfalls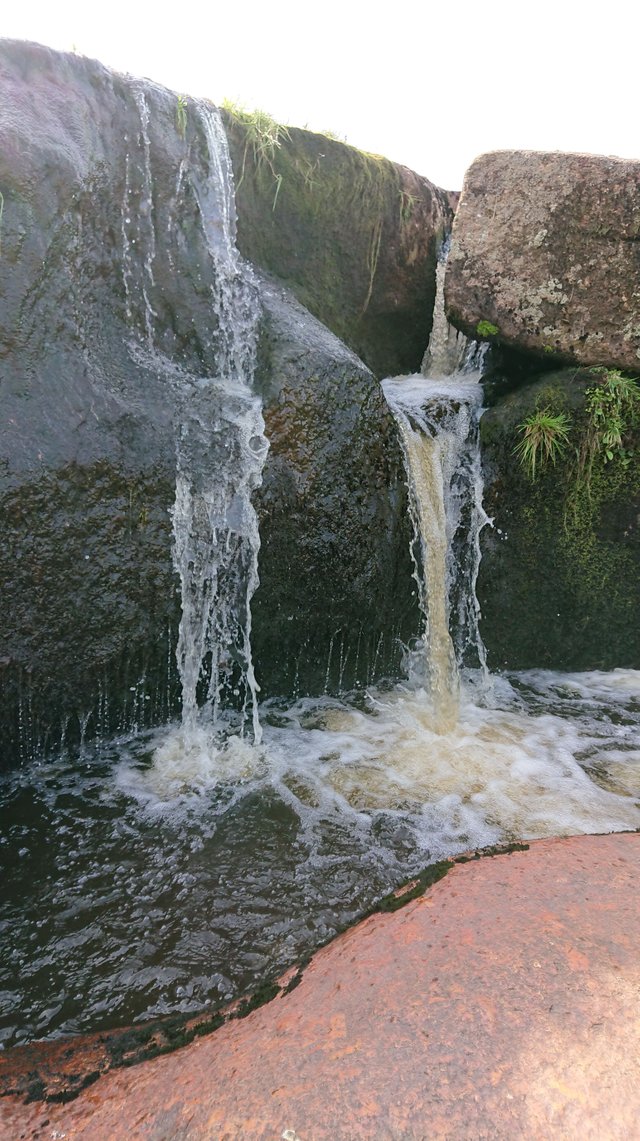 Postbridge Waterfalls
What Goes Up…
…Must come down again and we made a real hash of this, thankfully we had clear weather! From the map, it looked like we needed to keep relatively close to the river to make it back to the Visitor Centre so we ventured down there, taking an adventurous route as we hopped across the river to try and find what we thought were footpaths.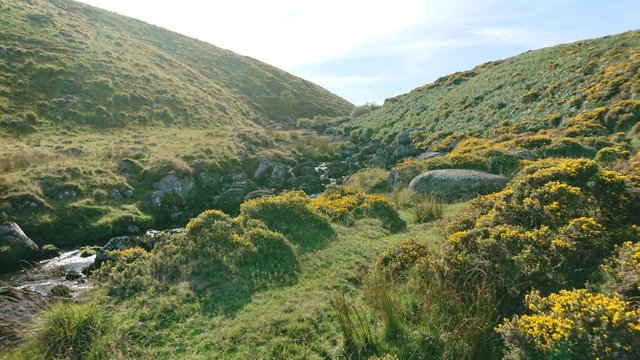 Looking up the East Dart River
Wet Feet Again?
So after deciding to cross the river for a 3rd time, the dry feet were no more for me or Hammad and we ended up in the drink (who made such wobbly rocks?)! These guys were laughing at us, amateurs!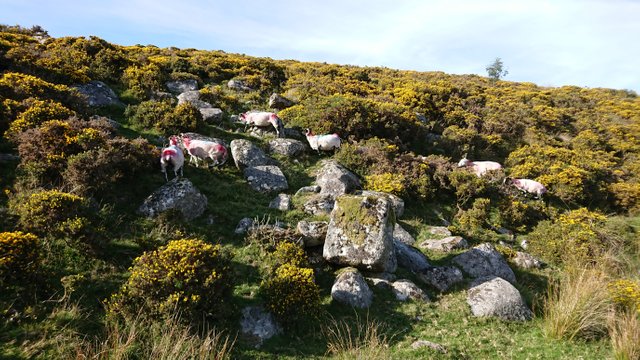 Our audience enjoyed the show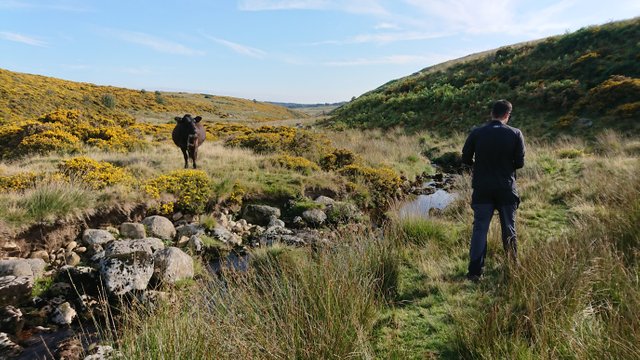 This one really was laughing at our river crossing escapades!
Eventually, we did manage to find our way back on to the path we were supposed to be on, which gave us some pretty awesome views of the river as it carved its way through the valleys and back to the Visitor Centre to dry our feet!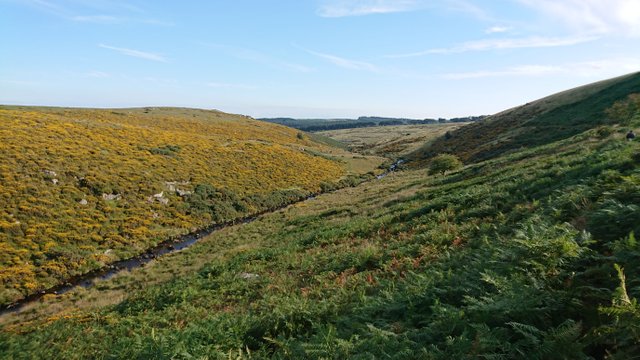 The river carving a path through the valleys
Panoramic Views
Remember that viewpoint we passed on our way over to Postbridge? Well, let's head back there and enjoy the views before the Sun goes down. Regrettably, the ice cream van was just heading off as we arrived so we couldn't truly enjoy the views (although it was pretty breezy up there so maybe it was a sign)! Nonetheless, well worth stopping off for I'm sure you'll agree!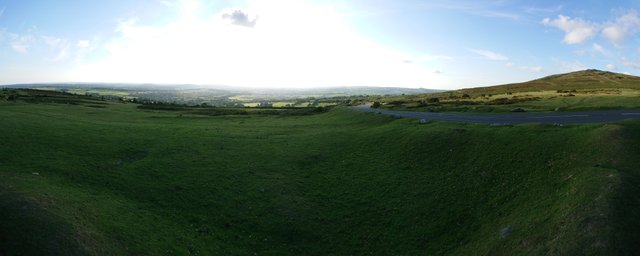 Panoramic views of Dartmoor National Park
If you're planning on visiting and walking around Postbridge, there's useful information on the Dartmoor website for you to read through and even an audio guide - here's the transcript of it
Catch you soon!