Escaping LAX for a day: Bus roulette and vegan restaurants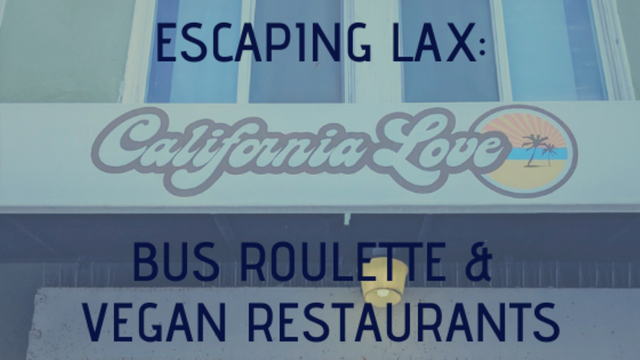 Hello, hello! It's been a while since I last posted but I am not one to blog unless I have something interesting to say. Quality over quantity, or at least I hope.
Anyway, if you know me, then you know I'm an Aussie expat living in Panama. However, over the past couple of months I've felt the need to leave. There are various reasons for this which I won't get into since it's not the point this post. Long story short, I'll be gone for three months. I will spend six weeks in Bali and the six weeks after that in Australia.
I left Panama on Sunday 13th October to begin the world's longest journey to Bali. This meant flying from Panama to LA to HK to Bali, arriving the following Tuesday. It's become obvious why people don't go to Bali from Central America. It's probably also the reason why the Indonesian Embassy in Panama only opens for three hours a day and why I was the only person there both times I visited. It literally took them 20 minutes to approve my visa cos I don't think they had much else to do.
While two days of travel sounds awful enough, it was about to get worse. I arrived at the airport in Panama City to find out that my ESTA allowing me into the US had expired. It pisses me—and I'm pretty sure everyone else—off that transit doesn't exist in the US. It's so dumb and is yet another example of America being an arse. I really do look forward to the day when there are direct flights between Central America and Asia, so I can avoid the US entirely. However, today was not that day. My ESTA had expired and my new one did not come through in time for me to board my flight. It turned out to be a very expensive fuck up since I had to rebook all my flights. Plus, instead of arriving on Tuesday, I now wouldn't arrive until Wednesday. This why Australians go to Bali from Australia and not from Panama. It's heaps easier.
So because of my stupidity, I now had 24-ish hours in LA. What to do? What to do?
My new flight got me into LA at midnight so my first thought was I should find some accommodation. While still in Panama, I began looking at hotels/hostels with free airport transfers. I found a hostel that clearly states on its website "free 24 hour airport shuttle service". I called them to double-check I could get picked up after midnight. The woman said it was no problem, just call them when I got my bag and they'd send someone to the terminal. So I made my booking based on her information. However, when I called the second time, the woman working the graveyard shift had a very different view. She told me that no one was around to come and get me and I'd have to find my own way there. Long story short, I didn't go and I'm still in a battle with booking.com to get my money back. They charged me anyway despite their false advertising.
From LAX, I called a few other places but they were either booked out or didn't have free shuttles. And uber was expensive, even at that time of the night/morning. So I decided to do what any cheap-arse backpacker would do: stay in the airport! I thought I'd wait until 6ish and then get a day hotel since I know shuttles come at that time.
LAX is an interesting place after midnight. Most of the travellers have gone except for the ones with early morning transfers who've decided to (not) sleep there rather than pay LA's ever-increasing hotel costs. Then there are the homeless people. These people seem to turn up early in the evenings via the free shuttle (which I'll get to) and settle in for the night. Despite the freezing airconditioning, they come prepared with blankets and there are quite a lot of them. Every time I'm in the US, I'm always shocked by how many homeless people I see. The wealth inequality is so noticeable compared to other developed countries.
By 5.30am I was over getting a day hotel and I decided to see if I could check my bag in instead. My new plan was to try and get through security since nothing was open on the street side, and the good food was on the other side. After successfully checking my bag in, TSA told me I was way too early and to come back later. A lot later. Like in the afternoon. Hmm... so much for that.
Time for Plan C. Thanks to the magic of free airport internet, I discovered there's a complimentary shuttle to the metro where you can get a bus to Venice Beach. Not one to shy way from a public transport adventure in a new city, this piqued my interest. You just never know where you'll end up and I had a whole day to find out. I bought a day pass on it thinking it would work on all buses and trains. Hahaha. Silly me. This is 'merica, where everything is privately owned/run! The card failed on the first bus I stepped on to. However, the driver was very nice and took pity on me and another traveller who'd also come from the airport. She let us on anyway and then explained how the LA transit system is run by different companies. Or something. Bottom line, it's not 100% integrated as you'd expect, so it looked like I would be playing bus roulette for the day.
I got off somewhere near Venice and then got on a second bus across to Venice Beach. My card worked on this bus, so that was good.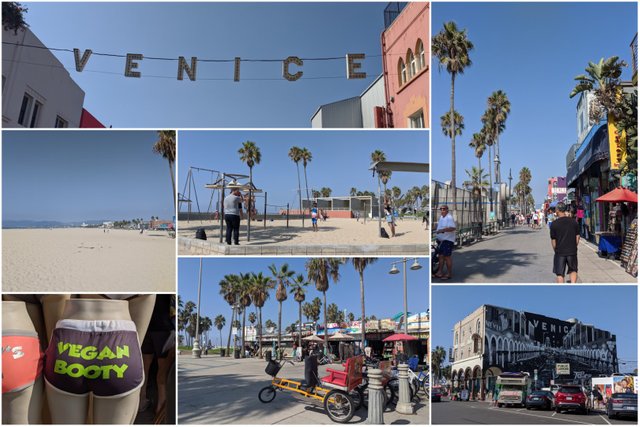 As I walked around everywhere reminded me of Californication and I kept expecting Hank Moody stumble out of a laneway in a drunken state. Venice Beach did seem kinda dodgy in that respect and I did not get a good vibe being there. There were a lot of weird people—and not the good hippy kind—around.
By mid-morning I was getting pretty hungry. I went looking for Cafe Gratitude, which was the closest vegan place listed on Happy Cow. Perhaps I went a dodgy way cos the footpath was full of dog shit, which surprised me a lot. I thought that Californians would be into cleaning up after their dogs.
After safely navigating all the shits I arrived at Cafe Gratitude, which quickly became the highlight of my morning. The vegan french toast was delicious and I loved the fresh berries on it. Berries are super expensive in Panama so I never buy them unless they are frozen.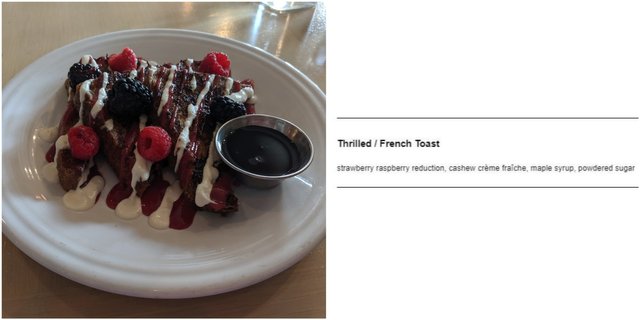 After, I headed back down towards Venice Beach via a different route. It was much nicer and I could see why people would like living in this part of Venice. Some of the gardens were amazing even though it doesn't rain here anymore. There were lots of succulents as you'd expect.

I also liked all the street art. You could probably do a do a tour of just this if you wanted.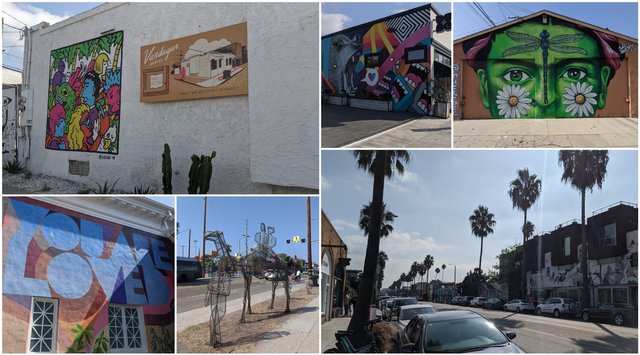 Ah, the random things you see on the street in LA.
Raised planter boxes (which I really like) with kale (of course)
Yoga mats
Kombucha.

Around midday I headed up to Santa Monica. Once again I played bus roulette, where I wasn't allowed on the first bus and had to wait for a different one.
From the moment I arrived in Santa Monica I had Cheryl Crow on repeat in my head singing "as the sun comes up over Santa Monica Boulevard". Here's a reminder in case you've forgotten or you weren't born yet. This song played for hours in my head.
Santa Monica Pier is obviously the place to be because it was packed. It is your typical tourist destination; full of people who don't look local, buying crap they don't need. But it's free if you don't do anything, so you might as well take a walk along it. Wandering the streets of Santa Monica felt much less dodgy than Venice Beach, even though there are a lot of homeless people in both places.
As I was walking around looking for Backyard Bowls to grab an açaí bowl, I passed the public library. I ended up spending a couple of hours here since there's not that much to do outside of shopping and the beach, and I had to charge my phone and kindle. Like LAX, the library seemed to be full of homeless people. But, they were following the rules and not talking so it was good.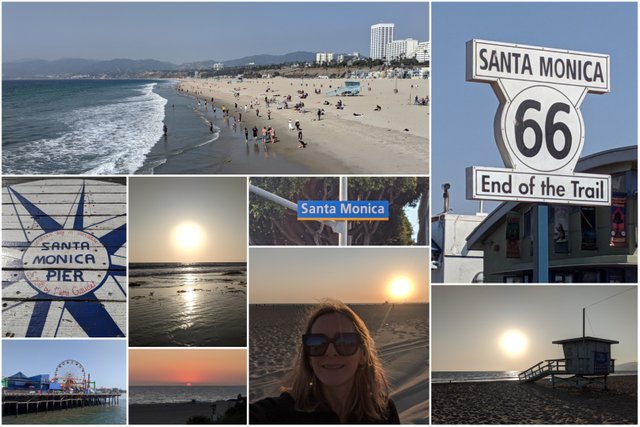 Sunset was at about 6:25pm that day so at 5:00pm I headed back down to the beach. Both Santa Monica and Venice beaches are really wide. It takes you five or so minutes to cross the sand to get to the water. My calves definitely got a workout. Either that or I currently have DVT in both my legs from all the flying. Since I had time to kill until sunset, I decided to walk for the next hour barefoot on the sand. It turns out I quite like long walks on the beach at sunset.
It got dark pretty quickly once the sun set, except now I was clued up to which buses I could use. I jumped on one heading back towards Venice, to Double Zero, an amazing looking vegan pizza place. This would be my final destination before heading back to the airport. The walk from the bus stop to the restaurant was about 400m and I passed some random pumpkins on the way. As you do.
Vegan pizza in Panama doesn't exist. You basically have to order a vegetarian pizza without cheese and the whole experience is underwhelming. I therefore get very excited when I go somewhere with proper vegan pizza. My favourite pizza ever is the spinach pizza from Cafe Zorba Medellin, Colombia, but this comes a close second.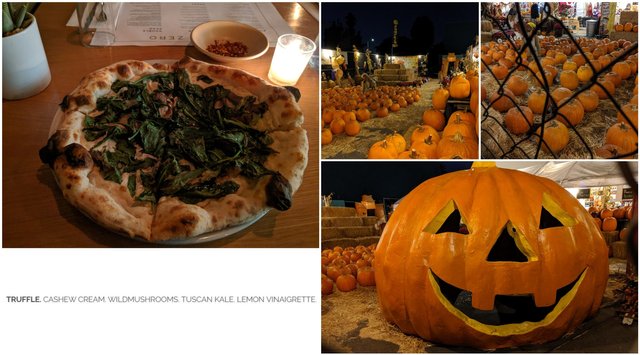 Since it was about 8pm when I finished dinner, I decided to pay the $1.25 to get the direct bus back to the metro for the airport shuttle. This was a good idea since some crazy man was wandering on the opposite corner, yelling and trying to get in cars that were stopped at the lights. I definitely did not want to walk past him.
Back at the metro station, I boarded the free shuttle, along some airport staff and a bunch of homeless people heading back to the airport for the night.
After I passed through security it was time to get ready for my 15 hour flight to Hong Kong. I had been in the same clothes for over 24 hours at this point, but I was not going to pay $50-60 to get into a lounge, just so I could take a shower. Instead, I took a Dundee shower and changed my t-shirt. I will admit it wasn't a proper Dundee shower since I bought a face washer with me and wet it thoroughly to give myself a good wipedown. I figured this would suffice until I made it to Hong Kong where they have actual free showers in arrivals (between gates 10 and 12 if you're interested). Seriously, why don't all airports offer this? Lounges are a rip-off so Hong Kong, you rock! I also love that you have the most designer stores I've seen outside of actual shopping centres, including Jimmy Choo (yes my steemit name is dervied from this). Ah, you Asians and your designer brands obsession. Given the current economic climate, these companies would probably be bankrupt if it weren't for you.

Anyway, that was my transit day. Despite the dodginess in certain places, the annoying, non-integrated public transport, and the smell that was equal parts weed and urine in many places, LA was pretty fun. It totally lived up to its reputation as a vegan food mecca, and there were some very lovely parts that I enjoyed walking through. The non-crazy people I spoke to throughout the day were all super helpful and nice. So overall, it was a much better experience than sitting in the airport or sleeping the day away in an airport hotel. Thanks America. Despite you generally being annoying, sometimes, you're alright.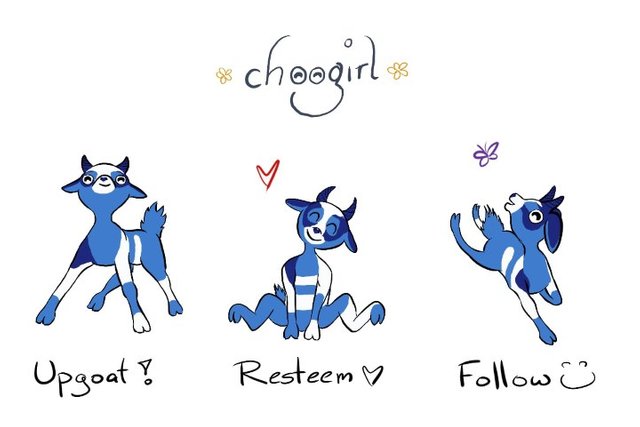 Footer by @ryivhnn