ADSactly Travel: This Is How You Spend Your 3 Day Vacation in Dubai


Traveling from a city to another is not a new thing for me. Every city shares the common similarities like the lively streets, busy city life, and masses of skyscrapers. But, my first time here in Dubai is not what I expected at all. To use the word of being blown-away is a total understatement.
Dubai is a city that entirely contradicts my imagination. The luxurious high-rise architectures in the desert and the busy city lifestyle never stand a chance to outshine the rich Arabic culture that the locals seek to conserve. There are so much to do in this cosmopolitan city where you realize time passes so quickly when you're here at this mystical bliss of Dubai. Whether you're seeking out for a luxury escape or an adventure-filled holiday, this city will surely get you cover.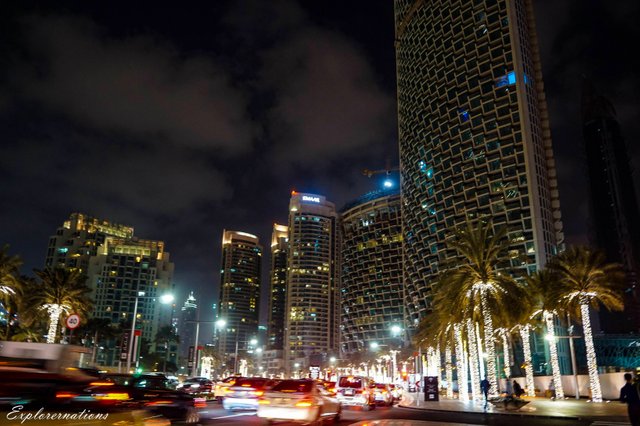 After spending quite some time here in Dubai, there is so much that I want to share with you. So, here's a guide that I hope will give you some insights about Dubai.
Burj Khalifa
My mind constantly tells me not to be a typical tourist cramping myself in the crowd to take a mandatory photo at a tourist hotspot like everyone else. As much as I dislike this way of traveling, I don't deny that taking photographs at the tallest tower in the world sounds pretty cool!
As touristy as it may be, you can't miss visiting the tallest tower on planet earth. This tower soars with the elevation of 828m and is precisely twice the size of the Princess Tower in Dubai. It is not a surprise that Burj Khalifa is known to be one of the World's Wonders. Besides it being the tallest tower, the tower is used for many purposes. For example: residences, offices, hotels, and also for some lavish restaurants.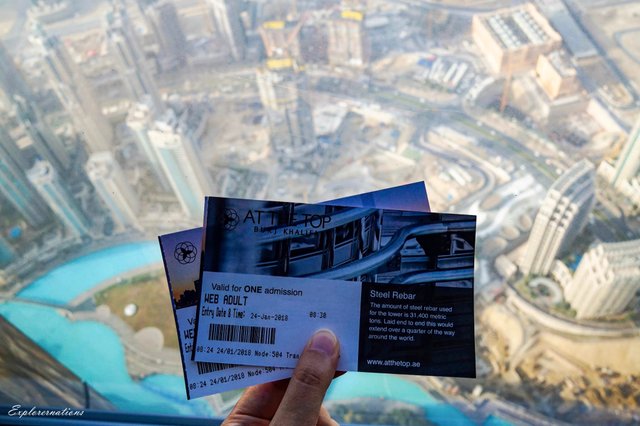 At the 148th floor, this new 360 panoramic observation deck is where you need to be! With this great height, you can basically have a stunning view of Dubai and see how the red sandy desert has transformed into this illuminated luxury city that everyone dreams of visiting.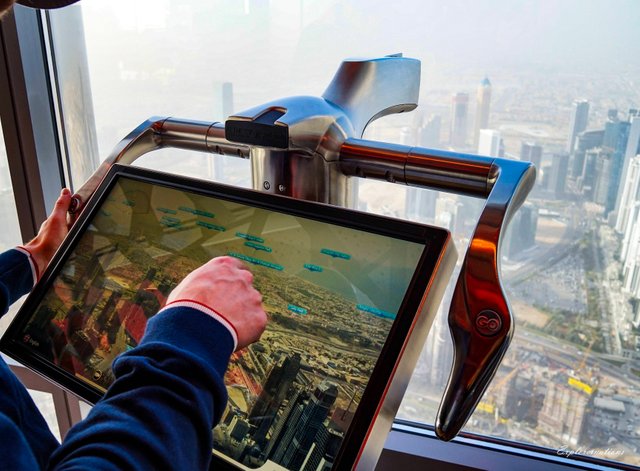 A ticket to visit Burj Khalifa is not the cheapest but, it is worth it for the majestic views. Be sure to book your tickets in advance online because the tickets were sold out quicker than you expected. It is almost impossible for anyone to buy a ticket spontaneously at the counter due to the high demand.
The best time to visit Burj Khalifa is during the evening because of the sunset and for the illuminated skyscrapers. During this peak period, expect that there will be many people getting their camera ready for the perfect sunset shot. Be sure to wait in line a few hours earlier to secure your spot to glimpse the sun slowly set over the sea and perish behind the skyscrapers.
However, if you're not into sunsets, visiting Burj Khalifa in the morning is a good alternative. It is a relaxing and perfect way to start your hectic day in Dubai.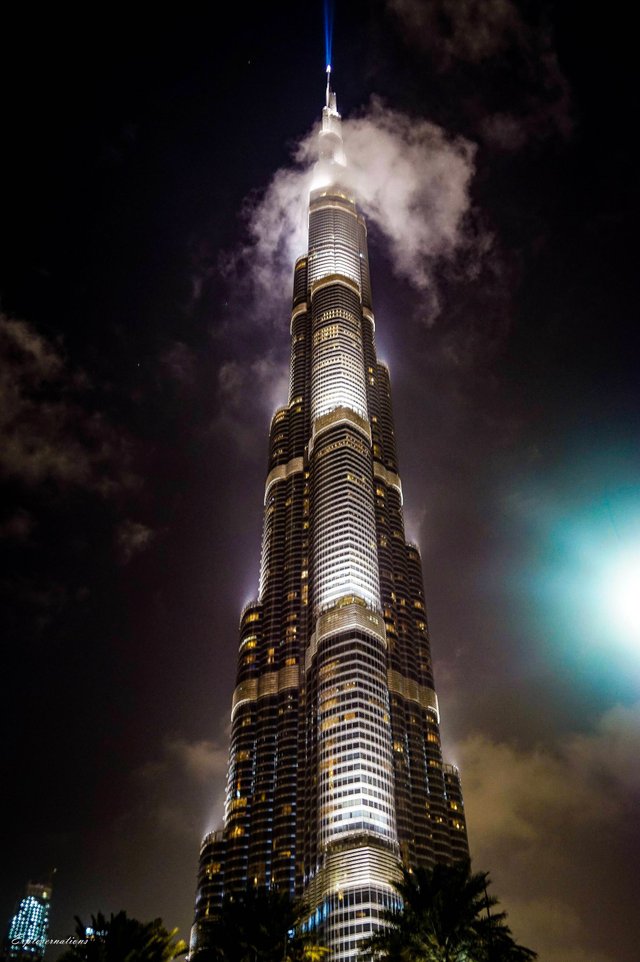 Dubai Fountain
Believe it or not, everything in Dubai is bigger, better and more luxurious. This includes the Dubai Fountain that everyone is talking about on the internet. This world's largest choreographed dancing water fountain that surrounds the Burj Khalifa is a must see in Dubai!
Dubai Fountain uses a system that is surrounded by 6,600 lights and 25 colored projectors to create the spectacular show that everyone is so mesmerized by. In order to put in this magnificent show, 22,000 gallons of water are shot 500 ft. into the air. Accompanied by a series of illuminated spotlights and tag along by an extensive range of classical to contemporary Arabic and fusion music. And the best part? It's absolutely free of charge!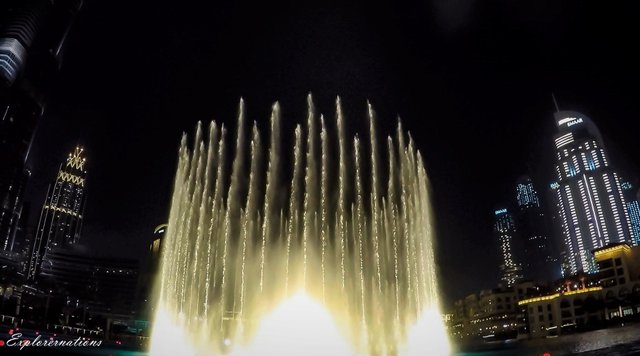 To catch the show, simply head down to the fountain area that is located right next to Burj Khalifa and Dubai Mall. The fountain is spectacular in the afternoon and it's even better at night! To spice things up, get yourself a ticket to access the Dubai Broadway. It is a floating platform built within the Dubai Fountain that is designed for visitors to be closer to the fountain show. You'll definitely be thrilled to be on the vibrating platform accompanied by the splashes of water on your face during the performance!
Dubai Mall
I once pointed out that everything in Dubai is more dramatic, and The Dubai Mall is no exception. This 13 million square foot mall is bigger than 50 football fields combined. It can take up to an hour for one person to walk from one end to the other in the mall. In short, this enormous mall is a dream come true for those all the shoppers out there!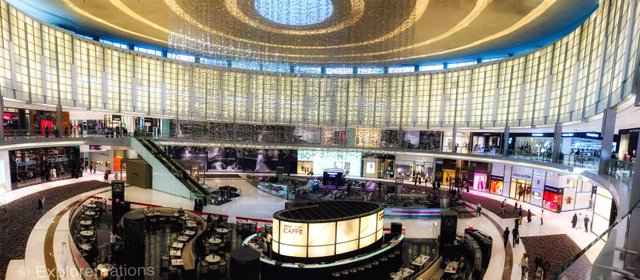 There are dozens of stores from authentic Arabic souks to luxury international brands. You name it, you'll get it. To top it all off, the mall even features the largest indoor aquarium in the world with an underwater zoo, an indoor theme park and also a largest cinema in Dubai.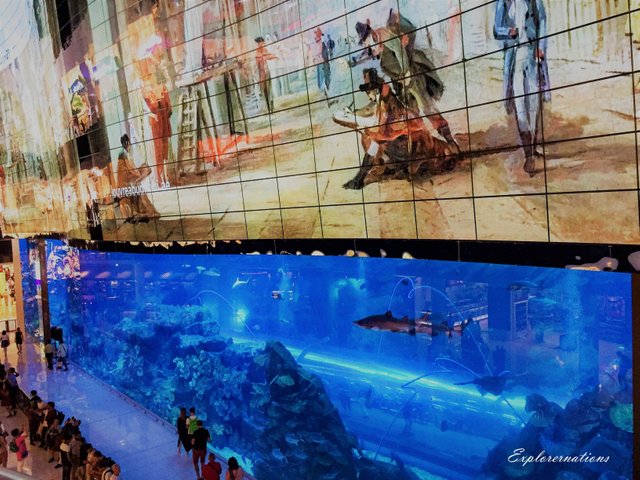 This record breaking aquarium can occupy up to 10 million liters of water containing the more than 33 thousand species of marine animals. Different type of fishes ranging from the classic aquarium fish at home to the exotic marine animals like stingrays and sharks. You'll be surprised for what you can find in this aquarium.
For thrill seeker, you can even join a guided tour to go underwater in the aquarium to see the fishes that swim right in front of your eye. So, why not take a break to pay it a visit?
Dubai Creek
The Dubai Creek separates the city into two towns which are Deira at the north and Bur Dubai at the south. The creek has been a prominent element in the city's prosperity since before the growth of Dubai's financial era. During ancient times, the creek was commonly used for fishing. Its warm and shallow waters upheld a vast majority of marine life that made fishing an important industry.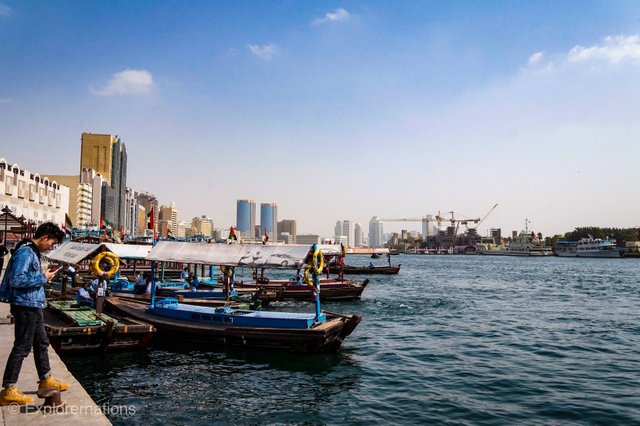 The creek now is being utilized as a tourist attraction. Many Dhows have been restored and converted into tourist boats that bring visitors across the river or to take them on a cruise for tourist to learn about the triumphant stories of times passed along the creek.
Souk Madinat Jumeirah
Never leave Dubai without visiting the souks. To visit the traditional souks, Deira is the best district to go to. The hustle and bustle of the market with fresh spices arriving cart by cart make your anticipation to shop spike. However, if you didn't already know, Dubai is famous for their gold jewelry. Visit one of the gold souks to find yourself some dazzling golden chains to bring home. If not, window shopping sounds like a good idea too.
Besides these buzzing souks, souk Madinah Jumeirah displays a very distinct atmosphere from the traditional souk. It is more relaxing and less populated but you'll still discover many interesting souvenirs here. For example the Arabic incense, spices, gold, Arabic lamps, etc.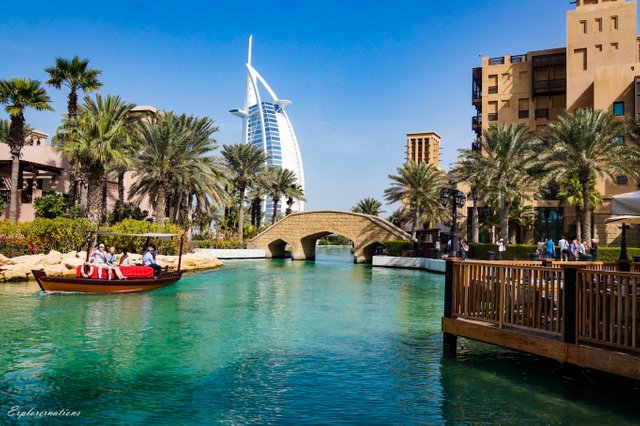 Here at this souk, you can even have a cruise along the canals. It's an excellent spot for those who prefer to have the perfect view of the Burj Al Arab without a mass crowd. The views along the canals are spectacular with the castle-like architecture surrounding the area where you almost forget that you're in Dubai.
Palm Jumeirah
Palm Jumeirah is the world's largest man-made island. It stretches around 520 kilometers from Dubai's shoreline. This island is believed to be one of the man-made Wonders of the World. Along with the Great Wall of China, you can see this island from outer space.
Many believe this island was built in the shape of a palm to symbolize the myriad of palm trees in Dubai and to maximize beachfront property at the same time.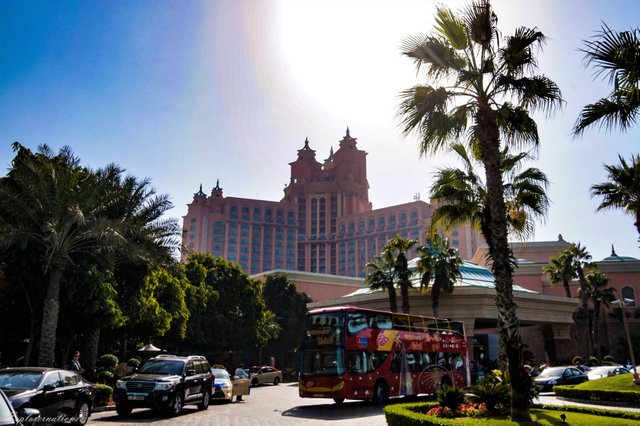 To visit Palm Jumeirah, the Atlantis offers more than just a hotel. Waterparks, a pristine beach, and shopping malls are available within the building and give you so many reasons not to leave. If you want to splurge on a luxurious stay, give this underwater suite a try.
Lebanese Cuisine
Nothing is impossible in Dubai. You can find everything you want or crave here. Among the food selection available here in Dubai, Lebanese cuisine definitely stands out the most. From kebabs to plates, your options are endless.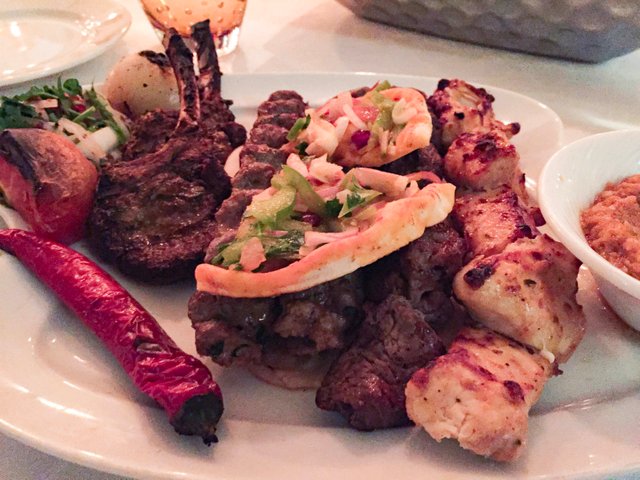 Never leave Dubai without trying the renowned hummus, tabbouleh, and the famous desserts like baklava which is a sweet pastry that is filled with chopped pistachio nuts and sweetened syrup.
Click on the coin to join our Discord Chat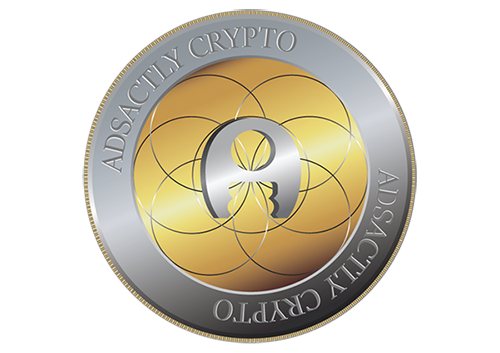 ---
Vote @adsactly-witness for Steem witness!
Witness proposal is here:



Go To Steem Witness Page
In the bottom of the page type: adsactly-witness and press vote.



Use small letters and no "@" sign. Or, click here to vote directly!
Thank you!

---