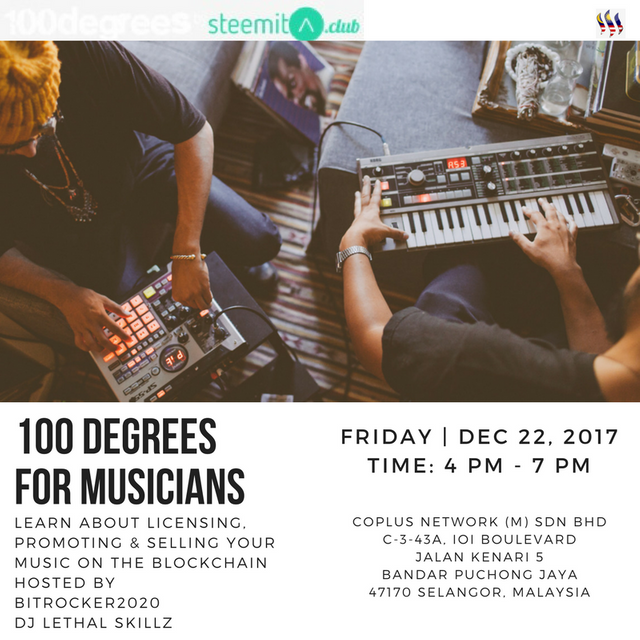 ---
Background
Today was the first time i meet @bitrocker2020 from our #teammalaysia family in person, what a great human he is i tell you, funny and cool guy!
It was supposed to be a quick lunch and chat until he asked me during lunch "What can we do to support and elevate the music scene in Malaysia" and this right here just kicked a whole chain of ideas and possibilities for great things that can be done for the community starting with this coming workshop for musicians in Malaysia "100 Degrees For Musicians ...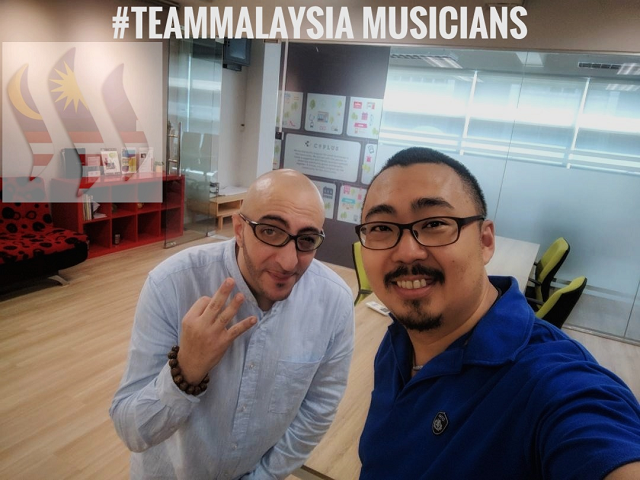 ---
100 DEGREES FOR MUSICIANS
---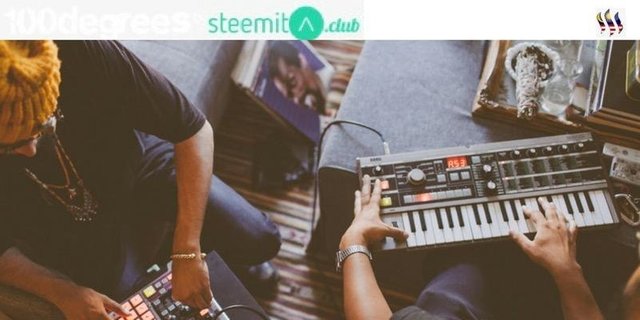 The concept of this workshop is to combine what the Sifu @bitrocker2020 does and he's great at in promoting and introducing new people to Steemit world, and it's benefits and how to join the Blockchain world.
As from my part I will be using my personal experience so far as an example of a new musician who joined the blockchain recently and how my journey has been so far and guide of fellow communuty musicians on how to license, distribute, promote and earn money from their music using various decentralized solutions.
The workshop is brought to you with the sponsor and support of Steemitup.club & Team Malaysia in collaboration with DJ Lethal Skillz
It's an open Free invitation to the community members in Malaysia varying from Musicians, Producers, DJ's, MC's, to Vocalists, Instrumentalists and Beatboxers.
You are all invited to join us and lepak lepak together ;)
---
WORKSHOP PROGRAMME:
---
3.30pm
Registration starts
4.00pm
A quick intro to Steemit and some case studies (including how a simple group photo taken can make money by the end of 2 hours!)
5.00pm
Q&A and next steps
6.00pm
Networking, Check on how much everyone is making (yes, you too, if you wrote a post on Steemit)
---
Workshop Agenda
---
Steemit Platform that rewards content curators
Musicians Platforms on the Blockchain
How to start on the Music side of the Blockchain
How to License, Distribute & Sell your Music (Musicoin)
Make Money from your hard work creating music
The places are limited so we have created a Registration Form and more in depth details on the workshop agenda and context :
We are looking so forward to see you all soon, Tell a musician friend to Tell a friend, Kudos!
https://www.eventbrite.com/e/100-degrees-for-musicians-registration-41274609468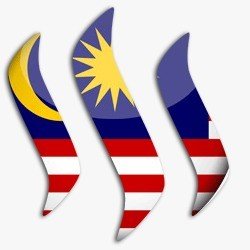 ---