Scandinavian Festival. My Sublime and Beautiful Sunday.
The city of Brisbane plays host to one of Australia's leading International Art Festivals every year during the month of September. There are many festivals held in surrounding cities and it was difficult for me to choose which one to visit on Sunday but as the Scandinavian one was only a short drive from home and I hadn't been to one of these before, this is where I spent a few enjoyable hours.
This was my first glimpse of the festival when I arrived at the park.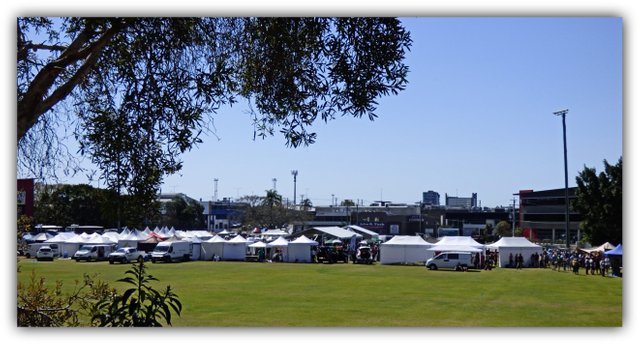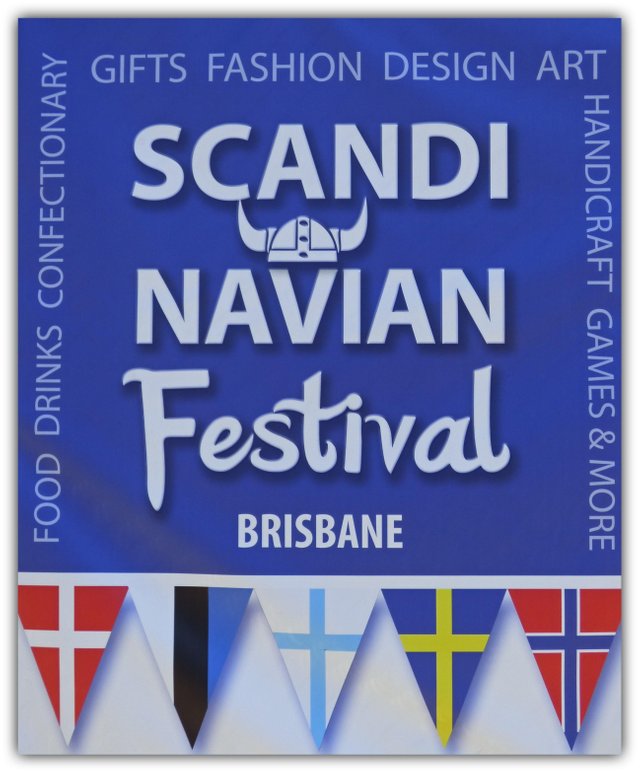 It was a fine day, so the outdoor venue of Perrys Park in Bowen Hills was ideal to wander around and absorb the festive activities taking place here. After paying my small $2 donation I headed towards the sound of the band playing at the edge of the park. People were seated under the shade of a large tent as they sampled the fabulous food and cold drinks available.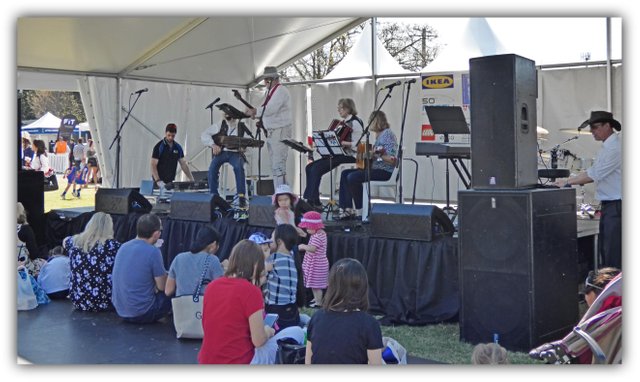 There were people coming and going in all directions and I was looking for those dressed in traditional costumes in particular.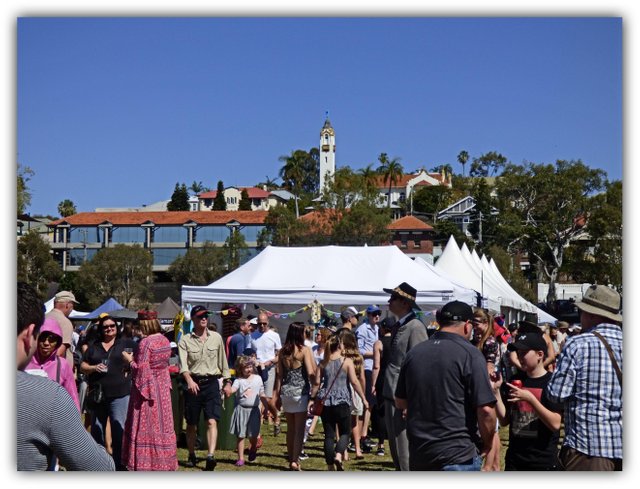 A friendly lady was selling Medieval Cordial which I thought was very interesting. The flavours included Blueberry and Blackcurrant, Elderflower, Elderflower with Rose and Lime and Lemongrass.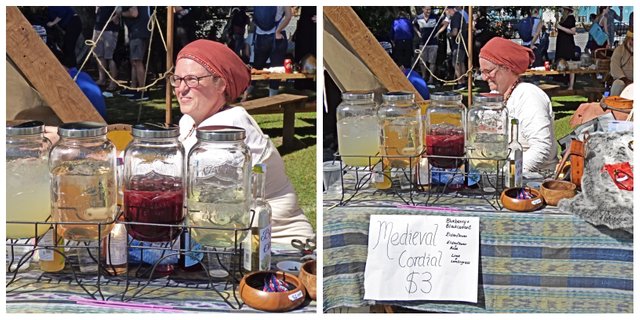 Children were enjoying having their faces painted.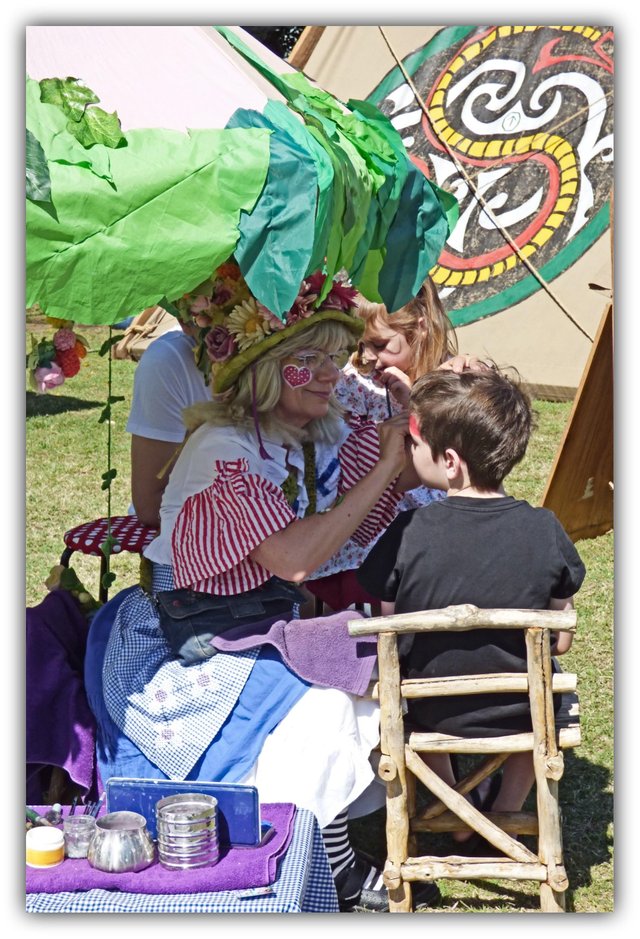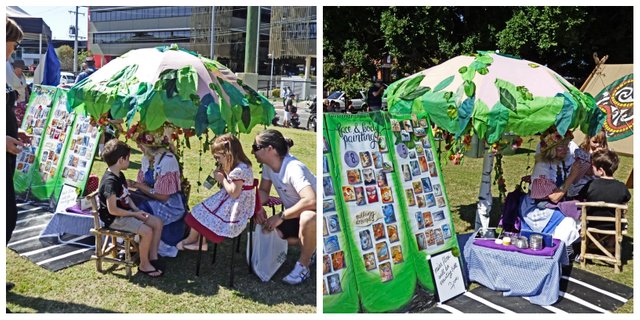 There was a hub of activity happening in the Lego making tent.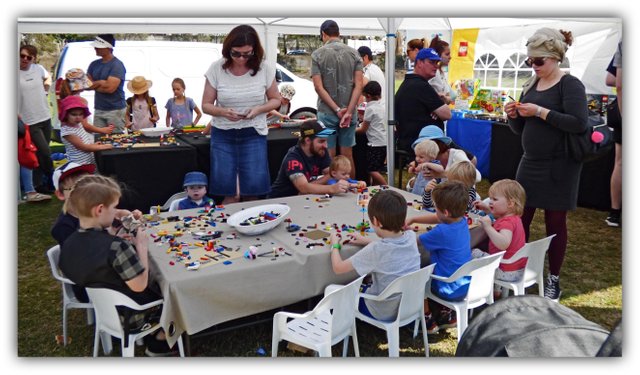 A wide selection of lego packs were available for sale.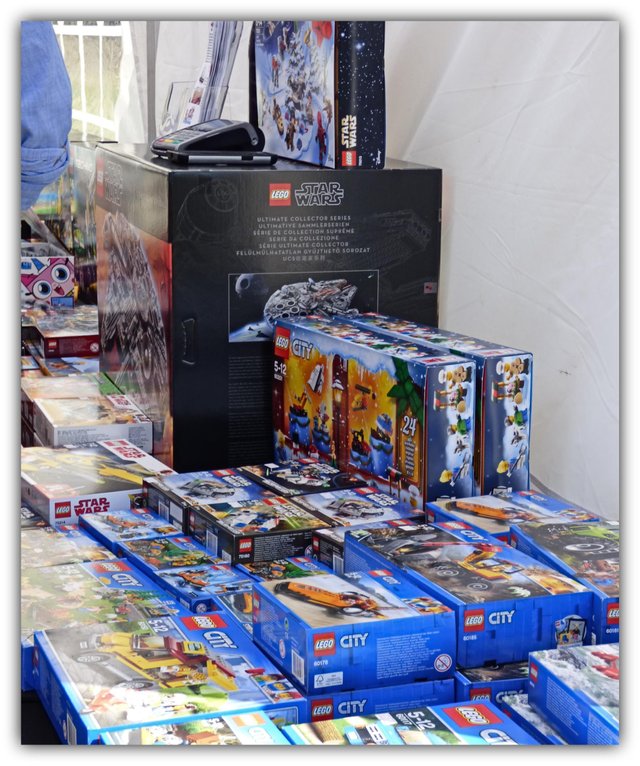 And these two boys were engrossed in building their lego masterpieces. I loved the look of concentration on their young faces.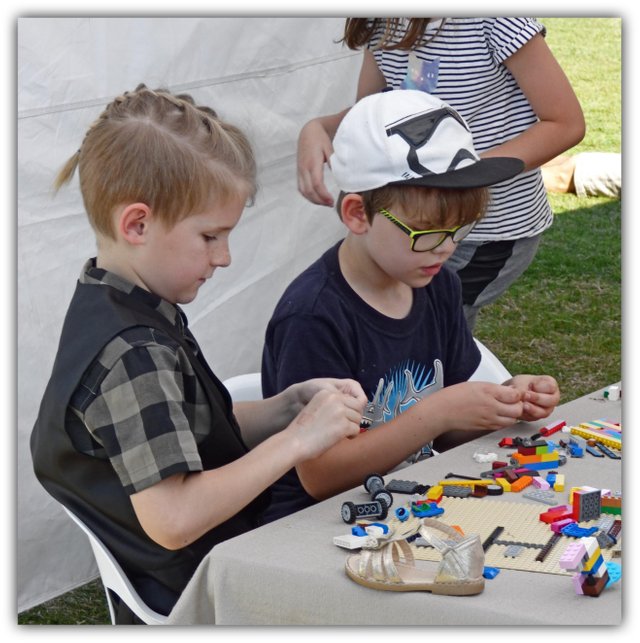 Delicious aromas were coming from all four corners of the park as there was much to choose from in the way of authentic Scandinavian snacks and meals.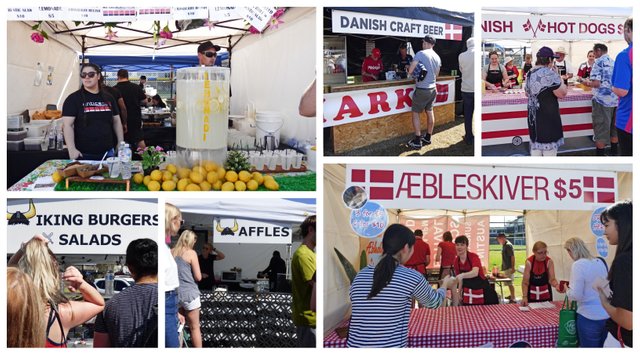 And is that a Viking I see selling burgers at the '50 Shades of Pork' food stall? Love the head gear and beard and that intent look on his face. Moving on........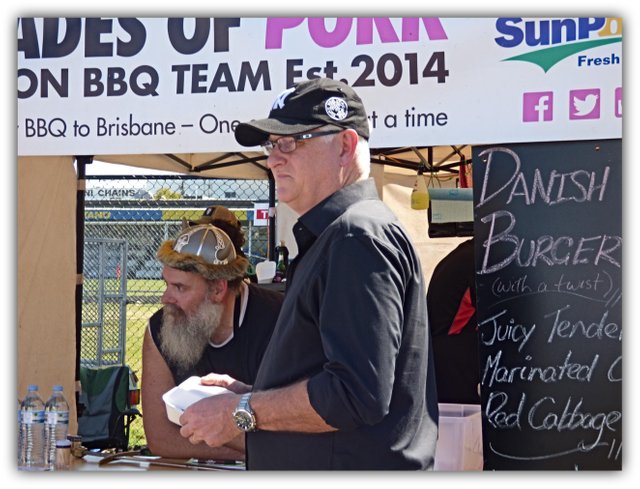 That is a very sharp meat skewer in his hands. Should his 'customer' be afraid? From what I can gather from the history books, the days of marauding, raids and trades are long gone and are now relegated to early medieval days of The Viking Age. And I assume that most of the Scandinavian expats who were partaking in this festival are happily settled in Australia, and glad to enact part of their fascinating history and share their culture for everyone's pleasure today.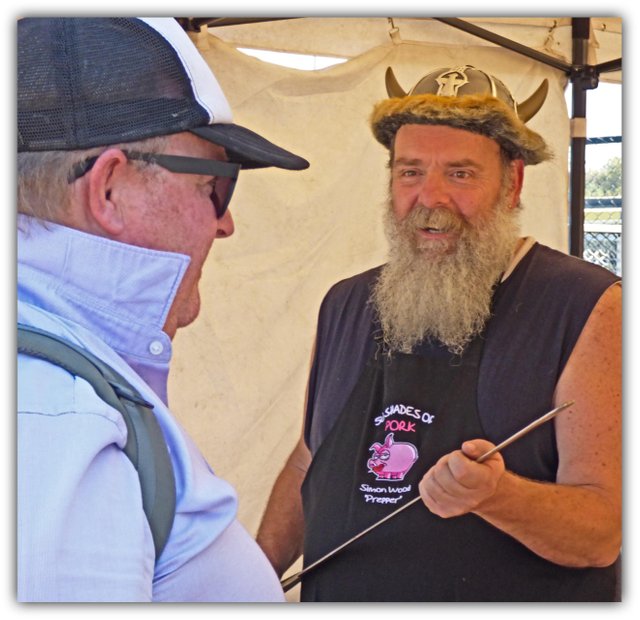 Now there's an interesting looking tent/teepee type thingy. I wonder what's happening over there?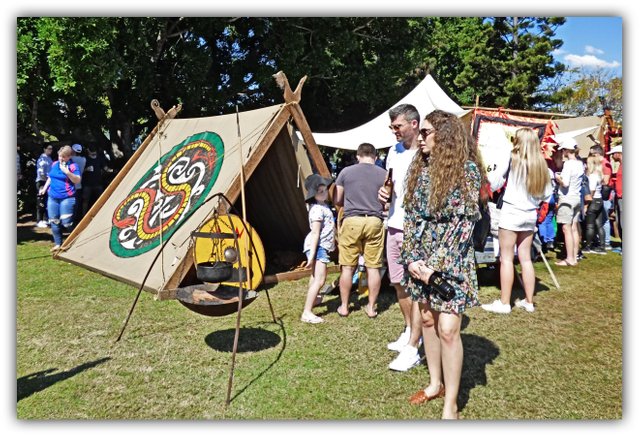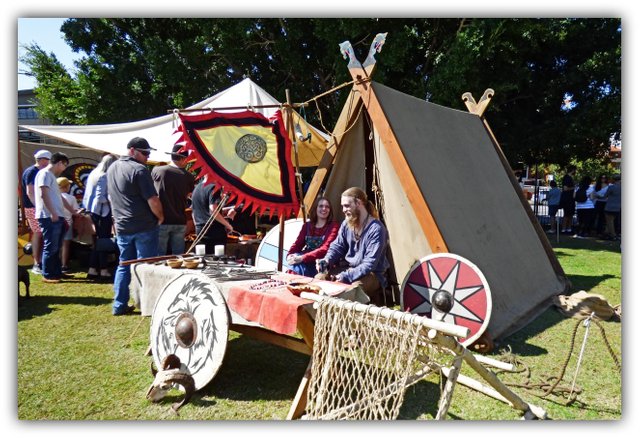 A lovely couple posed nicely for me in front of their tent but I coudn't help but notice the serious looking weapons and tools laid out on the table in front of them. They all appeared to be hand made.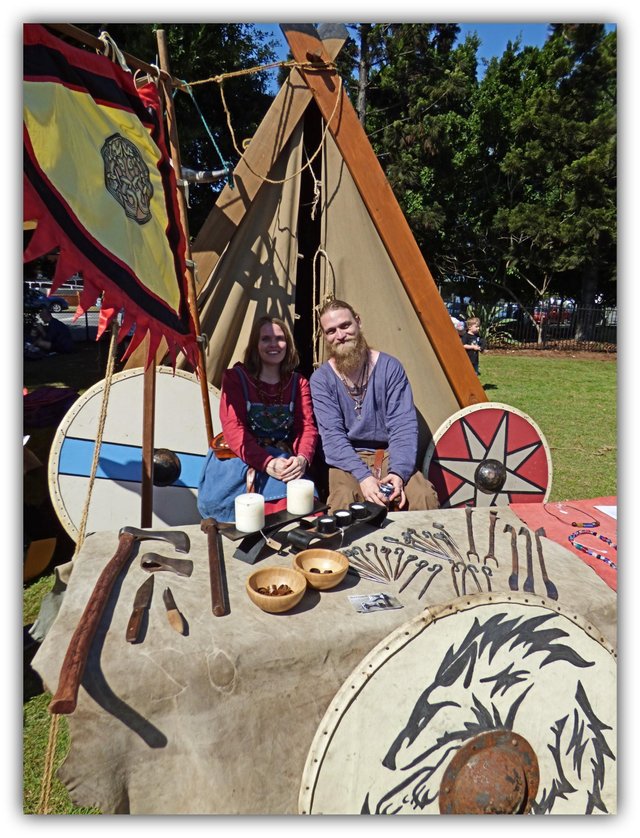 Aren't they a good looking couple?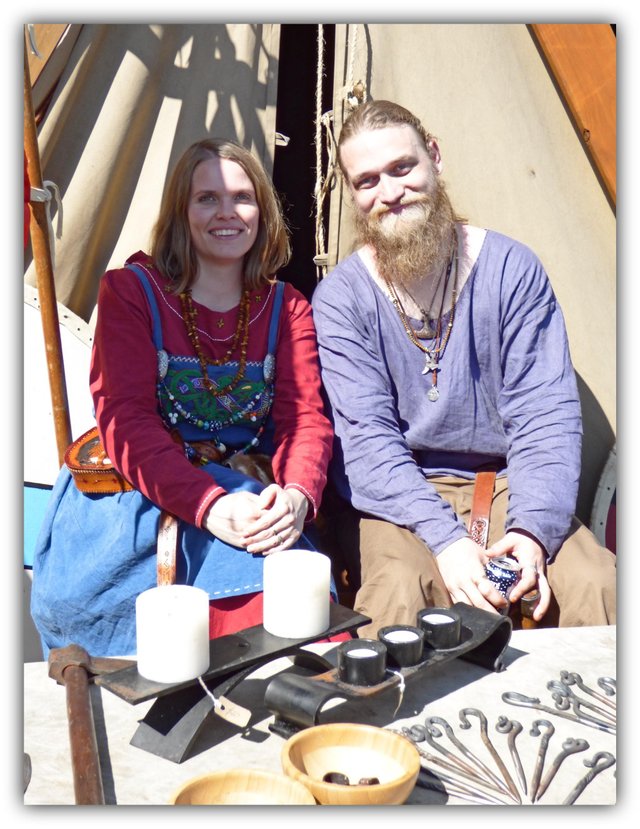 And here's another good looking couple sitting contentedly behind their blue side car. Just the thing for a fun spin up to the Sunshine Coast or the Gold coast on a splendid day like today.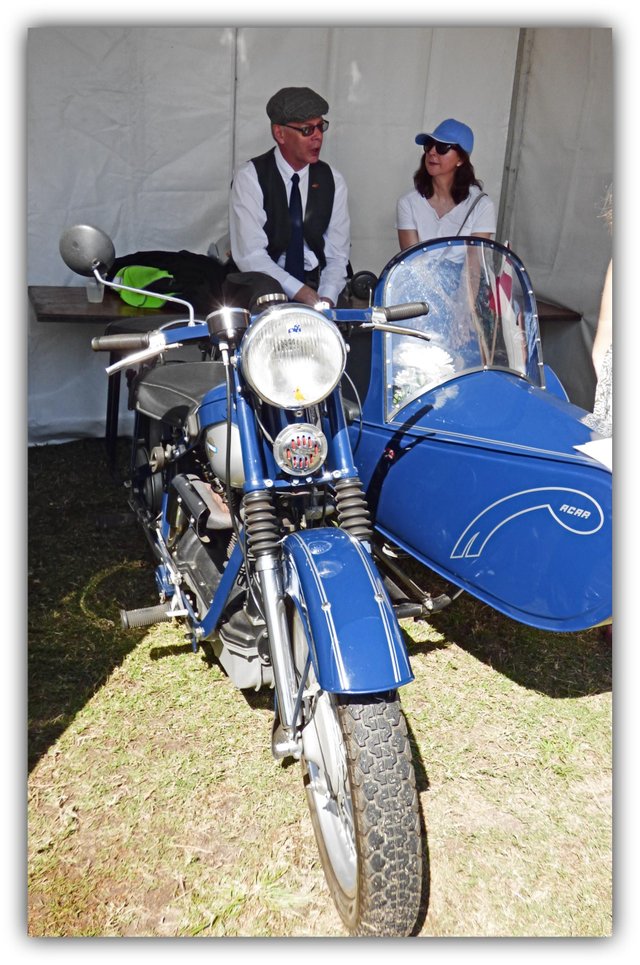 I followed the sounds of laughter and clashing of unihockey sticks towards a group of kids competing in a friendly game of Floorball. It is a game generally played indoors but for the sake of this festival, the fun was brought outside and I can see that on the sign below, it is going to be "The Next Olympic Sport." It is obviously already very popular here in Brisbane.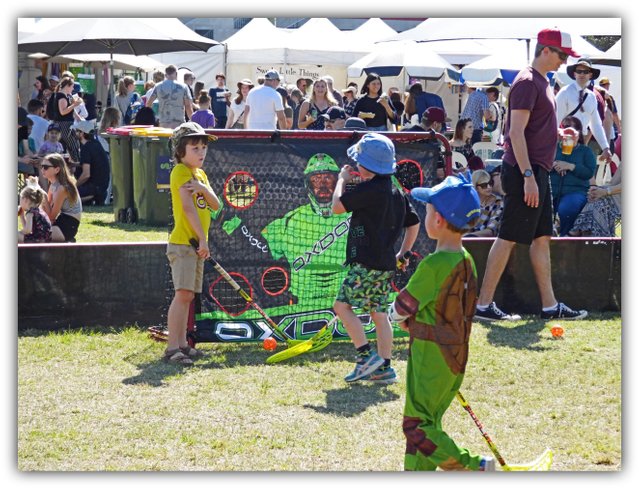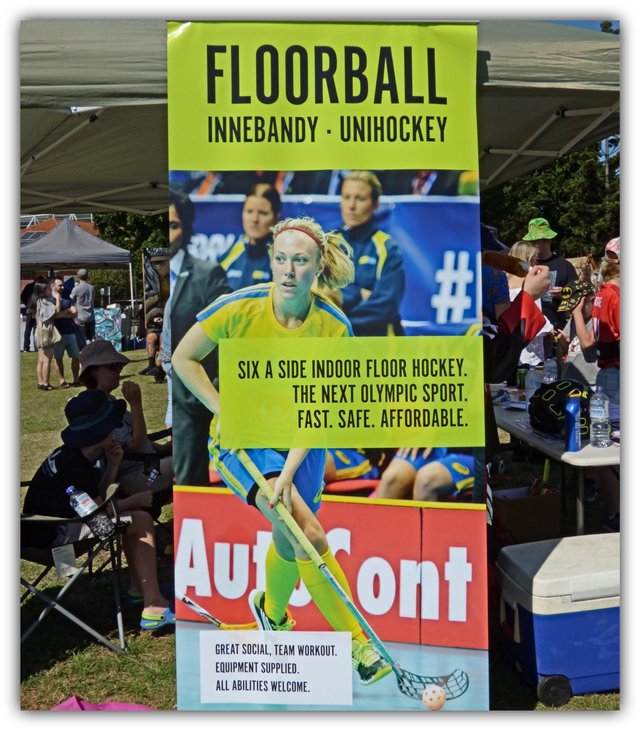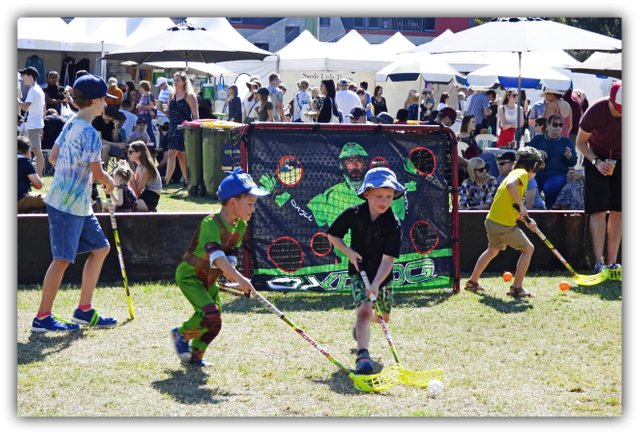 I'm not sure what these lovely ladies were selling but it sure smelt wonderful.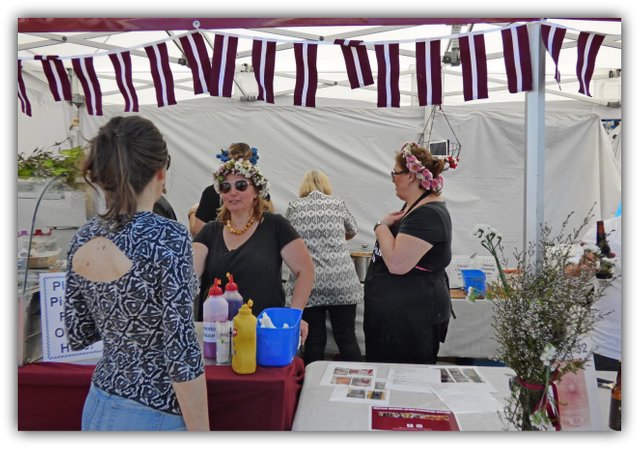 I loved the floral garlands they wore on their heads which were almost as beautiful as their smiles.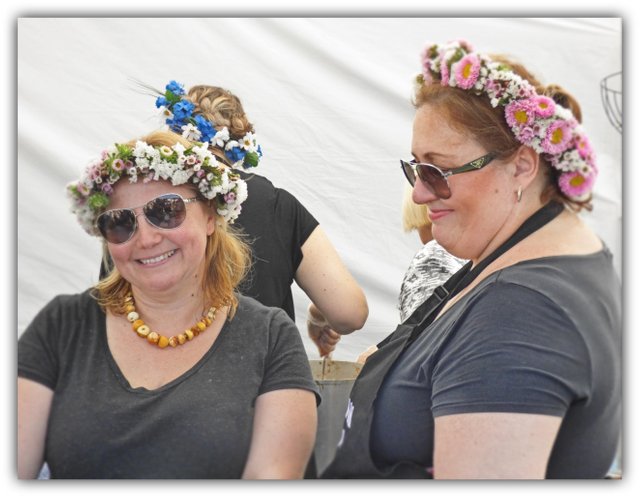 From garlands, to fur hats to steel helmets........very interesting indeed!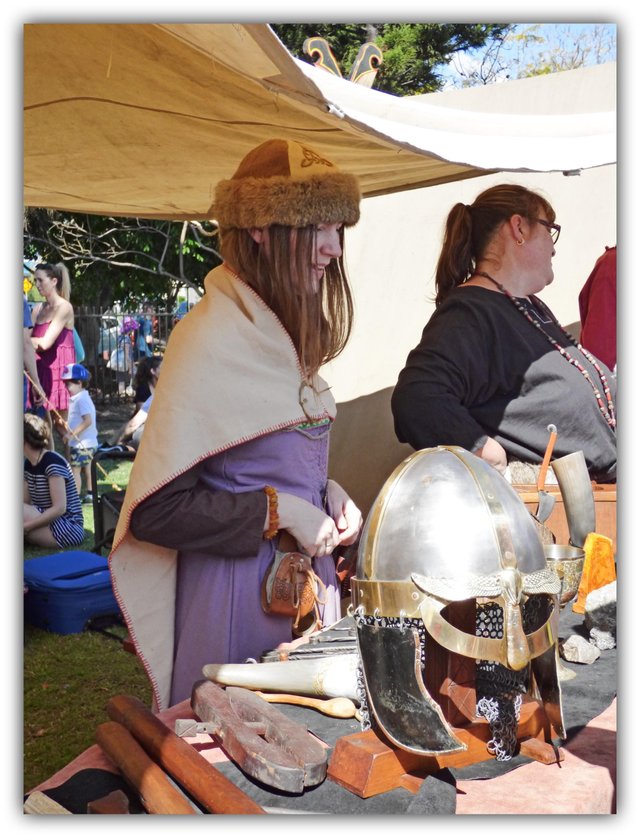 A young girl gives me a sweet smile for the camera.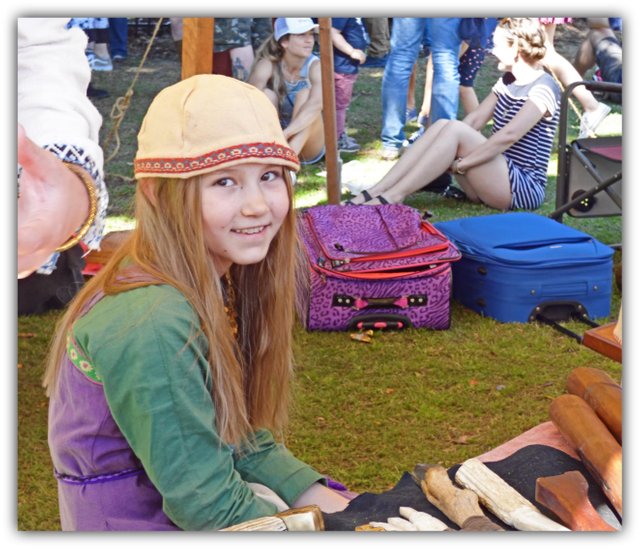 And this portly Scandinavian gentleman gave me a nod of approval to take his photo. He did. He really did!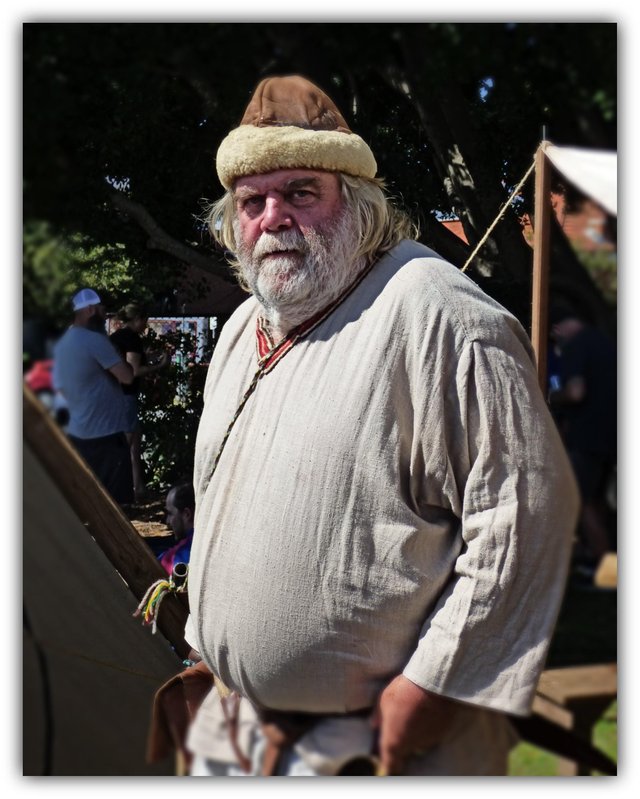 This man was listening intently to one of his fellow country-men give a talk about all things Scandiavian.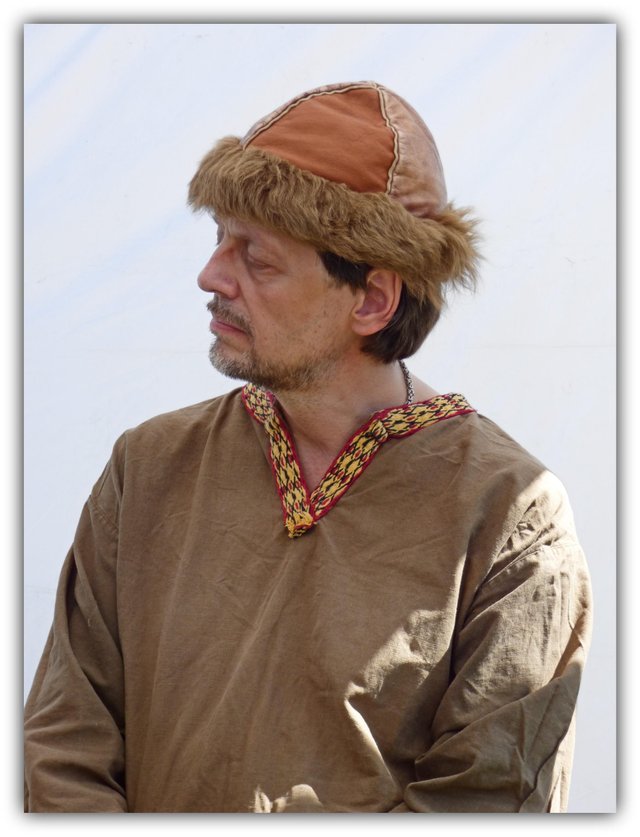 You can tell that he is passionate about his subject.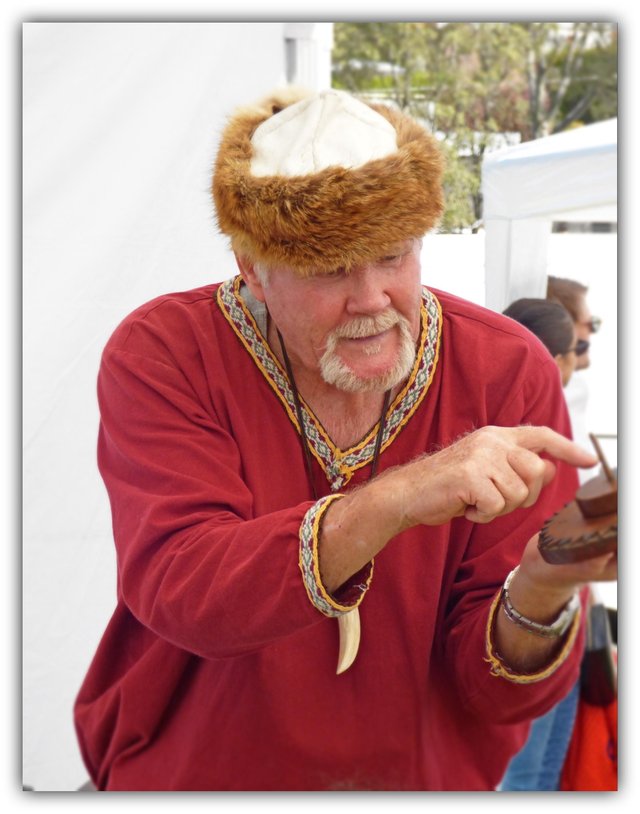 And he had a very captive audience.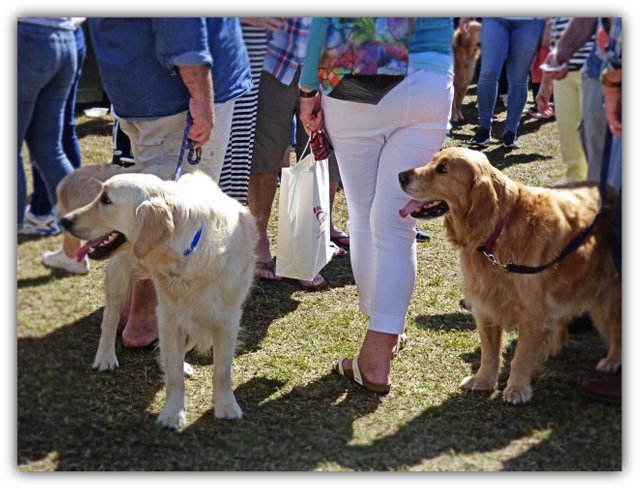 At the end of his demonstration he and two other gentlemen gathered for a chin wag. I was glad I'd managed to get a few pics of authentic costumes during my visit to this festival and view some interesting aspects of a culture vastly different to that of Australia.
Many cultures have emerged from all corners of the world in many cities throughout Australia and I love how each one gets the opportunity to share theirs in Brisbane during September, which is the month for celebrating international festivals.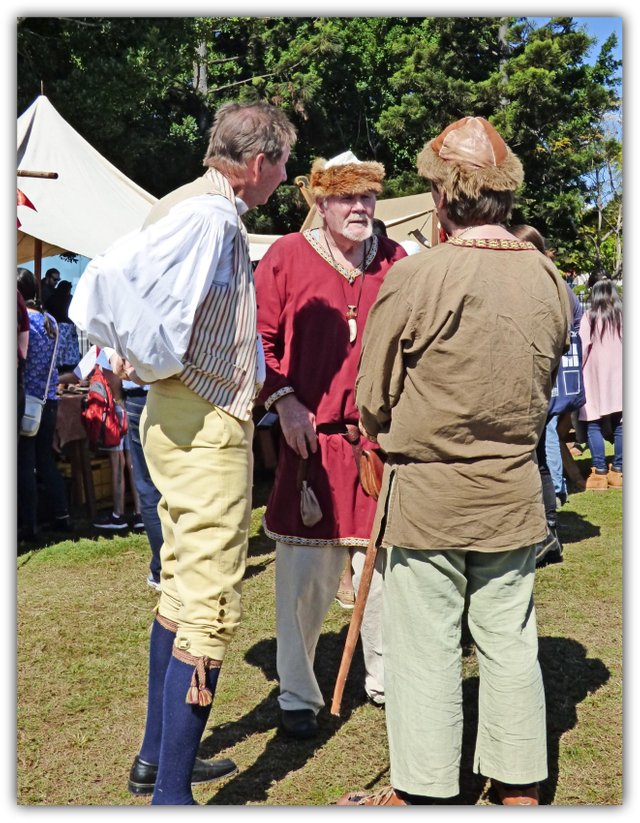 I went to get taste of Scandinavia and I got much more than that and l felt very pleased that I took the time to enjoy this very special occasion at Perry's Park in Brisbane.
Two of my new found Scandinavian friends leaned nonchantly against a fence as I made my way towards my car and I thanked them for their kind hospitality.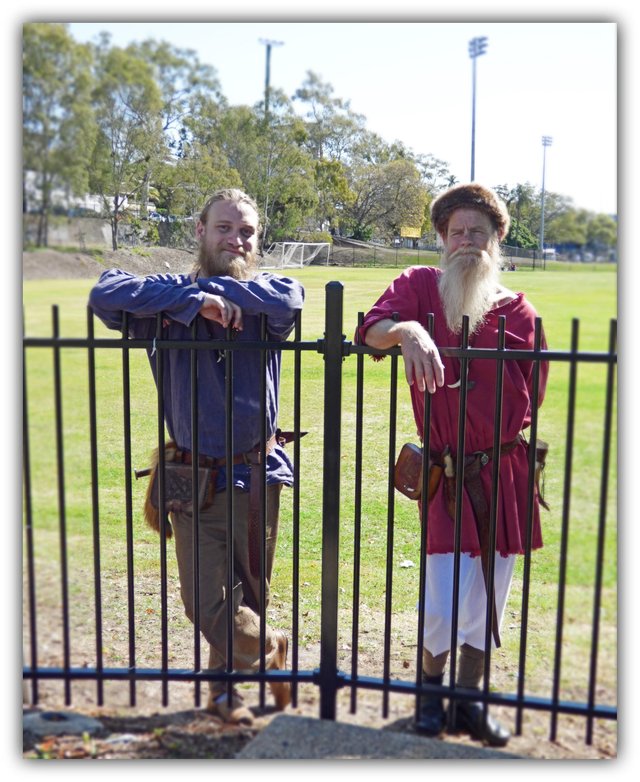 This is my submission for the #beautifulsunday challenge, hosted by @ace108 and the #sublimesunday which is hosted by @c0ff33a
THANK YOU FOR VIEWING. HAVE A GREAT DAY.