Photo of forest fires
My best friend, on this occasion I will share a photo of forest fires that occurred in Aceh Singkil district, Aceh province, some time ago.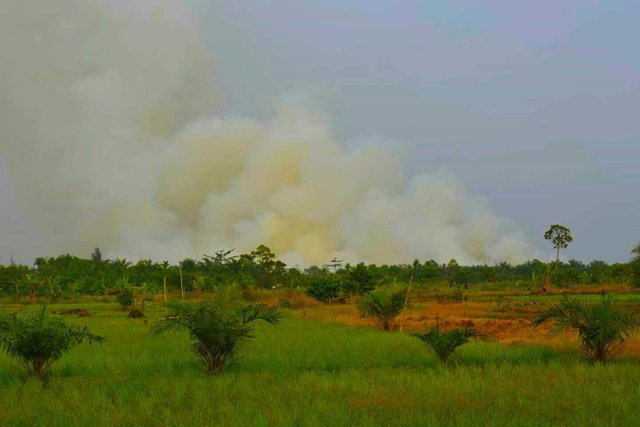 This Photo Taken With :
Camera: Nikon D5200 Exposure: 1/100 Aperture: f/5.6 Focal Length: 55.0 mm ISO Speed: 100 Lens: AF-P DX NIKKOR 18-55mm f/3.5-5.6G VR
Photograph: @bim.scouting
The photo I took while visiting the district in order to carry out the task.
Please note, the fire has lasted about a month before I arrived there.
Various efforts have been made by related parties to extinguish the fire.
But the prolonged dry season that hit the region, further aggravate the condition of the fire.
New fire spots also appear in a number of forest areas there.
The thick smoke that rises in the sky affects the respiratory tract infections of the local community.
In addition, the smog disrupts the smooth transportation.
Frequently related to forest fires, the Government of Indonesia has issued regulations on forest fire prevention and control.
The published regulation involves all the elements up to the village administration.
Various socialization has also been done to the community as part of forest fire prevention efforts.
It seems that government efforts to minimize the occurrence of forest fires, either due to new land clearing, etc., succeed.
Currently rarely heard the news of forest fires that occurred.
Hopefully the public awareness is more open to both maintain and prevent the occurrence of forest fires, atar this world remain balanced.
Thank you for visiting my blog @bim.scouting