As my primary language is not English, there are probably some mistakes in my translation.
Remember that the person who speaks here is NOT me, Vincent Celier (@vcelier), but Vincent Le Roy (@vincentleroy), a French guy.
---
Journey to the end of the world
Chapter 8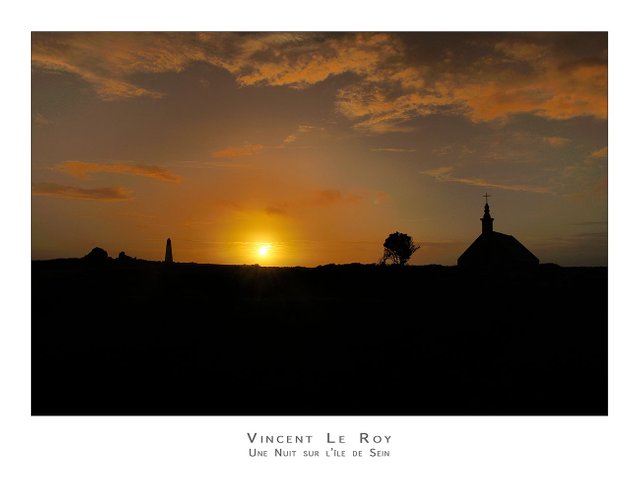 Back on the dock. There is nobody any more. Night has come to envelop our islet at the end of the world. Arrived at Nathalie's, the fire crackles. There is indeed another couple. Come to lost themselves here like us.
Orders are placed. I remain faithful to lobster. Marine to the fish of the day. Nathalie is the matchmaker between the two tables. Her husband in the kitchen is active on our dishes. It is no longer a restaurant but a form of Spanish inn. Halfway, Nathalie and her husband Jean-Pierre are at table with us and discussions are going well.
Nothing looks like anything here. The evening is animated and Nathalie tells us about their installation on the island. They arrived from La Rochelle three years ago and quickly integrated. For nothing in the world, they would leave again. Life is very simple. Everyone knows everybody else. Permanently during the whole year, there are barely thirty families in the village. The season is used to fill the crates. The rest is a good time like that night.
The island is known for its natural lobster pond. This is the place where they are fished the most in France. I better understand the menus and the affordable prices. Getting around the corner has to be quite easy and without the Affaires Maritimes on your back. Discussions continue very late. It is almost one o'clock in the morning when we take the small lane that leads to Sylvie's place.
It is true that since we missed the boat, time has been suspended. It's nice and even if Marine still pawing that the network is not accessible, this trip is good for us. And it is ready for the sleep of the just that I slip under the blanket prepared by Sylvie. By the vasistas, I try to count the stars ...
Continue to Chapter 9
Chapter 1 - Chapter 2 - Chapter 3 - Chapter 4 - Chapter 5 - Chapter 6
Chapter 7