Once upon a time...
In the courtyard of the Burgundian farm where my parents live, an old well was said to contain a silver sugar bowl.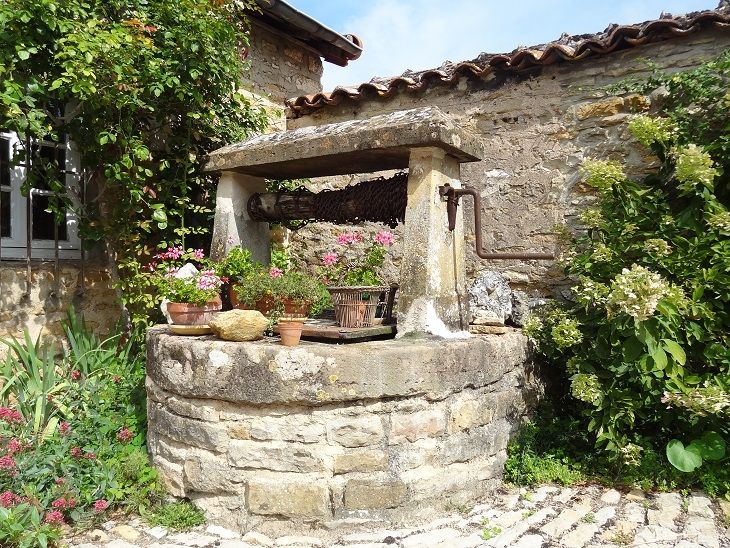 Before I begin my story, I first have to tell you about my great-grandfather, Robert, whom some of you already know a little through my mom's series "Nous sommes de la boue qui marche" or my own posts: "The treasures left behind my great-grandfather".
Robert married Geneviève in 1927, and bought a farmhouse in the French region of Burgundy in 1947. Two years after the death of my great-grandfather, in 1981, my parents purchased the home, and thus kept it in the family. The house had long been a farm with all that it entails: barn, stables, henhouse, pigsty, shed and workshop. To provide water for the animals and tend to the needs of the people living on the property, a well was built in the front yard.
We believe that this well dates as far back as the 17th century, because, above the door of the house is a stone lintel on which is engraved the initials A.G. and the date 1665 - date to which the house and quite possibly its well would have been built.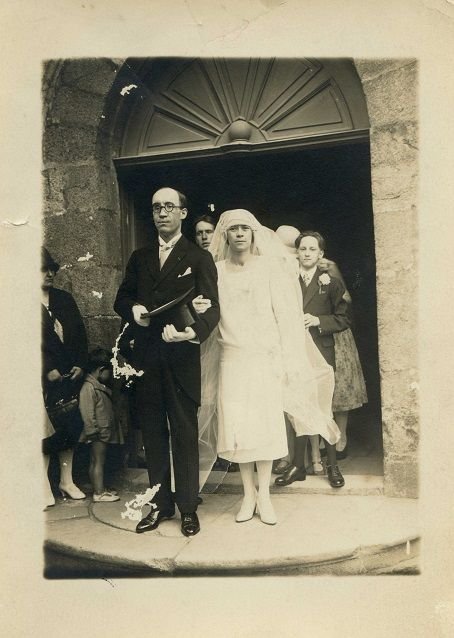 Marriage of Robert and Genevieve in 1927
Born in a bourgeois family, the eldest son of 5 children and educated by a preceptor, we can say that the beginnings of Robert's existence were rather comfortable. However, as we all know, times were to change drastically in the first half of the 20th century. Robert, along with many other men of his generation were sent to the battlefront, to fight for their country. He would eventually live through the war of 1914-1918 then that of 1939-1945, forced to live a life filled with tribulations most of us will never fully understand.
I will not go into the details of what he lived in 1914 as this journey deserves its own series of posts. If you are interested in learning more about his life during the war, and you happen to read French fluently, my mom @ofildutemps has been writing his memoirs of the 1rst World War, using the letters he wrote while fighting on the battlefront ("Nous sommes de la boue qui marche").
In later years, he became the director then owner of a hotel restaurant in Creil, a city in the north of France. This is also where he taught himself to cook.
When the 2nd World War broke out, the Germans requisitioned his hotel. He gave up everything by obligation and left with his family, during the debacle, in his region of origin, Burgundy. It was there that, after going through some unconvincing jobs, he rented a farm and became a farmer. The house was on the demarcation line – the border which separated the free zone to France's occupied territory - but that's another story.
As he often did when changing professions, Robert went straight for the books in order to acquire any new skills required to do the job well. He was a man who displayed incredible energy as soon as he found a new passion - whether for cooking, farming, breeding farm animals, drawing or painting - nothing stopped him.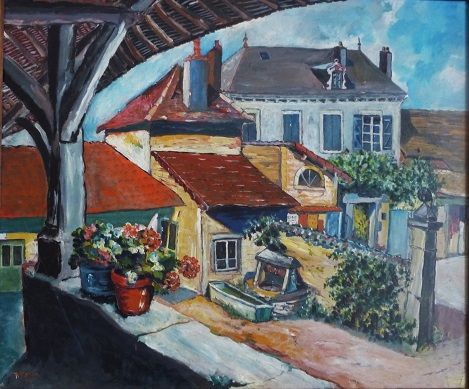 Oil painting made by Robert - view of the well in the front yard of the farm
However, all individuals do have their flaws, and Robert had two main ones: he was very spendthrift and could not stand anyone upsetting him. He would have great bursts of anger and sometimes even become violent.
My great-grandmother would do everything to avoid upsetting her husband because, according to her, these moods were due to the trauma he had experienced during the 1rst World War. Or, at least, this is what she would convince herself of. Yet, sometimes, she too would become extremely upset, entering great fits of anger, worthy of those of Robert.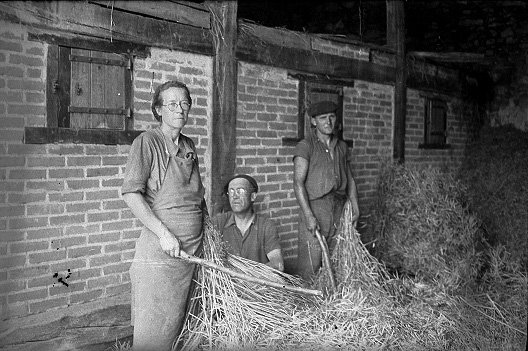 1946 - Genevieve, Robert, and a worker threshing wheat
And that's where we come to the story of the well (props to you for making it this far!).
One day, around the year 1962, Robert told his wife that he had sold some of her jewelry in order to pay for the horse he had just bought. Since it was apparently not the first time he had done something like this, Genevieve went into a rage.
She grabbed the first thing she could find which belonged to Robert - the sugar bowl – walked furiously over to the well in the courtyard, raised it above her head and threw it violently inside yelling: "Well this is what I do with YOUR things!" And proceeded to go back to taking care of her little pigs.
This sugar bowl was entirely made of silver and engraved with Robert's name. It had been offered to him at birth, as it was commonly done within his family, along with a cup and a saucer, a spoon and a coffee pot. Coming from my great-grandmother, this was an abominable gesture of revenge. She was so frugal, the complete opposite of her husband in this regard, that by doing this she demonstrated that she could not take it anymore. Enough was enough.
She told my mom this story while laughing one day as they discussed my late great-grandfather's fits.
A few years after my parents bought the house, my mom remembered the story her grandmother had told her. She let my dad know and they decided to have the well cleaned, which was in great need of some spring cleaning anyway!
Would they find the silver sugar bowl? or maybe gold coins? or both?
Considering the age of the well, estimated to be almost 400 years old, would it be so crazy to think that quite a few treasures could be hidden inside, waiting to be found?
The mind wonders….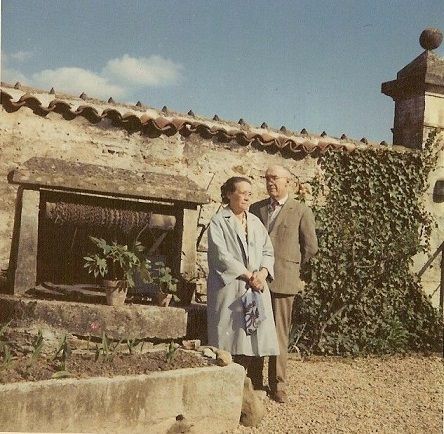 1975 - my great-grandparents in front of the well
Would you have reacted the same way as my great-grandmother?
Do you think the silver sugar bowl was ever found?
What else could they possibly find hidden at the bottom of a 400 year-old well?
Would you have gone to find it, or left the mystery unsolved?
Stay tuned for Part 2 to find out what my parents discovered in the well...

This story is a translation and slight adaptation of the one written by my mom in French. You can find her original post here.
Don't hesitate to leave comments, ask questions, and share your ideas - I love to hear from all of you.
To view some of my previous posts, click on the links below:
---
---
"Learning is not a race for information, it is a walk of discovery" - Jane Healy