One Last Effort to Get Steem/USD on Bittrex - Let's Beat Noah & Verge!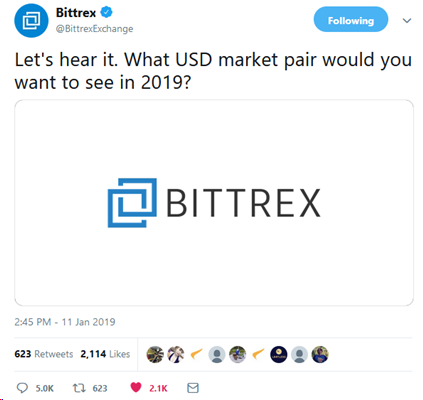 ---
On the 11th of January, Bittrex tweeted this message:
Let's hear it. What USD market pair would you want to see in 2019?
Almost immediately after that message was posted, the Steem community sprung into action through the #steemtrex initiative and massively started suggesting to add a Steem/USD trading pair.
When you check out the responses to that tweet from Bittrex, you'll see that the Steem-related ones are very much on top of the list.
---
Here's a screenshot I've taken while not being logged in (logging in would alter the position of replies):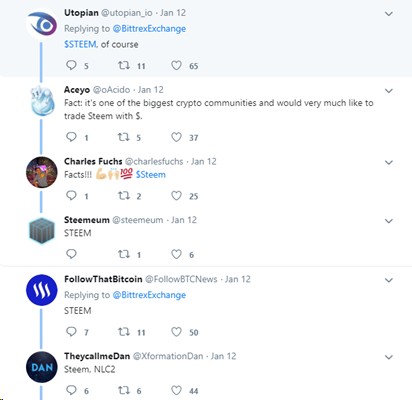 Screenshot while logged in: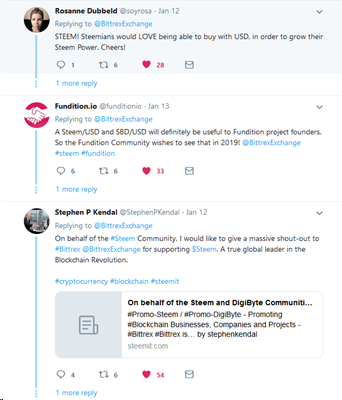 ---
Now here's a screenshot of some other replies, that seem to have gathered even more likes than ours: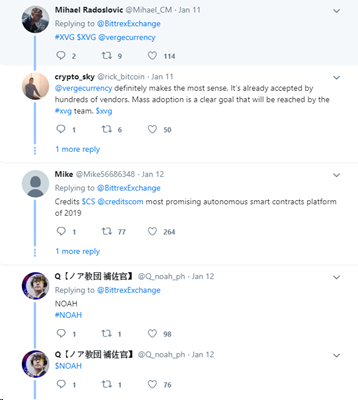 ---
It seems as though the Verge and Noah community have come out of the woodwork to try and beat us in this 'game'. We should do something about that in my opinion. While it might be a little bit too late to reply to Bittrex's tweet, we can still give the Steem-related tweets a little bit of additional love.
I would suggest scrolling through the majority of replies and liking the high-quality replies that are talking about Steem. I've just spend about 15 minutes reading through most of them and I've liked the ones that say a little bit more than just '#steem'.
I mean, we don't want our Steem promotion to look like this: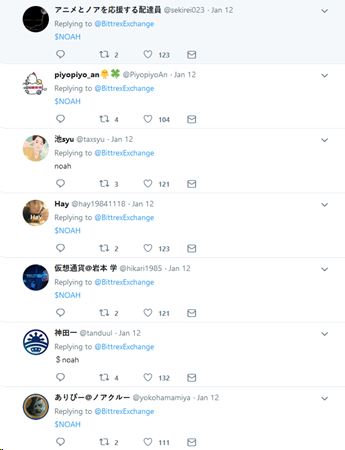 Clearly low-quality spam, probably made by people who were paid to tweet. That's not how we in the Steem community roll, right? Our responses were generally more thought out than that, especially when I checked the responses of people I followed.
I did see that some people simply tweeted '#steem', which I'm not really a big fan of. It just looks very spammy, next time I would suggest to avoid those sorts of tweets.
---
Check out Bittrex's TWEET and give the good Steem-related responses some more love!