Back in late 90s and early 2000s, when I learnt about Mendel and genetic diseases; for me genetic diseases were a one way street. If you inherited a gene with detrimental mutation, your fate was written in your DNA. Less, did I know that my view was going to change in this lifetime.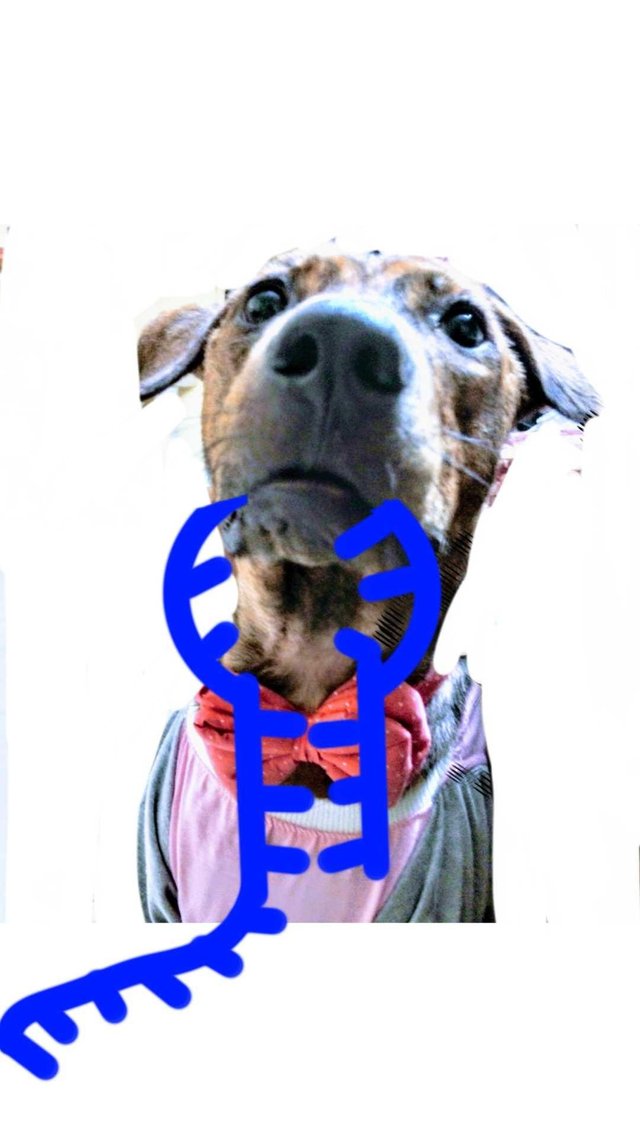 Hey Hooman! Wana play fetch? You throw gRNA and I'll run and Cas it!
Picture taken and modified by @scienceblocks
---
By the time, I was in 12th grade(or junior college), I was keen on perusing genetic engineering. Well the restriction endonucleases, the enzymes that cut the DNA at specific regions, were a big thing back then. Today, it is just a tool I use in everyday work. Then came RNAi technology and gene therapy. The idea was to reduce the amount of expression of detrimental genes by targeting its product - the mRNA.
Well, apart from transgenic animals, which have genes inserted or deleted randomly in their genome, there did not exist a way to specifically edit the genes. But that was only until CRISPR-Cas9 technology came into the picture.
The Rise of the planet of CRISPR
You can think of CRISPR-Cas as an adaptive immune system of single cell organisms, such as bacteria. Like your immune system keeps a memory of pathogens you have been infected by, bacteria do it, as well. They keep sequences of pathogenic viruses(bacteriophages) and plasmids, in their DNA and use them to mount an immune response(Mojica et al., 2005). And it's quite interesting to know how it works.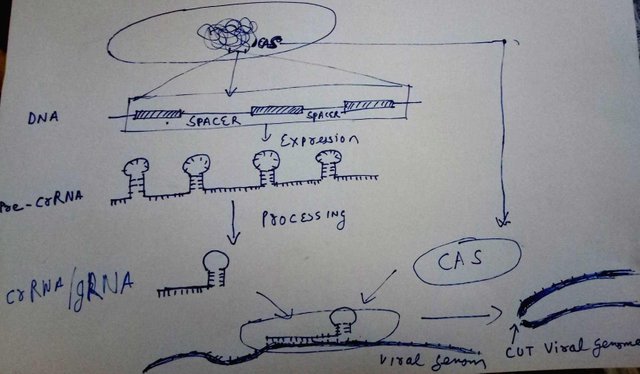 The mechanism of bacterial adaptive immunity. The CRISPR-Cas system
Doodled by @scienceblocks

The bacterial DNA contains a region called clustered regularly interspaced short palindromic repeats. So, it is a cluster of small DNA sequences repeated multiple times. However, between each repeat, there is a spacer. The spacer is a small fragment of genome, that this bacteria took from the virus, or a plamid that previously infected it.
Now, let's say that this bacteria was infected by 5 different kinds of viruses since the dawn of its time. It would have 5 spacers, flanked by CRISPR repeats. To use these spacers to kill the known virus genomes that enter the bacteria in future, it transcribes this CRISPR region, to make pre-CRISPR RNA or pre-crRNA. pre-crRNA is then processed and cut. Each cut contains one spacer and one repeat element. This assembly is what is called crRNA or guide RNA or gRNA.
The gRNA is recognised by an enzyme made in bacterial cells - called Cas. The gRNA homes inside the Cas enzyme, and helps Cas bind to specific regions on virus DNA, complementary to spacer region stored in bacterial genome. Once bound, it cuts the DNA of the virus killing its dreams to replicate within a bacteria.
So far, so good. And good for the damn bacteria. But what if I made gRNA specific to human genes, in the lab, and inserted it into human cells, along with the gene for CAS9. Well, then it should specifically cut the genes of my interest in them. And this is what is usually done when you hear about gene editing technology.
You pack a gene for CAS9 and gRNA in a vector(my preferred vector being lentivirus). Then you insert it into the cells of your choice. Inside the cells gRNA and Case together, cut and delete the genes that you want to remove. Alternatively, you can also use this strategy, to insert new genes. Because you are cutting the DNA and creating breaks in the genome, your cells will activate DNA repair pathway. The repair can happen by non-homologus pathway or via homologus recombination pathway. And, it is the later you want to cash upon. All I need to do now, is to add another gene of my interest, with flanking regions homologus to DNA I am cutting. And then? Then, I cross my fingers and hope that DNA repair pathway, will insert the gene of my interest in the DNA of human cells.(see Rath et al., 2015)
The journey of CRISPR technology
I mostly do gene editing in cultured cells. However, it has also been used to make genetically modified mice, and that too with precision of single nucleotide editing(Kim et al., 2017). It has been used to silence the genes associated with high cholesterol levels in mice(Thakore et al , 2018).
In march 2017, Yin et al.,), used CRISPR technology, to remove genome of HIV from the cells of live mice. If you don't know, then HIV is a retrovirus. Which means that post infection it inserts its genes into host's DNA. Hence, even if you could somehow target HIV virus particles, you may still be stuck with viral DNA in your cells. So the idea of Yin et al., was to remove the viral DNA from host cells. In order to achieve this, researchers packed CRISPR toolkit - the gRNA against HIV and the Cas9 gene in an Adenovirus. When they infected the mice with the armed Adenovirus, they were able to remove the HIV viral DNA from these mice.
Another proposed application of CRISPR deals with removal of latent viruses, such as herpes from human genome. About two weeks ago I published a blog, talking about how almost the entire human population, is infected by at least one strain of HERPES. Funny thing though is that these viruses can live and die with you, without ever causing any symptom. But, the incidence of these viruses waking up from sleep increases in outerspace(apart from old immunocompromised individuals). Which is not cool if you were an astronaut. And CRISPR provides a solution to this(see this article by Don Ward Hackett). Therefore, I guess it would be pretty good idea for NASA to consider investing in CRISPR research.
Anyway, as you might have noticed that most of these studies were done in mice, in laboratory settings. Before anything good can come of it for humans, its safety and efficacy has to be demonstrated in large animals, especially nonhuman-primates.
Saving the man's best friend.
While the studies of CRISPR's efficacy and safety continues in non-human primates, just 3 days ago, researchers used CRISPR to help dogs. They were able to repair the gene in causes muscular dystrophy - a disease in which the muscles waste away.
Similar disease is also found in humans. Duchenne muscular dystrophy(DMD) is caused by a loss of function mutation in dystrophin gene on the X chromosome(which is why it is more severe in males than females). Without proper medical care, boys with DMD hardly make beyond the teenage. The muscles in their body progressively degrade making them weaker everyday.
Dogs, like humans are also affected by mutation in dystrophin. The mutation in dogs stops the formation of a full length protein. So, in theory if you cut out this mutation and fix the gene.
Amoasil et al., made the gRNA to target this mutation. They packed it in adenovirus genome, along with gene for Cas9. They infected four affected dogs with this virus and measured the levels of dystrophin in their muscles, 8 weeks later.
Guess, what happened? Up to 90% recovery of dysyropin expression was found in these dogs. Now, the drawback of the study is that they just used 4 dogs and followed them for just two months. Nevertheless, it's a good case study in support of successful use of CRISPR technology in larger mammals.
I just hope that, soon this technology is also able to help over 100000 people suffering from DMD and millions of people affected by various genetic disorders, worldwide.
Listen to the CRISPR-CAS9 song
CRISPR-Cas9 ("Mr. Sandman" Parody) | A Capella Science
---
References
Signing off
@scienceblocks