In a few weeks from now, SteemSTEM and Utopian.io will meet close to Pisa, in Italy, to visit Virgo labs, one of the few places in the world tracking (and observing) gravitational waves.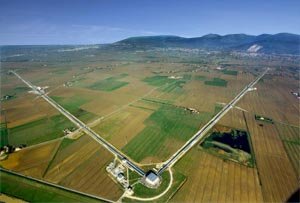 [image credits: Virgo]
In a previous post, I detailed the basics underlying this 100-year-old concept of gravitational waves.
As you probably all know it by now, this prediction of the general relativity theory designed by Einstein 100 years ago has finally been observed in a experiment. This yielded the 2017 Nobel prize in physics.
I will not repeat anything with this respect here (please have a look to my old post if needed), except that the challenges were to detect a signal of 10-19m.
Yes, something as tiny as 0.0000000000000000001 meter, which demands a damned precise ruler. And this would be the wave connected to the merging of two black holes, the potentially most cataclysmic event that could happen in the universe. Anything less energetic would also generate gravitational waves, but much weaker.
However, we actually achieved this goal in using interferometry as a ruler. This is what I will talk about with this post. I will detail how LIGO and Virgo work in practice. How these two experiments managed to observe this tiny signal.
---
WAVES AND INTERFERENCES
---
In physics, wave interferences consist in the phenomenon yielded by the superposition of several waves (as can be guessed from the name). Without entering deeply into details, the main features are illustrated on the picture below.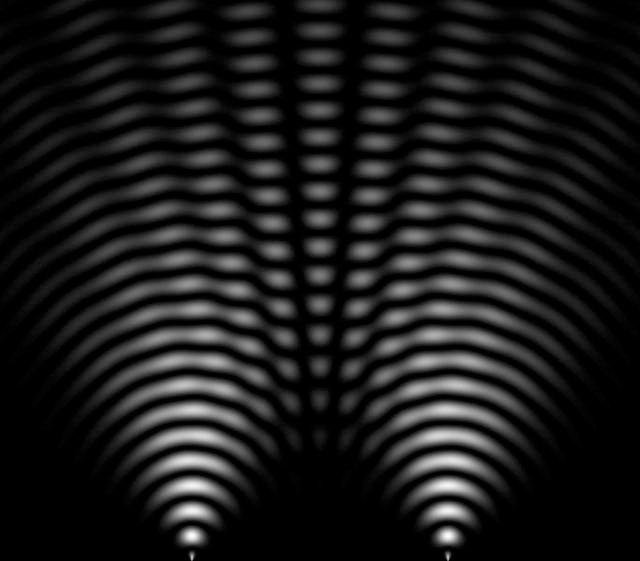 [image credits: Fffred (public domain)]
There are two sources of light (at the bottom of the figure) that emit light waves. We can observe, at a given time, an arrangement of bright and darker zones.
At a bright point, the light intensity is larger than the sum of the intensity of the sources. We are calling that constructive interferences. The two waves interfere in a way in which the resulting intensity is larger than the sum of the initial intensities.
At a dark point, we have destructive interferences. It is the opposite. The resulting intensity is smaller than the sum of the initial intensities, and even potentially vanishing.
The Virgo or LIGO experiments rely on two laser beams that interfere with each other, and whose interferences are recorded by the detectors. When a gravitational wave passes around, it induces a perturbation that modifies the way the lasers interfere. And this even with the tiny intensity above-mentioned!
This interference pattern modification is then recorded, and studied, which has allowed physicists to conclude to the observation of the waves.
---
VIRGO/LIGO AT WORK
---
To make it a-few-words-short, LIGO and Virgo are 'simply' advanced versions of the Michelson interferometer. These detectors hence rely on a single laser beam to create an interference pattern.
As I said above, two waves are needed to get interferences. But this is not a problem. The single laser beam (LD on the figure below) is sent straight to a splitter that splits it in two. Yes, I know, a splitter splits… nothing fancy here…
One of the two resulting beams then aims to the 'reference mirror' and the other one to the 'target mirror' of the figure, the two beams hence traveling in perpendicular directions.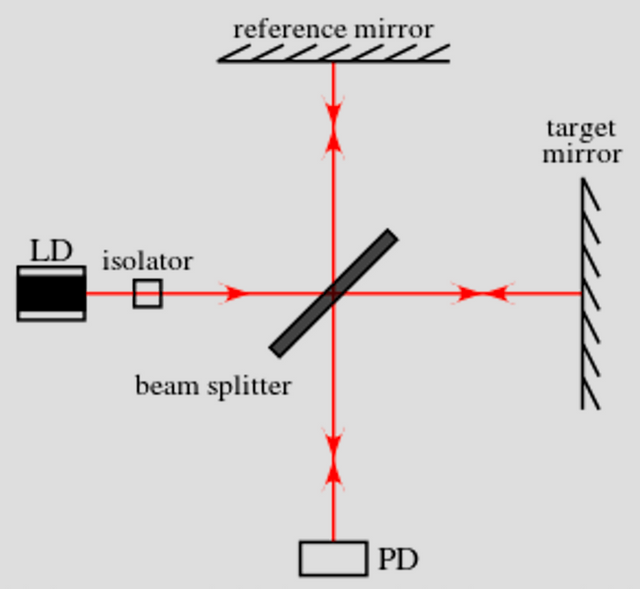 [image credits: Krishnavedala (CC BY-SA 4.0)]
The mirrors permit to reflect the two beams and send them back to the splitter, that this time acts as a merger.
In other words, it allows to create a superposition of the two light waves, so that they interfere with each other.
The splitter/merger then deviates the merged beam and send it straight to a photodetector (PD on the picture) that records the interference pattern.
In the case where a gravitational wave would go through the entire apparatus, the optical paths of the two laser beams change, and so does the interference pattern. This change is clearly recorded by the photodetector, which then allows physicists to study what happened in detail.
The signal is however tiny (the intensity of any gravitational wave is tiny), and one must make sure to be able to distinguish it from the background.
For this reason, several detectors of huge dimensions are needed. For instance, the two LIGO devices consist of pairs of arms of four-kilometers long in which the beams circulate, whilst Virgo includes two arms of three kilometers each.
The background noise was deeply studied, so that all changes in the interference pattern that it would induce could be tagged as background. Moreover, signal patterns are also known, from appropriate catalogues where the corresponding calculations were done. In this way, a signal can be unambiguously tagged as such.
In addition, gravitational waves travel at the speed of light. This is used to even better unravel the signal in making use of several detectors well separated in space (by several thousands of kilometers). These detectors should detect a signal pattern almost simultaneously, which is used as well for tagging a signal as such: a background event would not be recorded simultaneously at two places located at several thousands of kilometers from each other.
---
TAKE-HOME MESSAGE
---
SteemSTEM and Utopian.io are about to visit Virgo Labs and see how gravitational waves are detected (and how one gets a Nobel prize for this). In a previous post, I briefly documented what general relativity was and how gravitational waves could be produced.
In this post, I moved to the second and last opus of this documentation and introduced the concept of wave interferences, and how two interfering waves would generate a pattern of bright and dark zones. Recording such a pattern, and the modifications that would be induced by a gravitational wave going through Earth, is the key that yielded one of the most exciting physics discoveries of the last few years.
I have consequently presented details on how this was precisely done by Virgo and LIGO, the two experiments in which gravitational waves are currently tracked. I hope this will provide some of the necessary bases to understand what we will see at the meetup :)
Please help us in funding our meetup, by for instance supporting our fundition campaign.
STEEMSTEM
SteemSTEM is a community-driven project that now runs on Steem for almost 2 years. We seek to build a community of science lovers and to make Steem a better place for Science Technology Engineering and Mathematics (STEM). In particular, we are now actively working in developing a science communication platform on Steem.
More information can be found on the @steemstem blog, on our discord server and in our last projet reports here and there.