SteemSTEM Summer 2018 Project Update
Today, we are pleased to release the summer update of the @steemstem project, an initiative aiming to promote science, technology, engineering and mathematics on Steem.
Lots of positive changes have occurred in the last few months, and many more good things are to come, as is written below. However, before digging into all the glorious details, let's start with a brief summary: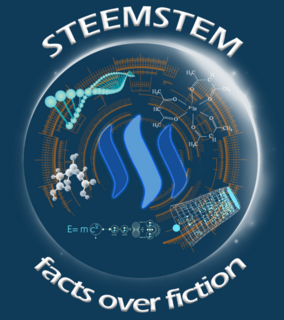 [Credits: @elvisxx71]
Fresh news on the accomplished steemSTEM community.

Our updated philosophy, and how we curate STEM content (in 5 different languages). We of course illustrate our statements by statistics and numbers, as we are scientifically-minded people, after all. Very importantly, changes have been implemented within our curation rules!

Future projects: a steemSTEM user interface, a steemSTEM merchandise shop and a new meetup for the most immediate future, although the big idea is to upgrade steemSTEM to a concrete platform for science communication.

Of course, we cannot omit from this project update a mention to all our supporters (specific delegators and trailers, @curie, @utopian-io and @steempress-io).
---
SteemSTEM in a nutshell and today
The steemSTEM project was initiated almost two years ago with the aim of building a community of people interested in the fields of science, technology, engineering and mathematics (STEM) on Steem.
We believe that making Steem a better place for STEM is crucial for the long-term development of the platform as a whole, so that it could not only be friendly to quality, interesting and cutting-edge STEM content but also become a real platform for science communication while invigorating and inspiring the minds of the community and beyond.
In order to accomplish this goal, we are of course showing support to STEM authors. But this support does not only consist in upvotes from the @steemstem account and its trailers.
We additionally foster our members to act as a real community, which one can be a part of through our burgeoning discord server. This means we go beyond the 'I estimate that I write a good post and I thus deserve a good pay-check' paradigm. We actually encourage steemSTEM members to actually have fun reading each others' posts, commenting on them and asking questions. In short, we develop interactions between the steemSTEM members.
We are glad to see that our community is today stronger than ever, and this outcome has been in particular possible thanks to a great crew of steemSTEM honor members.
SteemSTEM honor members are members of steemSTEM who voluntarily proposed themselves to improve the community. Their role consists in mentoring newcomers, helping them to write quality posts and engage the community. Together with the management and curators, the honor members also track fraud (plagiarism), help in detecting those who do not care about the community (and are only interested in a pay-check) and in handling complaints of those feeling unfairly treated by steemSTEM (from the complaints room of our discord server).
---
Curation (June 2018 update)
Our curation team scours the Steem blockchain for original and quality content related to the STEM fields in five different languages (English, German, French, Spanish and Italian). Using the #steemstem tag is recommended to facilitate our work, but not mandatory. After having found a post, a curator decides on the voting strength it should be voted (small, medium, standard or high).
Anything larger than small requires a second opinion, and getting higher rewards means bringing something one cannot find anywhere else. This could for instance be an article about cutting-edge science not discussed anywhere else, or a novel and/or non-standard way of presenting a topic. In other words, science communication will be pushed forward from now on!
On the other hand, we will try to be as generous as possible with the small and medium votes. Even if this consists of a small amount of SBD, this is easily 50 times more than what many users get. We will use this as a mean to promote informative content and make it more visible.
Furthermore, a single person (manager, curator, author) cannot get more than a 2.75% share of all steemSTEM votes cast during the previous 14 days. Nobody from our team is also eligible for curie support.
Since the beginning of our partnership with @curie on September 13th, 2017, we have upvoted 8937 posts from more than 1354 unique authors, sharing a pie of about 370,000 SBD. The detailed statistics about how many posts we vote on, how many unique authors we vote on week after week and how our weekly voting power is used can be seen here: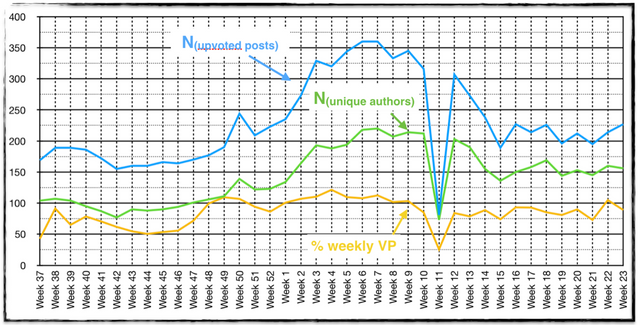 As can be seen, there is a strong correlation between the Steem price and the general authoring behavior on the platform.
---
A better window on steemSTEM: Our future UI and merchandise shop
In order to increase the visibility of our initiative, we are currently designing our own user interface. It will allow users to filter the content of the blockchain and display, by default, all posts upvoted by steemSTEM together with all posts written by authors added to a steemSTEM white-list.
In this way, we will be able to show a cleaner version, according to our standards, of the STEM content on the blockchain. With this on the hand, we hope to be able to convince external contributors, like renowned science bloggers and scientists in general, to join Steem as a perfect place for the diffusion of the scientific culture.
Moreover, we are in parallel developing an online merchandise shop where steemSTEM goodies, books and many other STEM-related items will be offered.
As for any other user interface, the steemSTEM UI will also allow users to directly post, do transactions, etc. More information will be made available in a couple of weeks. In terms of timeline, we hope to deploy our UI within the summer period. As usual with development projects, delays could however be expected.
This UI sub-project has been funded by the team, i.e. managers and curators, who are getting reduced shares of the curation rewards for the last 2 (and next 5) months.
---
The second steemSTEM meetup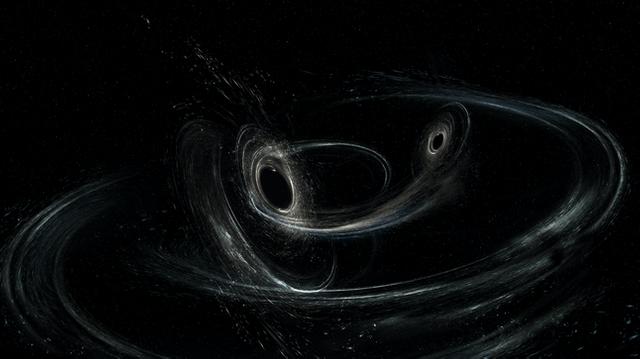 [image credits: LIGO]
As you probably all know, the last Nobel prize in physics was rewarding the discovery of gravitational waves (see here for some physics).
For this reason, it is natural to move from the Large Hadron Collider at CERN, where our first meetup was organized, to VIRGO, one of the three detectors currently probing spacetime for gravitational waves.
As can be seen on the official VIRGO agenda, our visit is planned for September 21.
For this reason, we are happy to pre-announce the second steemSTEM meetup. We will meet in Rome, on September 20-22. Please save the dates!
More information will be provided soon.
---
Special thanks and closing remarks
Before closing this post, we want to thank all our supporters.
This includes our long-standing partnership with @curie who trusted us as representative of the science community on Steem as well as our recent partnership with @utopian-io who decided to use a very generous fraction of its voting power to trail valuable and interesting content related to science, technology and open source development. Moreover, we are grateful to @steempress-io who trusts our curation of any science-related content posted on steempress as a validation of its quality.
SteemSTEM would not be what it is without those delegating some of their Steem Power to us. We have been delegated today 61 kSP from both the management and @reggaemuffin, @minnowbooster, @xeldal, @tobixen, @lukestokes.mhth, @dber, @zest, @gra, @flyyingkiwi, @greece-lover, @mcfarhat, @katerinaramm, @alexdory, @anevolvedmonkey , @dexterdev, @singhtheripper, @physics.benjamin, @yann85, @lianaakobian, @robotics101 and @christinaa.
Serendipitously, the @steemstem account is, will be, in few minutes or hours, 10 kSP large ;)
We also thank all those trailing us, either through our homemade voting-bot (more information on our discord server) or via steemauto. The list is amazingly too long to be shown. And as well those who do not trail us automatically, but achieve instead an amazing job in manual curation!
Finally, thanks to all of you (delegators, trailers and steemSTEM community members) for your trust and enthusiasm in our project! We believe we can make Steem a positive place for STEM aficionados. We hope it will become one of the big STEM communication platforms in the future, where scientific culture will be shared and enjoyed, and where relationships can be built.
Thank you all for bringing your contributions in building this community.
The steemSTEM team: