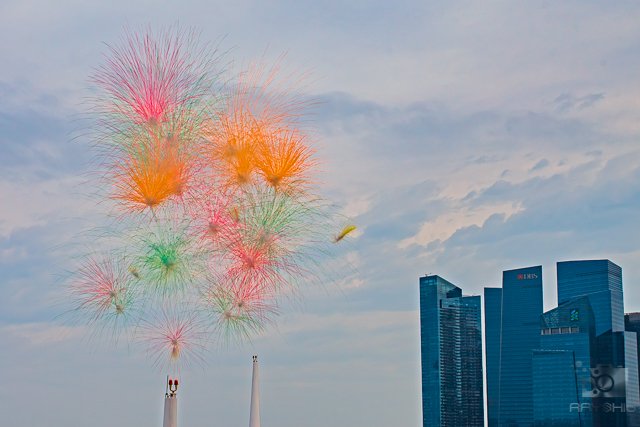 I had never even heard of powderwords before, much less seen them. So admist all the hooha of Singapore's 53 birthday celebration, I waited patiently for what was slated in the itinerary as 'powderworks.' With the intention of shooting the fireworks, I had set up in between the area where the live performances were to be performed and the area where the fireworks were to be set off (as well as where the Navy divers and floating cannons were going to be performed). When the allotted time came, a mini boom sounded, way over where the stage was and I saw my first 'powderwoks'! and yes I had my camera pointed in the wrong direction. Sigh...
| | |
| --- | --- |
| | |
It was pretty cool to see these 'fake' fireworks. It kinda reminded me of Holi powder throwing. Since I missed the first barrage, I'm now getting nervous because there's only one barrage left and I don't know where it's going off. Luckily, I brought a second camera setup and shot the above images handheld. Having seen and captured the second set of powderworks, I was happy. Watching the powder dissipate, I couldn't help but to wonder which was worse, the colored 'smoke' or the fireworks smoke but came to the conclusion that there was much less powderworks so the amount of 'smoke' was considerably less and it didn't last as long. Then I started to wonder which was worse to inhale, oh well, at least it looked nice.
Here's the shot details:
| | |
| --- | --- |
| Camera | Canon 5d2 |
| Focal Length | 40 mm |
| Aperture | f8 |
| Shutter Speed | 1/750 |
| ISO | 200 |
Thanks to
@kalemandra
for hosting the colorchallenge contests!
Consider following me for updates and to find not only my other travel bloopers, blunders and shenanigans but also photography related news/reviews and the occasional contest entry.
All the photos (unless otherwise noted in the post) were taken by me and are available for sale. If you're interested in buying an image or three, 😃 please don't hesitate to contact me for more details. Thanks in advance!
Comments & Critiques are always welcome, as are upvotes and resteems.
Thanks for viewing and best wishes,
Ray
PS. If you want to check out my other 'works', you can find them here:


---
Posted from my blog with SteemPress : http://newbiephoto.net/what-are-powderworks/
---