Time for some new steempearls! :) The steempearls are a report about the last 5 topics, that I liked the most and I want to sum up for you. Please have a visit on these accounts and enjoy the content like I did. All Thanks goes to these fabulous writers out there. ღ
The first steempearl / WRITING YUNKS
goes to
@satchmo
for
A Road To Yunk Town - Crowd Story - Continue in the Comments
This is an awesome initiative by
@satchmo
and all YUNKsters . I love the times when we did this as children - so why don't try an adult version in english? Pretty hard for me as non english speaker, but I try it and I would love to see some of my followers write there too :) Keep on writing guys and gals!! :)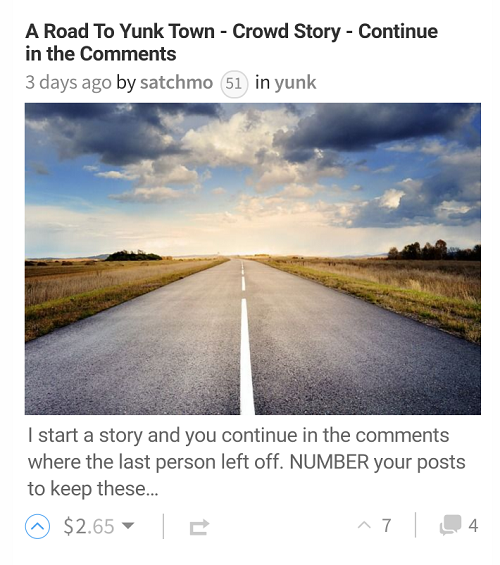 The second steempearl / STEEMIT
goes to
@luckysteem
for
Top 20 New Steemit Users - Authors (June-July 2017)
.
This is a list of really worthful newcomers on steemit. Each oft them adds value to the community with really amazing profiles. Check it out. You will find a lot of good authors on this list. I enjoyes it, to click through it and find amazing new authors. Thank you for your effort
@luckysteem
.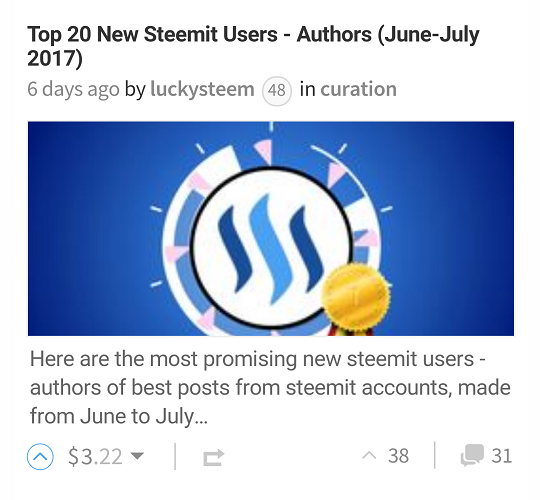 The third steempearl / HISTORY
goes to
@eroche
for
The Hill of Tara
Beautiful ireland, beautiful report! Ireland is just so mystic and awesome. I love the facts about the High King and his wife, the pagan comunity, the fairy trees and the photos in this report. Sometimes it is really fascinating to puzzle about these old times. What happened and why? Really, really interesting and impressive, yes. Thank you for sharing it.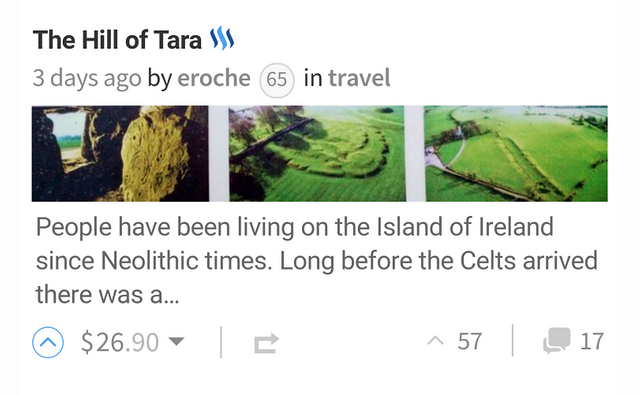 The fourth steempearl / FUNNY
goes to
@raja
for
Eyebombing Is The New Craze
.
This new trend is awesome. It literally makes everyone smiling. I love it and we will do that in our summerholidays too. Need to look for big eyes in a crafty shop :) An awesome new trend! You can even find it on steemit: look for # gogglyeyes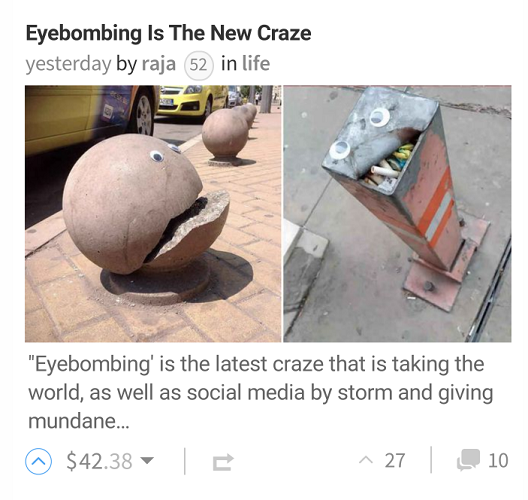 The fifth steempearl / TRAVEL WITH STEEMIT
goes to
@shla-rafia
for
It's Official: I just paid with Steem Dollar at the Marisqueira Jacob in Mosteiros, Sao Miguel, Azores, Portugal - And so can you!
.
This bar is really innovative: it is accepting Steem Dollars. The first business I see doing it! Nice move and nice report! Made me really smile and thinking about how cryptomoney can change everything sooner or later. As steemitfan a must read!
If you enjoyed the steempearls, feel free to make your own steempearls article and post it under the hasthag #steempearls ;) Have a great day and steem on ♠
If you want to see all the steempearls ever written since May 2017, just follow the account @steempearls .
These amazing dividers are from @scrooger ! There are several more - Check it out at Text Dividers for your posts. Easy to use! Just COPY and PASTE