Steem.Ninja - Increased Security and Account Recovery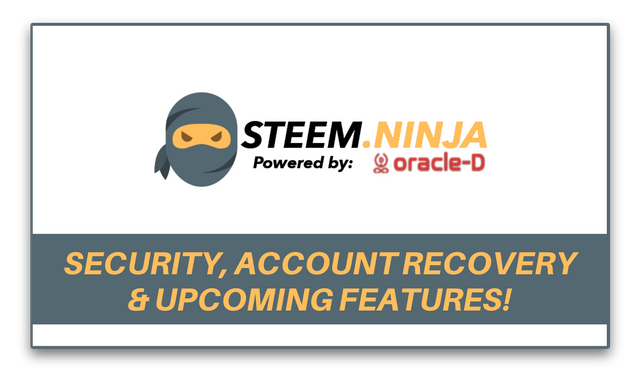 Since first introducing Steem.Ninja, we have gotten many overwhelming responses towards this new and unique service that was developed in order to easily create new Steem accounts without hassle or having to wait a long time to be approved. The feedback has been incredibly valuable, so thank you!
Within a few hours after releasing our first post @jonolsonproject was the first account purchased through @steem.ninja.
Without further ado, we would like to introduce two important updates we recently deployed on the live servers in response to feedback received from the Steemit community.
Increased Security
We know that the master password is the most sensitive information associated with a Steem account. In the first version of Steem.ninja, we generated the keys for a new account on our own server. The latest update allows the private keys and the account password to never leave the computer on which the keys are generated. Only the public keys are now sent to our server. This means that only the account creator will have access to the private keys. We would like to thank @mids106 for his thoughts and help on this.
Account Recovery
Sensitive keys and passwords can be compromised. Seeing someone else taking over your account is probably the most horrific thing a Steem user can think of. That is the reason why we now offer an Account Recovery Service:
https://account.steem.ninja/account_recovery
Simply fill out the form and we will validate your request as quickly as possible, then get back to you.
Please understand that we can not help in case you lost your password
---
Upcoming Features Explained
More Payment Methods
We will soon add Apple Pay and Google Pay to Steem.Ninja.
More SP
With one of the up coming updates, you will be able to choose between a 15SP and a 70SP delegation. While the 15SP option will still cost $2USD, the 70SP option will be offered at a slightly higher rate to cover our expenses.
Buy Steem/SBD/SP
As we definitely see the demand for it, we are working on creating an extension to our existing account creation services which will allow users to easily buy Steem, SBD, and SP with their credit/debit cards.
We are continuing to make relationships with a variety of payment processors to make the system more anti-fragile and flexible.
Secure accounts for family & friends
As some of you know already, Oracle-D offers a voucher based account creation service for visitors of crypto events. While these vouchers are given away at an event to promote Steem to new potential users, some attendees asked where they can buy a voucher code for their relatives and friends. Therefore we will soon add an option to buy a voucher code with your card which is valid for individual account creations. An account created with a voucher code will also receive the 15SP delegation for the first 90 days.
Please check out the Introductory Steem.Ninja post for more information!
---
For any issues or queries please contact us on: [email protected]
STEEM NINJA is powered by @Oracle-D.