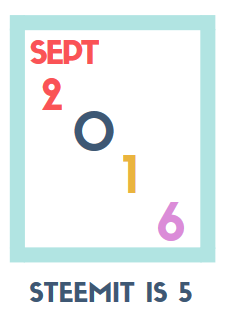 SteemMag:
What was it like working on graphene? and what was your reaction when you discovered Steemit was going to be built on it?
@modprobe:
Working on Graphene was fun. The idea for Graphene came after the launch of the Bitshares 0.x series, which was based on a code-base that had evolved for several years and no longer had any consistent style or organization.
It had to be scrapped and replaced, and we decided to make the new version as flexible as possible -- rather than just make Bitshares 2, we would make a generalized blockchain framework which would serve as a starting point for any new blockchain, providing all of the standard blockchain functionality and allowing developers to immediately get started on the unique parts of their idea.
I think Steem is a testament to our success: the idea for Steem didn't come until well after Graphene was finished, yet going from Graphene to a public release of Steem took just a few months, which is an impressive development pace for a brand new blockchain.
SM:
How has been your experience so far on Steemit and what improvements would you like to see?
@modprobe:
So far, Steemit has been a good experience. It's been fun to watch the UI evolve to support more of the chain's features. I'm not sure there's any improvements to the chain itself that I see as being critically important just now... I look forward to seeing more apps start up around the Steem ecosystem.
Currently, everyone builds 3rd party blockchain apps on Bitcoin because it has the network effect, and a little on Ethereum because it has the marketing, but Steem is the only chain that lets people do things for free, and that opens up a whole new world of possibility. For instance, I'm really looking forward to some decentralized marketplaces on Steem, and I think Steem could outperform Ethereum in the turing-complete smart contract
market too, when someone takes on the task of building the infrastructure for it.
SM:
Where do you see Steemit and its currencies (Steem and SBD) in the next 12 months?
@modprobe:
I try not to make predictions, but I very much hope to see Steem and its currencies gain more network effect and see use in direct economic transactions rather than just being sold for a currency that can actually buy things.
The importance of alternative currencies cannot be overstated, and I think it's a fascinating thought experiment to imagine your everyday coffee-shop currency being one that subsidizes free speech rather than genocide (See my video to understand what I mean by this).
---
Thanks so much @modprobe for taking the time to have a chat with SteemMag. We wish you all the best
---
---
This Week On Steemit
A lot of interesting events happened this week. And in case you missed them, we've got your back. Here are some of the most important events that happened on Steemit this week.
~ @roelandp announces the date and schedule for SteemFest – A November 3-day conference for Steemians
~ Steem falls from last week's position and it's currently 8th on the coinmarketcap.com's crypto market capitalization list.
~ Voting restrictions were excluded from Tuesday's Hardfork with provisions for savings account being made amongst others.
~ @kurtrohlandt releases more updates on Steempixel – a platform that provides snapshots of major Steem tools.
~This adds to the growing collection of dedicated steem apps. For a comprehensive list check out SteemTools.com
~ Meanwhile, SBD gains a bit with rates ranging from 1 SD = 0.82 -0.86 this week
~$0.48 and $0.54 were the lowest and highest value traded this week for a unit of Steem respectively.
---
A CHAT WITH @roelandp , Lead Organizer of SteemFest
SteemMag:
Congrats on the announcement of SteemFest.. How has been the response so far?
SteemFest:
Thanks, the response has been great, positive and overwhelming to say the least. So many people offering help, support and shoutouts. First people have already booked flights for the given dates 11-12-13 November before even having the conference ticket and hotel package available (they will be available per saturday 17 September).
SM:
For those still contemplating, why should they attend SteemFest?
@roelandp:
If you are looking for an opportunity to meet fellow steemians, learn more about them and what drives them, come explore Amsterdam together and set the next step in Steemworld. And if you are up for a diverse program consisting of boating, a great conference venue, fantastic food and a diverse line up of speakers, workshops, panels and night time events, as well as the option to have an unconference day in the oldest part of time consisting of venue hopping, and exploring several 'touristy' activities all while being housed in the official SteemFest hotel, you should definitely block your schedule for SteemFest!
SM:
How can steemians support you?
SF:
Thanks for asking, as said, we've been kind of overwhelmed by the offer to help, which is great to feel those positive vibes and ideas, but the event cannot work efficiently if for example 100 people are there 'helping out'. Nevertheless that vibe is great and I hope it will be there during the event in forms of respecting each other and opening doors for each other.
If people have other ideas for helping, I strongly suggest them to first check with me before undertaking actions by themselves to prevent disappointment after having put effort into something which might: not fit the schedule, the design, the need... Please don't get me wrong, again, I really love this vibe of positivity and energy, but it just needs to fit.
So, supporting SteemFest works best by:
Coming to SteemFest by buying a ticket. There is the option to buy the regular ticket (1/4 of the costprice per person) or you can pick one of the support level tickets, which are more expensive but help us cover the costs. Any abundance on the budget will go directly into the Travel Reimbursement Fund which we will post about in the coming week: Less wealthy Steemians can apply to get a SBD/Mile travelled reimbursed.
Of course you are free to donate Steem / SBD to @steemfest for this cause.

Promoting the event by telling your friends about it and referring to the official @steemfest account as well as the website http://steemfest.com.

Following the @steemfest account.
---
---
SteemFest Tickets Giveaway
I'm so excited about the SteemFest and I can't wait to see lots of awesome Steemians… So I thought it would be cool to give out SteemFest Tickets to deserving Steemians….
I've got 3 tickets to give out this month…. And I really don't have any criteria for dishing them out… So just drop a comment on this weekend's issue either on page 1 or 2 and you just might get a free Steemfest ticket. (A regular ticket goes for 111 euros - 144 SD).
---
--> Page 1
---
P.S
If you've got any suggestions, please make a comment using the reply box below or send a message to me on steemit.chat @infovore.
Would love to hear from you.
Ooh. And don't forget to follow my blog. ;)