SteemLeak::Steemleak.com launched
SteemLeak.com v0.1 just went live !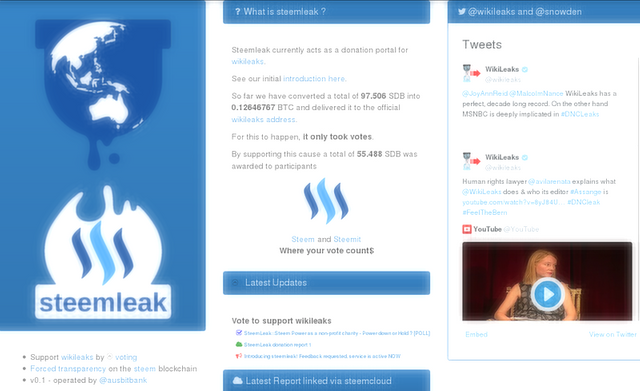 Current Features:
Stats on payouts and fund distribution as of the last donation report.
Feed of the latest posts by @steemleak
Live twitter stream of posts from wikileaks and snowden
A #steemcloud of recent supporters as of the last report
A sleep deprived attempt at showcasing steem as a crowdfunding platform

Planned Features:
Pull the latest posts from steemit on the fly instead of manually as post output increases.
Live-updating and more detailed vote and payment statistics as activity increases.
Visualization of realtime upvotes floating up the left side of the page with names
More flexibility for the #steemcloud using live data in html5 instead of an image, so top supporters get linkbacks
It's a start. I hit a bit of a wall of exhaustion yesterday and this took longer then I expected to build sorry.
Please let me know if you'd like any features or changes!