Blueberry cheesecake
Hello, my dear friends,
I have had a much needed break from steemit and as you can see my posts have been very rare.
Organising myself have been my first priority and now I feel that I might be on the right track. I have missed you all though.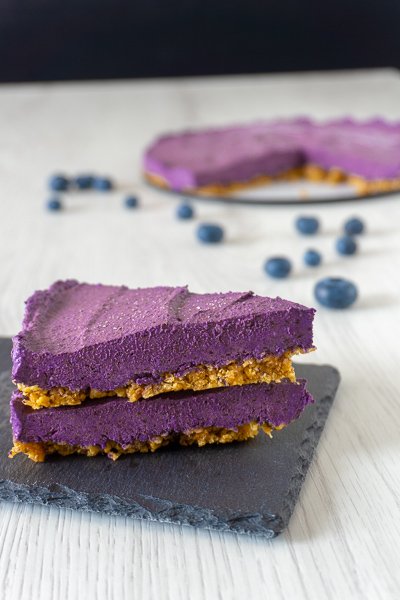 Blueberry cheesecake
Here is a little recipe for all of you. It's a super delicious blueberry cheesecake
This blueberry cheesecake is:
Super quick to make
Gluten free
Perfect for the family get together
Are you ready for the recipe?
Recipe for blueberry cheesecake
Portions: 12 pieces
Ingredients cheesecake
1 cup (2,3dl) cashew nuts
1 cup (2,3 dl) coconut milk
2 tbsp maple syrup
2 tsp vanilla powder
5 tsp coconut oil
1 cup of blueberries
Ingredients crunch
8 dates
60 grams of cornflakes
3 tsp of coconut oil
Method cheesecake
Boil your cashew nuts on medium heat for 10-15 until soft
Rinse under cold water until cold
Mix all your cheesecake ingredients in a blender until smooth
Method crunch
Pit your dates
Put all ingredients in a blender and pulse until well combined
Press into a 23 cm baking form and pour your cheesecake mix on top.
Set in the freezer for 3 hours and then put in the fridge until ready to serve.
❤️Thank you for taking your time and read my post. It means a lot to me.❤️
---
Can't get enough? Join me here👇
Facebook - Instagram - Website
---
If you liked this post and want to read more then feel free to visit some of my other posts
Recipes
Pasta
Pasta with bean dip and good company
Vegan carbonara to die for
Snacks, Cookies & Desserts
5-minute coconut bars
10-minute bliss ball snack
20 minutes 7 ingredients peanut butter cookies
---
If you liked my post and want to support me, please upvote, comment and resteem.
Lots of love to you all / Nicole <3