SteemKitchen Contest #1 - Cheap and Cheerful - Chicken,Mushroom and Spinach Pie.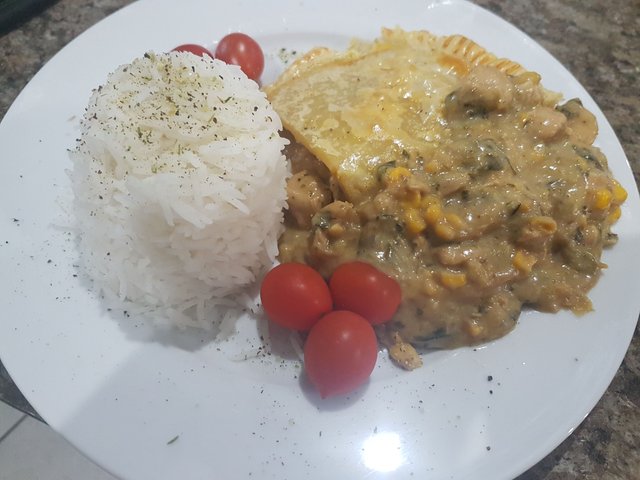 Growing up as a youngster I fondly remember my grandma making us chicken pie when we visited. I love to make this recipe as it keeps well in the freezer and I can make a nice big pie and then have some at a later stage when to busy to cook.
I cant believe chicken pie to be totally local in origin but it sure has become a local dish in many South African Homes.
Sadly I don't have my my grannies recipe but have found a method that works for me and can so easily be adapted to any taste or flavor.
After making and for the first time actual making the full calculation I was actually surprised at how reasonable the Portion Cost was
The whole meals cost came to $ 14.89 with 6 portions the Cost Per Meal came to $ 2.48.
Here in South Africa that is roughly R 37.00 Per portion in our local Currency.
---
Servings : 6
Preparation Time : 30 Min
Cooking time : 2 Hours
---
Ingredients :
1 kg x Chicken
600 g x Mushrooms
2 x Large Onions
4 x Fresh Sweetcorn
1 x Green Sweet Pepper
400 g Fresh Veggies
Leafy Spinach
1 x Egg
1 L x Chicken Stock
2 Packets x Cream of Chicken Soup
Olive Oil
Puff Pastry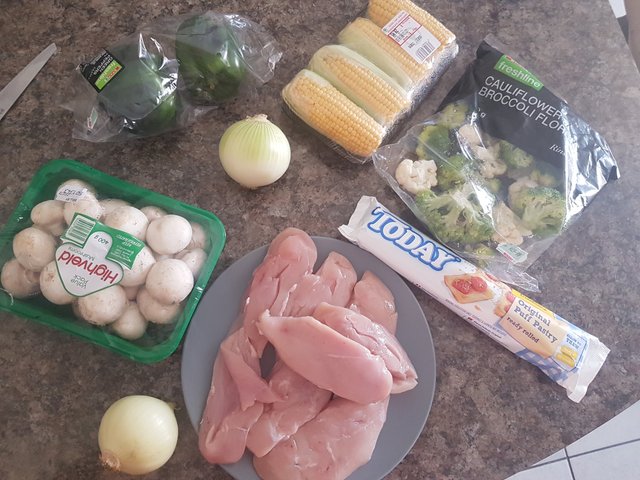 ---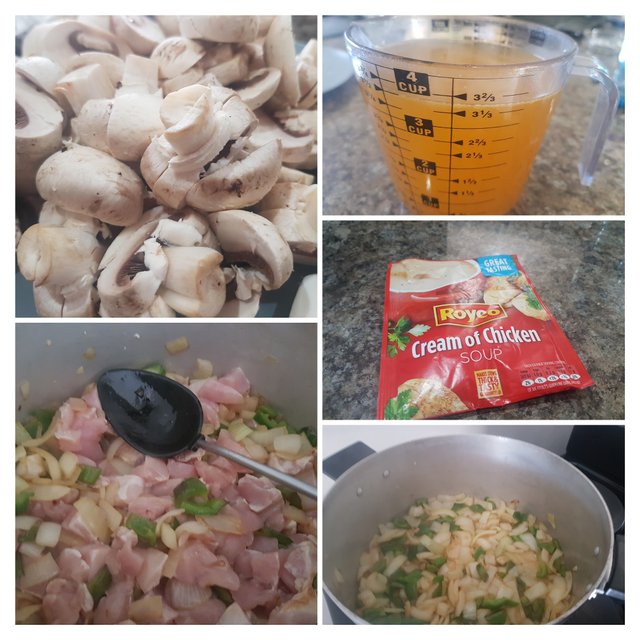 Step By Step :
Chop onions and Pepper and Fry with some Olive Oil in a pot until golden brown color
While Frying the onions prepare chicken pieces and cut into Thumb Size pieces
Add the Chicken to the onions when ready and give a good stir.
Brown the chicken and add the mushrooms, veggies, spinach and chicken stock.
Bring to a boil and reduce heat to a simmer for 30 min.
Mix the soup powder with 3/4 of the water indicated and add to pot.
Let simmer until you get a nice pie filling consistency.
Dish out into Oven Dish. Preheat oven to 180 degrees
Cover the filling with the pastry. Take a fork and prick randomly.
Brush on some whisked egg.
Place in oven for 20 to 30 minutes until the pastry is done, checking often until a golden brown color appears.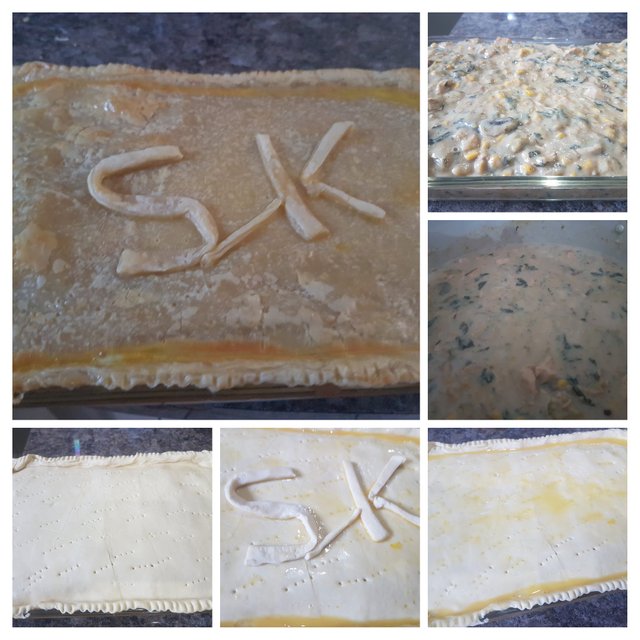 ---
Serving Suggestion : Serve with some longrain rice and or a fresh garden salad.
---
I thoroughly enjoy making this dish and more so having it on the plate for a meal. Its real simple to prepare and goes a long way for a contract worker or bachelor away from home with only one pot and a oven dish required.
Until Next time....... May the Hunger Stay with You. (ps. I forgot my card ;( )
---

Click banner above to go to SteemKitchen's latest Contest Released this week. We are looking forward to a wonderful selection.