Is everyone familiar with this Steemit Sandwich Contest? 59 weeks (1yr. 2mo's. 3wks.) and counting, that's a good run, congratulations @jaybird! I'm probably the only one who hasn't heard about it. No worries though - My wife got me all plummed up!
She said "you should enter this sandwich contest." I didn't even open the contest page - Nope! I did what every other half-brained human that stands when they pee and is married to a 10 would do. "Hu?? 'Squirrel!' Who said w-where happened w-w-what?" As I repeatedly jumped while simultaneously reaching toward the ceiling I asked her "how high??" I paused momentarily to lace up my shoes, the non-slip ones, of course! "Whatever you say! What kinda sandwich? Do you want me to make it right now?? Are you gonna have some? Am I making it for just you or both of us, what ingredients do you want me to use? Is it an ingredient specific sandwich? When's it due, what are the rules?"
Speaking of rules... Well, let's just hold on - I need to explain myself first. Here's a picture of the sandwich I made - Now I need to explain why it's called a Rule-Breakin Choke: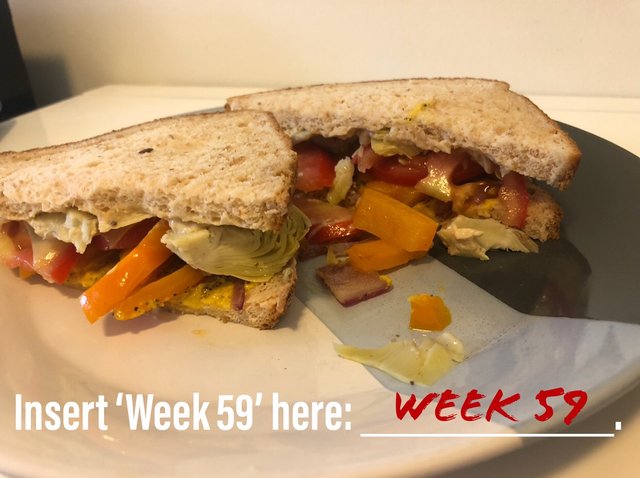 If you click on this link and scroll down a little bit, just passed the cover image, you'll see:

The above illustrated sandwich got its name for the following two reasons:
It's a spin on "Rear Naked Choke;" a chokehold applied to your opponents back.
I clearly did not pay attention to Rule #3.
3 - Must Validate Your Entry: (it's even bold like that!) At least one photo depicting both your sandwich and, a sign that clearly shows the contest week # you are entering (** in the same photo/sign must be physical **).
I didn't do that - Danget! By the time I realized I was such a piss-poor excuse of a rule follower I had already eaten the dang sandwich!! Which, by the way, was de-lish! A championship sandwich, easy! The sandwich I was ordered to assemble and immediately halt any and everything I was doing prior to sandwich assembly is superior to any other sandwich you'll see on this platform today. I know what you're thinking - I'd be lying if I said I didn't think about it. Instead I reconstructed the original build and snuck in a piece of paper that clearly indicates week 59. Had I not told you about the reconstruction phase, I don't think anyone would've noticed, It just would've been bad for my transparency street cred.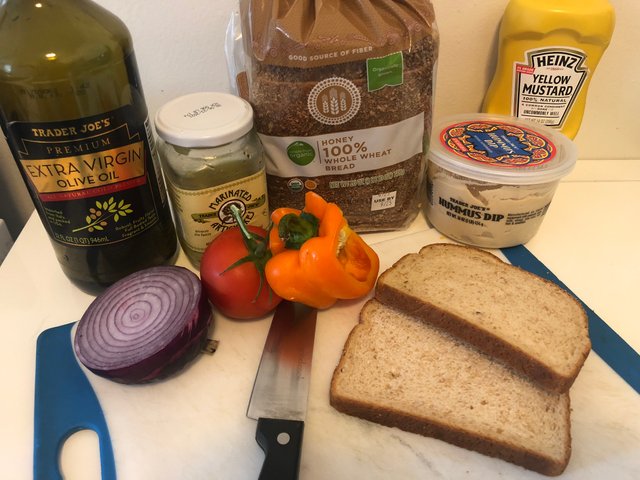 Original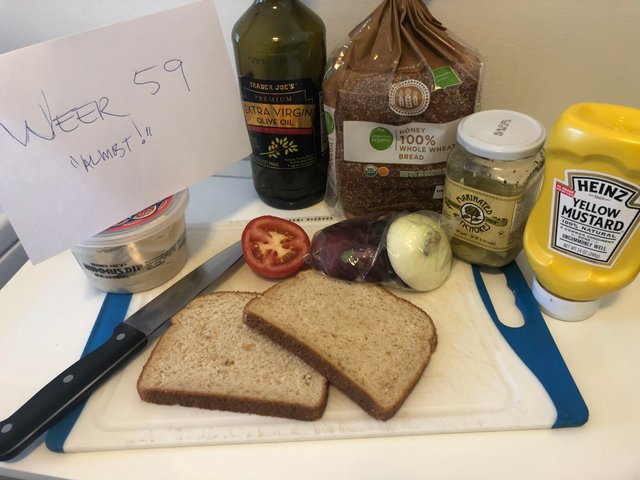 Imposter
Do a little slicing, some sizzle and frizzying, mustard & hummus spread spreadaliciousing, lotsa artichokin, top layer tomato adding, pepper and garlic salt shaking with a side of fresh cut pineapple and you're in! (Man, that was long sentence!) Bon appetite ya'all! Join me tomorrow at kitchen #fff for more food fight #fun. Thanks for having me @jaybird - And that elusive 3rd Rule doesn't stand a chance next time!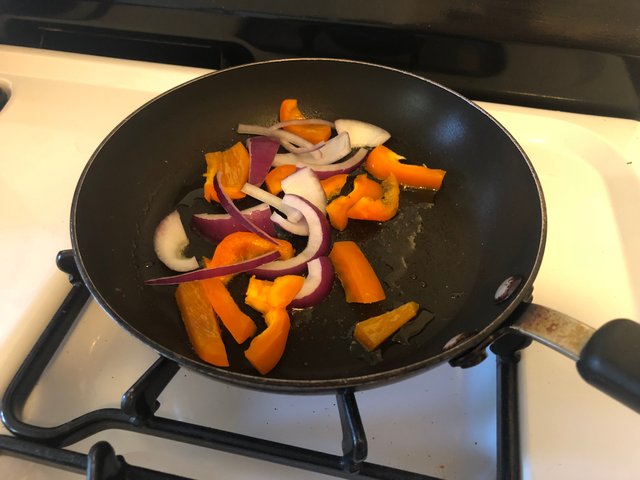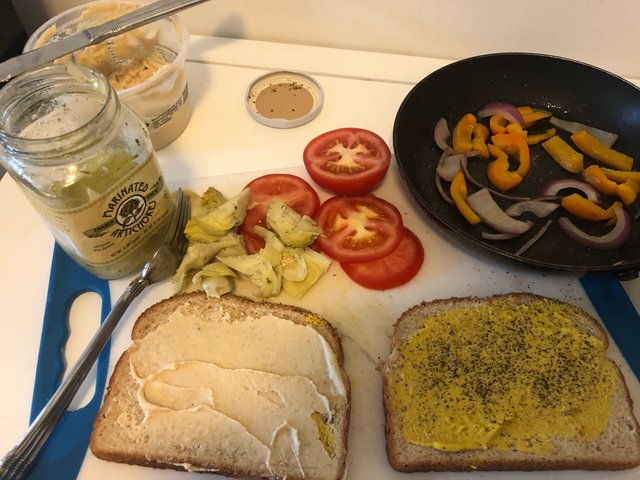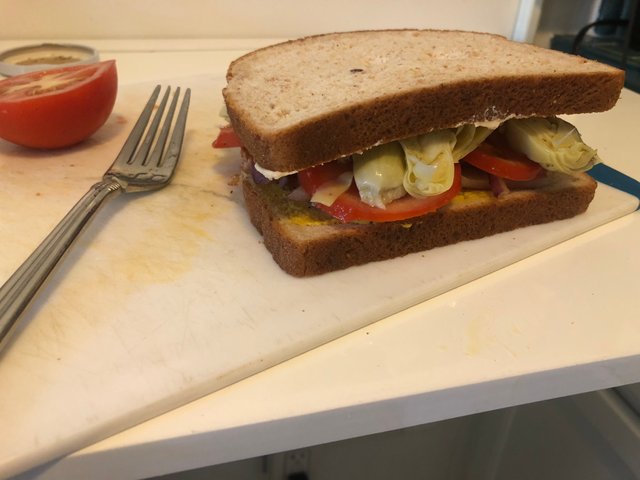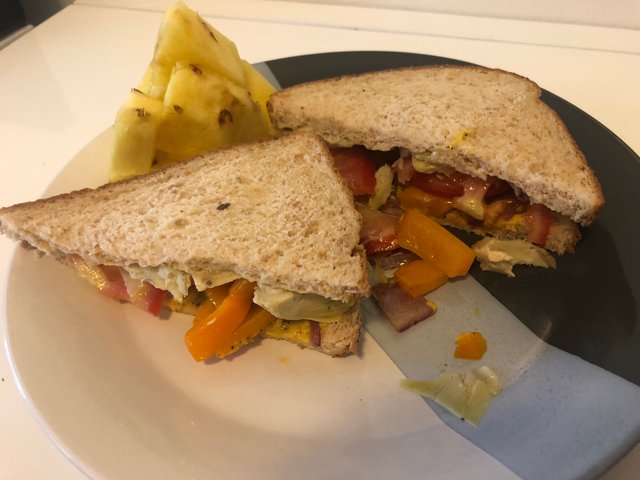 Click here for Yesterday: