Hello to our dear Steemians out there! Today is learning time again. On my previous posts, I shared with you the different ways How to get extra exposure in Steemit and I am happy that many Steemians learned from it. Also, about 6 days ago I shared with you the Different ways to acquire Steem Power in Steemit. I'm glad that some readers have shared their thoughts as well as shared additional helpful tips to everyone. Indeed, sharing of ideas is a very good practice to help one another to grow in this platform. My today's topic is definitely interesting because we will talk about the Different Ways to earn SBD/Steem here in Steemit. You can't deny the fact that one good reason why you are staying in this community is that you want to "earn", of course! Who wouldn't love that? I myself want that too! So I did my own research and found very helpful ways to earn SBD/Steem on this platform.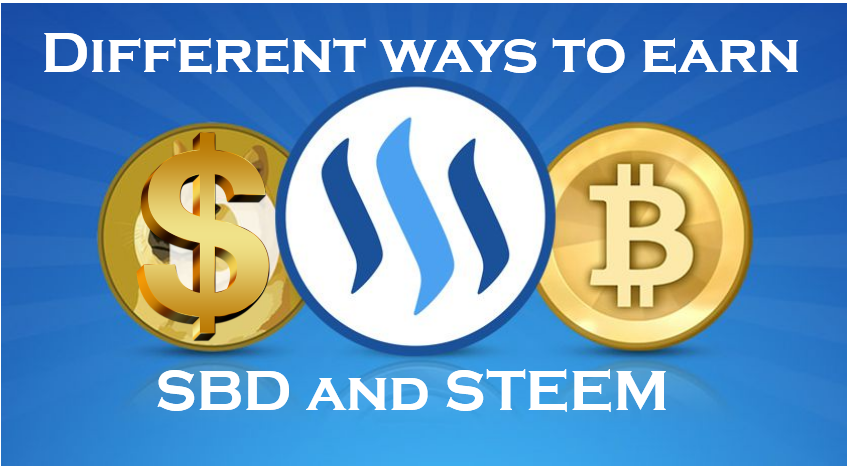 What I'm going to share with you today are the different ways to earn SBD/Steem that I have already tried and tested. I believe that there are still some ways out there and I will try to find that out also very soon. But for now, let me share what I know.
Different ways to earn SBD/Steem
Blogging/Posting - One of the common ways to earn SBD/Steem is by blogging or posting interesting topics. Some find it more convenient by uploading videos on Dtube. Through your readers or viewers upvotes, you can earn some bucks that will be automatically converted into SBD and Steem after 7 days. Therefore, if you want to earn bigger, you need to post an interesting topic that your readers and viewers can relate.

Commenting - Commenting can also make you earn some SBD. Like what I always said, your comment must be genuine and relevant to the author's post. Many authors reward their readers with upvotes when they find their comments interesting and sincere. I also did this to my readers simply because it gives a great feeling to see my readers leaving sincere comments because they have taken the time to read my posts. Those upvotes that you earned from commenting will be automatically converted into SBD after 7 days.

By simply commenting, j-alhomestudio earns 0.6 SBD! Because not only authors upvote comments also the readers.
---
---
Joining contest - Contests are almost everywhere and they usually reward winners with SBD or Steem. Hence, participating in a different contest will increase your chance to win and get SBD prizes. Just find the contest that suits you, there are writing contests, meme contests, art contests, photography contest which I'm also hosting, you can check it here and a lot more. You just need to keep on trying until you win!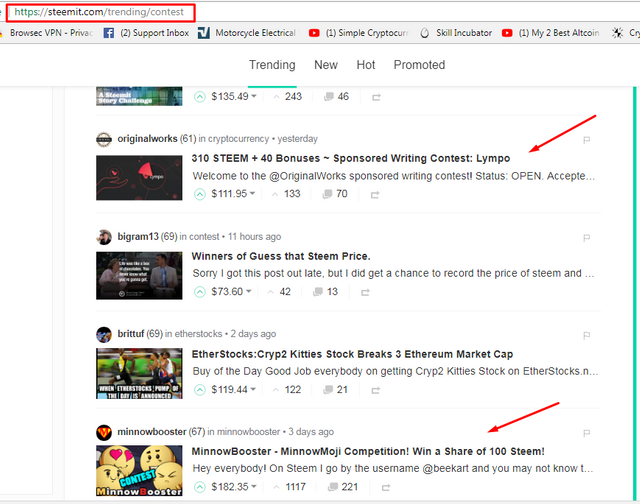 ---
---
Investing - If you have spare SBD and you want to grow it, you can actually invest in some bots. I myself tried investing to @tipu. You can invest for a minimum amount of 0.01 SBD to get a share percentage. They use those investments for power up and the income is being distributed to their investors according to their share percentage. Payout are being sent on a daily basis.

Delegating - If you have enough steem power you can actually delegate to bots and receive shares.

Joining in faucet - Another way to earn free SBD is through faucet, @sydesjokes in fact host one. By simply upvoting, commenting and resteeming his posts you can actually earn free SBD. As soon as your earnings reach 0.3 SBD your payout will be automatically send to your wallet.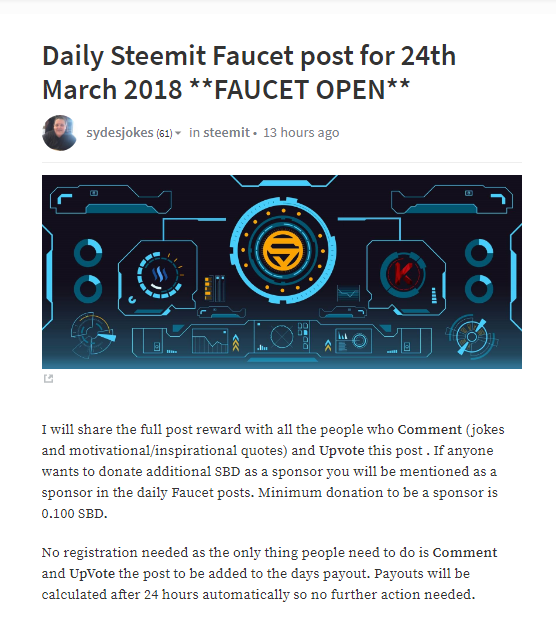 Using bidbots - Using bidbots on your post can also help you earn some SBD, although it's not that big since your earnings will be divided into 2 parts, 50% for SBD and 50% for steem Power. But it can help you attract more readers because your post will appear in the Hot section of the website.
Selling Upvotes - One of the very good ways that I tried is selling my upvotes. Our voting power charge 1% every hour and as soon as it reaches 100% it will eventually stop until you consume a portion of it again. Thus, it's a nice idea for me to sell my votes while I'm away from my computer. Selling your upvotes will allow you to earn up to 85% plus the curation reward for upvoting the post. Currently, I'm selling my votes to @Smartsteem, but I heard that @minnowbooster also offer this service.

Those are the different ways I have already tried and have earned extra SBD/Steem. You might consider trying those as well to be more productive on this platform. On my next blog, I might share with you how I use bidding bots. So just keep tuning in and I would love to share more ideas with you.
I hope you learn something on this post. Let me know your feedback in the comment section. If you also have additional tips please feel free to share it with us and that will be highly appreciated :)
---
---
Do you want to avail free Resteem and Upvote service? @resteemvote is happy to serve you! Check the details Here!
Kindly continue supporting @surpassinggoogle who has been very helpful. Vote him as witness by going to https://steemit.com/~witnesses
Thank you for dropping by!