Hello steemians friends today I am very happy to have won the world cup steemitboard contest russia 2018.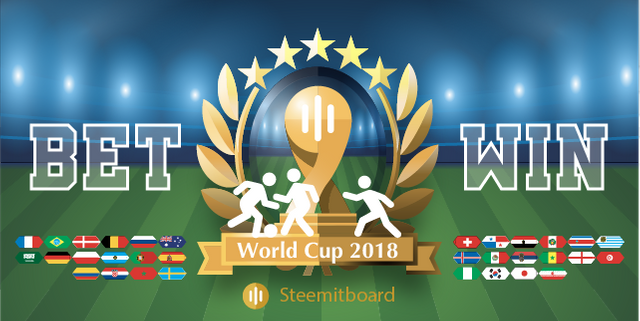 After a month of competition in the 2018 Russian World Cup we already know the winner of the world cup after beating 4 to 2 Croatia "FRANCE CHAMPION" that from the beginning came out with the label of being among the favorites to win the trophy most coveted by any football selection. Croatia also made a great cup but could not beat France in the final game. Congratulations France.
My start in the steemitboard contest
When I started in the contest, my predictions were not very precise. I was in position 18 and little by little I was climbing positions since my predictions were more successful. While what was in the first place was losing matches, I accepted the winner after taking the lead in the contest, I never lost it again. Although I do not deny it, I had a competition with @minimining that in the end he lost many positions in the semifinals and in the grand final for losing some match and @tychoxi who was the luckiest of all to have a better success when choosing your favorite and a group of 6 trying to reach me, but I was able to maintain the advantage of winning the @steemitboard championship. If you want to see the final results you can see it "HERE"
Winning this award gives me an impulse to continue working on this platform and if I tell the truth last night I could not sleep thinking that it is the first time I gain something in my life the emotion I felt has no words.

My deep thanks to this group of sponsors that without them this contest was not carried out.
What will I do with the prize 353 SBD?
This award fell to me when I needed it most, since my financial situation is not very good. I will take part in this fabulous prize to pay for my mother's operation and I do not want to give more details of these. The rest of the prize I am thinking of renting steempower to have some influence and thus be able to help my family members and friends to join Steemit since to start in steemit without the support of someone is very difficult start.
Those who do not know me since I am relatively new to steemit I join this platform thanks to @joelgonz1982 who is my cousin who taught me another source to generate income since I am a teacher of physical education. Something from me?. I am a sports lover I like philosophy see a good movie with my family I love my job and I am starting to like working with steemit.
My future in steemit?
My future in steemit will be very promising since I will give 100% every day to publish quality content although I am not very good at writing but I do my best effort if you want to support me in my process I will be very grateful to with you.
What do I think of steemitboard?
I think you are definitely doing a great job as you think of the little minnows like me and other steemians who deserve great things here at steemit I hope this is the beginning of many contest that @steemitboard does and I think of participating in all of them with the God's favor.

Congratulations to @tychoxi for the second place achieved in the competition also @chehkuna, @luisrojas06 and @kinakomochi who had a tie in third place in the contest congratulations to all the winners I do not name them all because the list is very long.
Excuse my English if I had a misspelling or errors in the moment of wanting to express something in each paragraph, I do my best to understand me because my English is not perfect yet I'm slowly perfecting it.