Hi guys, I'm repositng my tutorial about claiming Byteball free tokens airdrop because the previous post got 180+ comments which makes it hard to track the new verification requests :)
In this tutorial I will show you how to claim the free Byteball tokens :)
---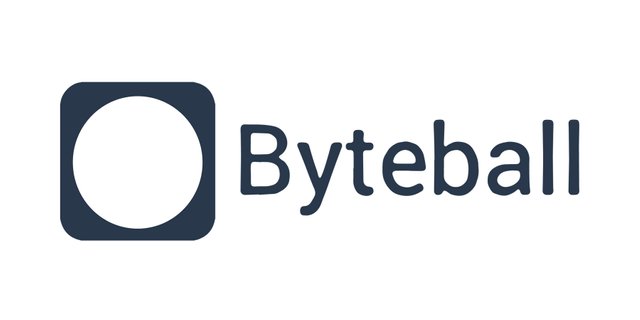 ---
The original byteball post of course also has a tutorial but this one will be a little more detailed + I will be happy to send you free byteballs needed for claiming the tokens :)
Please note that there's a refferal program and by sending you free byteballs I am gonna get an additional reward but didn't look into it much (yet;)
1. Download the official Byteball Wallet here: byteball.org -> Download Wallet (open in Chrome if Firefox is not working)
(this link contains my referral, hopefully it will work this time - thanks for clicking!)
Please select your platform (iOS / Windows most probably)
Install and run the application.
2. Now you need find someone that will send you 0.0006 GB (Gigabytes - tokens).
Go to Receive section, select your address (the long string of letters), right click -> copy.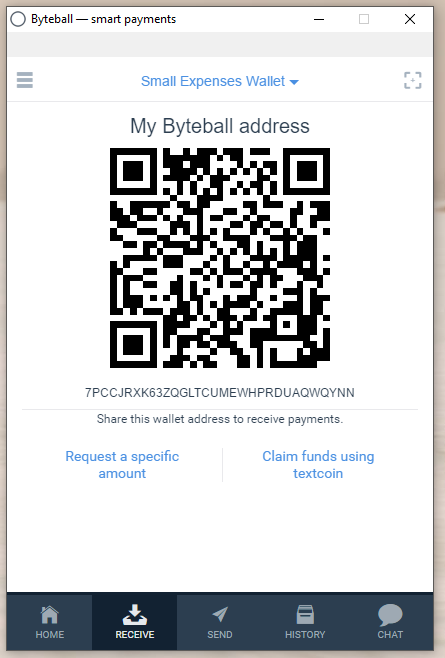 Don't paste it below because there are some bots or users that are trying to hijack the referral reward, lol.
I will send you the tokens needed for verification :)
Now go to your Home section and wait for the Tokens to appear in the balance (you can verify it in the History tab).
3. When 0.0006 GB tokens appear in your wallet:
Go to Chat tab, select Bot Store (tap and the top of the window) and click Steem attestation bot on the list and finally click Open Chat big blue button.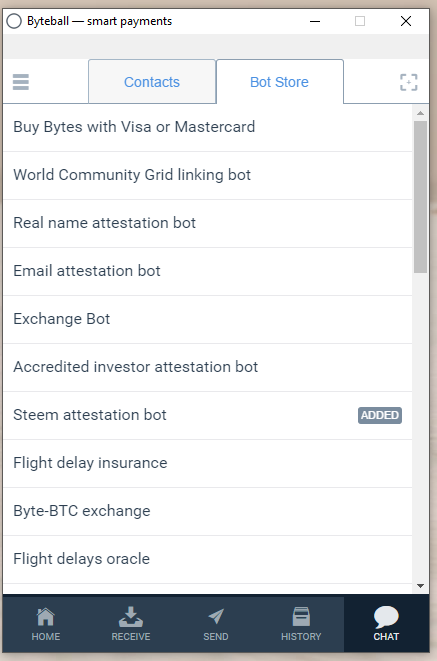 Now you will have to wait - from few seconds to about 30 minutes, depending on how busy is the bot. After some time the bot will respond with a message with instructions what to do.
4. Now click the 3-dots button of the lower-left part of the chat window and select Insert My Address.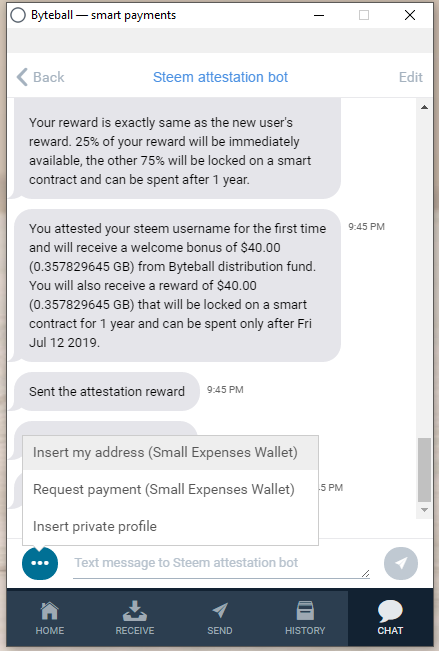 Confirm by clicking the send message button on the right.
5. Now the bot will ask you to login in steemconnect with your account - it's secure, don't hesitate to do it ;)
6. Choose the private or public - I don't think it has any meaning.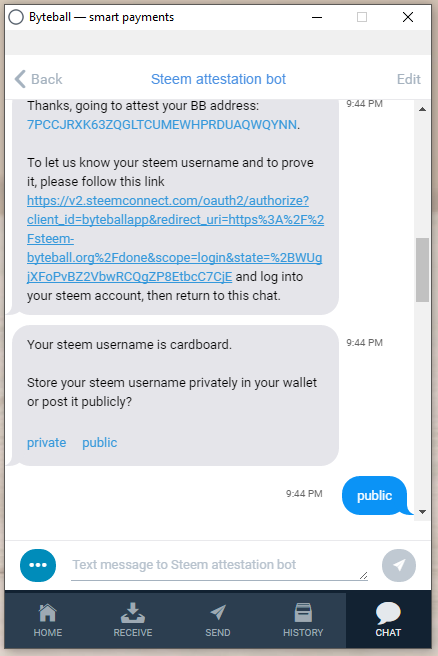 7. The next message contains payment request - click it the link and choose SEND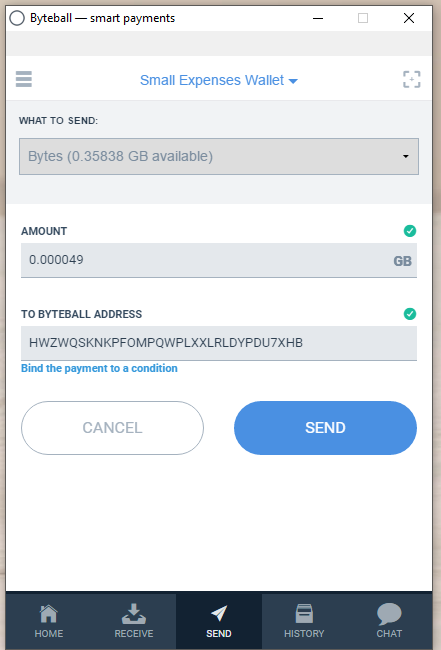 7. Done! The Byteballs should be on your wallet - the amount depends on your STEEM reputation :)
---
Edit 16.07.2018:
the best place to sell Byteball tokens is the Bittrex exchange but currently deposits are disabled - that's because there's a new version of the Byteball wallet and exchanges need to update their software.
if the Steem Attestation Bot does not answer, try deleting him and running again (use "delete device" funcionality).
Edit 17.07.2018:
Bittrex Byteball wallet is online again! :)
Edit #2 17.07.2018:
just paste your address, someone will send you the 0.0006 GB - usually it's not me, someone else tries to send it first to steal the referral reward, lol.
---
Hope this helped, and again - if you need the 0.0006 GB for attestation - send your wallet address to [email protected] or to @cardboard on https://steem.chat and just wait for the free tokens :)